Ever since fast-food giant Burger King launched the meatless Impossible Whopper at its 7,000 locations nationwide in 2019, the fast-food sector changed. As a product that went beyond a veggie patty topped with the basics, the Impossible Whopper was a tipping point that influenced other fast-food chains to explore plant-based options.
"At that time, plant-based seemed like an incredible opportunity more than the other white space opportunities I studied, like the McCafé launch where they captured market share from Starbucks, or other launches in the past where they captured market share for obvious business reasons," Chef Michael Salem, who was responsible for getting the Impossible Whopper on Burger King's menus, previously told VegNews.
Even though the Impossible Whopper isn't fully vegan (it comes with dairy mayonnaise), it created a ripple effect when it comes to more wider consumer acceptance—and impending demand—of plant-based fast-food offerings.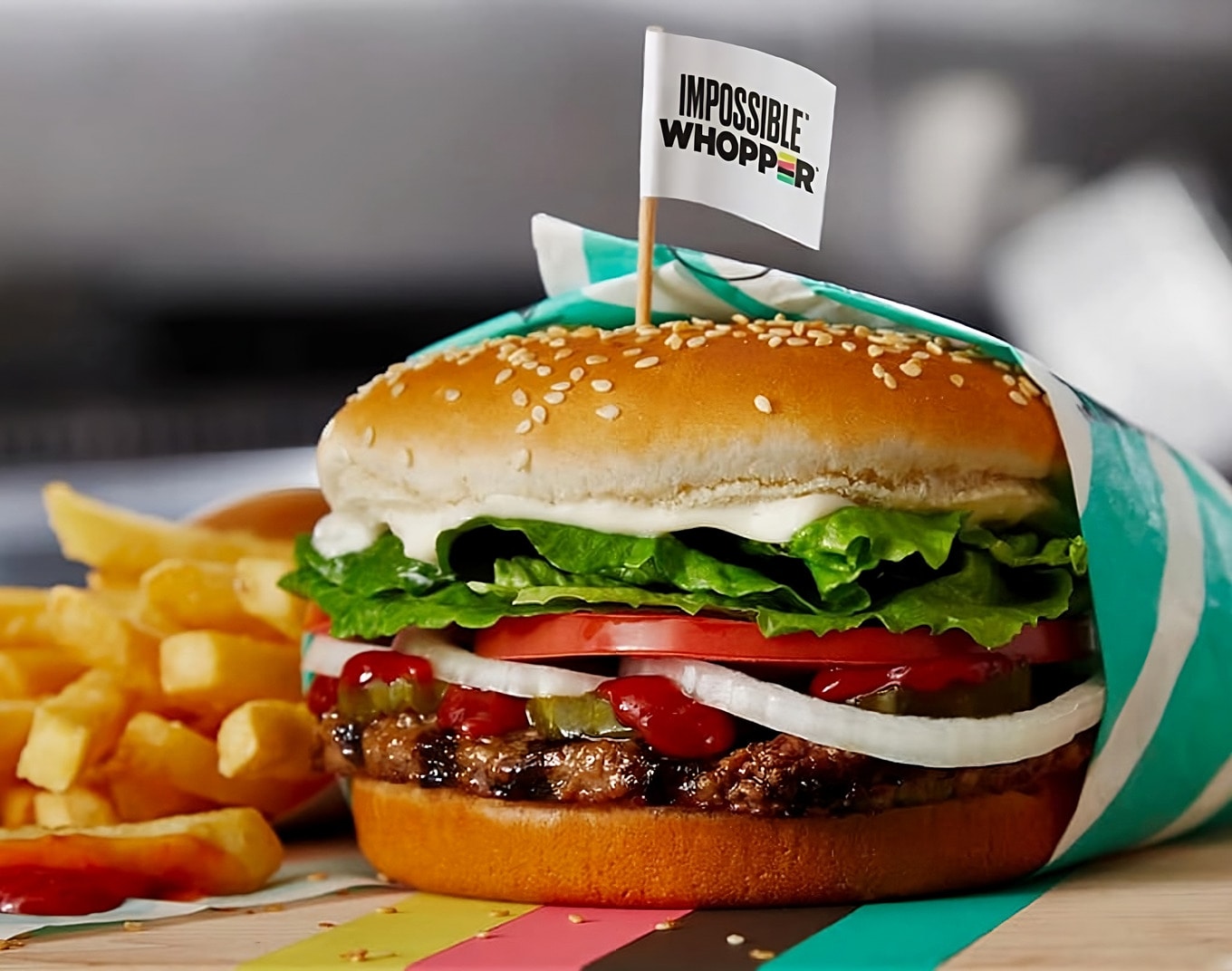 Burger King
For Salem, who has also collaborated with Kevin Hart's Hart House, the plant-based Whopper concept also offered a more holistic approach that was better for the planet, the consumer, and the animals. "It's just the right thing to do," he said.
These days, you don't have to go far to find innovative and convenient vegan fast food. In fact, animal-rights group People for the Ethical Treatment of Animals (PETA) now celebrates National Burger Month by naming the Top 10 best vegan burgers at restaurants and food trucks across the United States—and the competition is fierce.
The top 10 vegan burgers
This year, Houston, TX-based food truck Houstatlantavegan (HAV) made the list with its very own WAP-er, featuring two seasoned quarter-pound vegan patties, vegan smoked gouda, vegan bacon, lettuce, tomato, onion, pickles, and a generous amount of HAV's signature sauce on a toasted brioche bun.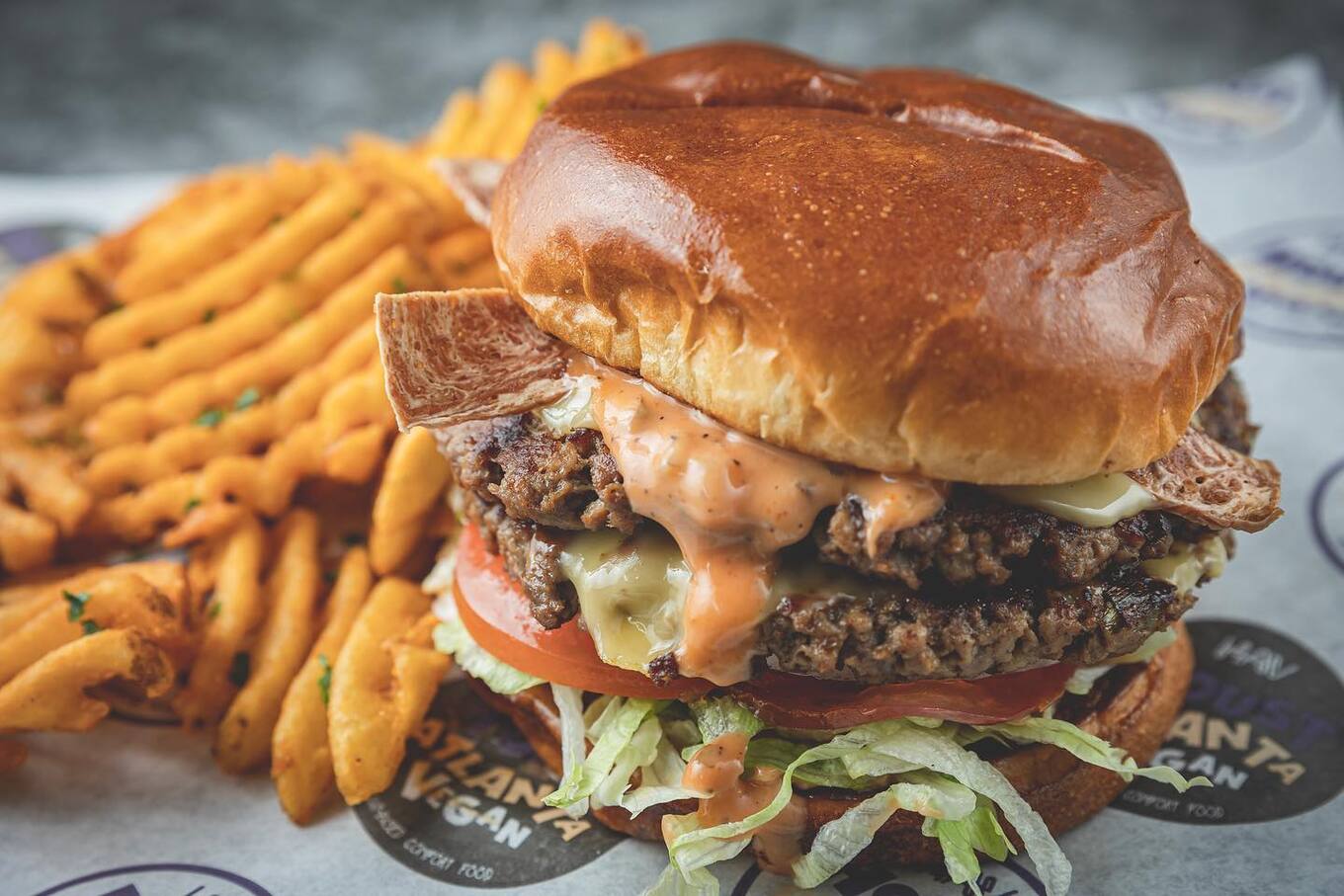 houstantlantavegan
And even though the WAP-er name sounds similar to the Whopper, HAV owner Uwade Alade says the name is actually inspired by Houston and Atlanta culture. "My brother actually came up with the name. It's paying homage to Megan thee Stallion, who's from Houston. She has a song called 'WAP' with Cardi B," Alade tells VegNews.
"I believe it stands for Wet A** P****, but in our case it would stand for Wet A** Patty since it has a generous amount of sauce on it. [The] majority of our [menu] item names are all inspired by Houston and Atlanta culture."
Alade says he is thankful and honored that the WAP-er was named one of the nation's best vegan burgers. "We honestly are shocked that PETA noticed us, but nonetheless appreciative," Alade says.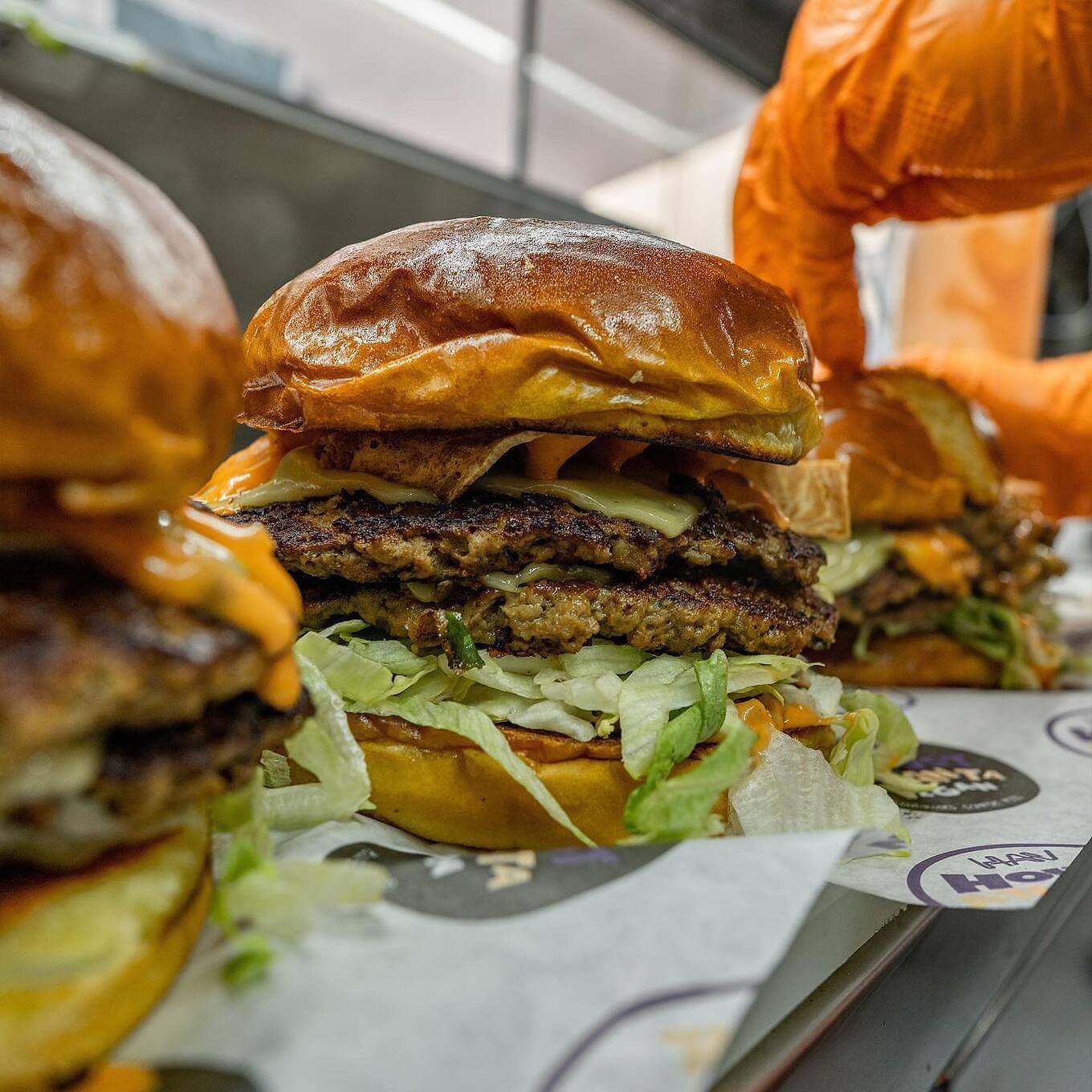 houstantlantavegan
But Alade also believes it's deserving because of how far vegan burgers have come. "I think the WAP-er is very popular because the perception of vegan is still only black bean burgers or rice patties," Alade explains. "So to have a vegan burger like the WAP-er that tastes just like the real deal but doesn't harm any animals, I think just grabs people and keeps them coming back for more."
Where to find a vegan Whopper
In addition to Burger King's Impossible Whopper and HAV's Wap-er, other restaurants have created their own take on the iconic sandwich. Canadian chain Odd Burger may have been one of the first to put its own spin on the classics, offering the Vopper which features a house-made patty, vegan bacon, vegan may, pickles, vegan cheese, ketchup, lettuce, and onions on a sesame-seed bun.
Not surprisingly, the chain also offers the Famous Burger, a vegan version of McDonald's Big Mac that features two chickpea-based patties, famous sauce, vegan cheese, lettuce, onions, and pickles on a triple-decker sesame-seed bun.
Odd Burger
Odd Burger first gained popularity when it opened the world's first 24-hour vegan drive-thru in London, ON in 2017, and it is now franchising across Canada, the US, and Asia in an effort to bring its Voppers and other vegan fast-food classics to more people. "I think consumers are increasingly aware of the sustainability challenges in the food system and major fast-food chains are starting to pay attention," McInnes previously told VegNews.
"Almost every fast-food chain has trialed a plant-based menu item with varying success, and I think that there is a massive opportunity for showing the world how disruptive a fully plant-based chain can be."
For the latest vegan news, read: