Since the mid-2010s, every year seems to be "The Year of the Vegan." Not only are plant-based brands innovating new products at lightning speed, non-vegan companies are picking up on these items and integrating them into the mainstream food conversation. No doubt, there is room for improvement—many fast-casual chains such as Burger King and TGI Fridays carry vegan meat yet insist on coupling it with dairy cheese—but the movement toward plant-based is continually pushing forward. Vegan eating isn't a trend, as is evident by the ever-increasing options at omnivore spots. Vegan food is the future, and it's clearly demonstrated by the progressively plant-based menu at Fatburger. To glean further insight into the advancement of vegan options in the greater fast-food industry, we sat down with FAT Brands CEO Andy Wiederhorn. From vegan milkshakes to Impossible nuggets, here's what we can realistically expect for the future of veganism in the mainstream.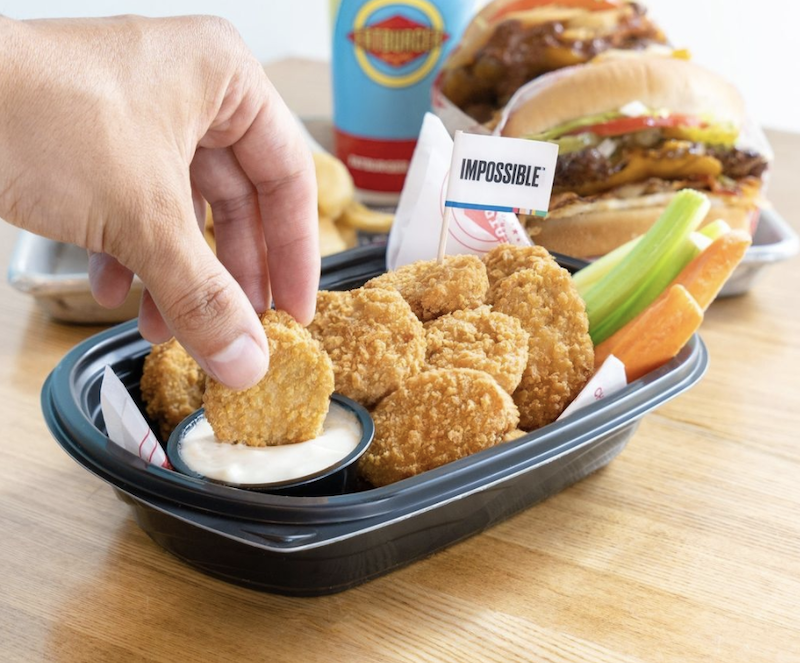 Fatburger
FAT Brands' vegan inclusion
Fatburger—along with a slightly higher price point burger joint, Umami Burger—was one of the first major fast-casual chains to carry the Impossible Burger back in 2017. However, this modern riff on "America's classic hamburger stand" is not a stand-alone company—it's one of 14 brands that fall under FAT Brands, which, despite its registry of wings, ice cream, and hamburger-centered concepts, doesn't stand for "fat" in the traditional sense of the word. It stands for fresh, authentic, and tasty. Beyond its signature Fatburger franchise, other recognizable brands under this parent company include Hot Dot on a Stick, Marble Slab Creamery, Round Table Pizza, Johnny Rockets, and Elevation Burger—many of which also carry vegan options and have partnerships with Impossible Foods.
Wiederhorn has served as the head of FAT Brands since 2017, though he's been involved with the Fatburger Corporation as chairman and CEO since 2003. The Impossible Burger was first introduced to Fatburger (and later Johnny Rockets, Elevation Burger, and Hurricane Grill & Wings) under his leadership. He told us that while Fatburger already carried a vegetarian, veggie-based patty (which is also outsourced via Boca and not vegan), he noticed that people had a taste for something meatier—without the meat. "There are a lot of options out there, but the way the Impossible patty complements the Fatburger build is a perfect match and accurately replicates a fresh beef burger," Wiederhorn explained. Eventually, he added the Impossible Burger to the menu.
"There are a lot of options out there, but the way the Impossible patty complements the Fatburger build is a perfect match and accurately replicates a fresh beef burger."
—Andy Wiederhorn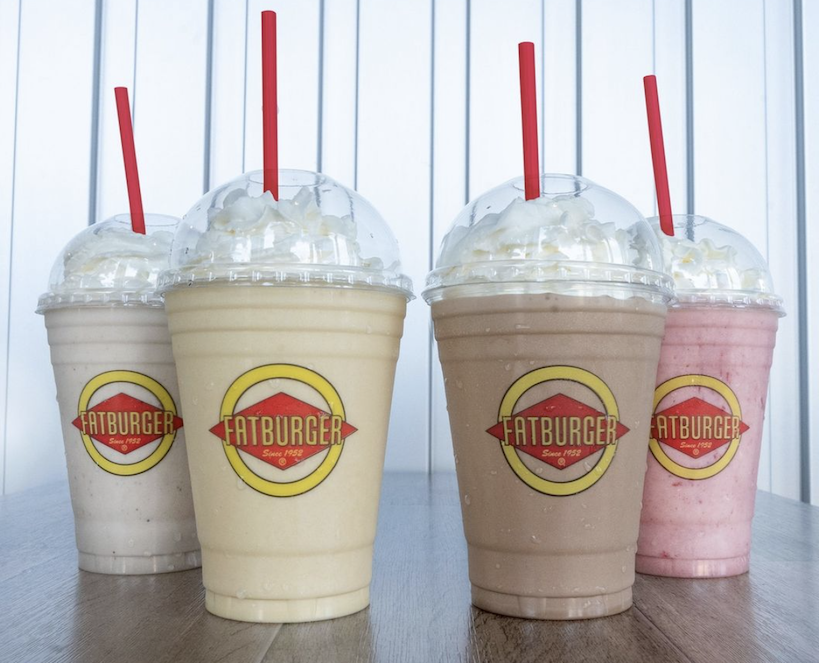 Fatburger
Vegan dairy in fast-food concepts
Like many chains, Fatburger adopted a vegan patty but initially paired it with animal-based ingredients. When it was first introduced, the Impossible burger came with a slather of mayo and a non-vegan bun. Dairy cheese was also the only option if customers wanted a cheeseburger. With a few hacks—no mayo, no bun, sub a bed of fries (aka a Fry Boat)—it could be ordered vegan, but these modifications somewhat defeated the purpose of having an animal-free option that wasn't truly animal-free. However, progress was made over time. By 2019, the dairy-based buns were switched out for a vegan option (the wheat-based buns still contain animal ingredients to this day) and Daiya cheese was introduced to the menu. These simple swaps made for a completely plant-based vegan cheeseburger experience across the Fatburger franchise. Sister restaurants Johnny Rockets and Elevation Burger also implemented Daiya and Impossible products to offer vegan options on their respective menus.
Going one step further, Wiederhorn also partnered with Craig's Vegan Ice Cream—a Los Angeles-based vegan scoop shop and retail manufacturer—to offer dairy-free milkshakes complete with non-dairy, coconut-based whipped cream. Wiederhorn noted, "We realized we could appeal to a wider audience by providing more options in all categories (i.e. cheese and shakes). We want Fatburger to be everyone's 'favorite hamburger stand,' vegans included." This bold choice was transferred over to Johnny Rockets locations, as milkshakes serve as central pillars for both chains. Now, vegans can order the classic trio—burger, fries, and a shake—without requesting any modifications.
"We realized we could appeal to a wider audience by providing more options in all categories (i.e. cheese and shakes). We want Fatburger to be everyone's 'favorite hamburger stand,' vegans included."
—Andy Wiederhorn
The vegan revolution, in moderation
The launch of Impossible Foods' new vegan chicken nuggets at a few select restaurants is truly what whipped our heads back in the direction of Fatburger. Along with esteemed, chef-driven restaurants such as David Chang's Fuku and Marcus Samuelson's Red Rooster, Fatburger was one of eight brands to first carry Impossible's new, meaty, crispy chicken creation. Given the increasing number of plant-based options at this chain, we were curious to see how far the trend would go. Could there be a future in which vegan menu items matched animal-based items one-for-one? Well, for now, that idea may be a bit too optimistic. "We believe that most people will always love beef and traditional hamburgers. That being said, we want to be part of the plant-based movement and have something for everyone," Wiederhorn explained.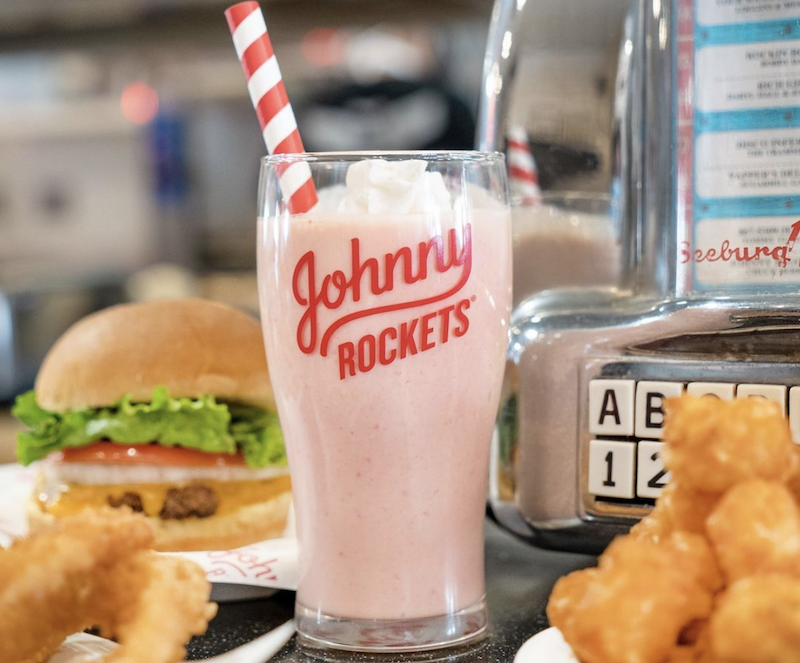 Johnny Rockets
The best vegan options at FAT Brand restaurants
While Fatburger has garnered the most attention as of late, a number of FAT Brands franchises carry plant-based items. Here's what to order whenever you find yourself at one of these eateries—plus, inside tips from Wiederhorn himself.
Fatburger
This casual hamburger stand likely has the most variety when it comes to plant-based. Mains include the new Impossible Chicken Nuggets (for a limited time, order with barbecue dipping sauce) and the Impossible Burger (order with the white bun and dairy-free cheese). Accompany either of these options with Skinny Fries, Fat Fries, or crinkle-cut sweet potato fries. Craig's Vegan Shakes include strawberry, vanilla, chocolate, and Maui Banana—all available with a swirly topping of coconut-based, non-dairy whipped cream. What's Wiederhorn's order? "At Fatburger, my go-to used to be a standard Fatburger with the works and an Impossible Burger patty, but I have to say the nuggets have taken the top spot lately. My favorite order these days is a 10-piece nugget with fries and a Chocolate Maui Banana Craig's Vegan Shake."
Order here
Johnny Rockets
Yes, Johnny Rockets also features a vegan burger patty, cheese, and shakes, but it's lacking a crucial element to hold these plant-based ingredients together—a vegan bun. All burgers at Johnny Rockets are served on a brioche bun, which contains egg and dairy. To veganize your cheeseburger, request the patty in a lettuce wrap or served atop a bed of French fries. Unfortunately, even the sourdough bread seems to contain dairy. In regards to sides, the fries, tots, and garden salad (no cheese) are vegan. For a sweet end to your meal, you could order the chocolate, vanilla, or strawberry Craig's Vegan Shake, but we like Wiederhorn's suggestion better. At both Johnny Rockets and Fatburger, you can order a combo flavor shake. His top picks: Chocolate Maui Banana at Fatburger and Chocolate Strawberry at Johnny Rockets.
Order here
Elevation Burger
While both Johnny Rockets and Fatburger cater more toward the greasy hamburger joint crowd, Elevation Burger claims to ascend to a higher level of burger quality. Customers can build their own burger or choose from a number of plant-based options, but we suggest making a beeline to the Impossible Burger. Made with an Impossible patty, Daiya cheese, ketchup, mustard, tomato slices, and pickles, it's a solid handhold guaranteed to hit the spot. Pro tip: if you're exceptionally famished, you can order a double patty. Those who aren't fans of meaty-tasting vegan meat may prefer the Vegan Burger—a housemade vegetable-and-grain patty served with your choice of toppings. Note: the Vegan Burger is different from the Veggie Burger, which contains dairy. For sides, order the Classic Olive Oil Fries or ask for Daiya cheese on the Fiery Fries—a spicy bed of crispy French fries smothered in cheese, hot pepper relish, and fresh jalapeños. As an East Coast chain, in lieu of the West Coast-based Craig's Vegan Ice Cream, the frosty non-dairy shakes here are blended with a vanilla oat-based ice cream. Customers have their choice of fruity add-ins and toppings including Oreos, bananas, mangoes, blueberries, and strawberries.
Order here
These three restaurants are the most vegan-friendly of the FAT Brands bunch, but you can find a few options at the other franchise joints. Marble Slab Creamery offers a selection of dairy-free sorbets, and Hurricane Grill & Wings also offers an Impossible Burger. Yalla—a build-your-own Mediterranean concept—is an excellent choice for vegans and the most plant-forward of the brands. Steer clear of Round Table Pizza—the crust contains dairy, so the vegan option is confined to a sad salad.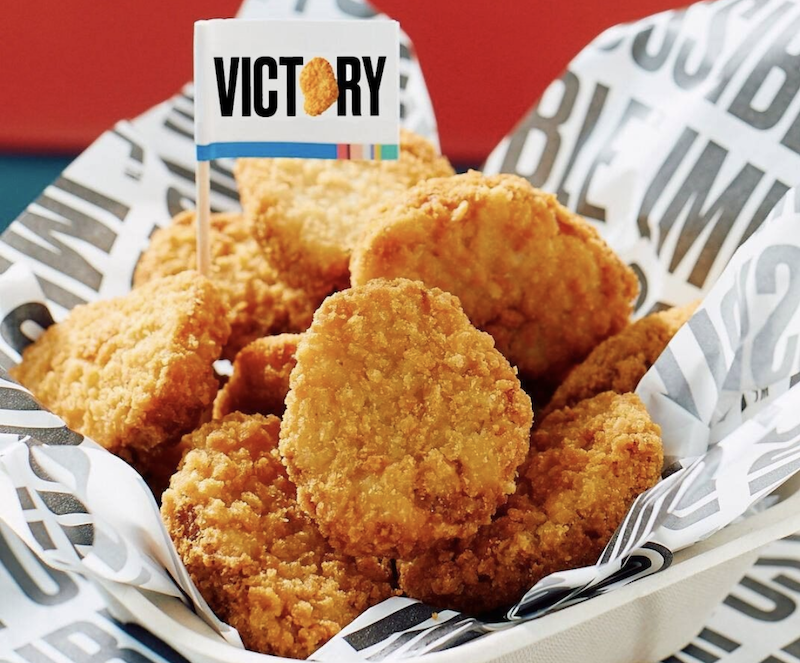 Impossible Foods
The future of vegan chicken
Vegan chicken is on the horizon for fast-casual restaurants. A few have already implemented this trending food—such as El Pollo Loco's Chickenless Pollo—and KFC continually teases us with extremely limited test runs, but plant-based chicken has yet to really hit its stride when it comes to mainstream restaurants. As of now, beef and sausages still reign supreme. The times are changing, however. Vegan chicken is catching up. Already popularized by countless vegan restaurants flexing their vegan chicken sandwich game, chickenless chicken is finding its way onto the menus of omnivore eateries but in nugget form.
Beyond Meat got a head start in the vegan chicken nugget race, launching its tenders in 400 locations across the US (for a limited time) in July 2021, closely followed by mass distribution of nuggets in over 1,000 Canadian A&Ws in early August. Impossible Foods responded by announcing its own vegan chicken nugget product which was served in eight key US restaurants in early September. Both Beyond and Impossible promise retail expansion into grocery stores within the year.
Meanwhile, plant-based meat brands are already jockeying for position on supermarket shelves. Within just the past two years, vegan chicken nugget options have exploded. Some established brands—such as Gardein and MorningStar/Incogmeato—repackaged their chicken offerings into breaded-and-fried nugget form, whereas other, newer brands focus almost exclusively on the humble golden nugget. NUGGS and Nowadays are two such companies going all-in on nuggets, leveraging both the retail and online markets to get these meaty morsels to the people.
Finally, while not a nugget, we can't talk about vegan chicken without mentioning Panda Express. In late July, 2021, the popular chain debuted Beyond the Original Orange Chicken—a completely vegan rendition of its iconic chicken entrée—in partnership with Beyond Meat. Within two weeks, all 10 Southern California locations were sold out of these sticky-sweet vegan chicken chunks, and the supply at the few New York City locations was seriously dwindling.
It's evident that customers are craving vegan chicken, and they want it to be convenient. While we love to support vegan businesses cooking up exceptional products, it's far less likely to reach an omnivore through a plant-based restaurant. "Consumers as a whole are looking for more options. Flexitarians and meat-eaters alike are looking for more plant-based alternatives," Wiederhorn confirmed. Will omnivores or flexitarians go out of their way to try a plant-based chicken sandwich at an all-vegan joint? Perhaps. However, people are creatures of habit, and it's far more likely that flexitarians will continue to frequent their favorite omnivore spots. Meeting them where they are at and providing them with a plant-based option will result in a far greater chance of getting vegan chicken on their trays. And that is how vegan food will take over—mostly through the orders of non-vegans.