In the town of La Jolla, CA—approximately 15 miles northeast of sunny San Diego—locals are flocking to Ambrogio by Acquerello for the city's hottest, meat-free tasting menu.
Developed by Michelin-starred chefs Silvio Salmoiraghi and Choi Cheolhyeok, the vegetarian tasting menu at Ambrogio by Acquerello is described as "modern Italian cuisine" and draws additional inspiration from France, Korea, Japan, and California.
The vegetarian tasting menu, aptly named "A Walk in the Garden," is easily made vegan by request. The prix-fixe menu treats diners to seven Michelin-star-worthy courses for $139 per person.
The vegan-friendly tasting menu at Ambrogio by Acquerello
At Ambrogio by Acquerello, restaurant guests start off with a vegan reimagining of sea bass made using celery root and turnip prepared in the fashion of Italy's Liguria region. Tomato tartare featuring a touch of citrus and parsley is the star of the second course.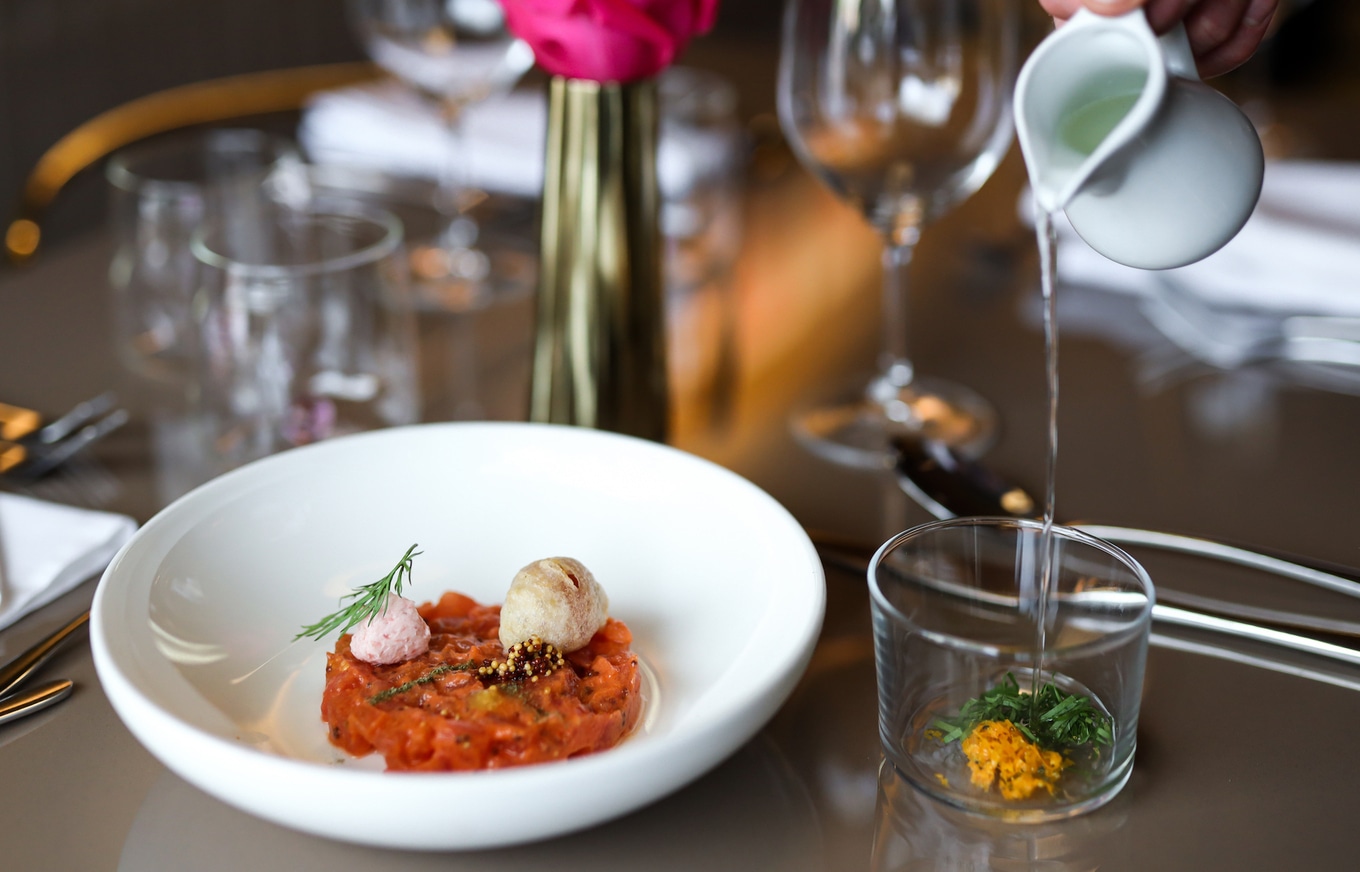 Ambrogio by Acquerello
The third course, Uovo al Verde—which translates to "green egg"—is easily veganized by the kitchen's world-class culinarians. To accommodate vegan diners, chefs utilize green vegetables to mimic the appearance of an egg, Salmoiraghi notes. The yolk is recreated in more ways than one; chefs rely on vegetable purée made from leafy greens, chickpea- or almond-based spreads, or a carrot-based purée.
The restaurant's fourth course, white chocolate and rhubarb sorbet, treats guests to a touch of sweetness amid a primarily savory dinner service. The sorbet—which is vegan as-is—features citrusy notes of grapefruit juice, a dash of sugar, and a splash of martini. With the advent of readily available vegan white chocolate, Salmoiraghi explains, vegans are easily accommodated.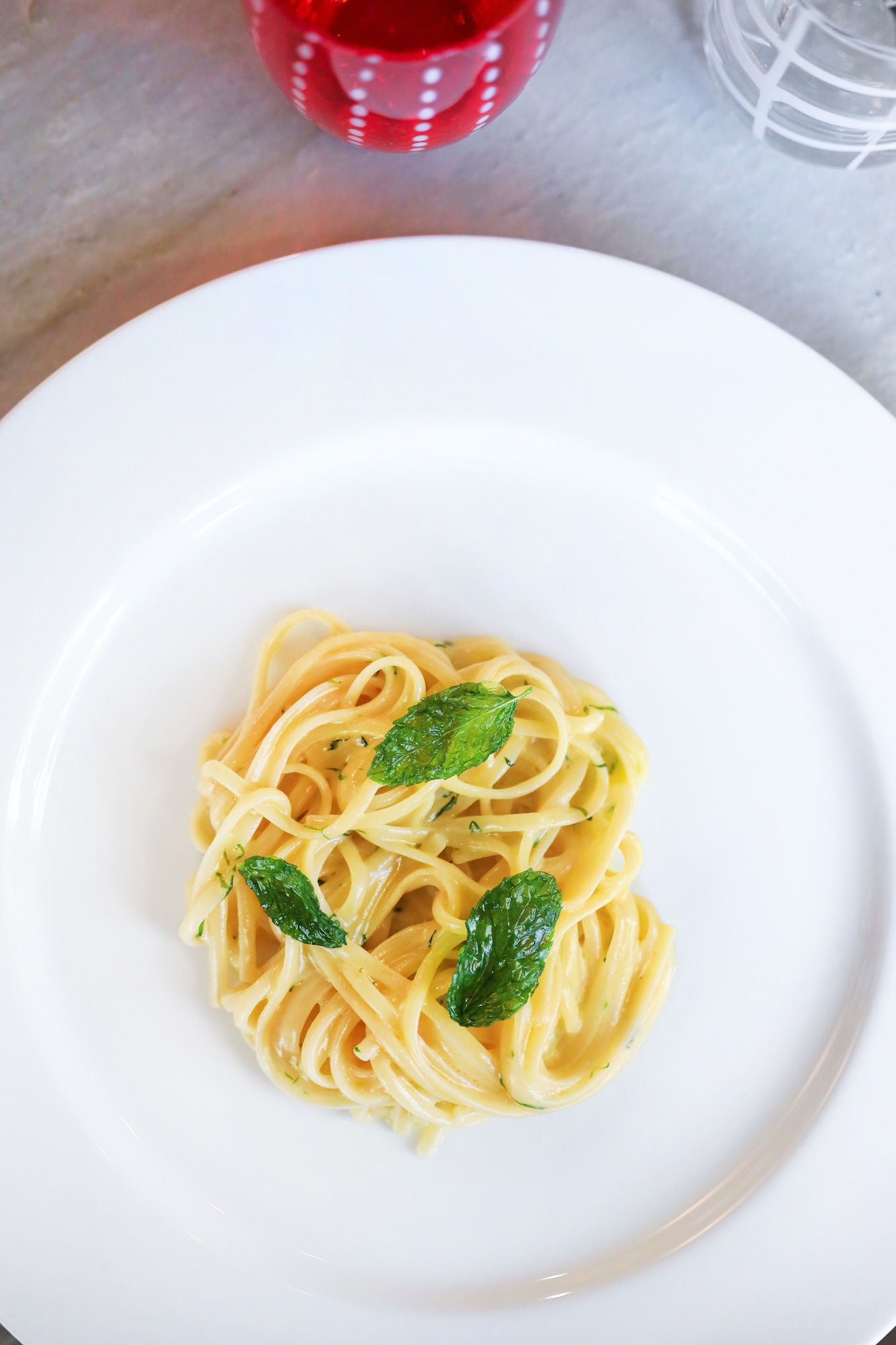 Ambrogio by Acquerello
The fifth course is the tasting menu's sole pasta dish: vegetarian parmesan linguine with a touch of mint for added freshness. For the plant-based crowd, this dish is made with an emulsion of oil and vegan cheese or a tofu-based cheese alternative.
Ambrogio by Acquerello's modern Italian cuisine, Salmoiraghi notes, breaks away from the common notion of pasta as the epitome of Italy's varied fare.
"In my opinion, modern Italian cuisine cannot simply be defined as a dish of pasta or a specific preparation. Italian cuisine is not solely characterized by these common stereotypes, but rather by the Italian approach to cooking," Salmoiraghi tells VegNews.
"When comparing modern Italian cuisine to what Americans typically consider as Italian cuisine, there may be some differences in terms of regional specialties, popular dishes, and cultural adaptations."
"However, the core principles of Italian cuisine—such as quality ingredients, simplicity, and respect for flavors—remain at the heart of both traditional and modern Italian culinary practices, within the framework of an authentic Mediterranean diet," he says.
For the sixth course, diners are treated to daikon foie, a vegan reimagining of foie gras. To achieve the distinct flavors and textures of foie gras, chefs prepare daikon turnips in "a manner reminiscent of fatty liver." The root vegetable is lightly marinated for flavor enhancement and tenderization. Then, it's roasted in its natural juices to further intensify flavor and achieve the desired texture.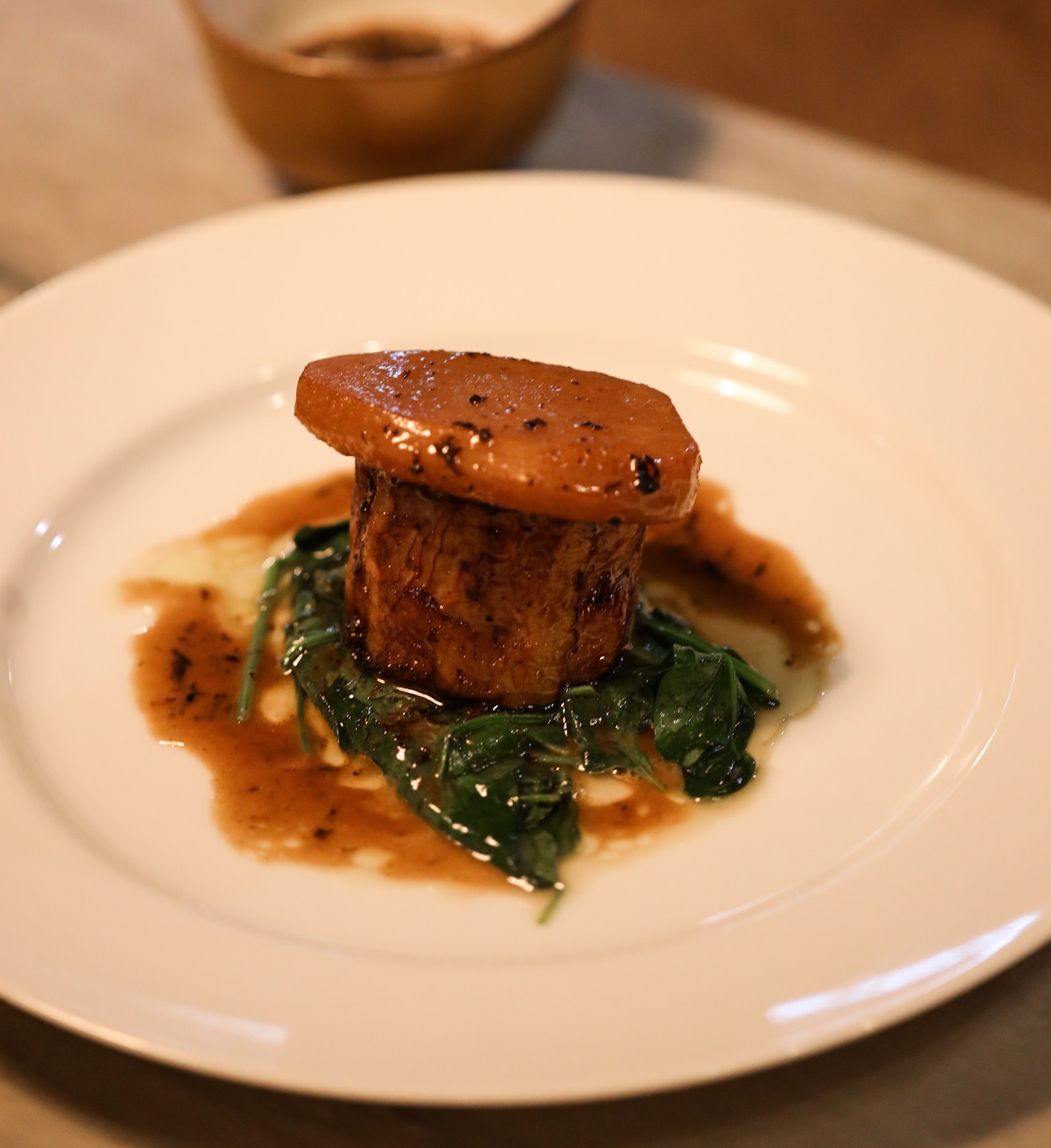 Ambrogio by Acquerello
"One of the key aspects of this vegan foie gras substitute is the caramelization step. Without the use of any animal fats or ingredients, we carefully caramelize the daikon during its cooking process," Salmoiraghi says. "This brings about a beautiful golden-brown color and adds depth to the flavor profile, reminiscent of the caramelized notes found in traditional foie gras."
"By employing these techniques and using plant-based ingredients, we are able to create a daikon Rossini that captures the essence and indulgence of foie gras while adhering to a vegan approach deeply rooted in our Italian heritage," the chef explains.
For dessert, the seventh and final course, diners are treated to an assortment of vegan pastries and sweets. Options range from mini coconut-banana chocolates, cannolis with pistachios, and blood orange tuile—a baked wafer with French origins.
The evolution of vegan fine dining
At Ambrogio by Acquerello, Salmoiraghi and Cheolhyeok didn't just design the menu. The world-renowned chefs are also on rotation in the kitchen alongside the restaurant's back-of-house staff, where they masterfully prepare the restaurant's seven-course tasting menu.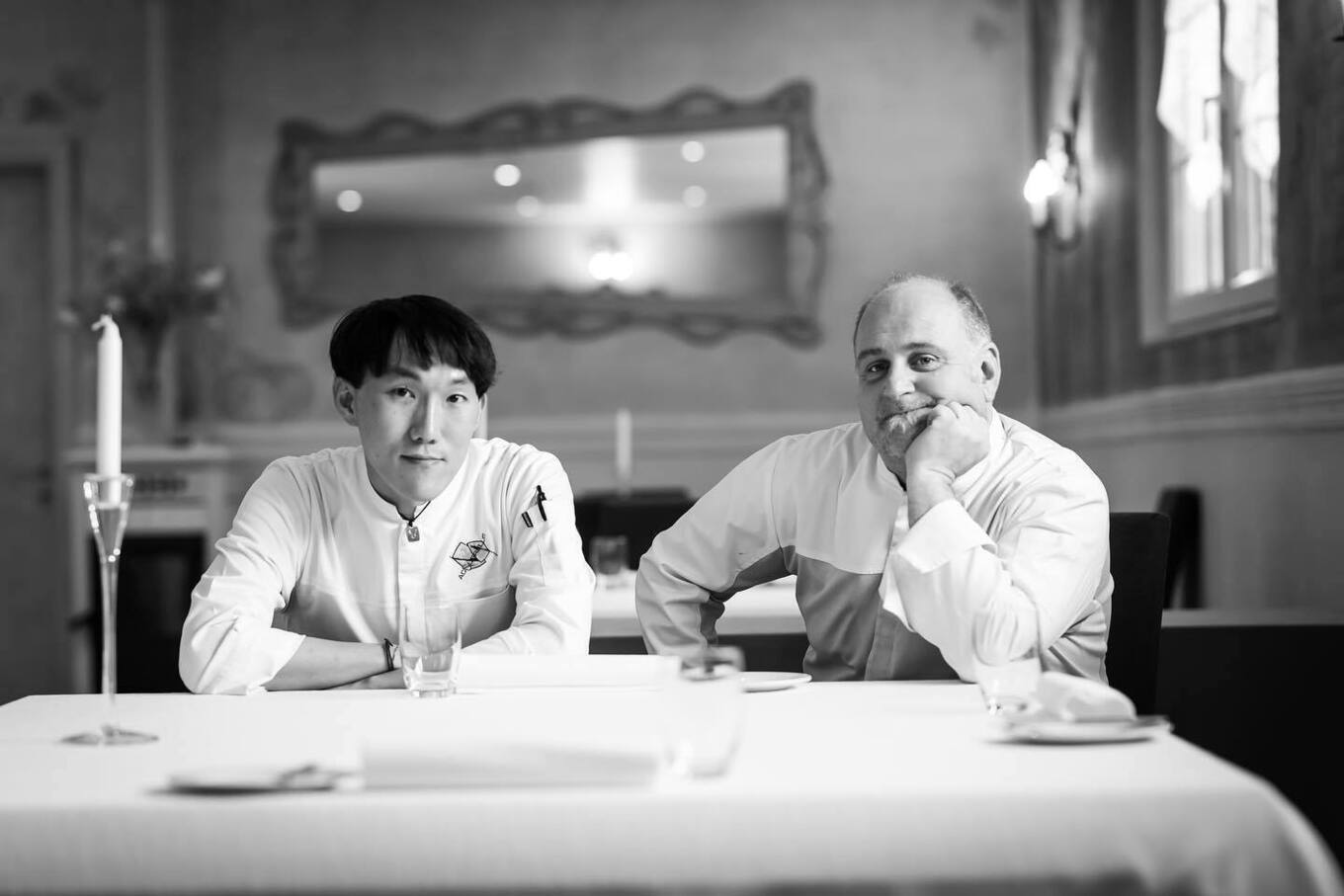 Ambrogio by Acquerello
The pair is also behind Michelin-starred restaurant Acquerello in Milan, Italy. At Ambrogio by Acquerello, Salmoiraghi is especially poised to helm the restaurant's vegetarian tasting menu, not only for his decades-long career but for his specialty in meatless fine dining.
Nearly 30 years ago, Salmoiraghi began his tenure at Joia, Italy's first Michelin-starred vegetarian restaurant. Salmoiraghi helped elevate meatless fine dining at its advent, and today he continues ushering it into a new era.
"Since I started working at Joia in 1993, the world of vegetarian and vegan cuisine has undergone tremendous evolution, particularly in the fine dining space," Salmoiraghi says. "There have been significant changes, primarily due to the increase in the number of people adopting vegetarian and vegan diets."
"Nowadays, with the availability of diverse ingredients and the emergence of innovative culinary techniques, it is possible to create vegan and vegetarian dishes that rival the texture and satisfaction of animal-based proteins," he says.
Ambrogio by Acquerello is not the only fine-dining restaurant embracing meatless fare. Crossroads Kitchen in Los Angeles has long been wowing diners with its all-vegan menu since it first opened 10 years ago.
And more recently, New York's Eleven Madison Park made headlines after chef-owner Daniel Humm removed animal-based foods from the Michelin-starred restaurant's menu—a move heavily influenced by the COVID-19 pandemic.
Last fall, the newly vegan fine-dining institution made history after retaining its three Michelin stars.
For the latest vegan news, read: