Pizza Hut is one of the most recognizable and well-known fast-food chains in the world, but it started from humble beginnings. In the late 1950s, two brothers called Frank and Dan Carney started a small joint in Wichita, Kansas employing just family and friends. But, evidently, their pizzas were a big hit. And today, people still love them.
With more than 19,000 restaurants in over 100 countries, Pizza Hut is constantly evolving. From stuffed crust to seriously addictive dipping sauce, the chain has consistently added new tasty menu additions over the decades. And now, the much-loved pizza joint is getting more vegan-friendly than ever.
Here's what you need to know about ordering plant-based at Pizza Hut.
Is Pizza Hut suitable for vegans?
Until a few years ago, Pizza Hut was far from a vegan-friendly destination. Mozzarella was king, and there were no vegan cheese options to speak of. But in 2017, that all changed—well, at least for a handful of locations in the UK.
The popular chain started trialing Violife in a small selection of restaurants in October of that year, before rolling out the option nationwide. And now, just six years later, Pizza Hut's UK menus have a whole vegan section (more on that below).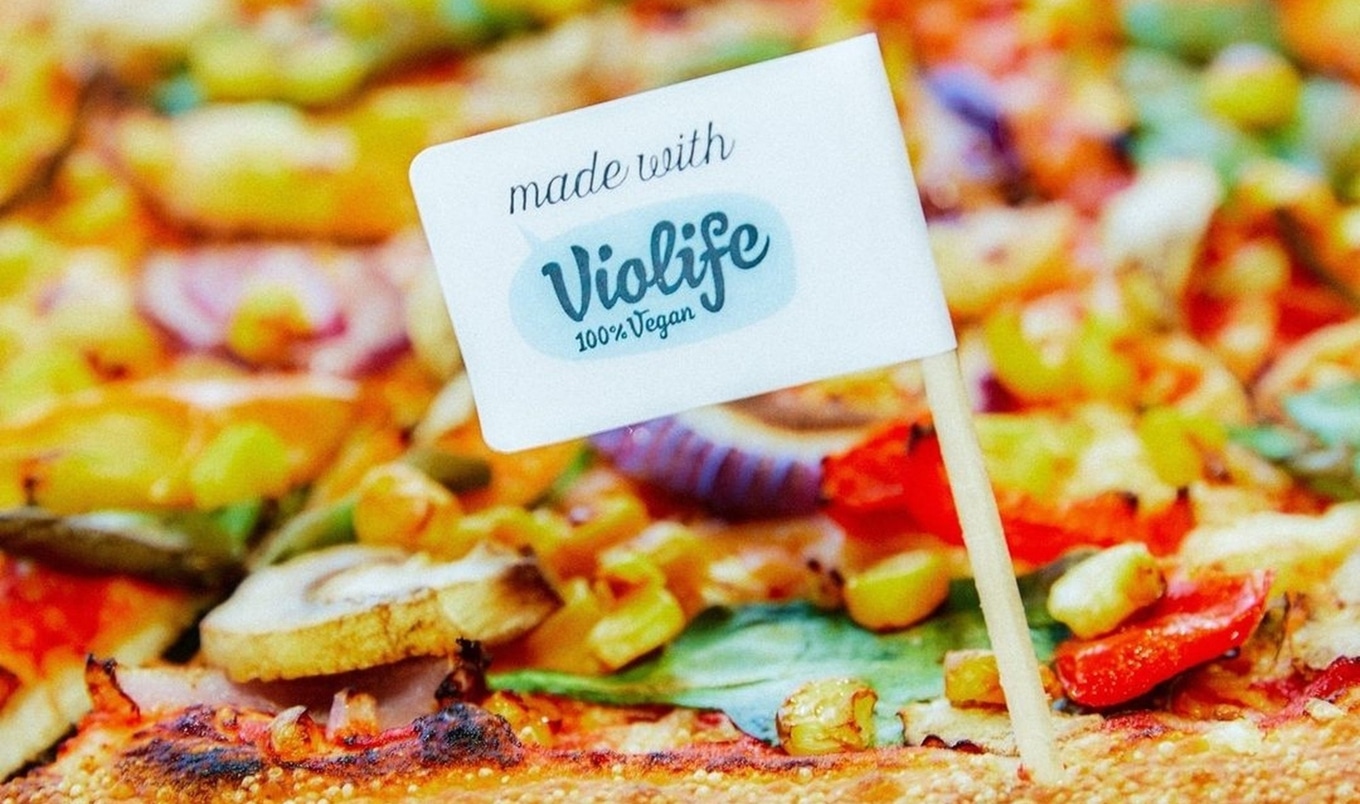 Pizza Hut UK
The UK isn't alone. Several international locations have vegan cheese on the menu, including Australia and Germany, but, unfortunately for North American customers, vegan cheese is yet to be added to menus in the US and Canada.
But if you're a Pizza Hut fan, don't worry: you still have options. In fact, in some locations in North America, you might have to skip the cheese, but you can order plant-based meat toppings. Here's what you need to know about ordering vegan at Pizza Hut.
The best vegan options from Pizza Hut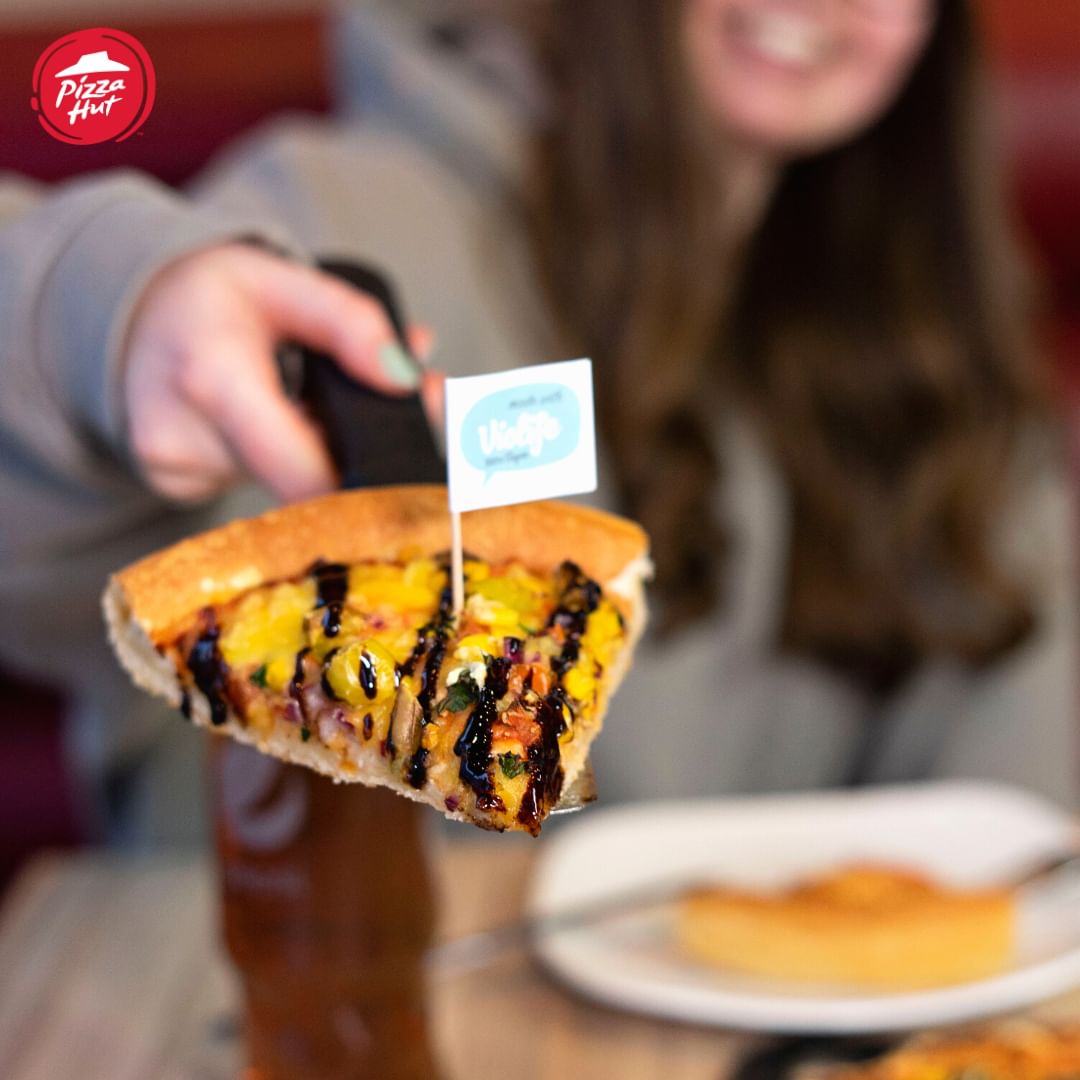 Pizza Hut Germany/Instagram
1 Vegan cheese
As mentioned above, Pizza Hut locations in the US and Canada don't have vegan cheese. But in the UK and Germany, you can find Violife on the menu, and in Australia, you can order the Vegan Deluxe or the Vegan Mediterranean, both of which come with vegan mozzarella.
In the US, if you're really craving a cheesy Pizza Hut pizza, one option is to order without cheese, and then load it up with your own from home. Daiya's dairy-free mozzarella, for example, is a good pizza choice, and so is Miyoko's Creamery's cashew milk mozzarella.
Or, alternatively, you can go Neapolitan marinara-style and just enjoy a tomato-ey pizza without cheese!
2 Vegetable toppings
For some, ordering a pizza for delivery and then customizing it with toppings from home is just too much effort. And that's fair enough—delivery is supposed to be easy and low-effort.
If you live in a place where vegan cheese and vegan meat toppings aren't available (i.e., most of the US, unfortunately), then we suggest ordering a simple tomato base (more on dough options below) and loading it up with your favorite vegetables.
Bell peppers, mushrooms, red onions, black olives, and sweet pineapple (okay, that's a fruit, but you get the jist) are just a few options available to you if you're looking for a delicious veggie-packed pie.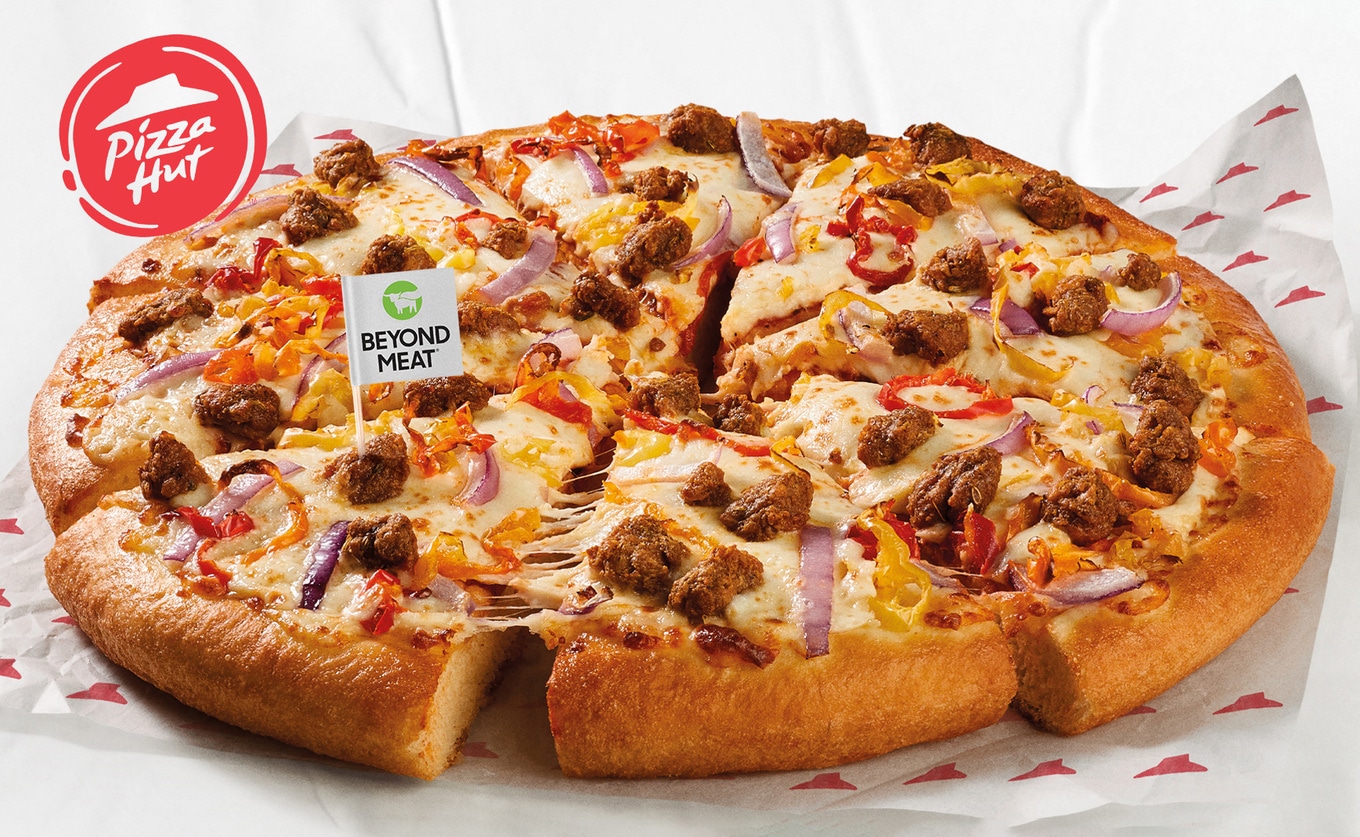 Pizza Hut
3 Meaty vegan toppings
If it's meat you're craving, Pizza Hut has several meaty options in its various locations around the world. Even in the US, the chain started trialing vegan pepperoni for a limited time back in 2021 in 70 locations. And in Canada, last year, Beyond Meat's Italian Style Sausage was added to menus in all 450 of the country's Pizza Hut restaurants. In the UK, you can also order Beyond Meat's Italian Style Sausage, as well as soy-based Chik'n.
If you're unable to order meaty toppings where you live, again, another option is to order the Pizza Hut pizza for delivery, and then add your own. You could sprinkle some Louisville Vegan Jerky Pepperoni Bits on your pizza pie, for example, or chop up some Organic Soyrizo from El Burrito.
4 Crusts and dough
When it comes to vegan-friendly dough, US customers have a few options. Thin 'n Crispy, Hand-Tossed Style, Pan Crust, and P'Zone Dough are all dairy-free. You can also opt for no crust flavor at all, or for the Buttery Blend, which, despite what the name implies, is actually dairy-free! If you're in the UK, you can also order a vegan version of the chain's signature stuffed crust, too.
Pizza Hut
5 Sides
A pizza delivery is, arguably, not complete without sides. A Pizza Hut takeout (or dine-in meal) should be a family feast, after all—or a feast for one, we're not judging. In the UK, the plain wedges are vegan, and in Australia, customers can choose Vegan Cheesy Garlic Bread, too. In the US, you can also order fries and breadsticks (just make sure the latter comes without the parmesan seasoning).
6 Dips
Again, in the US, vegan-friendly dipping sauce options are limited, but you are safe with the buffalo dip. In Australia, you can also order sweet chili and tomato sauce, and in the UK, vegan-friendly options include BBQ sauce and tomato ketchup.
7 Desserts
If you're dining in at a UK Pizza Hut, you can treat yourself to a vegan cheesecake slice after you've polished off your pizza. Unfortunately, this isn't an option in many other locations. But that said, if you're looking for a little extra something sweet in the US, you can grab a portion of vegan-friendly Cinnamon Bites (albeit without the dipping cup).
For more fast-food guides, read:
Here at VegNews, we live and breathe the vegan lifestyle, and only recommend products we feel make our lives amazing. Occasionally, articles may include shopping links where we might earn a small commission. In no way does this effect the editorial integrity of VegNews.