Hot cocoa bombs are the trending equivalent of dalgona coffee this season. Sure, they're convenient for making a cozy mug of cocoa, but they've also provided many with (hours?) of entertainment via Instagram reels and TikTok videos. Comprised of a hollow chocolate shell filled with marshmallows and hot cocoa mix, these trending treats turn cocoa into a cause for celebration. Here's how to make them at home.
What are hot cocoa bombs?
The trend began like most food trends these days—on TikTok. While food bloggers and independent chocolatiers undoubtedly created these confections long before they went viral, social media skyrocketed hot cocoa bombs into mass popularity. The trend began in earnest in 2020 following a late 2019 TikTok post from Eric Torres-Garcia with a caption, "Would anyone buy these?". It didn't take long for the erupting ball of cocoa mix and marshmallows to catch on, and it has since inspired cafés, grocers, and even Etsy creators to sell their own versions of these festive wintertime treats.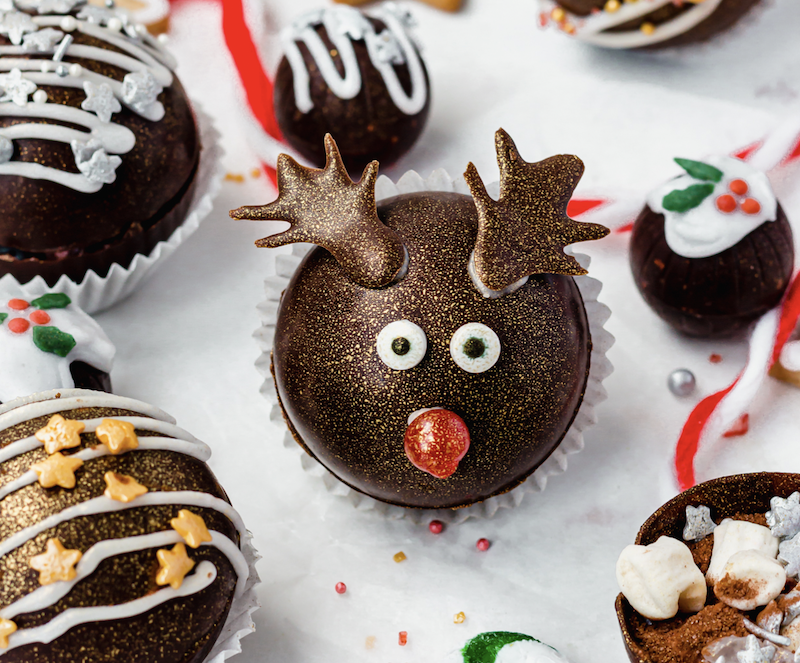 Nourishing Amy
True to its name, the oh-so-satisfying explosion gives hot cocoa bombs both trending and staying power. A cocoa bomb is made of a solid chocolate shell—about an inch or two in diameter—filled with hot chocolate mix, marshmallows, and sometimes other edible fanfare like sprinkles. When plopped into hot non-dairy milk of your choosing, the chocolate shell melts on impact and its contents spill out, flavoring the milk and creating near-instant hot chocolate.
Particularly during the winter months, these aren't too hard to find, though vegan options may not be as plentiful. If you're looking for a quick, shippable gift, the BomBombs Vegan Dark Chocolate Cocoa Bombs are a convenient option. However, for those who enjoy a bit of culinary crafting, the process of making hot cocoa bombs is half the fun.
We've detailed the steps to making fun and unique vegan hot cocoa bombs below so you can make this a new holiday tradition. Need a bit more guidance? This recipe is perfect for first time cocoa bomb makers.
It starts with chocolate
Let's get the hard part over with by creating the chocolate shell that will contain your cocoa mix and marshmallows. This involves tempering chocolate—a culinary term for the process of melting and cooling chocolate so that it eventually hardens into a glossy finish with a crisp snap. Tempering also stabilizes the chocolate and makes it easier to work with. This tutorial provides a thorough step-by-step to tempering. Alternatively, you could throw caution to the wind and melt the chocolate over a double broiler, but do so at your own risk.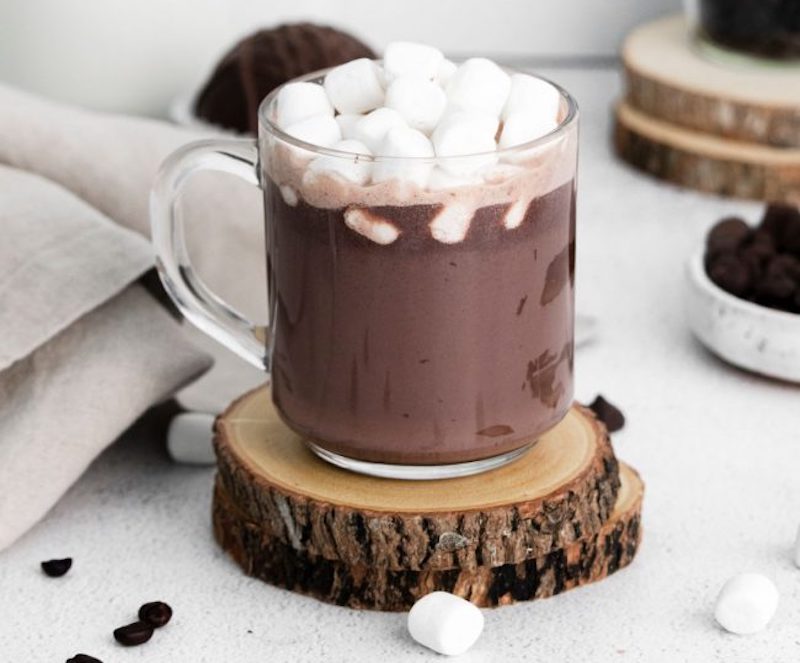 Texanerin
Once your chocolate is tempered (or melted), use a food-grade brush to evenly line the inside of a silicone dome mold with the chocolate. Allow this to harden in the fridge—up to 10 minutes. Once set, ever so carefully pop out your chocolate molds and fill half with about one tablespoon each of cocoa mix and vegan mini marshmallows (try Dandies).
Consider customizing
The standard hot cocoa bomb is filled with mix and marshmallows, but don't let that limit you. There are an infinite number of ways to customize your filling to create flavored hot chocolate.
Try adding in a teaspoon of crushed candy canes for a peppermint cocoa, instant espresso for a mocha, or a small pinch of cinnamon to make Mexican hot chocolate. Be sure your flavors are represented in the decorations, too. Roll the peppermint bomb in candy cane dust (just blitz one in a high-speed blender), top the mocha with a chocolate-covered espresso bean, and sprinkle the Mexican cocoa bomb with a dash of cinnamon. Even if you stick to the basic filling, add a bit of flaky sea salt to the top of your bomb. The salt will enhance the chocolate flavor.
Seal the deal
At this point, you have two halves of a chocolate sphere—one filled, one empty. It's time to seal the deal. Heat a pan over the stove then press the empty halves onto the pan to instantly melt the edges. Immediately press the empty halves onto the filled halves to cement the bombs. Be careful not to press too firmly to prevent cracking. Allow the melted edge to fully solidify before moving on to the decoration.
Get creative
Technically, your vegan hot cocoa bomb is complete, and you could plop it in a steaming mug of plant-based milk without adding any adornment. But what's the fun in that? You could do a simple, elegant drizzle of vegan white chocolate (see The Vegan Rhino's post) or get crafty with these adorable reindeer look-alikes. Let your creativity run free!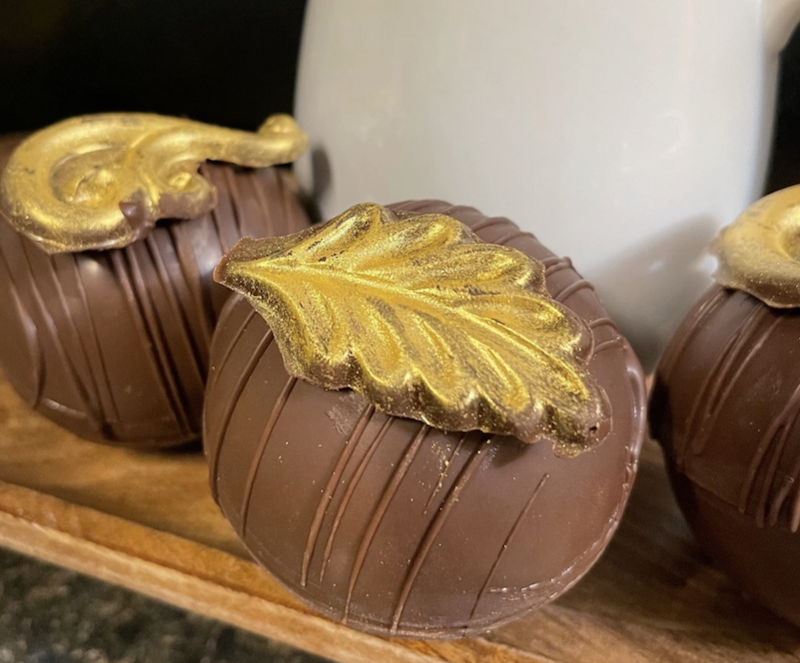 HelloMySisterCo
When all else fails …
Hot cocoa bomb fail? The good news is, it will taste the same when you toss it into a mug of milk regardless if you were able to successfully create the perfect sphere.
Alternatively, go support a vegan-friendly small business and opt for store-bought. We love the gorgeous gold leaf that decorates the exploding confections of this Etsy purveyor— you'll want a set for yourself and everyone on your gift list.
For the more vegan wintertime treats, read: