We were all forced to get creative during the pandemic (which, we fully acknowledge, is still on-going). Many of us retreated from the outside world and dove further into our screens, hungry for interaction and inspiration wherever we could get it. TikTok provided what we craved in the form of edible food creations that were actually replicable at home. So we tracked down the most mouthwatering and accessible TikTok food trends and veganized them. From dessert cereals to whipped coffee, put these vegan recipes on your "must-make" list.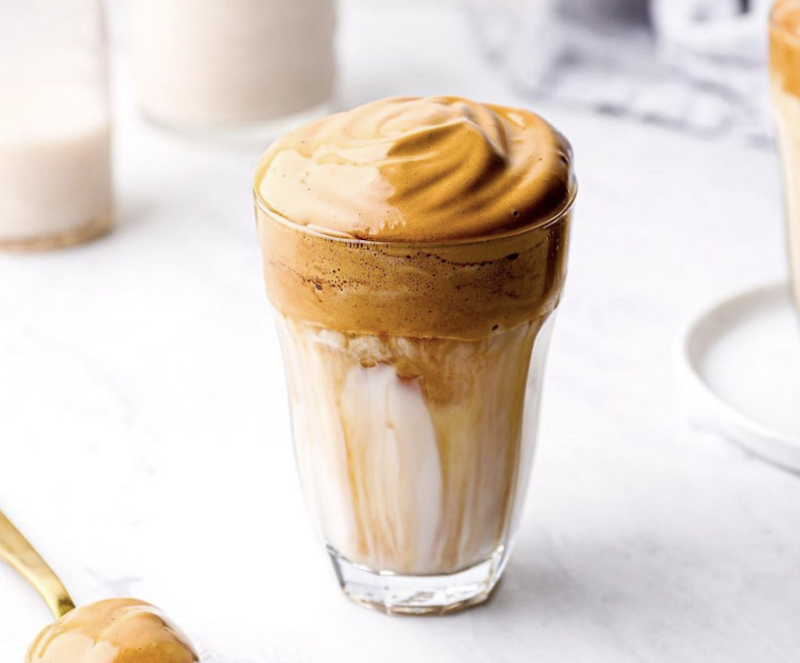 Best of Vegan
1 Dalgona coffee
Also referred to as "whipped coffee," this caffeinated trend took off early last year. Note: this technically is not new—it became popularized via a Southern Korean television show in January 2020, but variations of whipped instant coffee and sugar have been found throughout India, Greece, Libya, and other countries for decades. To make this at home, simply whip two tablespoons of instant coffee, two tablespoons of hot water, and one tablespoon of granulated sugar together until the mixture becomes light and fluffy (look for stiff peaks). A handheld mixer makes this whipping process infinitely easier than using an arm-powered whisk. Top your fluffy coffee with chilled or steamed non-dairy milk and sip slowly.
2 Pancake cereal
Have a lot of time on your hands? Make pancake cereal. It's literally just as it sounds. You make enough tiny, quarter-sized pancakes to fill a cereal bowl then douse them in your non-dairy milk of choice. No special recipe required—your favorite pancake recipe or even a simple mix will do. Our favorite? These Fluffy Vegan Oat Milk Pancakes. As far as mix-ins go, mini chocolate chips work, but avoid ingredients like blueberries or sliced bananas as they're too big for these tiny hotcakes. Pro tip: a squeeze bottle and a griddle make the process fly by.
3 Feta pasta
Like dalgona coffee, this trend is nothing new. However, TikTok did its thing and alerted the masses about this regional Scandinavian dish. It's essentially a baked skillet sauce of seasoned roasted cherry tomatoes and a block of feta. The tomatoes and cheese break down when baked, creating a creamy one-dish sauce that compliments any shape of pasta. To veganize, follow any TikTok feta pasta video and substitute a block of non-dairy feta—such as Violife—or check out this vegan-as-is version on our VegNews Instagram feed. For a healthier go-to, try hummus instead of feta.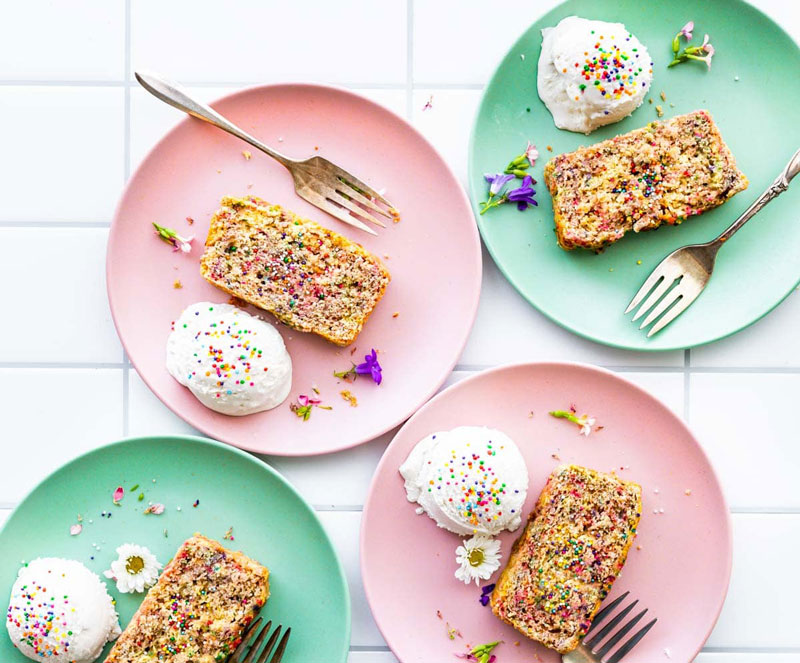 Cotter Crunch
4 Ice cream bread
Lizzo first introduced us to this sweet creation, but apparently she wasn't the first. To whip this up in your own kitchen, melt a pint of your favorite vegan ice cream and mix with 1¼ cups self-rising flour. Yes, that's it (unless you want to add sprinkles, of course, which are always welcome). Bake at 350 degrees until a toothpick inserted comes out clean and cool, if you have the patience.
5 Banana bread
We hoarded bananas like some hoarded toilet paper to make and remake this humble quick bread. Why it started trending, we have no idea. All we know is that something was triggered inside us all as soon as lockdown hit. As the pandemic wore on, we switched from homemade recipes to vegan-friendly mixes. We're pretty sure this trend will never go out of style. Banana bread, always!
6 Tortilla wrap hack
This edible origami trend reinforced what we already knew: location, location, location. This hack breaks down a tortilla into quadrants, because the traditional way of stacking ingredients on top of each other when making a wrap was clearly all wrong! Check out this comprehensive tutorial from Simnett Nutrition for a veganized version of the trend done four tasty ways.
7 Cream cheese and bell peppers
We can't prove it, but we're fairly certain vegans originated this simple snack combo way before it made its debut on TikTok. In its purest form, this snack comes together by slathering cream cheese onto slices of mini bell peppers. This base leaves room for endless amounts of extras, though the popular topping is everything bagel seasoning. The result is crunchy, creamy, cool, and spicy. Veganize it by using your favorite plant-based cream cheese such as Miyoko's, Tofutti, or Kite Hill.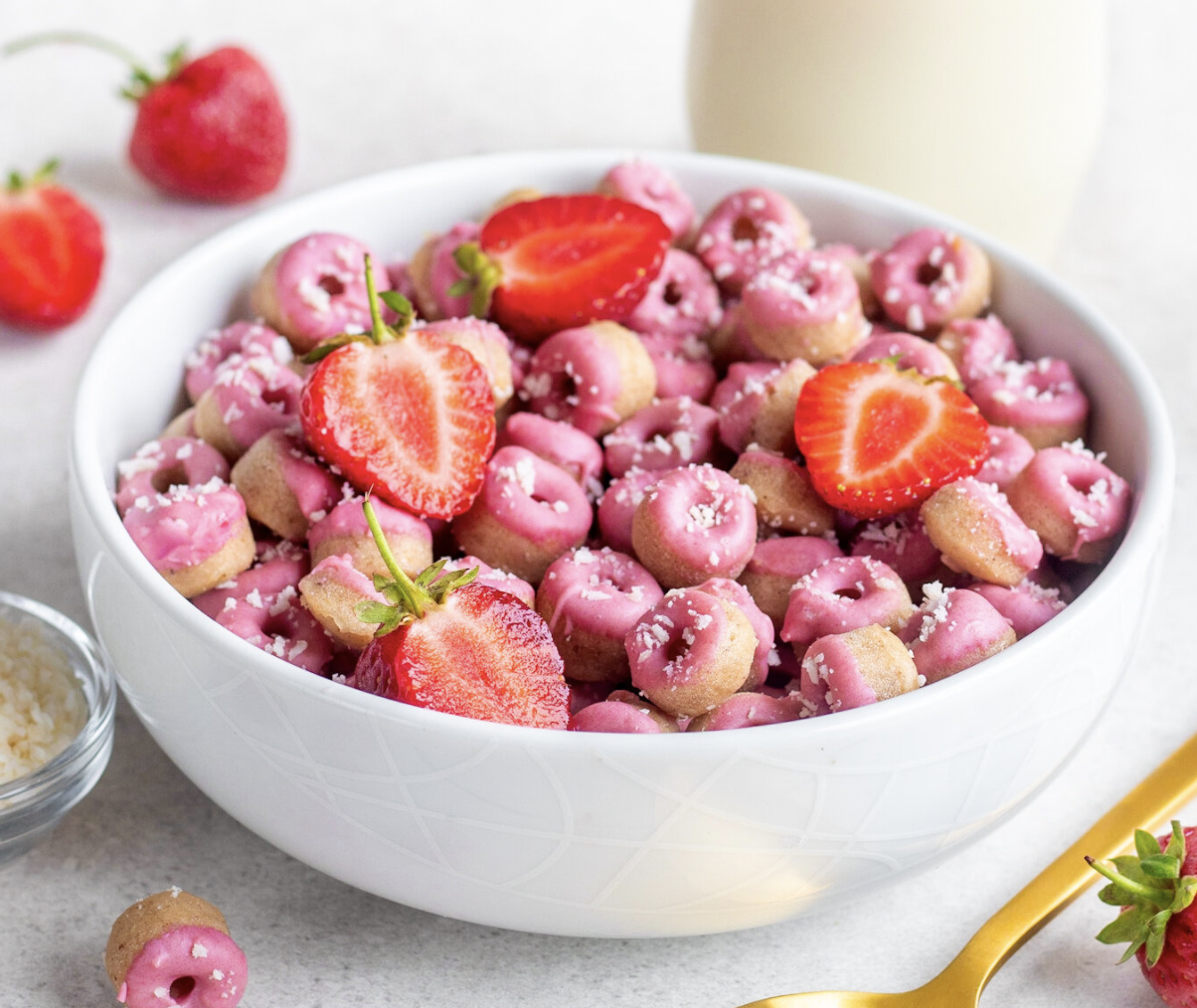 Alchemy Eats
8 Tiny doughnut cereal
There are mini doughnuts, and then there are cereal-sized doughnuts. Piggy-backing off the pancake cereal trend (will full permission of the pig), this is definitely a dessert cereal and certainly time consuming. However, some people find the process of teeny-tiny doughnut making meditative. To try the trend, check out this recipe by Alchemy Eats.
9 No-yeast peanut butter bread
Desperate times call for creative solutions, which is where this yeast-free quick bread comes in. When the shelves were scavenged for yeast in the first few months of crazed bread-making, TikTokers circumvented the shortage and brought back this Depression-era nut-based bread. It's a one-bowl mix that combines flour, sugar, salt, baking powder, non-dairy milk, and peanut butter, and the result is fluffy, somewhat dense, and absolutely peanut buttery. Watch Food Network celebrity Jeff Mauro add a few mix-ins to his—just omit the peanut butter chips and swap in non-dairy milk to veganize his recipe.
10 Pickle juice salad dressing
Unless you're a pickle die-hard, your initial reaction might be unpleasantly visceral. However, we ask that you give this a chance. It's more than just pickle juice doused on lettuce—it's pickle juice and hummus. The brine thins out hummus and makes for a pourable, tangy, earthy, and nutty topper that goes with virtually any salad. Pro tip: aim for a three-to-one ratio hummus to pickle juice.
11 Carrot bacon
As the number two top TikTok creator in 2020, vegan influencer and actress Tabitha Brown had more than a few videos go viral, but it's her carrot bacon tutorial that wins hearts over and over again. Lesson learned: you can make bacon from almost anything with the right spices and a few drops of liquid smoke.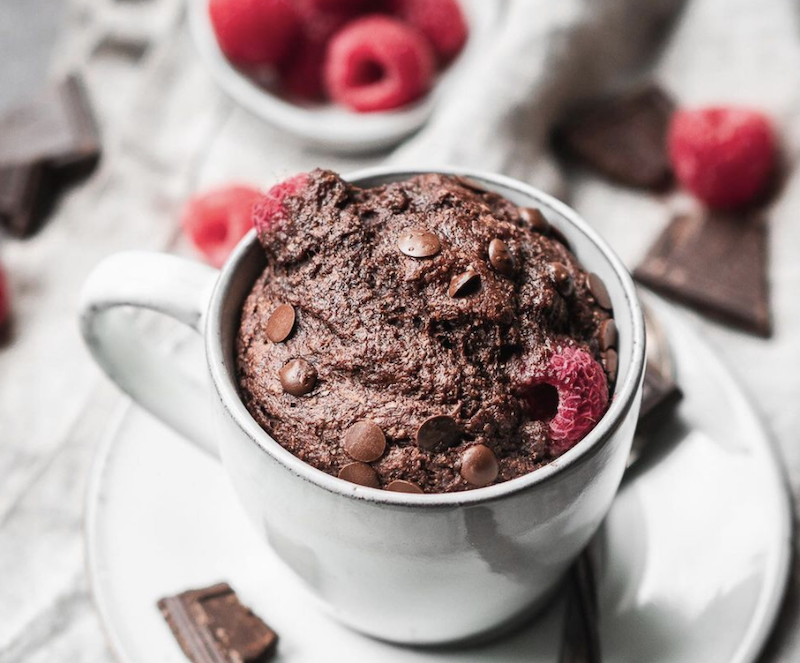 Tales of Horizon
12 Mug cakes
Bakers may cringe at the prospect of microwavable cake, but during a pandemic, these instant desserts have their place. They're convenient, portion-controlled, and actually pretty good. Check out this two-minute vegan mug cake recipe from Audrey Dunham. It's a one-mug wonder that will never let you down at the end of a hard day. For even more flavors (funfetti, anyone?), check out these eight vegan mug cake recipes.
13 Cookie cereal
Dessert cereal was definitely a theme in 2020. This cookie version is just another iteration of making something super tiny and dousing it in non-dairy milk. It's like Cookie Crisp, but way better. Spend an afternoon making doll-sized cookies and freeze the rest to have mini cookies whenever the craving calls. Check out this vegan recipe from No Cilantro Life to get started.
14 Homemade hazelnut spread
Vegans have been making their own Nutella for years, but TikTok creators really got into it in the past year. We won't sugar coat it—roasting and de-skinning hazelnuts is a bit of a pain—but we'll put up with a lot for a jarful of vegan Nutella. Follow this recipe by The Minimalist Baker for a four-ingredient fix to chocolate-hazelnut goodness.
15 Hot chocolate bombs
There is something intensely satisfying about watching a sphere of chocolate dissolve into steamy plant milk. We could be mesmerized by these sugary explosions of chocolate and marshmallows for hours. To make your own, you'll need a silicone semi-sphere mold in addition to the ingredients, but it's a small investment (around $4) that pays off everytime you watch that magical reaction between chocolate and hot plant milk. Check out The Vegan Rhino's video to learn how to make your own.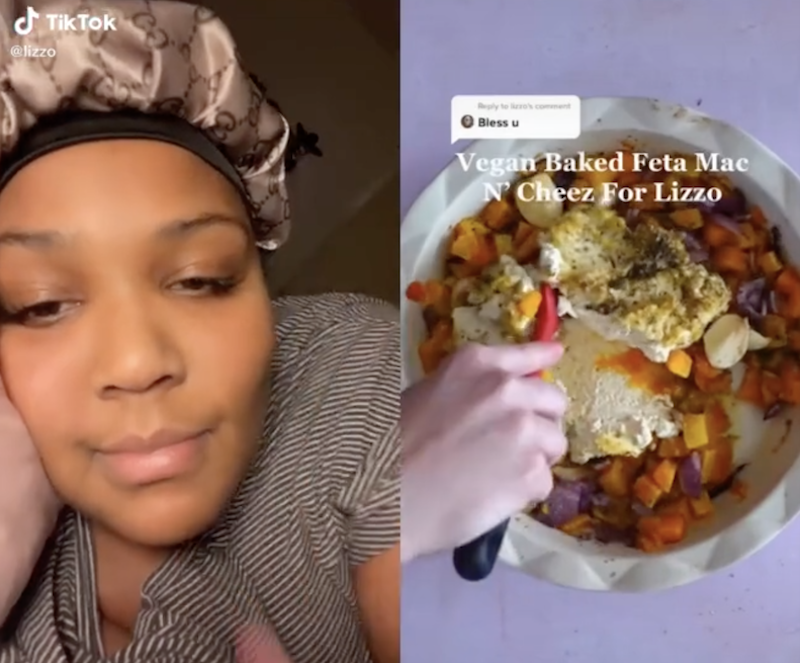 @lizzo/TikTok
16 Lizzo's vegan eats
2020 is the year Lizzo went vegan, and she warmed her 12.8 million followers up to the idea by posting regular vegan recipe tutorials of her everyday eats. From her spiced-up vegan version of McDonald's McChicken Sandwich to plant-based Jamaican patties, the songstress is one to watch for your next dinner idea.
For even more recipes to try, read:
7 Vegan Air-Fryer Recipes
15 Vegan Buffalo Recipes
23 Vegan Mac and Cheese Recipes