Less than two hours' drive from Bangkok, on the southeast coast of Thailand, there is a sleepy seaside town called Sri Racha. It's not too touristy, it's relaxed, and, from the ocean to the jungle, it's brimming with wildlife. But for most, this isn't why Sri Racha is particularly significant. As you may have already guessed, the town is the birthplace of the now much-loved, world-renowned condiment, sriracha.
In the late 1940s, Thanom Chakkapak of Sri Racha would regularly serve her family and friends her own signature sauce recipe. It was a little spicy, it was tangy, it was garlicky, and they loved it so much, they urged Chakkapak to bottle it and sell it so that everyone across the country could enjoy it. And so she created Sriraja Panich, a brand that remains popular across Thailand today.
In the US, most will have tried a different version of Chakkapak's original creation, which Huy Fong distributes. The company was founded by a Vietnamese man called David Tran, who fled to the US in the 1970s to escape communism. It was his idea to call the sauce sriracha, to pay homage to the place where the recipe originated.
There are now many types of sriracha on the market, but Huy Fong's is the most popular. (It's so loved, the company hit $150 million in annual revenue in 2019.) But what actually is sriracha? Is it vegan? And how, exactly, do you cook with it? We've got all the answers.
What is sriracha?
Despite its bright red color, sriracha is only a moderately spicy sauce. It's tangy and garlicky, and can be drizzled over or cooked into pretty much anything you like, from burgers to fries to pasta to salad. But it is also often simply served on the side as a dipping sauce. In Thailand, sriracha is often eaten with seafood (which isn't a surprise considering it was created originally in a seaside town).
Is sriracha vegan?
Traditionally, sriracha is made with a blend of chillis, garlic, vinegar, sugar, and salt, which all sound pretty vegan. However, according to Double Check Vegan, Huy Fong's sauce isn't vegan-friendly because the sugar it contains is processed with bone char (which comes from animals). In 2017, a spokesperson for Huy Fong confirmed to the website: "Unfortunately, our products are not vegan, because of the process our sugar goes through during its production."
But there are other vegan srirachas on the market. Natural Value's Organic Sriracha, for example, is bone char-free. Flying Goose, Kitchen Garden Farm, and Yellowbird are some examples of brands selling vegan sriracha. Sky Valley also offers vegan sriracha, including its extra fiery Green Sriracha sauce, which was launched last year.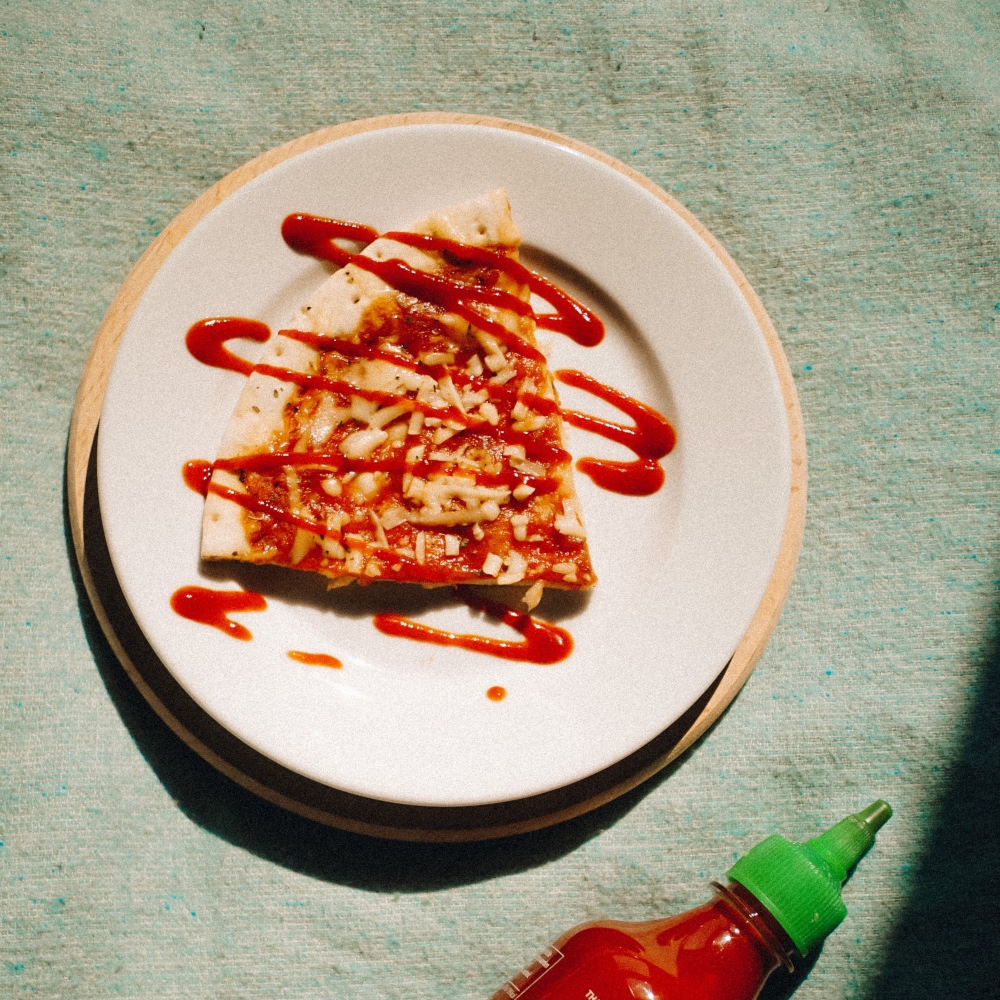 Cristi Ursea/Unsplash
Does sriracha have fish in it?
As well as sugar processed with bone char, another ingredient to watch out for in sriracha sauce is fish. Some brands like to add extra flavor to their sauces with anchovies, a small, saltwater fish. Lee Kum Kee's Sriracha Chili Sauce, for example, used to contain anchovies (but the brand now only offers a vegan, fish-free version!). Other versions can sometimes contain shrimp paste, so always read the label to ensure your purchase is totally animal-free.

How to cook with sriracha
There are many different ways to cook with sriracha. While some like to simply serve it on the side or use it as dressing, it can also be a great base for marinades, glazes, and sauces. You could use it to season vegetables, coat cauliflower wings, or even roast it into chickpeas. It all depends on your preference, but if you're a sriracha lover, there is a way to include this spicy, tangy sauce in most recipes. For inspiration, we've gathered a few of our favorite vegan recipes with sriracha below.
Vegan recipes with sriracha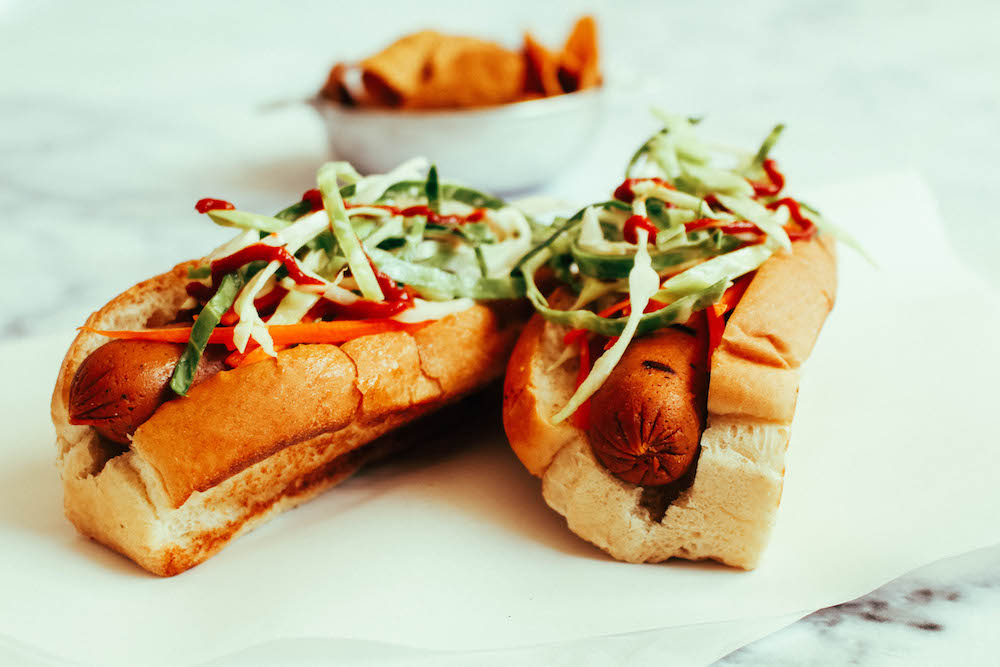 1 Sriracha & Slaw Smothered Hot Dog
Take your hot dog to the next level by adding a little touch of heat, and covering it in sriracha. Like this recipe suggests, it goes really well with a generous helping of crunchy green cabbage and carrot slaw, too.
Get the recipe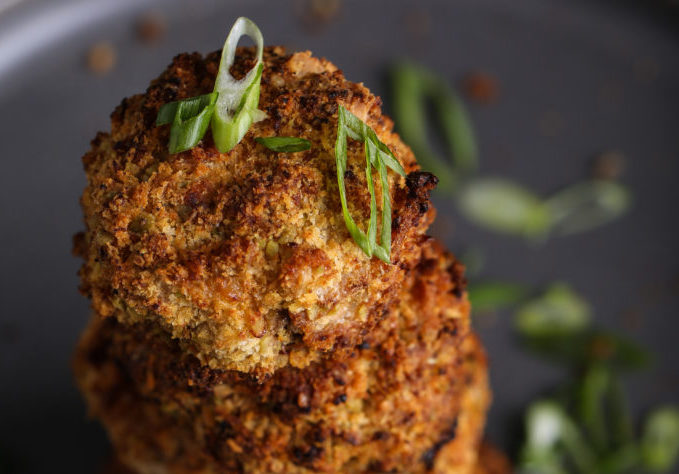 Jeff Wysocarski
2 Crispy Air-Fried Mushrooms With Sriracha Pea-Panko Crust
As anyone with an air-fryer now knows, when it comes to things you can chuck in it, the limit does not exist. Mushrooms are one of the best foods to air fry, especially when they're covered in a crispy, spicy bread coating. This recipe doesn't call for the sauce in the traditional sense, however. Instead, it asks for sriracha peas, which (you guessed it!) are green peas coated in sriracha.
Get the recipe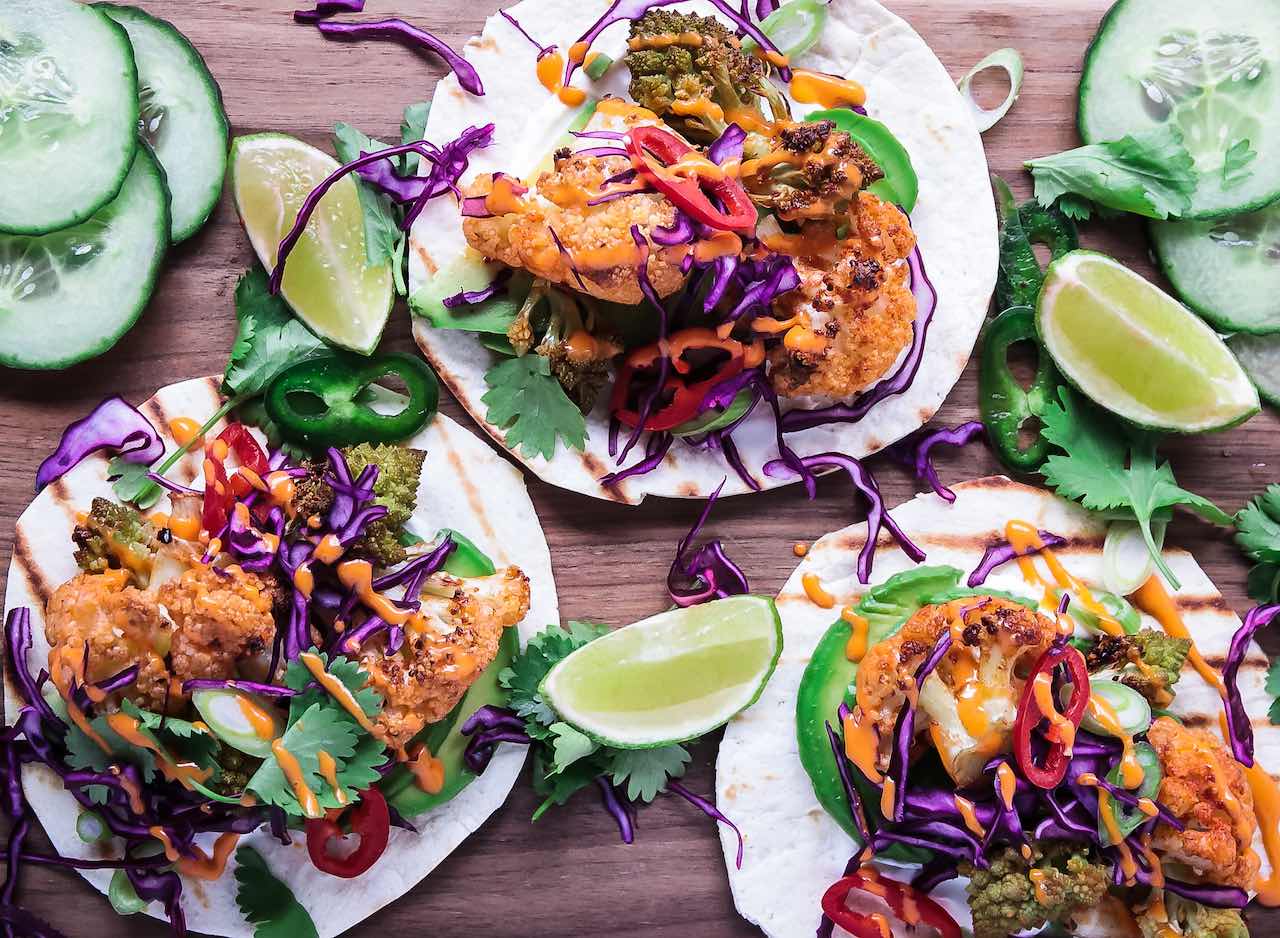 3 Mexican Cauliflower Tacos
Combine the flavors of Mexico with the flavors of Thailand by serving these delicious (and healthy, might we add) cauliflower-packed tacos with your own homemade sriracha mayo. It's super easy to make, all you need to do is mix a bit of vegan mayo with your sriracha sauce, and voilà! (You don't have to tell your friends that part, though.)
Get the recipe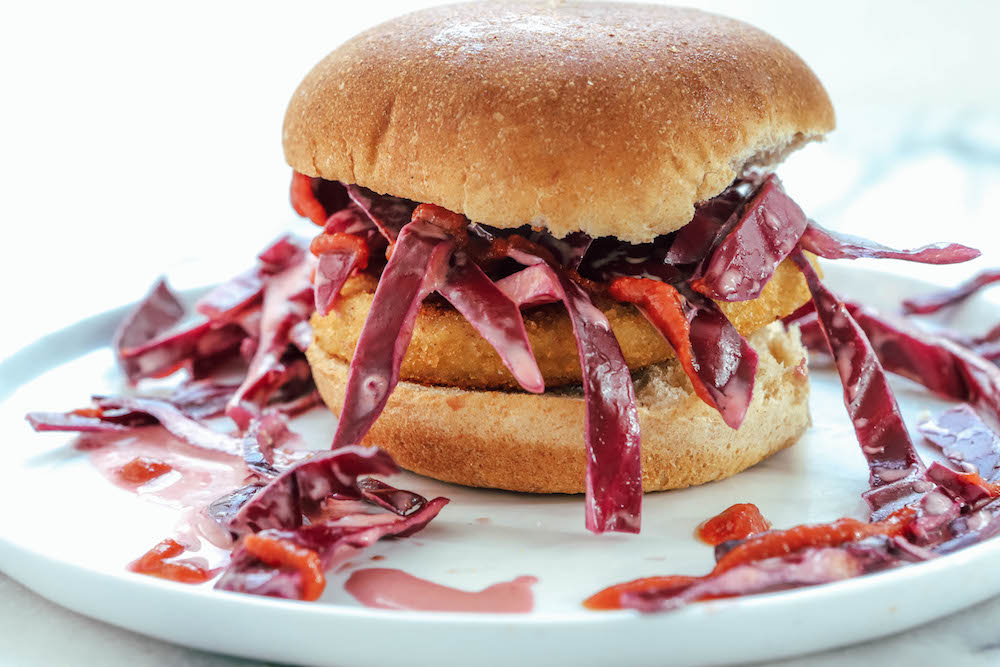 4 Crispy Chick'n Sandwich with BBQ Slaw & Fresh Fruit
Nowadays, there are so many different options for vegan chicken sandwiches. You can make your own using tofu, or buy a branded version from Gardein, Quorn, MorningStar Farms, and many more. But whichever patty you choose, loading it up with slaw made with purple cabbage, vegan mayo, BBQ sauce, apple cider vinegar, and sriracha is guaranteed to take it to the next level.
Get the recipe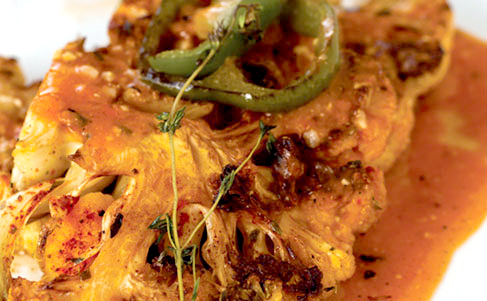 Geoff Souder
5 Spicy Cauliflower Steak with Miso Sauce
Cauliflower is one of the most versatile vegetables out there. Seriously, you can use it to make wings, taco meat, and even steak. Yep, steak. But while it provides a great base texture for many vegan recipes, the vegetable isn't known for its amazing flavor. That's why this recipe suggests you serve your cauliflower steak with a delicious miso sauce, made with sriracha.
Get the recipe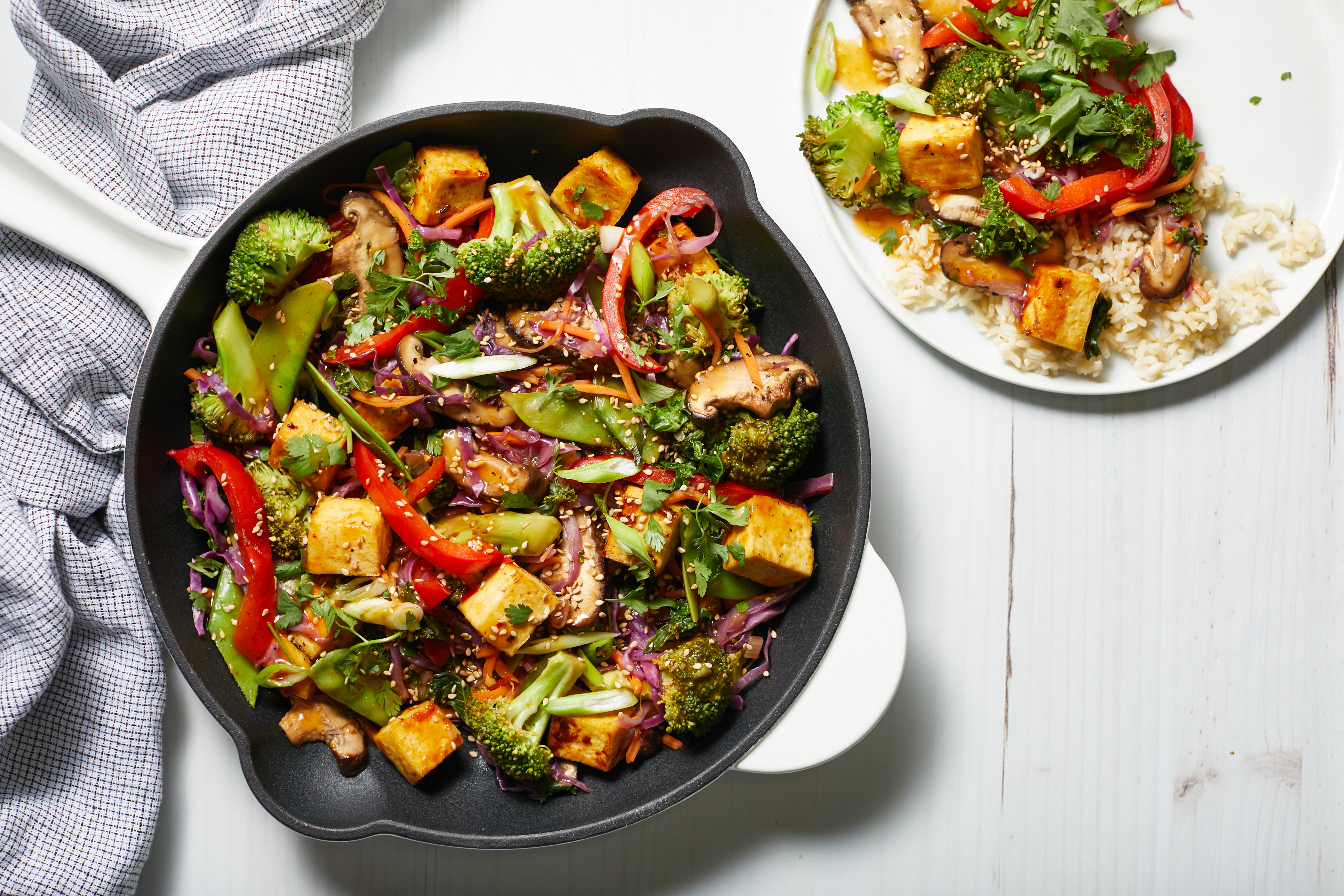 Julieanna Hever
6 Sweet Chili Tofu Broccoli Mushroom Stir-Fry
Sriracha goes well with many things, but arguably, stir fry is one of the best dishes to pair it with. This dish is healthy, easy, and quick to make, and thanks to the sriracha-loaded sauce (you can add as much as you like, depending on your preference), bursting with flavor, too.
Get the recipe
For more on vegan sauces, read: