The 1990s was a big decade for coffee in America. And, if you think about popular culture at the time, it makes sense. Everyone was watching Friends, in which the Central Perk coffee shop was the backdrop to most canned laughter gags. And Frasier, another popular sitcom of the 1990s, was often set in Cafe Nervosa. In Seinfield, characters were often seen sipping coffee at Monk's Cafe. The scene was set for coffee to take off. And among the coffeehouses that seized popularity in this decade was Caribou Coffee.
Founded back in 1992, Caribou Coffee has gone from strength to strength since the era of Ross and Rachel and Gunther's bright-as-the-sun hair. In fact, today there are more than 600 locations of the popular coffee chain around the world, most of which are in the US. But as demand for vegan food and drink has risen, has the Minnesota-based coffee chain managed to keep up? It turns out, it's doing better than most when it comes to plant-based options. Here's what you need to know.
Does Caribou Coffee charge extra for dairy-free milk?

Despite many calls from animal-rights activists and organizations, Starbucks, the biggest coffee chain in the US, still charges customers extra for dairy-free milk options (unless they're in the UK, France, or Germany, that is). Caribou Coffee has also always charged customers more (around 80 cents per beverage) if they want vegan milk, but that's all about to change.
Earlier this year, the popular coffee chain began offering dairy-free milk without any extra charge to all customers enrolled in its free customer rewards program on its app. "We continue to see increasing demand from guests to customize their favorite handcrafted beverages how they want," Caribou's Chief Brand and Marketing Officer Erin Newkirk told VegNews. "Choosing milk or a dairy alternative is an important and sometimes necessary customization, and it's not one that should cost more."
But which types of dairy-free milk are available from the coffee shop? And what beverages can you add it to? We've got the answers below, plus more details on the chain's vegan food offerings.
What's vegan at Caribou Coffee?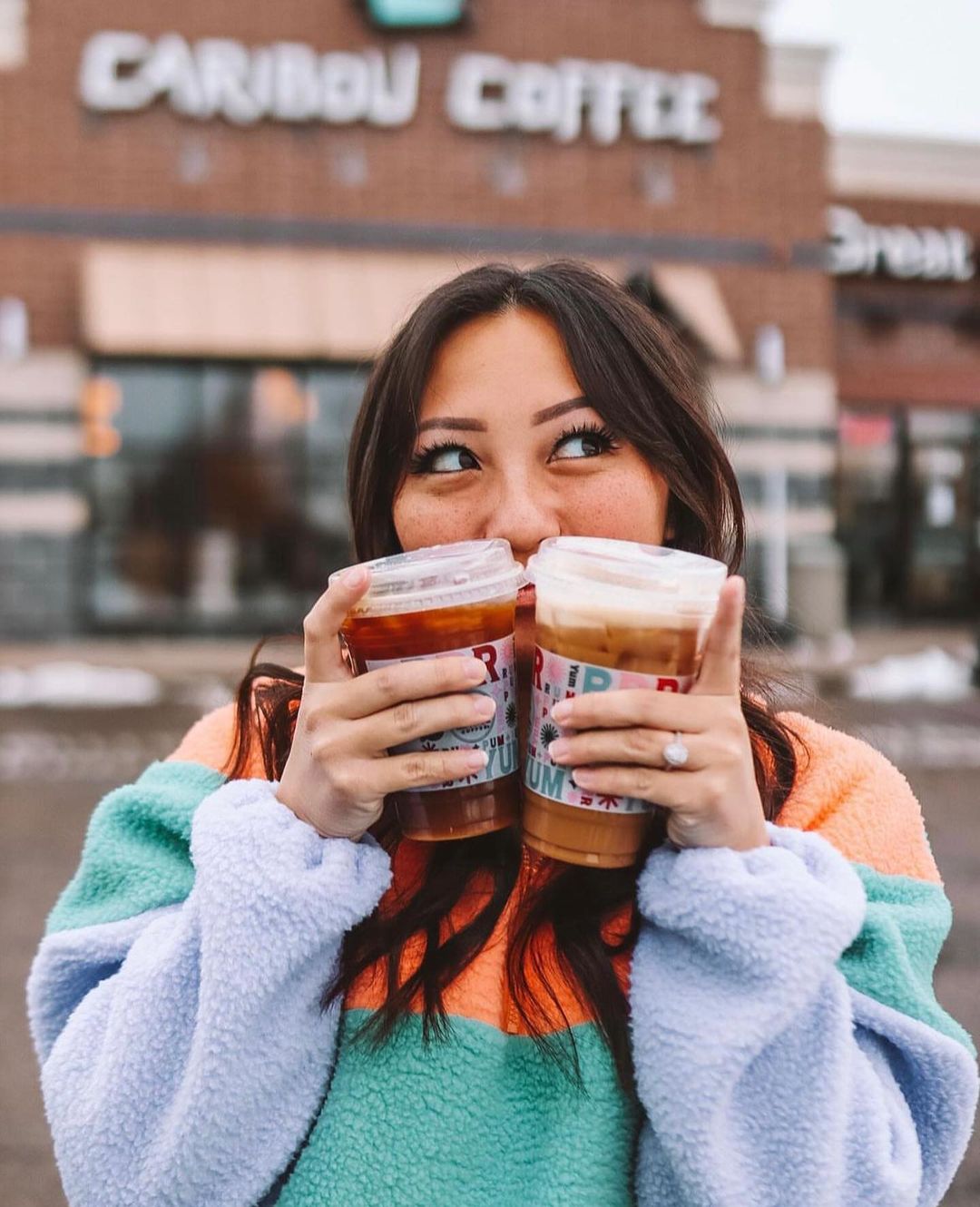 @sincerely.savanna/Instagram
1 Dairy-free milk
For a long time, the go-to dairy-free option in most coffee shops was soy. But those days are over. Now, the alternative milk market is bursting with different varieties made with various plant-based ingredients. Right now, Caribou Coffee offers three different types, and none of them are soy. Instead, you can expect to find oat, almond, and coconut on the menu. Plus, now you can order your drink with a non-dairy oat nog just in time for the holidays.
2 Hot and iced coffee
Like most coffee shops, Caribou Coffee offers several iced and hot coffee options that are vegan by default. A simple black espresso or Americano, for example, is served without milk. There are also black hot press and cold press options, too, as well as Depth Charge (a fresh-brewed coffee with a shot of espresso).
But if you prefer your caffeine served creamy, you can order most of the brand's iced or hot options with dairy-free milk instead of cow's milk. There's even an Iced Oatmilk Crafted Press with Oatmilk Cold Foam and a Cold Press with Oatmilk Cold Foam. For this holiday season, try the Vanilla Oat Nog Latte for a vanilla-forward drink topped with ground nutmeg and non-dairy oat nog.
3 Hot and iced tea
Again, many different varieties of tea are usually vegan by default, and Caribou's selection is no exception. The Raspberry Hibiscus Green Tea, Classic Black Iced Tea, and Tropical Green Iced Tea, for example, are all dairy-free. You can also order Chai Tea Lattes with one of the brand's dairy-free options.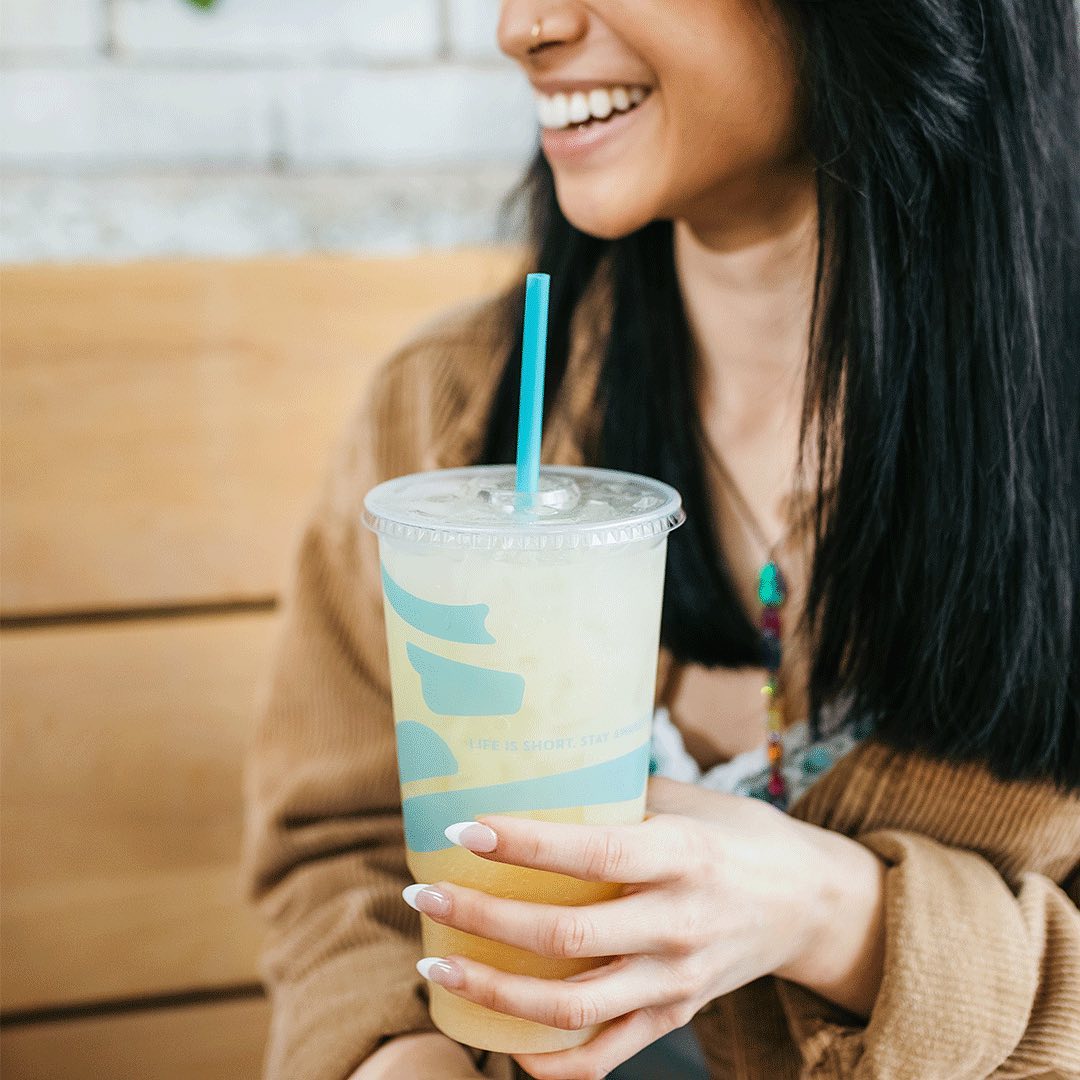 Caribou Coffee/Instagram
4 Bousted drinks
In 2020, Caribou Coffee launched its own line of sparkling and blended caffeinated drinks called Bousted. They're still available today, and the good news: most of them are vegan. Dairy-free options include Bousted Green Tea Lemonade, Bousted Cherry Limeade, and Bousted Strawberry Mango.
5 Bagels
You can't go wrong with a classic bagel and a coffee. It's the ultimate breakfast combo. Caribou's Plain and Everything bagel options are vegan by default, but watch out for the Asiago option, as this one is made with a blend of cheeses. You should also specify that you don't want cream cheese, as the chain doesn't have a vegan version on the menu (yet!).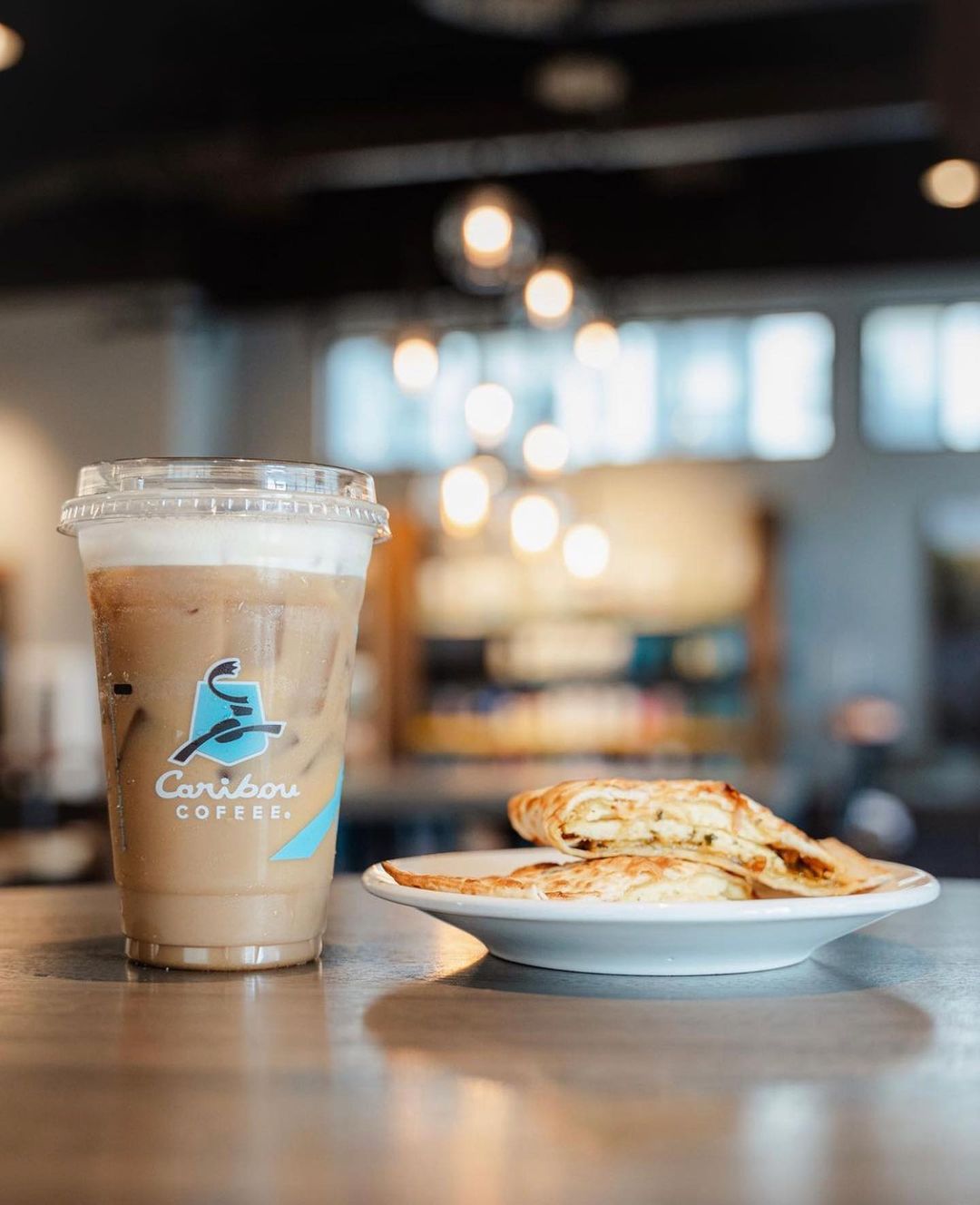 @nderaney_/Instagram
6 Just Egg, Roasted Tomato & Pesto Flatbread
If you're on the go and you're stomach is rumbling, Caribou Coffee can now offer you vegan food as well as your daily dose of caffeine.
Back in 2021, the chain partnered with vegan egg brand Just Egg to create its first totally plant-based offering. The Just Egg, Roasted Tomato & Pesto flatbread features a warm folded flatbread, as well as vegan pesto cream and vegan smoked provolone.
At the time of the launch, Caribou's Vice President of Merchandising and Product Matt Reiter said that it was adding the new vegan food item due to an "increased demand in the marketplace for plant-based options." He added that it "showcases our commitment to providing quality products that are not only better for your health but for the planet."
For more on vegan options at restaurant chains, read: