Coffee-lovers in Germany will no longer pay extra to order a latte made with vegan milk at Starbucks. The international coffee chain recently announced its decision to drop surcharges applied to all vegan milks it serves at its 145 locations across Germany.
"It doesn't matter whether you like the tried-and-tested old style or are keen to experiment: With us, you can now get milk alternatives at no extra charge," Starbucks Germany recently posted to social media.
Germany is the third country behind the United Kingdom and France in which Starbucks no longer charges extra for vegan milk substitutes. At Starbucks locations in China and India, vegan milk has always been offered at no extra surcharge.
Starbucks UK drops vegan milk upcharge
On January 5, 2022, Starbucks dropped its vegan milk surcharge in the UK. The chain committed to no longer charge extra for all five of its plant-based milk options, including oat, almond, coconut, soy, and Starbucks Original Nut Blend. The latter is a vegan milk option Starbucks developed over the course of 15 months from a blend of light rice milk, hazelnuts, and cashews. Created to complement its espresso, the fifth vegan milk option is also fortified with B12, B2, Vitamin E, and D2.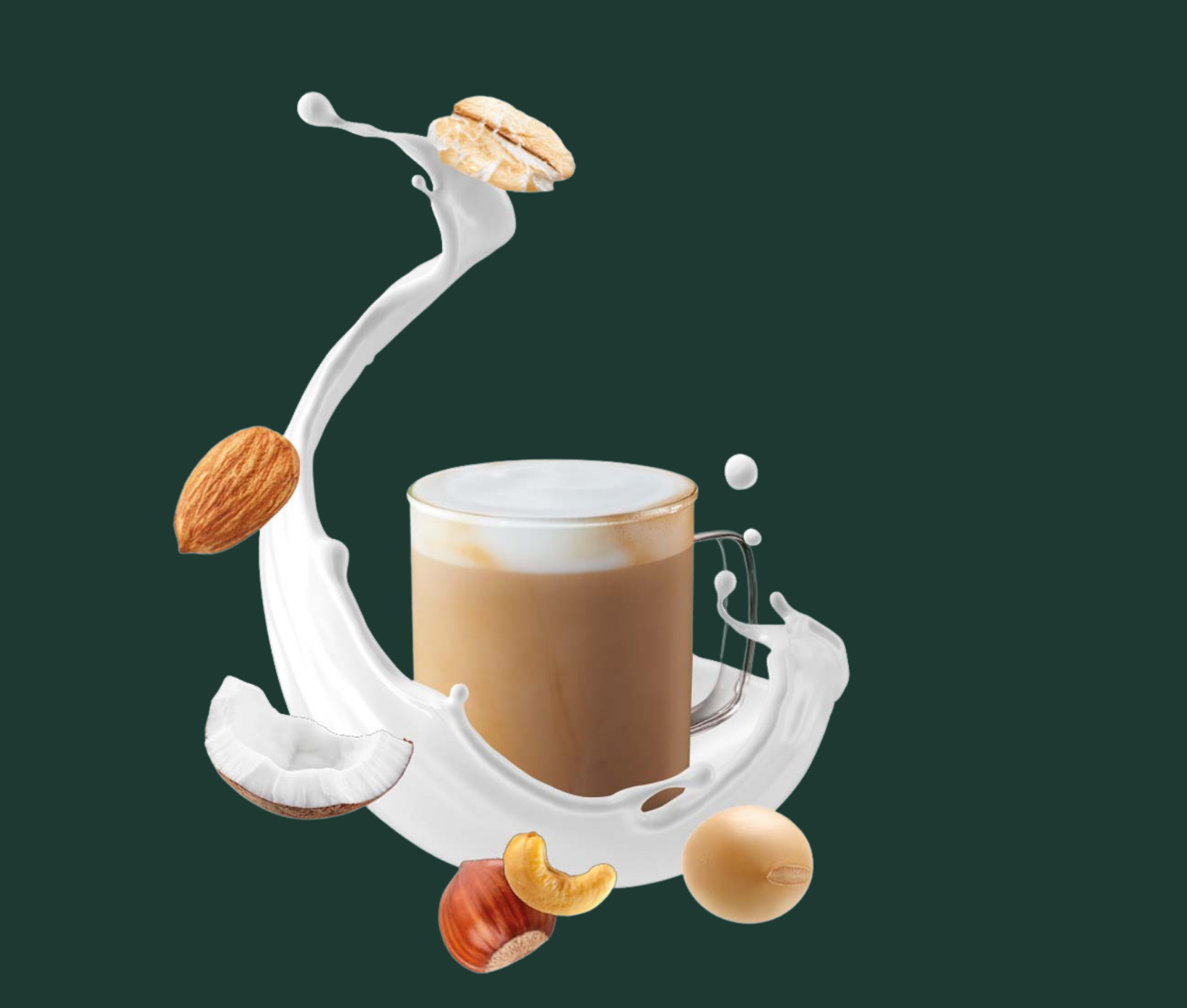 In addition to dropping its vegan milk surcharge, Starbucks UK updated its winter menu with several plant-based options. The coffee chain added oat milk lattes in three flavors: Strawberry & Vanilla, Honey & Hazelnut (not vegan), and Dark Cocoa & Orange. These beverages are made with oat milk and Starbucks Blonde Roast espresso and are part of what it calls an "Oat platform" which it aims to expand.
"The platform will see the addition of new dairy alternative beverages for future seasons as part of our ongoing work to expand our plant-based menu," Starbucks said in a statement.
As for food options, Starbucks added lunch and bakery options, including its first vegan tuna sandwich. Made using The Vegetarian Butcher's vegan tuna, the Tu'NAH Sandwich also features red onion, cucumber, rocket (arugula), and vegan mayonnaise. In the bakery department, Starbucks added three plant-based items: Pecan & Caramel Brownie, Carrot Cake (with an oat-based frosting), and Chocolate & Caramel Muffin.
In addition to its winter menu, Starbucks UK offers a variety of unique plant-based options, including vegan whipped cream and sandwiches made with Beyond Meat.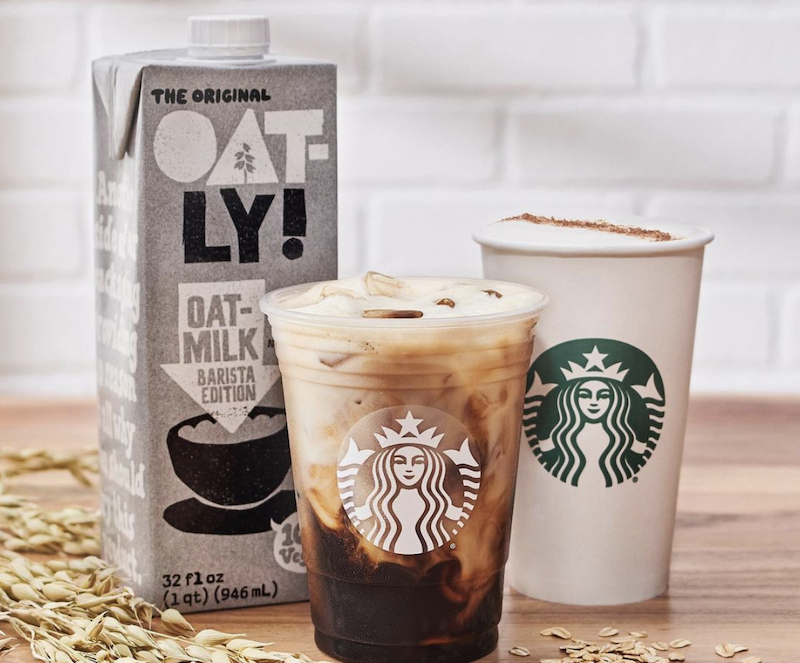 Starbucks drops vegan milk surcharge after stunt
The move at Starbucks UK to ditch vegan milk surcharges comes after a clever campaign. In 2021, a stunt that claimed Starbucks dropped its vegan milk surcharge was organized by Switch4Good (a nonprofit founded by Olympian Dotsie Bausch) and The Yes Men (a group that engages in hijinks to encourage often difficult conversations around real problems).
Disguised as Starbucks, individuals behind the stunt explained that the motivation behind the change was Starbucks' realization that it has been inadvertently contributing to dietary racism as approximately 65 percent of the world's population cannot digest dairy and lactose intolerance disproportionately affects BIPOC. As such, people of color disproportionately bear the cost of plant-based milk substitutions at Starbucks.
While the stunt claimed Starbucks would charge extra for dairy milk, the coffee chain met campaigners halfway by dropping the vegan milk surcharge. In addition to no longer promoting dietary racism, Starbucks UK's decision to stop charging extra for plant-based milk has an environmental benefit.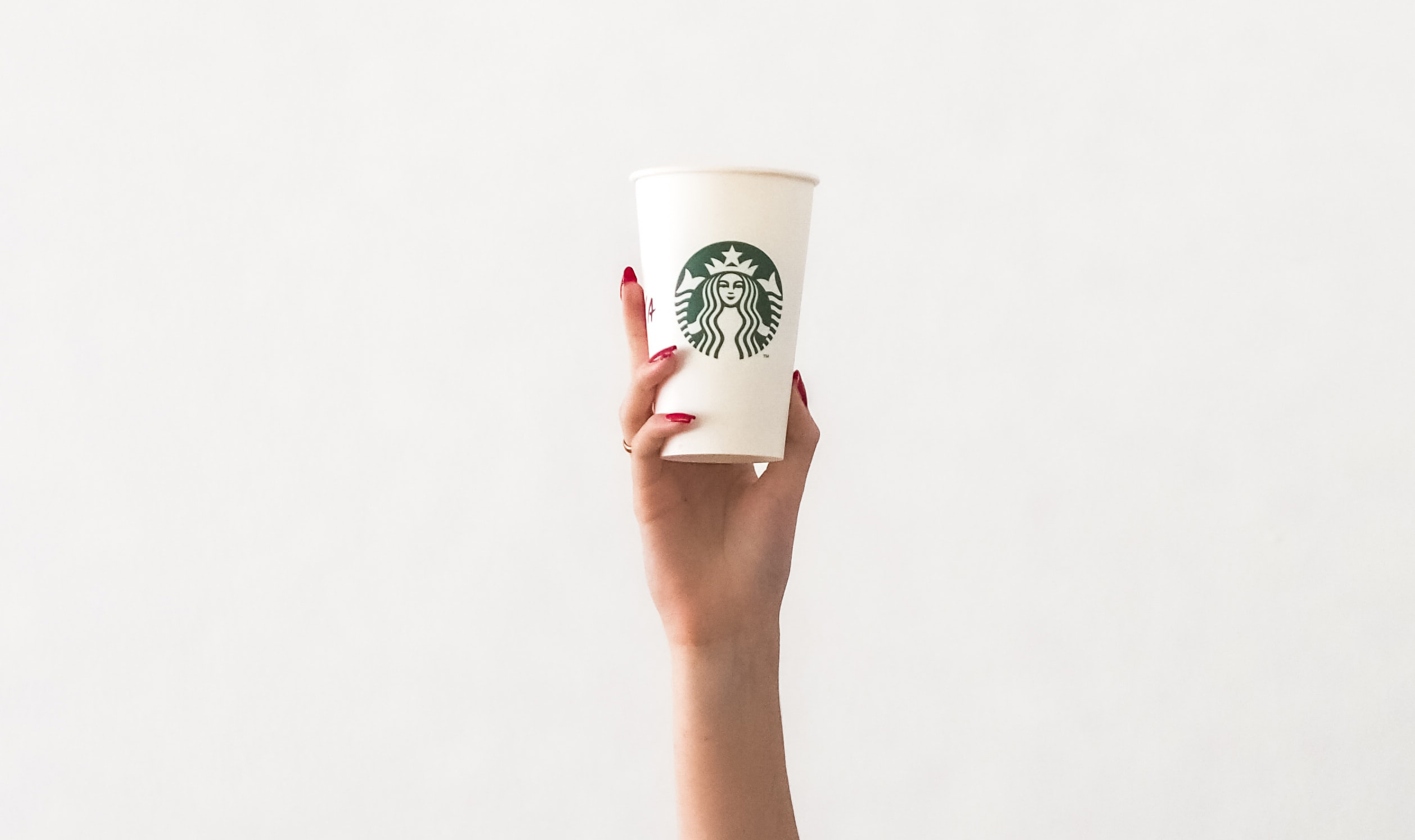 Starbucks aims to become a resource-positive company by 2030, which it cannot achieve unless it grapples with dairy, the main driver of its carbon footprint globally. Many have rightfully argued that in order to encourage customers to make more climate-positive choices, Starbucks cannot continue to charge up to $0.80 or more per beverage for plant-based milk substitutions.
Now that it dropped the surcharge, its UK, France, and Germany, customers can more easily make climate-friendly choices, helping the chain reach its climate goals.
However, these Starbucks stores represent a fraction of its more than 33,800 stores globally. For several years, Starbucks has been the target of many protests by People for the Ethical Treatment of Animals (PETA), along with individuals such as actors James Cromwell and Alicia Silverstone and music legend Sir Paul McCartney—all of whom demand that the chain drop its vegan milk upcharge across its locations worldwide.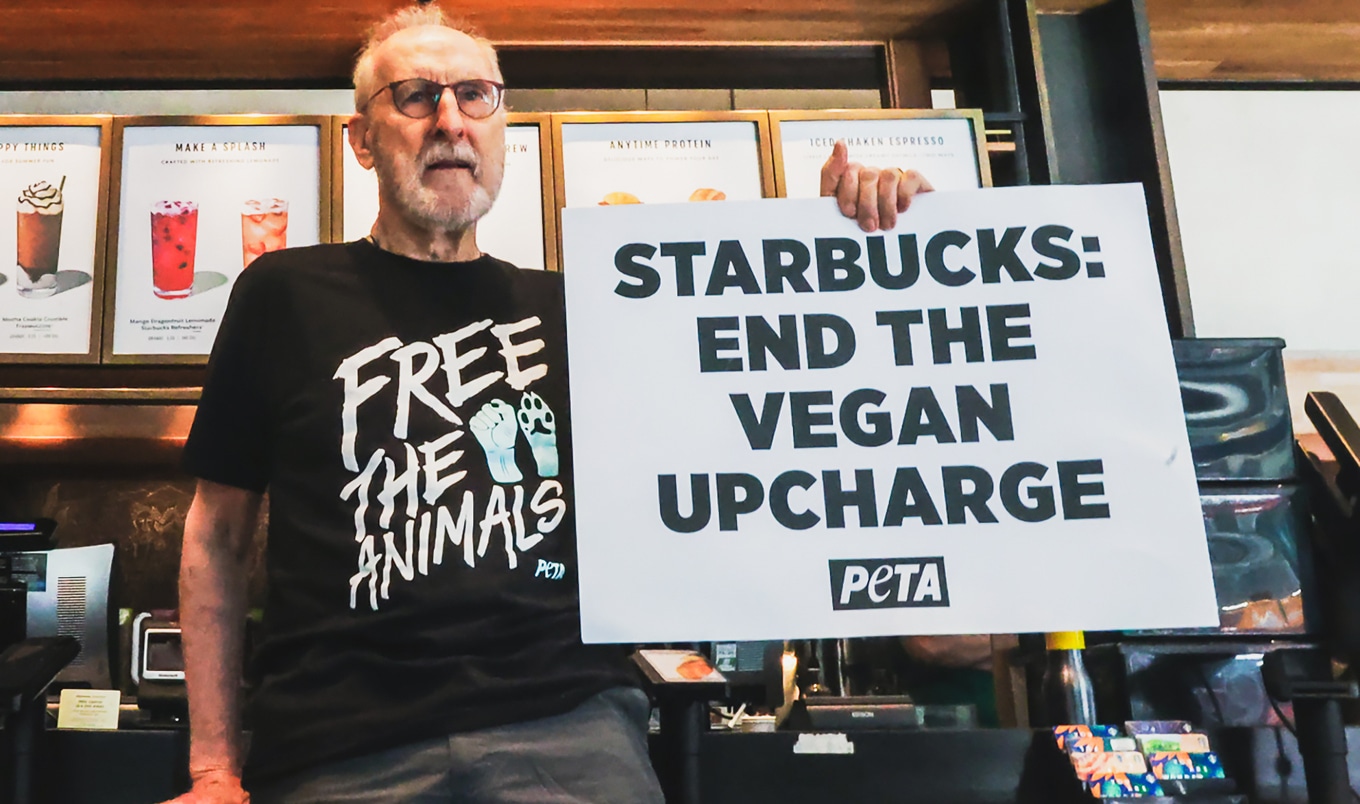 PETA
Last year, VegNews reached out to Starbucks to inquire about whether this policy change will apply to its locations in the United States and beyond.
"At this time, we are not making any changes in the United States, customers can customize any beverage on the menu with a non-dairy milk, including soy milk, coconut milk, almond milk, and oat milk for an additional cost (similar to other beverage customizations such as an additional espresso shot or syrup)," a Starbucks spokesperson told VegNews.
"Pricing varies market by market. Adding a splash of any alt-milk to Brewed Coffee, Iced Coffee, Cold Brew, and Americano beverages is offered free of charge," the spokesperson said.
For the latest vegan news, read:
Editor's note: This story has been updated to include a response from Starbucks US.