A group of celebrity chefs has joined the newly formed Meati Culinary Collective, which will put fungi-based vegan meat on restaurant menus in unique ways. Colorado-based company Meati Foods is on a mission to redefine what the future of meat looks like with its vegan meats made from mycelium (the fast-growing root systems of mushrooms).
Using this key ingredient, Meati makes vegan whole-cut steaks and carne asada, along with plant-based alternatives to chicken cutlets in classic and breaded varieties. The vegan meats have been available in retail since July 2022 and the Meati Culinary Collective will introduce them to restaurant-goers in exciting ways.
Celebrity chef David Chang is kicking off the collective with Meati dishes at three of his restaurants, where they are available from now until May 23.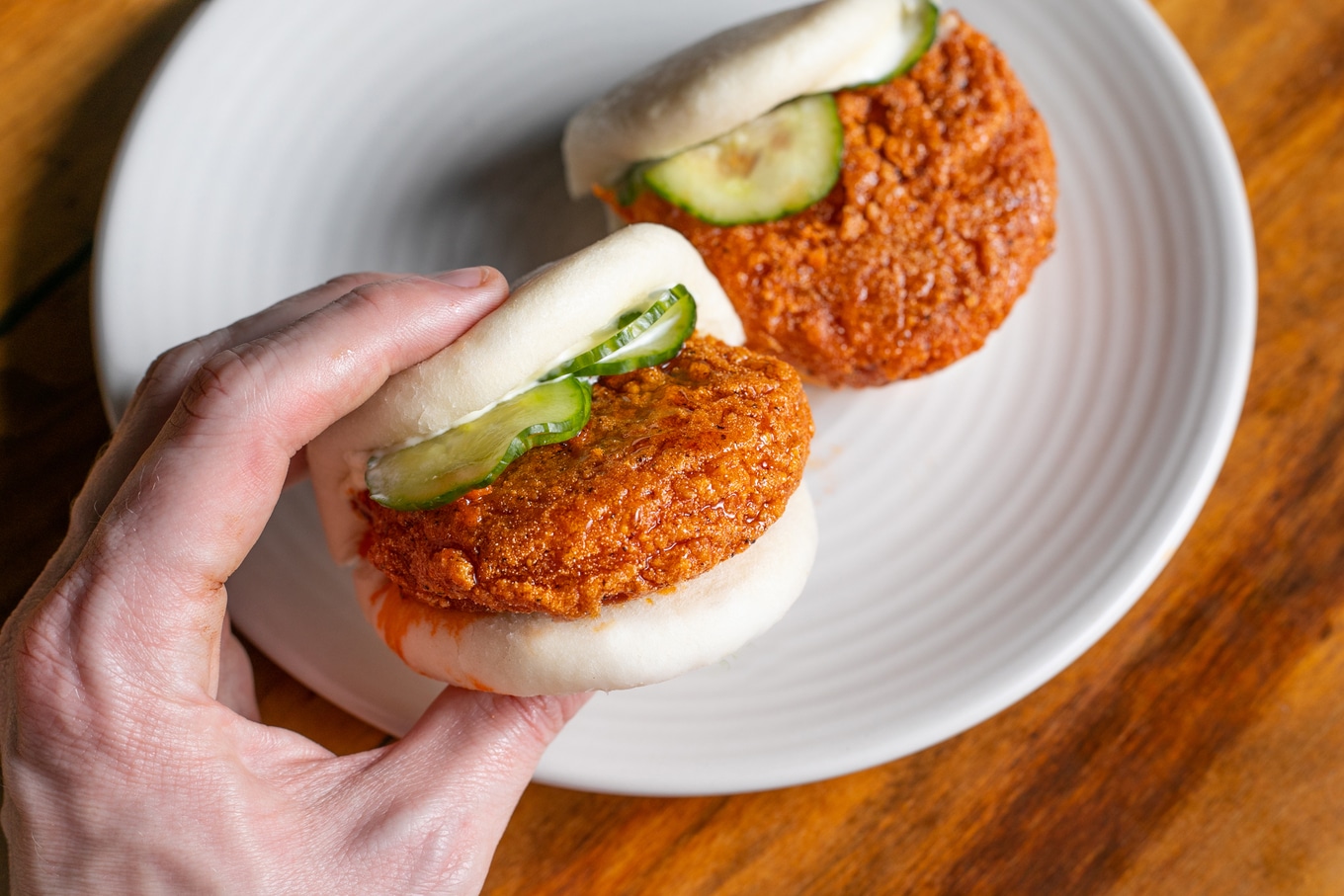 Meati Foods
At his New York City restaurant Momofuku Noodle Bar, Chang is serving Meati Crispy Cutlet Buns, while at Momofuku Ssäm Bar (also in NYC), Chang put Gochujang Double Fried Meati Nuggets with Garlic Sesame on the menu.
Los Angelenos can get a first taste of the vegan mushroom meat at Chang's Majordomo, where the chef is serving it as part of a Meati Carne Asada Lan Larb Salad.
David Chang embraces plant-based meat
Chang is one of the first celebrity chefs to publicly recognize the potential of plant-based meat in the culinary world. Back in 2016 when Impossible Foods was just starting to make waves, Chang was the first to put its new-to-the-world Impossible Burger on his menu at his NYC restaurant Momofuku Nishi.
"Today I tasted the future and it was vegan: this burger was juicy/bloody and had real texture like beef. But more delicious and way better for the planet," Chang posted to social media after being among the first to try the Impossible Burger in its first iteration. "I can't really comprehend its impact quite yet … but I think it might change the whole game."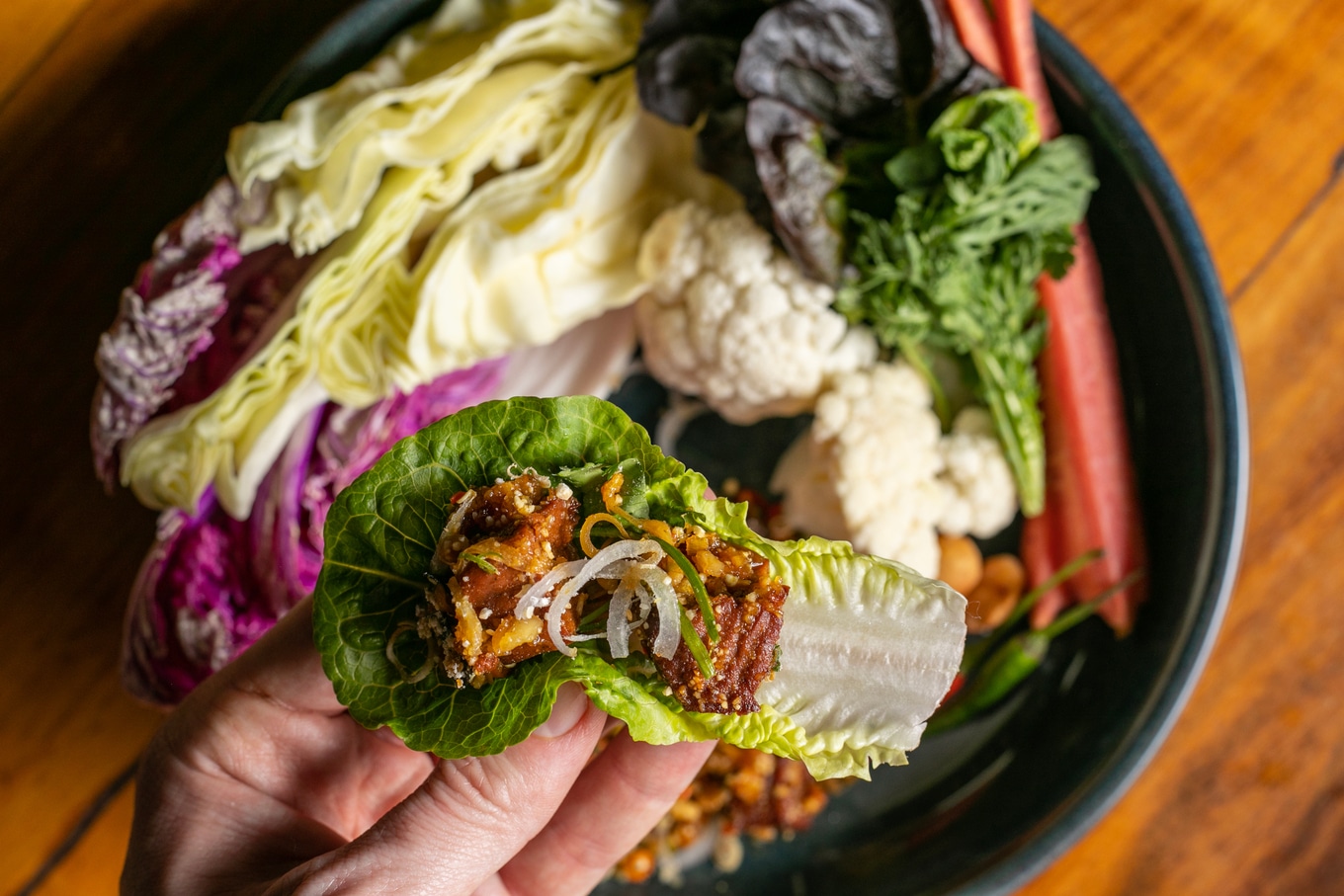 Meati Foods
It is with this deep understanding of the evolution of protein that Chang comes to Meati's new collective.
"I've been closely following plant-based innovations for years," Chang said in a statement. "I can say without hesitation that the food Meati delivers is unmatched in terms of its clean label, nutrition, texture and taste. I'm thrilled to be part of the team and mission and want to bring the power of Meati to life."
In addition to Chang, three other chefs have confirmed their involvement with the collective: Top Chef host Tom Colicchio; Los Angeles-based Chef Evan Funke of Felix and Mother Wolf; and Chicago-based chef Charlie McKenna (a two-time World BBQ Champion) of Lillie's Q. These chefs—with more to be announced—will also be putting Meati dishes on their menus in the coming months.
The collective will also involve other offerings such as giveaways and Meati meal kits so that food-lovers can make chef-curated dishes at home.
Mushroom meat for the masses
Early this year, Meati opened the "Mega Ranch" in Thornton, CO. This new take on the traditional cattle ranch is capable of producing 45 million pounds of vegan meat annually once the facility is fully operational by late 2023. This will mean the ranch produces more meat than any individual cattle ranch in the United States.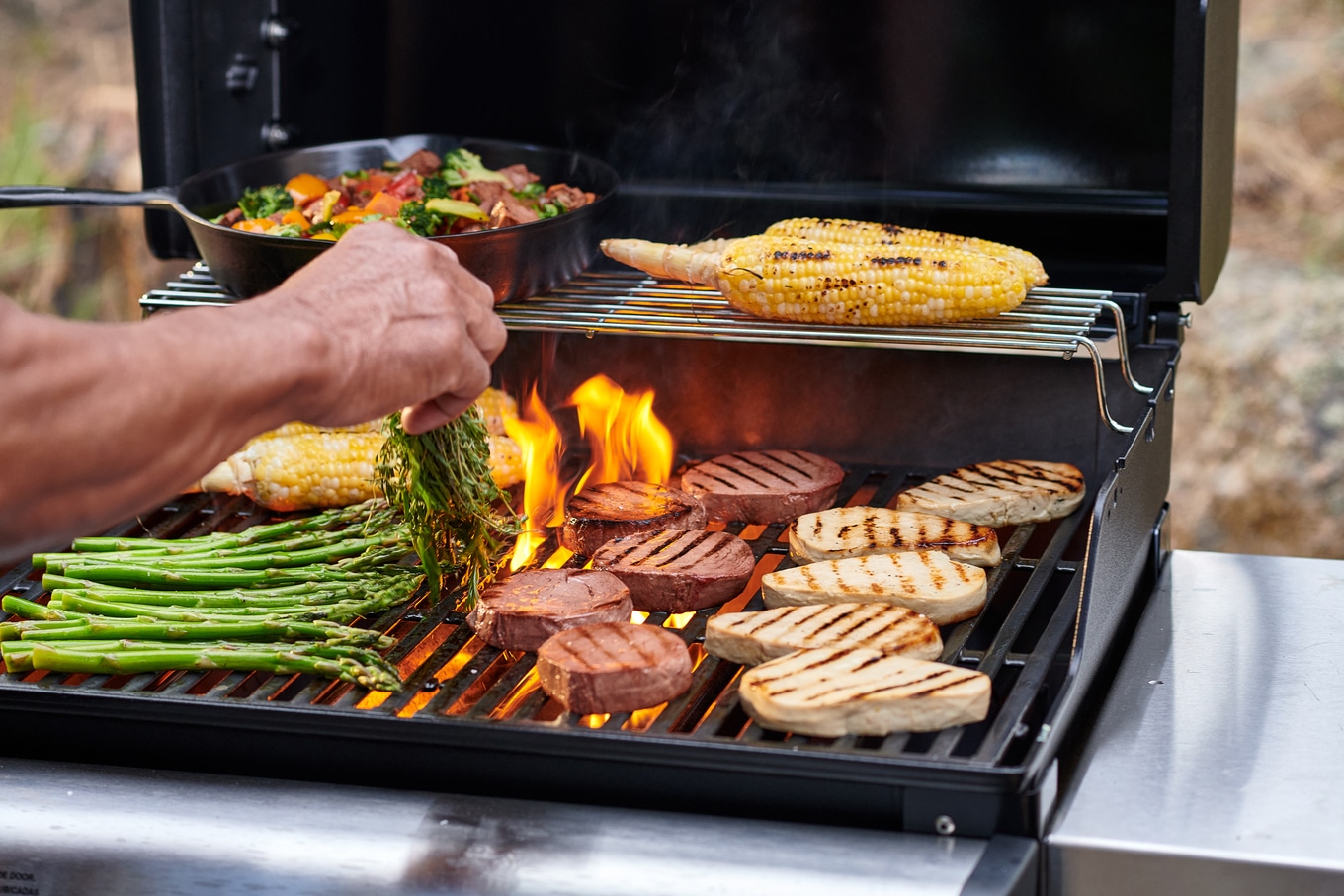 Meati Foods
Its partnership with celebrity chefs is part of Meati's strategy to introduce food-lovers to the future of food in a delicious way. The Meati Culinary Collective also reaffirms that top chefs are looking to diversify the proteins they work with to bring innovation and sustainability to the culinary world.
"The confidence we've received from recognized chefs who are part of Meati's Culinary Collective speaks to the unmatched, differentiated product that Meati has to offer," Tyler Huggins, CEO and co-founder of Meati, said in a statement.
"Having the support of these acclaimed chefs is one thing, but seeing their passionate Meati creations coming out of their world-class restaurants is especially meaningful as we start this massive year of Meati expansion, introducing our cuts to new people and palates throughout the country," he said.
In addition to scaling production at its Colorado ranch—with the aim of putting its vegan meat at 7,000 retailers and foodservice providers nationwide by mid-2023—the company is arming itself with a team of innovators through its newly launched Meati Science Advisory Board (MSAB).
Here, luminaries in fields of food science, health and nutrition science, and food safety will work together to gain a deeper understanding about mycelium as a nutritious meat source and advance research around its potential impact on the food system and human health.
"Meati was founded on a commitment to develop food solutions good for the health of people and the planet, and we are excited to strengthen this commitment by working with the MSAB to unlock the vast potential of our mycelium and mycelia in general," Justin Whiteley, PhD, the Chief Technology Office and co-founder of Meati Foods, said in a statement.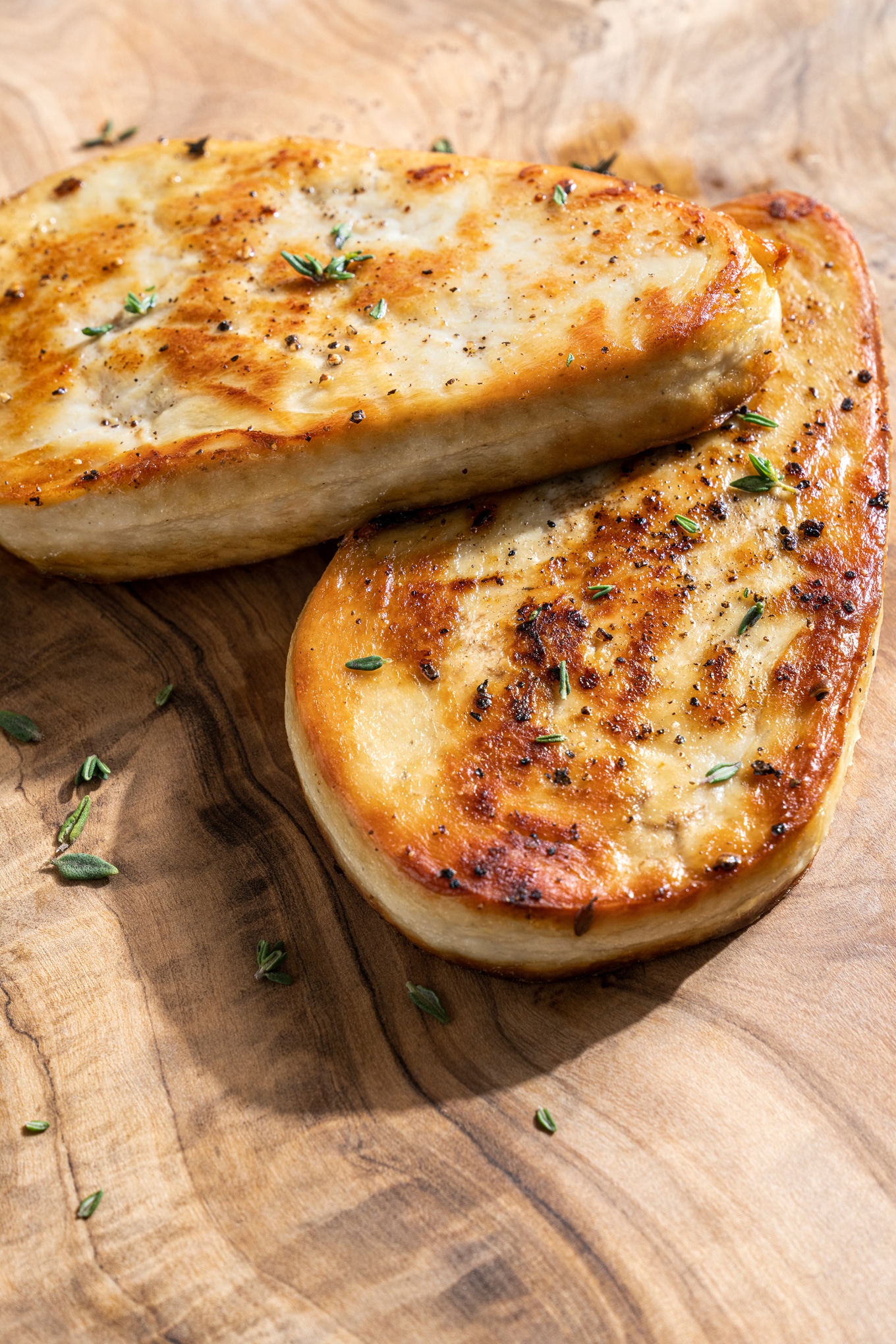 Meati Foods
"At Meati, we believe consumers and the environment win when we invest in rigorous scientific understanding of our products, and the MSAB was created with that goal in mind," he said.
Harold Schmitz, PhD—who previously worked as the Chief Science Officer at confectionary giant Mars, Incorporated—is joining MSAB as chairman.
"Research has shown Meati's mycelium to be a safe and remarkably nutritious food, with extraordinary potential for contributing a variety of health benefits profound for a single ingredient," Schmitz said in a statement.
"As a multi-disciplinary team of world-class researchers, the MSAB is eager to explore the role mycelium's unique array of nutritional attributes can play as a positive addition to anyone's diet."
For the latest vegan news, read: