If you're familiar with TikTok, you're likely familiar with feta cheese pasta. But if you don't get the link, let us catch you up: in 2021, a simple, oven-baked recipe featuring feta cheese and tomatoes went viral on the video-sharing app. At the time, it boosted sales of the cheese globally, and since then, demand hasn't slowed down. To date, #bakedfetapasta has exceeded a whopping 204 million views.
Most of the TikTok videos use traditional feta, which is predominantly made from sheep's milk, but it is possible to buy (or make) a dairy-free version, too. In fact, demand for vegan feta cheese is also rising, notes Jocelyn Robertson, who works as director of brand marketing for plant-based brand Daiya.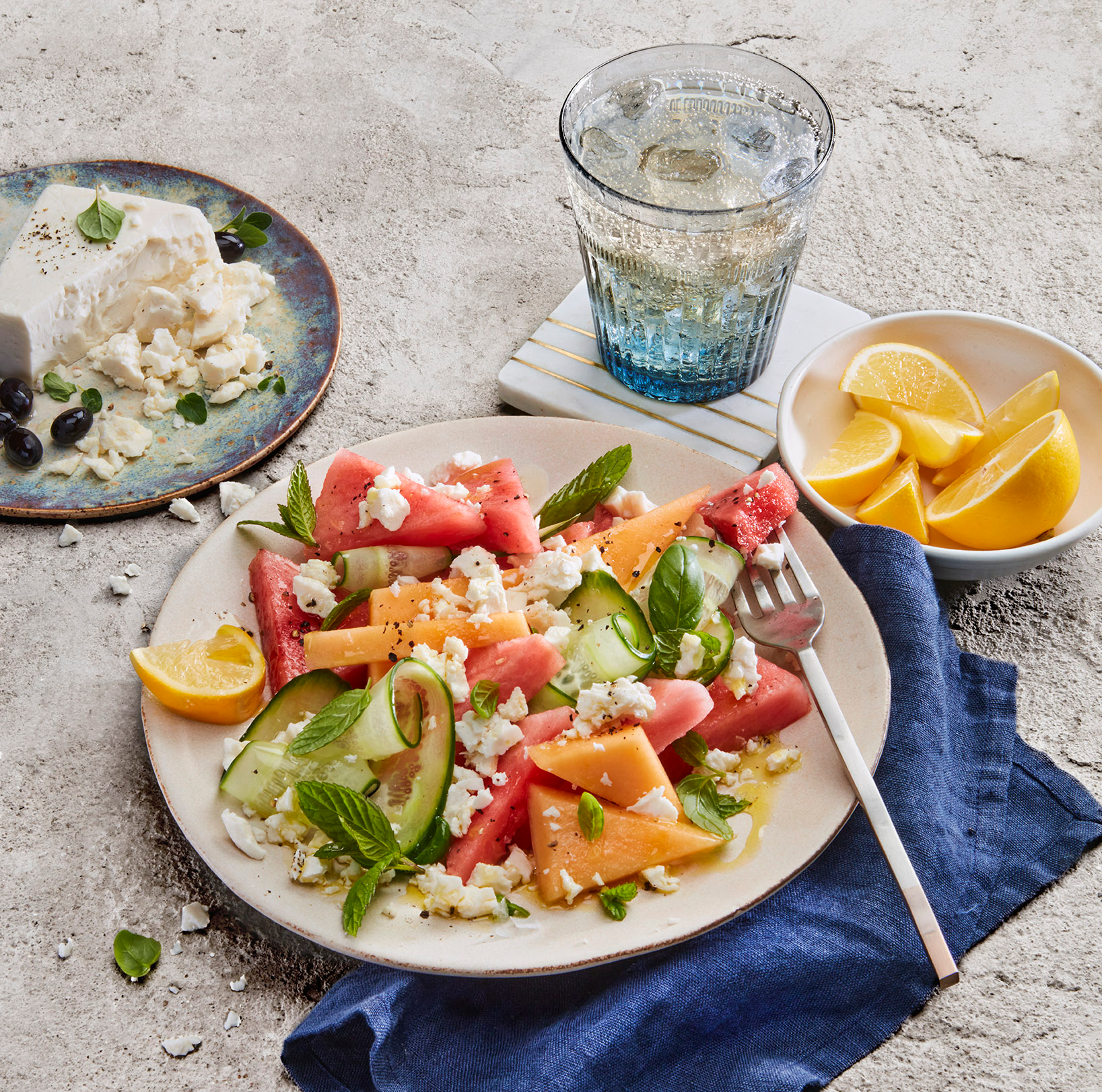 Daiya
Despite only launching last year, Robertson confirmed to VegNews that the brand's vegan feta has been flying off the shelves. "Quite quickly we've seen sales of our Feta Style Block match many of our other cheeze blocks in the category," she said. "It's obvious the demand is there."
While the amount of vegan feta products on the market isn't quite at the level of mozzarella or cheddar alternatives yet, in addition to Daiya, a number of vegan brands offer dairy-free feta products. We've included where to buy it below. But if you can't get a hold of shop-bought vegan feta, you could also make it yourself. Read on to find some of our top recipe picks.
But first, let's find out more about what feta cheese is, as well as how you can use it in a range of dishes—not just TikTok pasta, although the vegan version of that recipe is delicious.
Is feta cheese vegan?
Feta, which originates from Greece, may be new to some of the Gen-Zers on TikTok, but it's actually one of the oldest cheeses in the world. One of the first recorded mentions was in 1494, but food historians believe the crumbly, salty cheese is derived from an 8,000-year-old recipe.
Because feta cheese is traditionally made with sheep's milk, or sometimes a combination of sheep and goat's milk (and now, some versions are occasionally made with cow's milk), it is not vegan.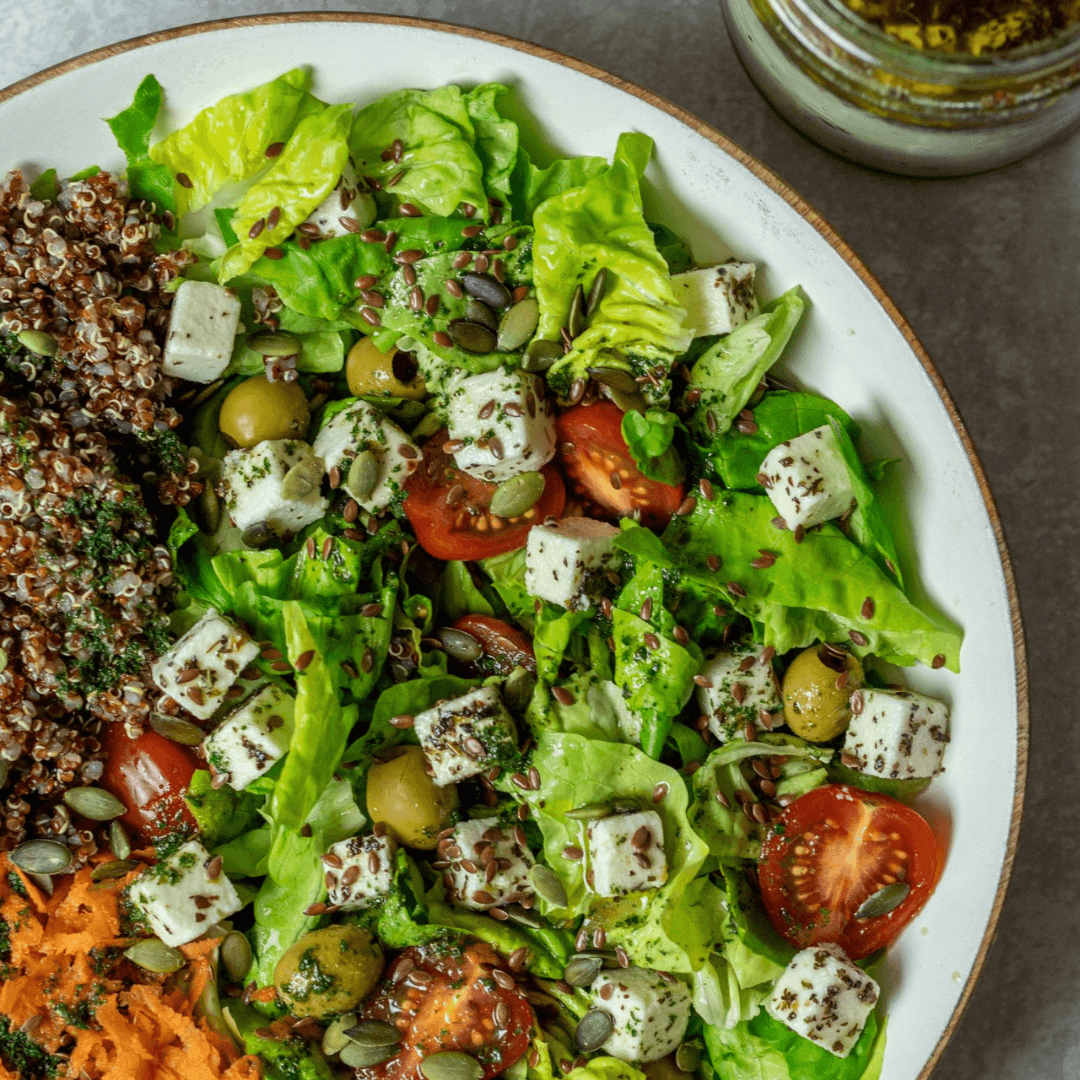 Romy London
That said, some who avoid dairy choose to make an exception for feta cheese. This may be because they prefer the taste, but for many, this may have more to do with lactose. It's estimated that up to 50 million Americans suffer with lactose intolerance, which means they can't break down the lactose in cow's milk. But feta is much lower in lactose, making it slightly easier to digest.
"It really came down to the fact that feta is one of the most purchased and used products amongst plant-based cheese buyers," Roberston said regarding Daiya's launch of vegan feta.
However, it's worth noting that, just like regular cow's milk, goat and sheep's milk products are associated with cruelty.

One investigation by Italian animal-rights organization Essere Animali found 5,000 sheep "imprisoned in concrete sheds" with no access to the outside on the country's largest intensive sheep milk farm. Just like dairy cows, they are repeatedly artificially inseminated so that they can produce milk. When they can't produce milk anymore, they are slaughtered for meat.

Last year year, another investigation found violence and neglect on an intensive goat farm supply milk and cheese in the UK.
Where to buy vegan feta cheese
If you love the taste of feta, but don't love animal cruelty, you can buy vegan feta cheese. It isn't quite as popular as other dairy-free alternatives yet, but things could be about to change.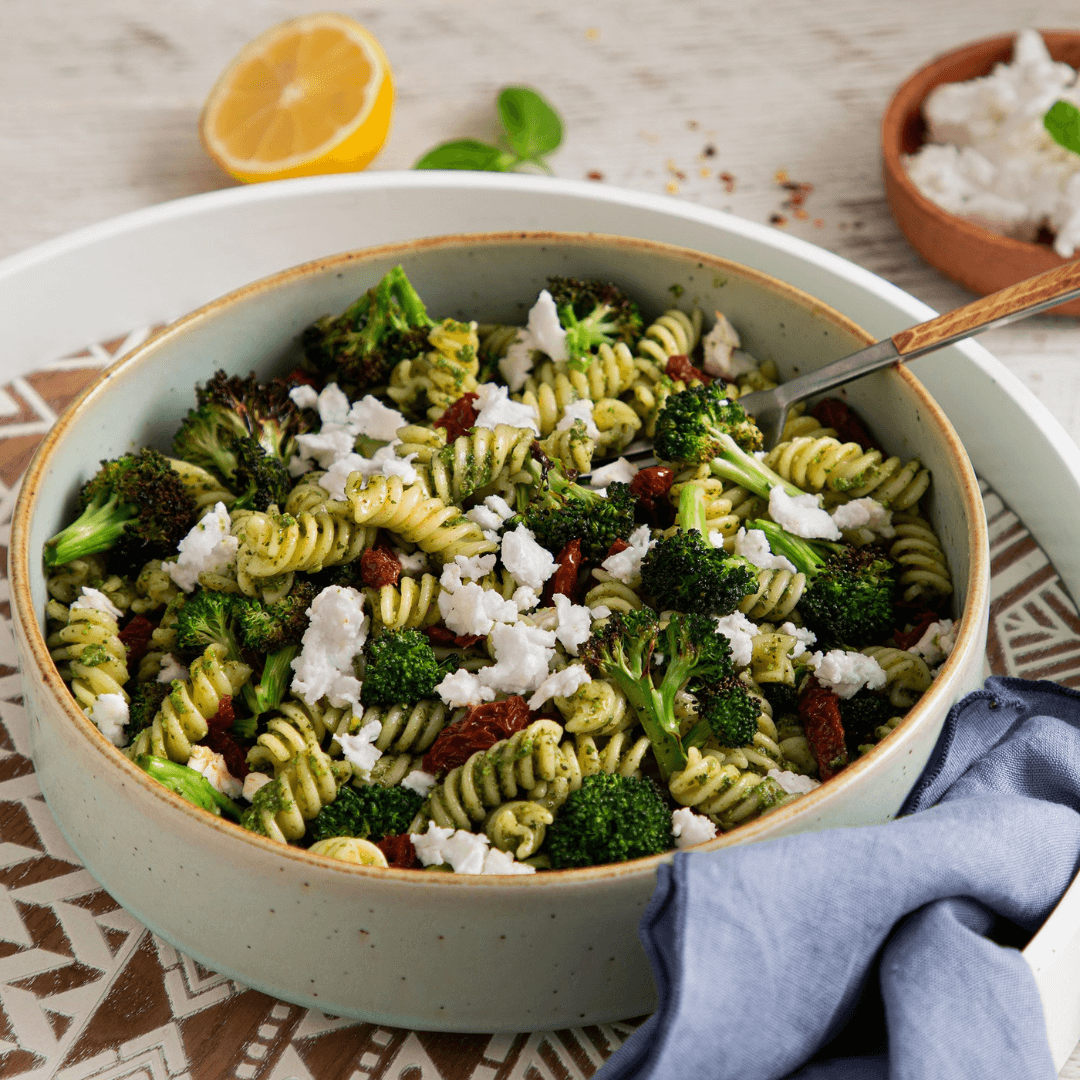 Violife
As demand rises for the conventional version (the market is set to hit $19 billion by 2030), it's likely that, just like Daiya, more vegan brands will launch their own versions. After all, the dairy alternatives market is soaring, too. By 2029, it's expected to hit a value of more than $61 billion.
But if you're craving vegan feta cheese now, good news: you already have options! Here are some of the best products on the market and where to buy them.
Vegan feta cheese brands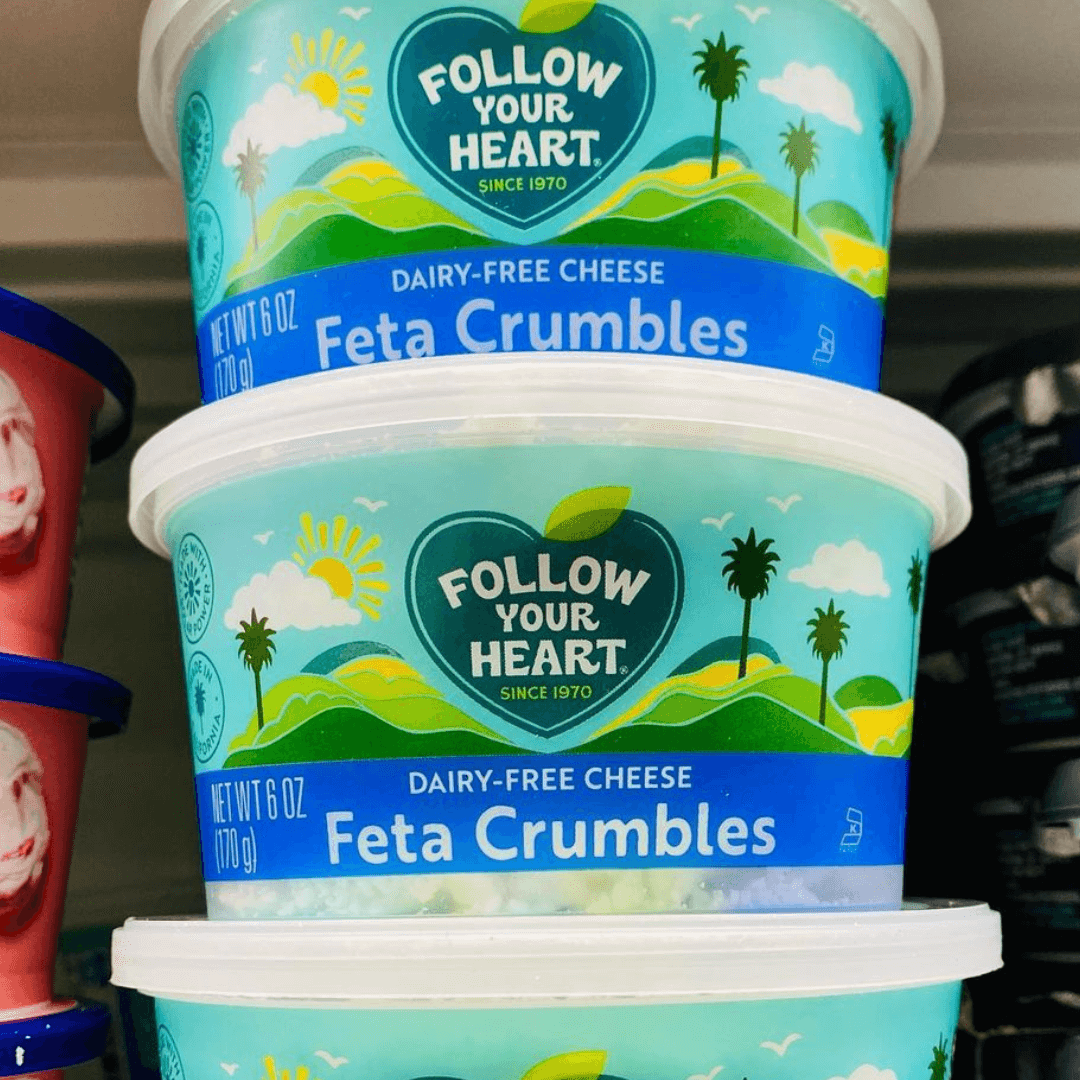 Follow Your Heart
1 Follow Your Heart
California vegan brand Follow Your Heart offers Dairy-Free Feta Cheese Crumbles that can easily be subbed into any of your favorite recipes. Made with coconut oil, they are soy-free and gluten-free too. Follow Your Heart's products are on sale in 23 countries, including the UK, Ireland, Spain, Mexico, Australia, and, of course, the US. You can find the crumbles on sale in a number of American stores, including Publix, Sprouts, and Whole Foods.
Find out more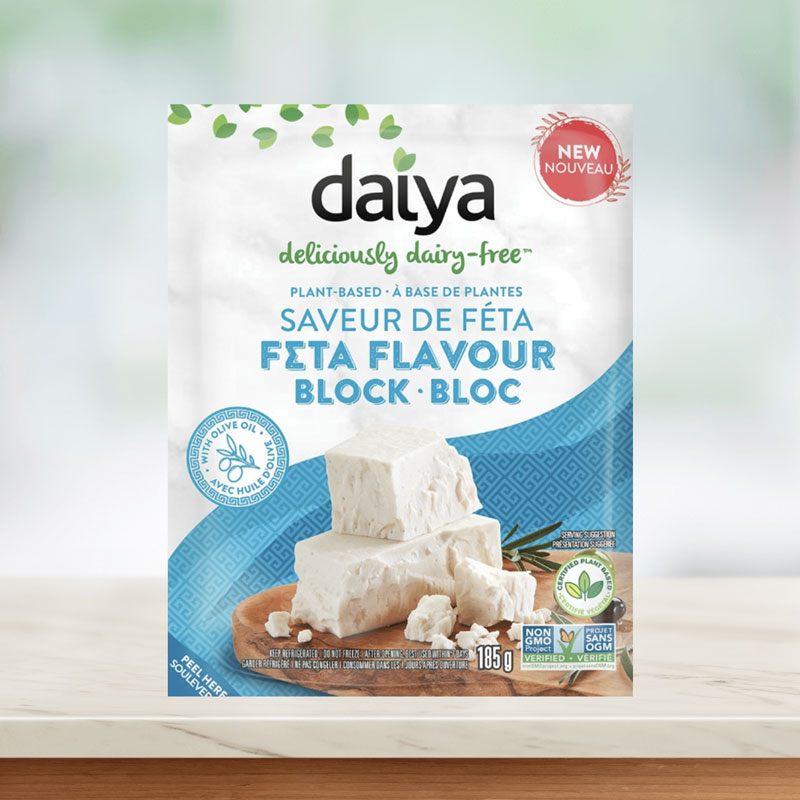 Daiya
2 Daiya
As mentioned above, Daiya launched its vegan feta cheese alternative last year with huge success. "We use olive oil (along with oats), and I think that helps consumers connect with the Mediterranean roots of the product," Robertson explains. "Our R&D team worked so hard to ensure that it was as close to the 'real' thing as you could get and maybe even better, making it a very easy swap for those switching to plant-based options."
Daiya's products are distributed in more than 20 countries, including the UK, Australia, Canada, and the US. Find its products in a range of supermarkets, including Target, Whole Foods, and Wegmans.
Find out more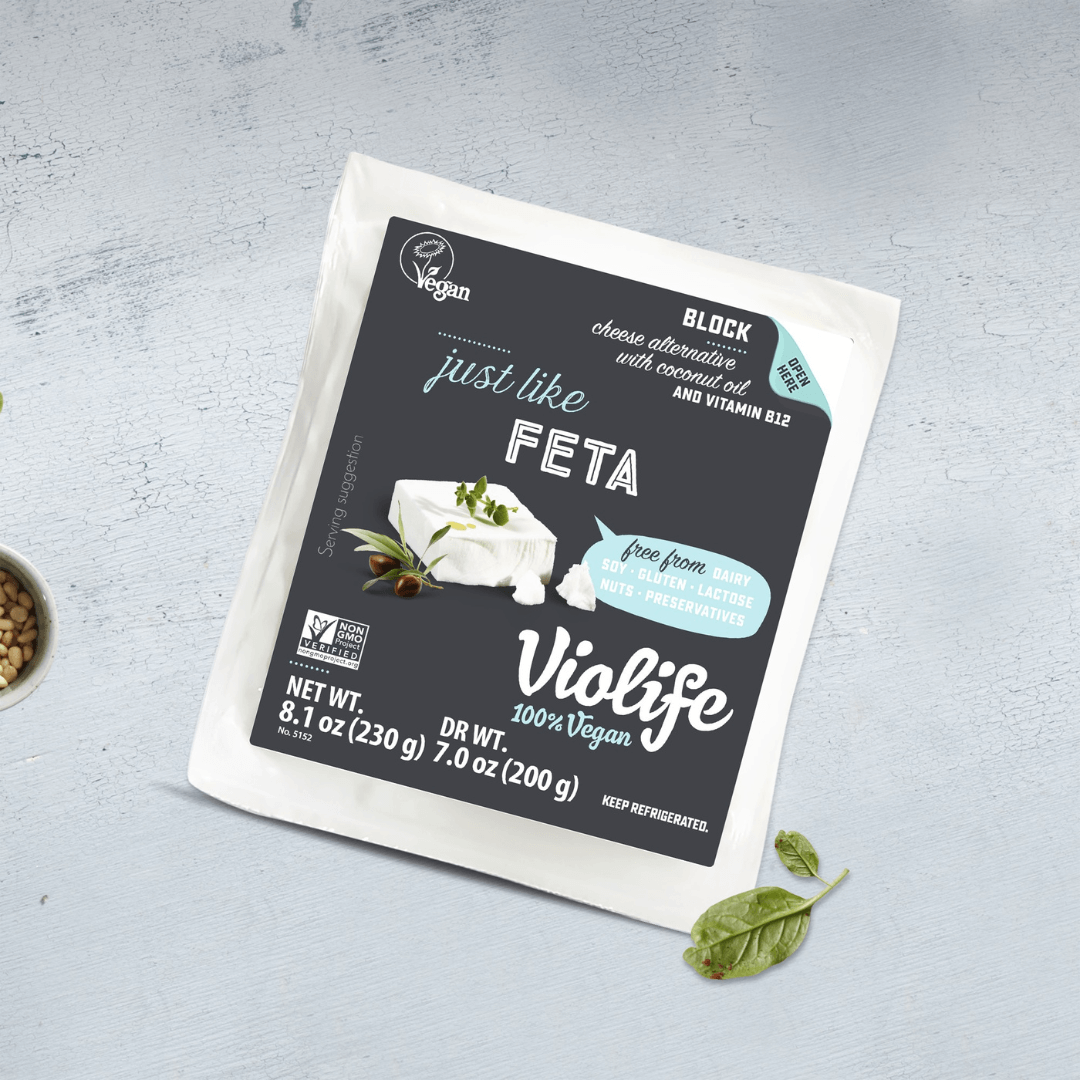 Violife
3 Violife
As a Greek brand, it's unsurprising that Violife is already on board the vegan feta cheese train. Its coconut oil-based Greek white vegan cheese crumbles just like the real deal, plus it's nut-free, gluten-free, soy-free, and fortified with B12. Violife's products are available in more than 50 countries. In the US, you can buy it from stores including Whole Foods and Sprouts.
Find out more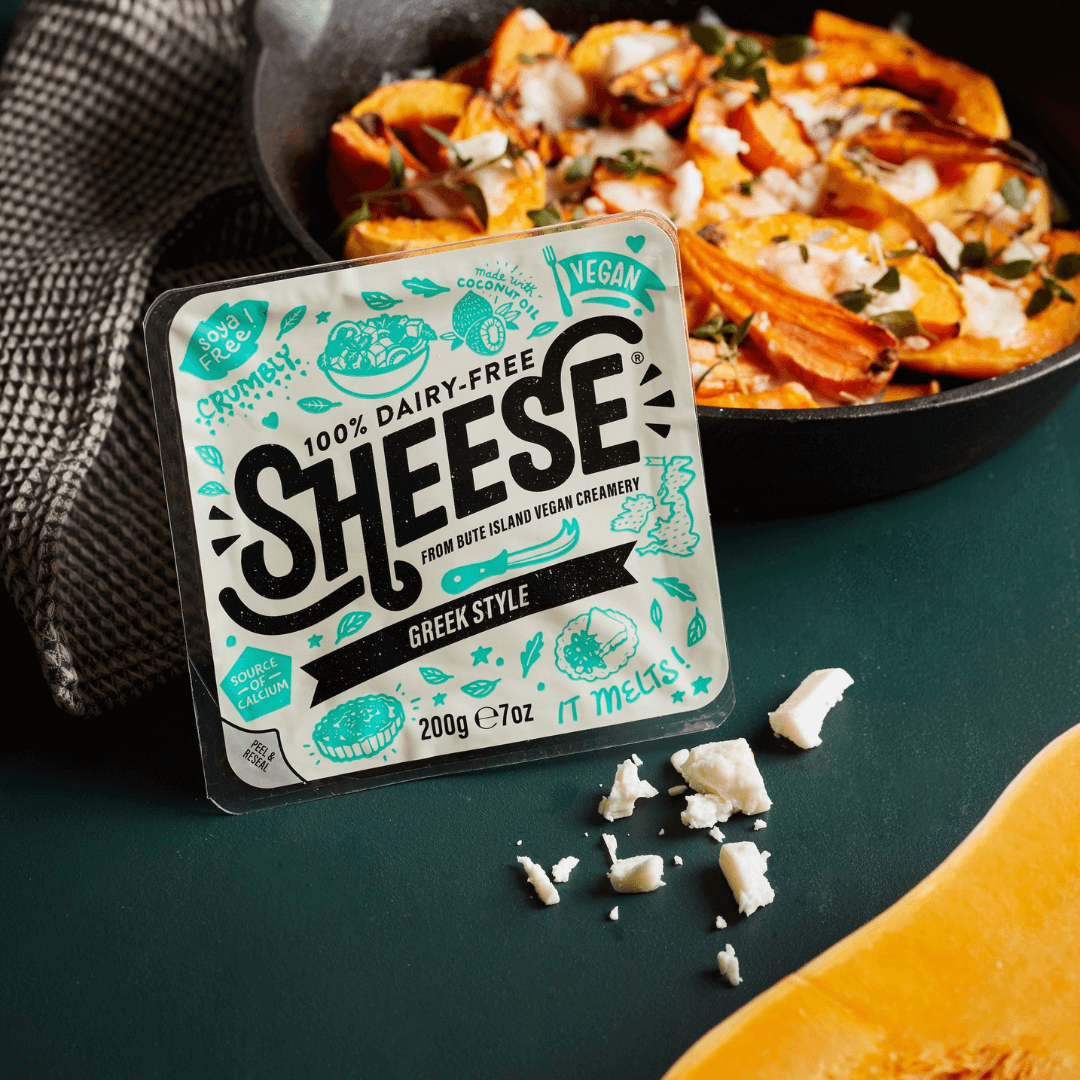 Sheese
4 Sheese
Scottish brand Sheese offers a wide range of vegan cheese blocks, from French Style Blue to Smoked German Style. Its Greek Style option mimics feta, with a white appearance and slightly crumbly texture. The vegan cheese is so close to the real thing, it has even been nominated for awards, and in 2016 it placed Bronze in Ireland's Free From Awards.
Sheese is available in stores and online around the world, including in Europe, North America, and Australia. The brand was also recently acquired by Canadian dairy company Saputo, which has big expansion plans.
Find out more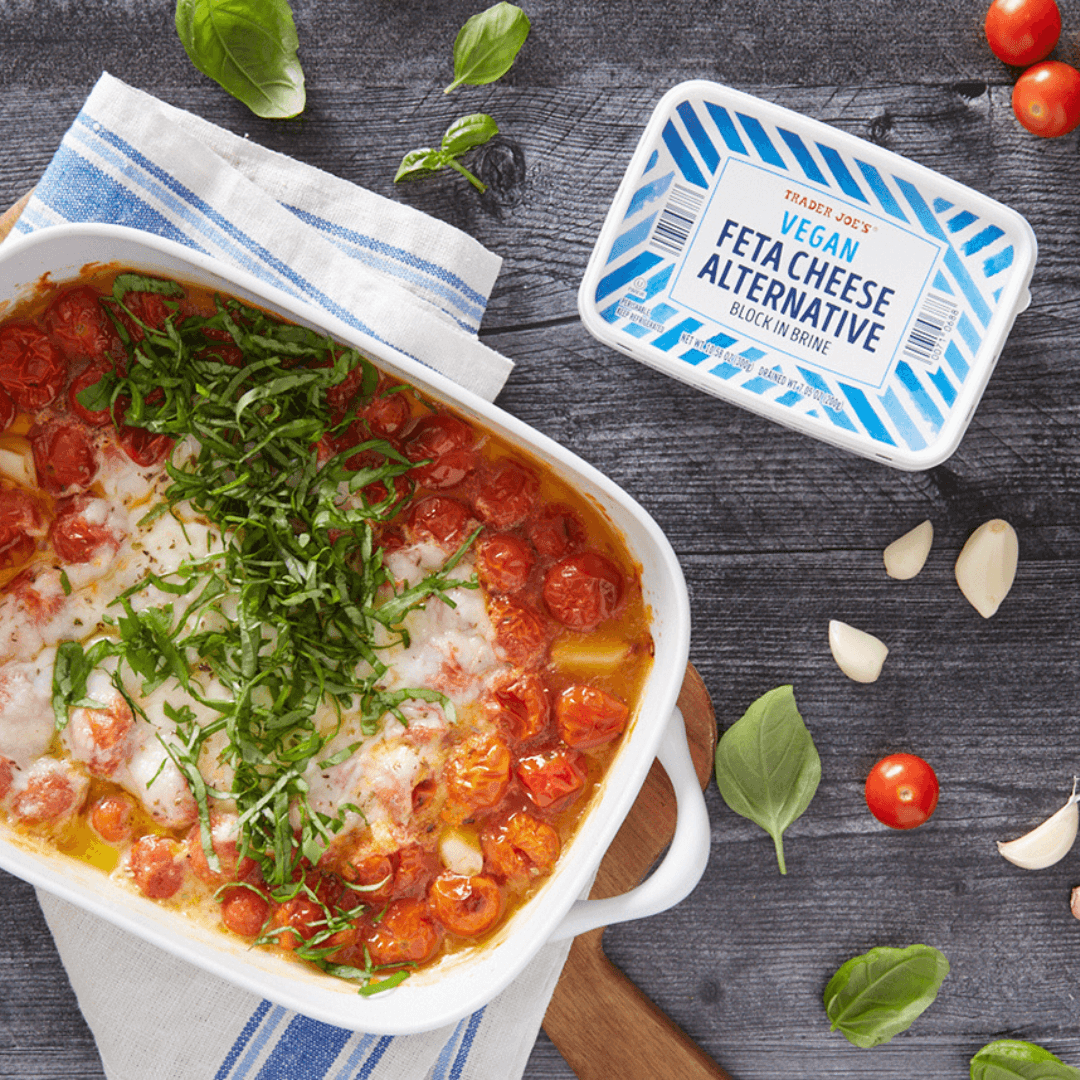 Trader Joe's
5 Trader Joe's
In 2021, Trader Joe's joined the vegan feta cheese hype with a new own-brand product: Vegan Feta Cheese Alternative. Made with coconut oil, the chain's version has a crumbly texture and even comes in salt brine, just like conventional feta. When baked, it also mimics the same creamy texture. The feta-style option joins Trader Joe's wide range of vegan cheese products, which also includes vegan parmesan, mozzarella, and cheddar.
Find out more
How to use vegan feta cheese
Just like regular feta, vegan feta cheese can be used in a number of recipes. You can sprinkle it on a salad, crumble it over a soup, add it to a grazing board alongside olives or sundried tomatoes, pop it on a pizza, or use it to stuff a pepper. The options are endless. If you're craving pasta, but want something a little less TikTok, you could try this recipe for Vegan Angel Hair Pasta With Lemon, Kale, and Feta.
How to make vegan feta cheese
If you fancy the challenge of making your own vegan feta cheese from home, there are a few options available to you. Most of the recipes online call for tofu, because it closely mimics feta in appearance, but you could also try different nuts, which will help you to nail the texture. Or if you want something allergen-free, you could give chickpea flour a whirl. Whatever your preference, here are five different recipes to choose from.
Vegan feta cheese recipes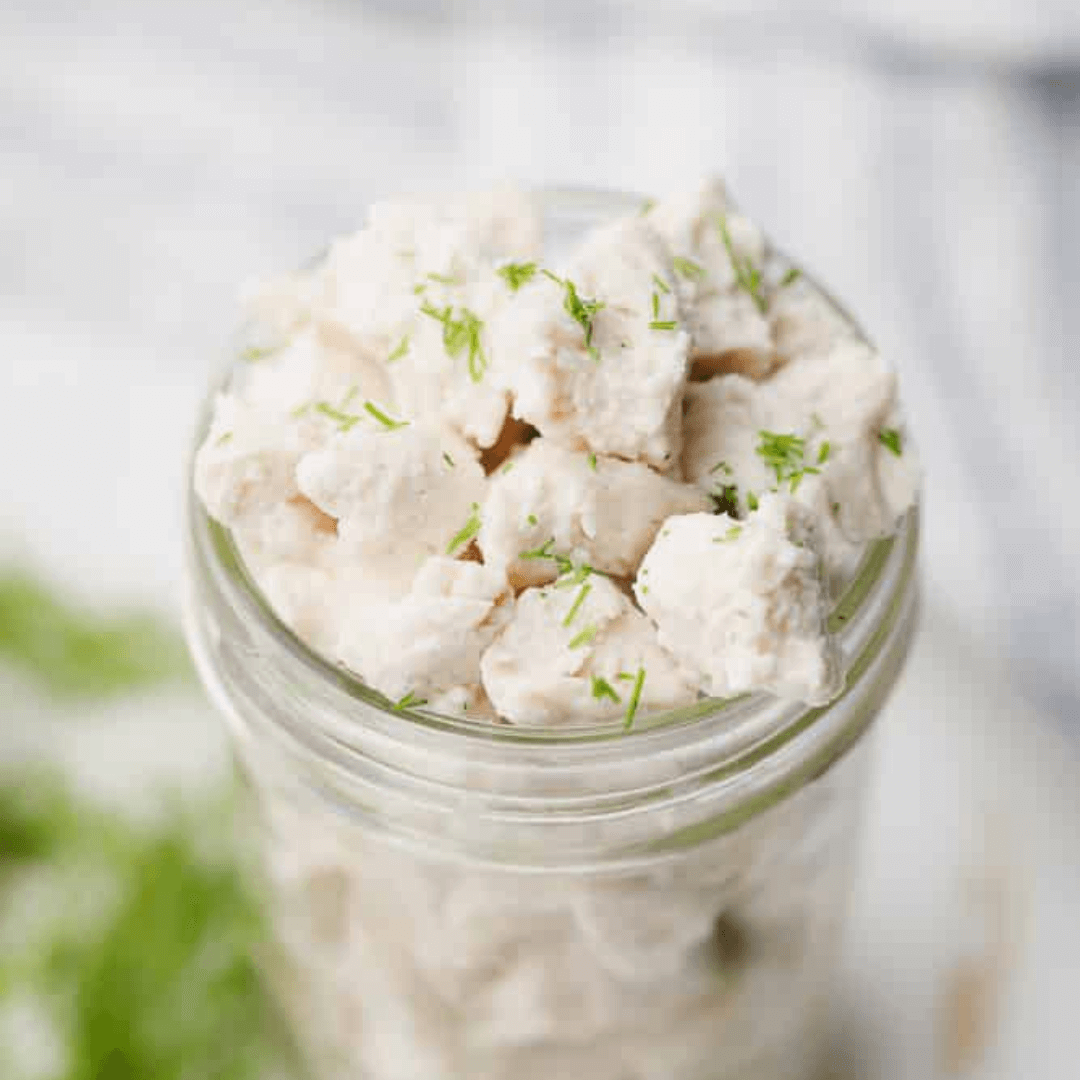 Nora Cooks
1 Vegan Feta Cheese With Cashews
Nail that tangy, briny taste with this vegan feta cheese recipe, which relies on a cashew cream base and combines it with ingredients like lemon juice and vinegar. It's easy to make and quick too, as the prep takes just 10 minutes. You don't even need to remember to soak your cashews first!
Get the recipe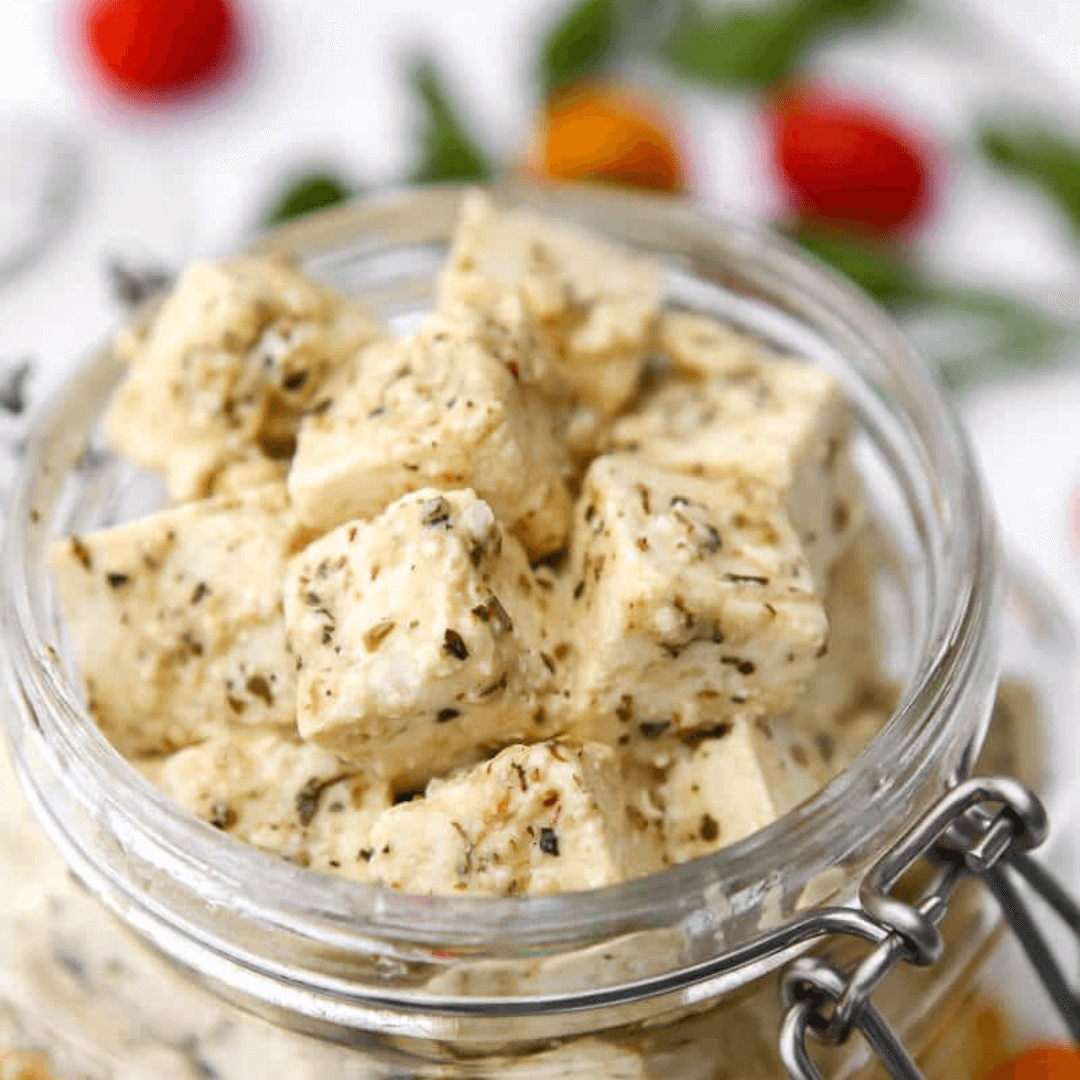 The Hidden Veggies
2 Vegan Feta Cheese With Tofu
Appearance-wise, you can't get better than tofu when it comes to making vegan feta cheese. The two ingredients look practically identical. But to pack in the flavor too, this recipe calls for nutritional yeast, oregano, and garlic powder, as well as apple cider vinegar for acidity.
Get the recipe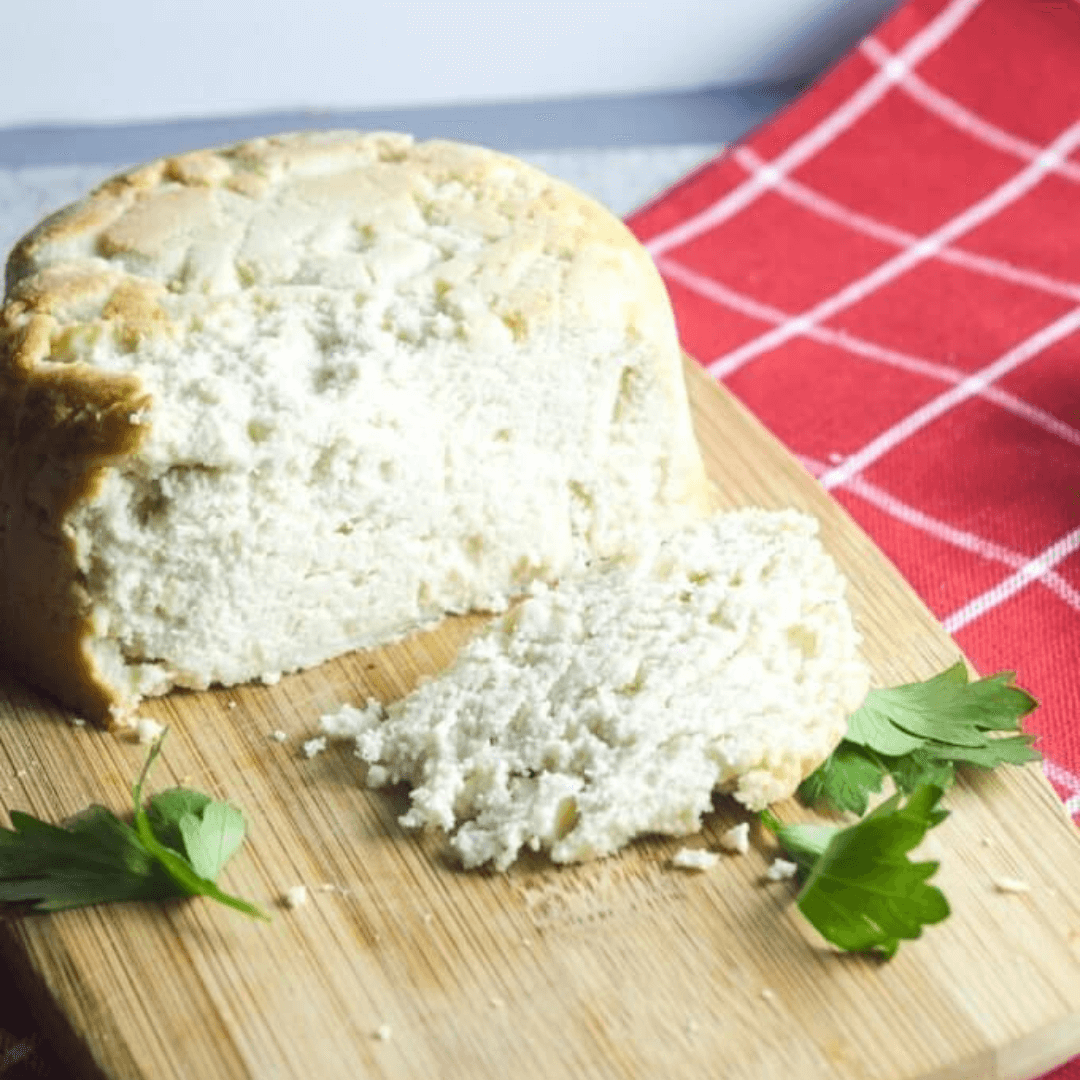 Yup, It's Vegan
3 Vegan Feta Cheese With Almond
This recipe is a little more labor-intensive, but it'll be worth it when you get the result. You have to remove the skins from almonds, which means soaking them in hot water before blending them with all of the ingredients. But after that, you just bake it in the oven. How long you leave it in there depends on the texture you're craving. If you want creamy, give it less time.
Get the recipe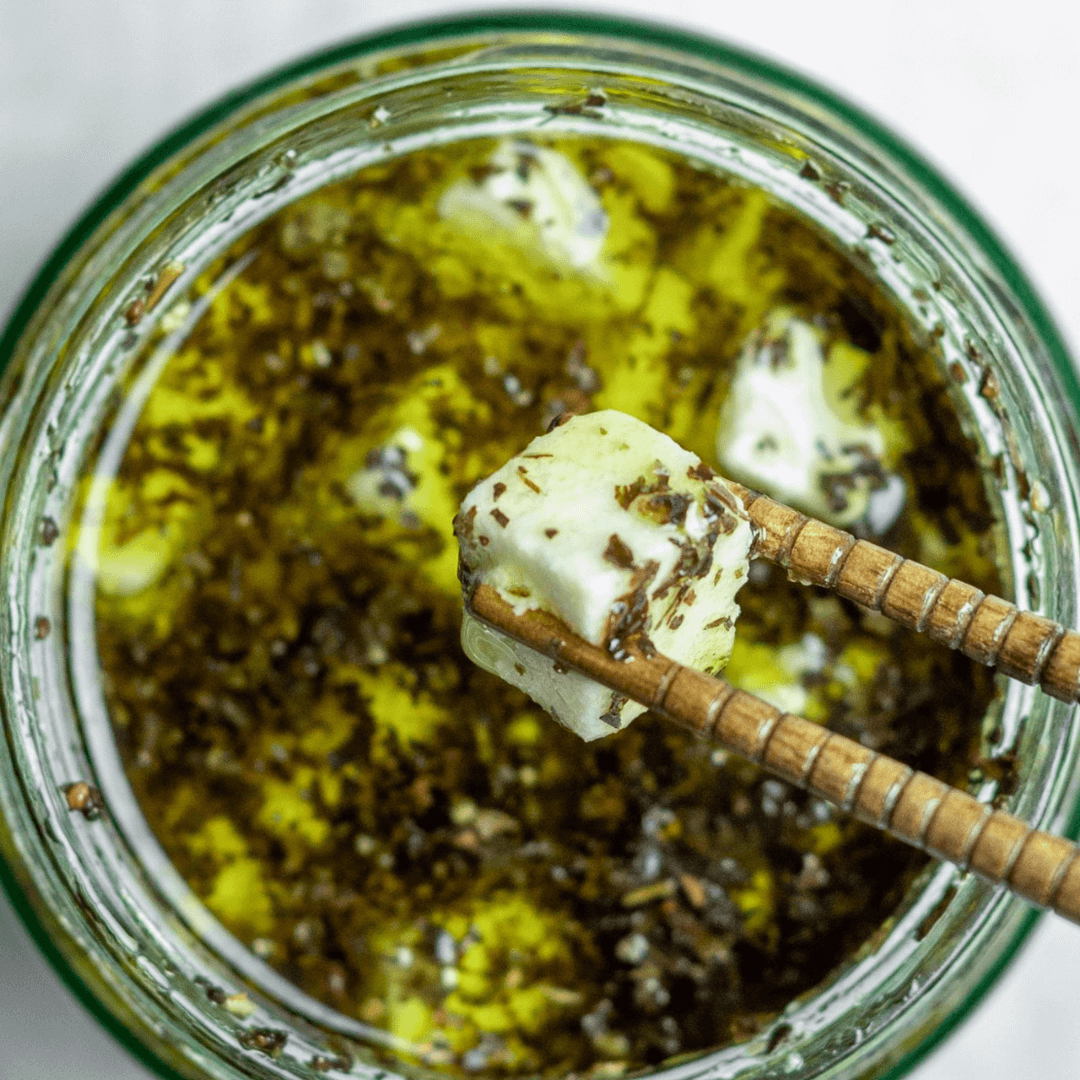 Romy London
4 Vegan Feta Cheese With Macadamia
Macadamia nuts and a high-speed blender are the two key components of this recipe for ultra-realistic vegan feta cheese. Without the latter, you'll struggle to get the desired effect. But if your blender isn't quite as powerful, you don't have to give up. Just keep blending for longer until the texture is ultra smooth and creamy.
Get the recipe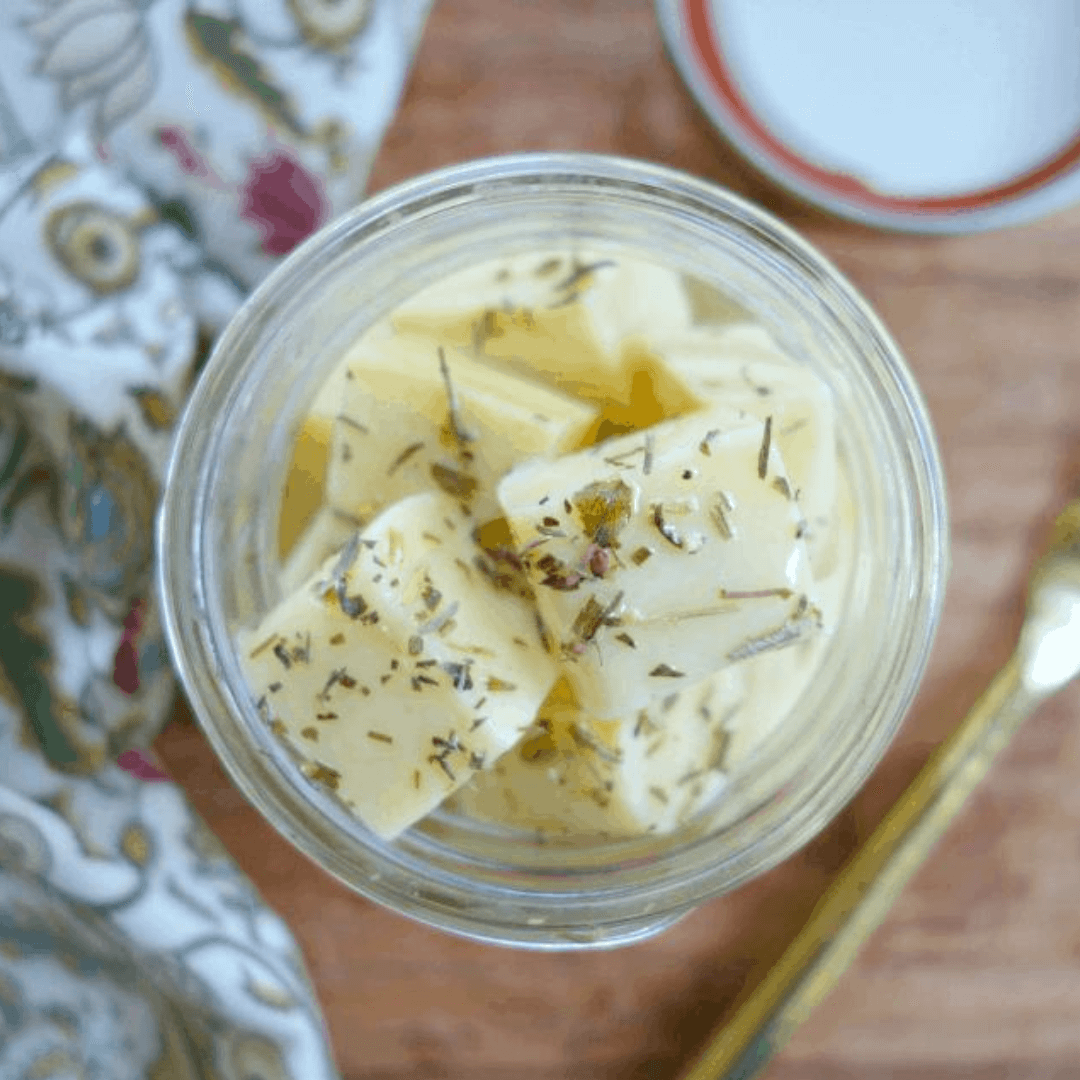 Power Hungry
5 Vegan Feta Cheese With Chickpea Flour
Many vegan cheese recipes rely on nuts, which can be tricky for those with nut allergies. But with dairy-free feta, you don't have to miss out, because, as this recipe demonstrates, you can also make a delicious alternative with chickpea flour.
Get the recipe
For more on vegan cheese, read: