Some like the filling more. Others prefer the crust. Whichever team you're on, everyone loves a slice of freshly baked vegan pie—even if just to accompany your ice cream. The smell of the caramelized fruit and sugar baking under a doughy crust wafting through the house is enough to make anyone appreciate homemade holiday fare. While the standard seasonal pies—apple, pecan, and pumpkin—are most often the go-to, change it up this year by adding an extra element of deliciousness to the classics, like an indulgent syrupy glaze, some layers of rich toffee, or extra swirls of cream cheese (dairy-free, of course)
Change is difficult for some, but trust us: these classic pies have the ability to transform into decadence at its finest with just a tweak or two (or three).
How to make vegan pie
Making a vegan pie is easy. While conventional recipes often call for ingredients like eggs, butter, cream, and milk, vegan pie recipes call for alternatives like plant-based egg replacers, dairy-free spreads, and plant milk. For guidance on how to make your holiday dessert totally animal-free, you can follow The VegNews Guide to Making Any Pie Vegan. Once you're equipped with this knowledge, you can upgrade your standard recipe with these tasty add-ons. Here are our tips for the best vegan ways to hack a classic holiday pie.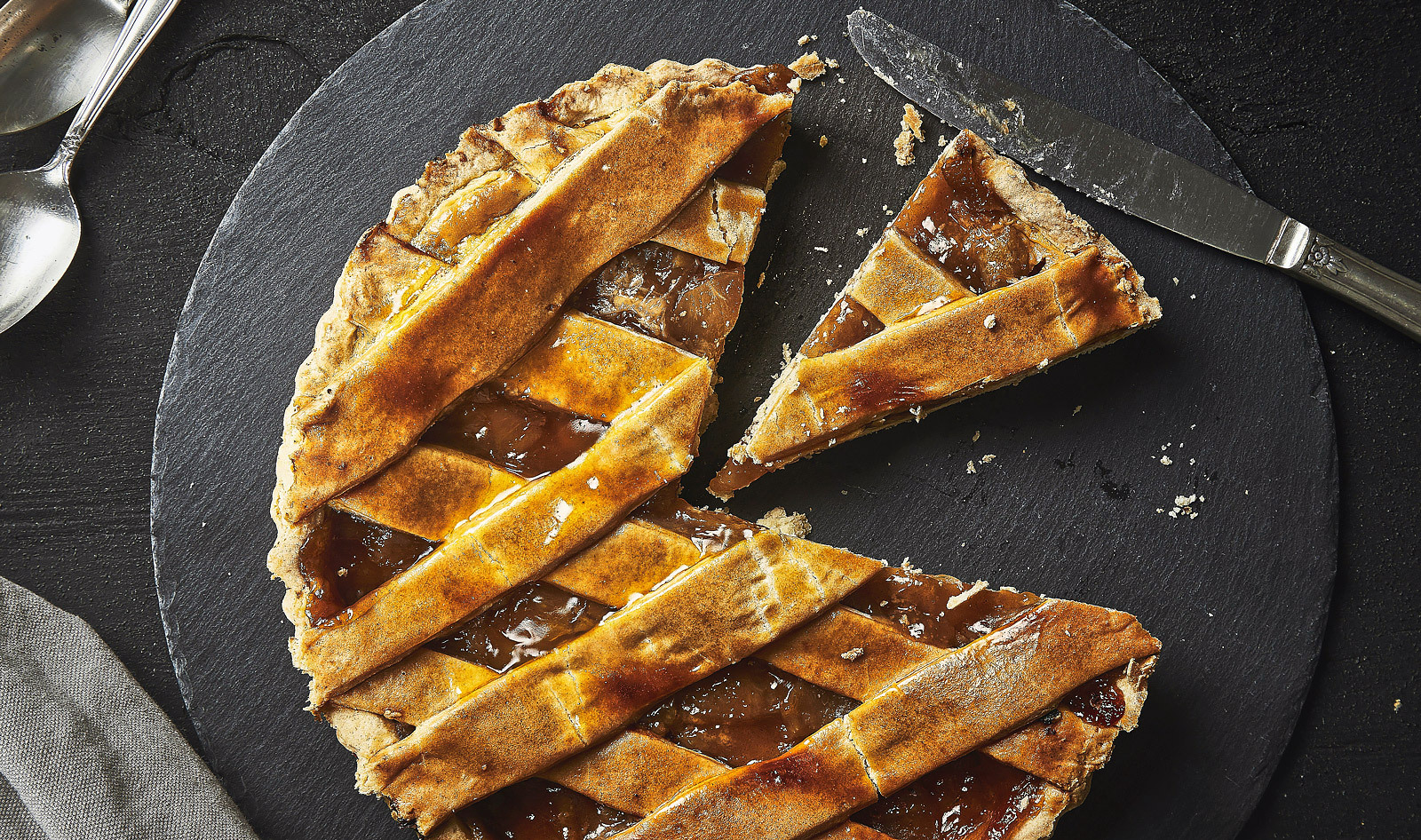 Hugo Aitken / Unpslash
Vegan apple pie hacks
Apple pie is undoubtedly synonymous with "America." You could find no other dessert that is more patriotic than this fruity and straightforward delight. Satisfied by the warm and spicy flavors of cinnamon and subtle fruitiness one can find lingering only on an orchard tree, apple pie comforts and begs eaters to consume another slice. (For advice on the best type of apples to use and which to avoid, follow our guide!) But if you're looking to liven up the classic recipe, there are plenty of ways to add more unique flavors and fanciful toppings to make it a bit more interesting than plain old à la mode.

1 Add a maple syrup glaze
Similar to the apple, maple syrup is another tree-derived, cold-weather sweet that makes for a phenomenal baking ingredient. While some might be more comfortable with dressing pancake stacks with maple syrup, drizzling it over a bed of hot-sliced honey crisps before you delicately place doughy leaf cutouts (maple leaf cut-crust, anyone?) will add another layer of sweetness to your classic pie.

2 Layer in some toffee
Anything buttery, nutty, and sweet added to a pie will do just fine. Include rich toffee bits layered between golden apple slices in an effort to add some more oomph to the all-American classic. If you've ever wondered how a caramel-apple pie would taste, this is it—but with a little extra crunch.
3 Infuse vegan cheddar cheese
A cheddar-y apple pie is no secret, but a vegan cheddar-infused apple pie might be! This zany combination is enjoyed by families across the nation, so why mess with a great thing? With so many incredible dairy-free cheddar cheeses on the market, you will never fall short of delicious cheeses to add. (For inspiration, take a peek at The VegNews Guide to Vegan Cheese.) Plus, with this combination, the cheddar's sharp bite will complement the pie's sweetness.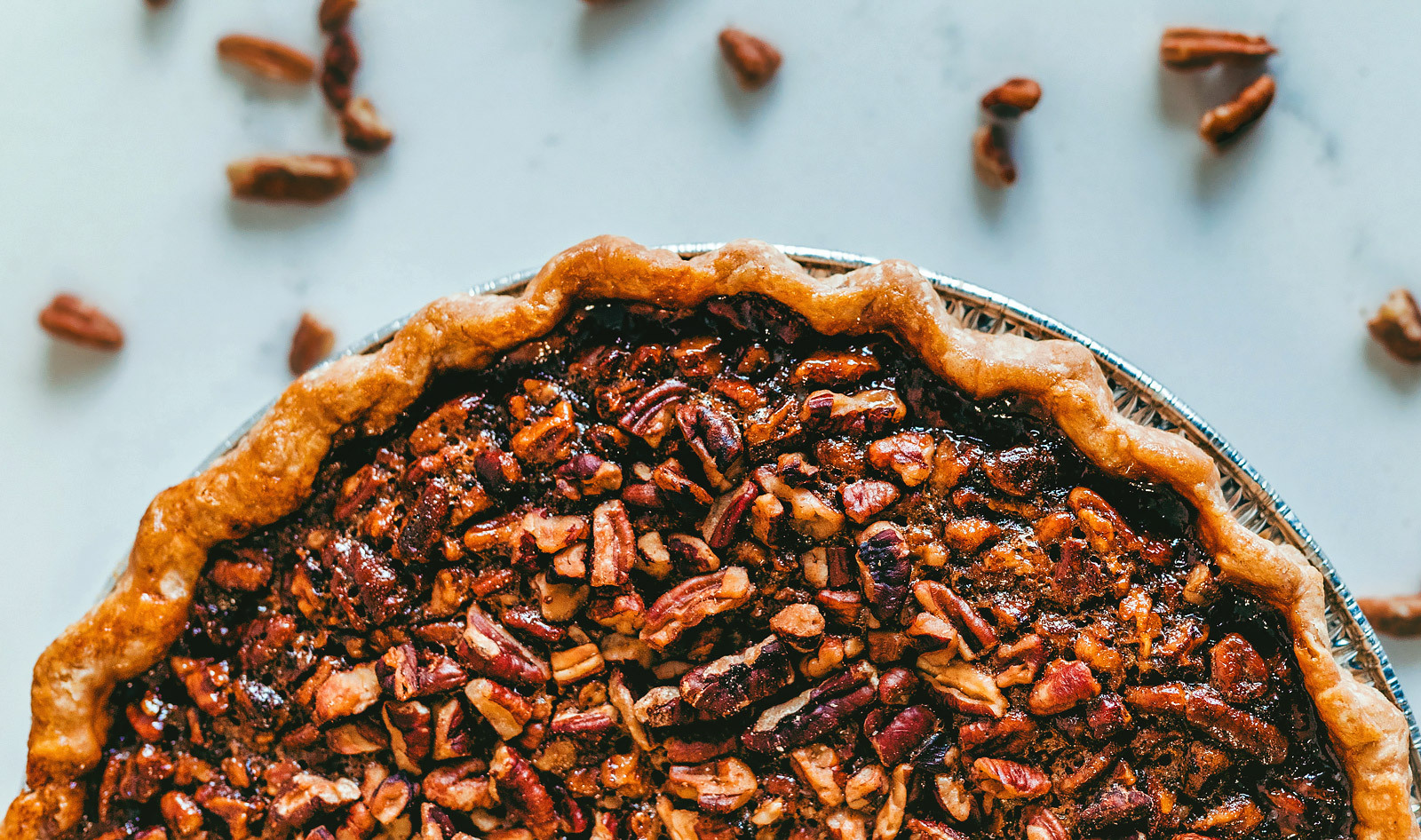 Levi Guzman / Unpslash
Vegan pecan pie hacks
Pecan pie is exactly what you crave when you are in the mood for something with a little bit more originality. Apple and pumpkin pie are sure to be found on nearly every festive dessert table, but pecan pie is somewhat more elusive, yet always a pleasant surprise when you encounter it. The pie's caramelized, nutty texture pairs perfectly with a festive holiday dinner or by itself. To really take this wintery pie up a notch, oatmeal, pretzels, and cream cheese might just do the trick.

4Add an oatmeal filling
Oatmeal isn't only for breakfast and cookies; it's arguably best suited for a brown sugar-enriched pie delightfully dotted with candied pecans. The rolled oats' heartiness will add the right amount of weight to the filling, making this dessert even more dense and decadent. To make sure your pie doesn't go dry from the starch, cut back on the flour, or add more liquid to balance the mixture.
5Crush pretzels for a salty shell
Crust lovers will fall over themselves for this elevated masterpiece. Pretzels are great accompanied by mustard and beer, but they are even better at adding that unlikely (but oh-so-delicious) salty, crunchy element to sweet treats. Add crushed salty pretzels into the wheat crust to give your pie that salty-sweet combination. This filling addition is perfect for brave souls who dare to dunk hot crispy French fries into icy shakes.
6Swirl in cream cheese
Enjoy the occasional slice of cheesecake? If so, swirl in some vegan cream cheese to give your pecan pie the ultimate cheesecake quality. The addition is sure to give your pie a fluffier texture that is still dense and full of richness.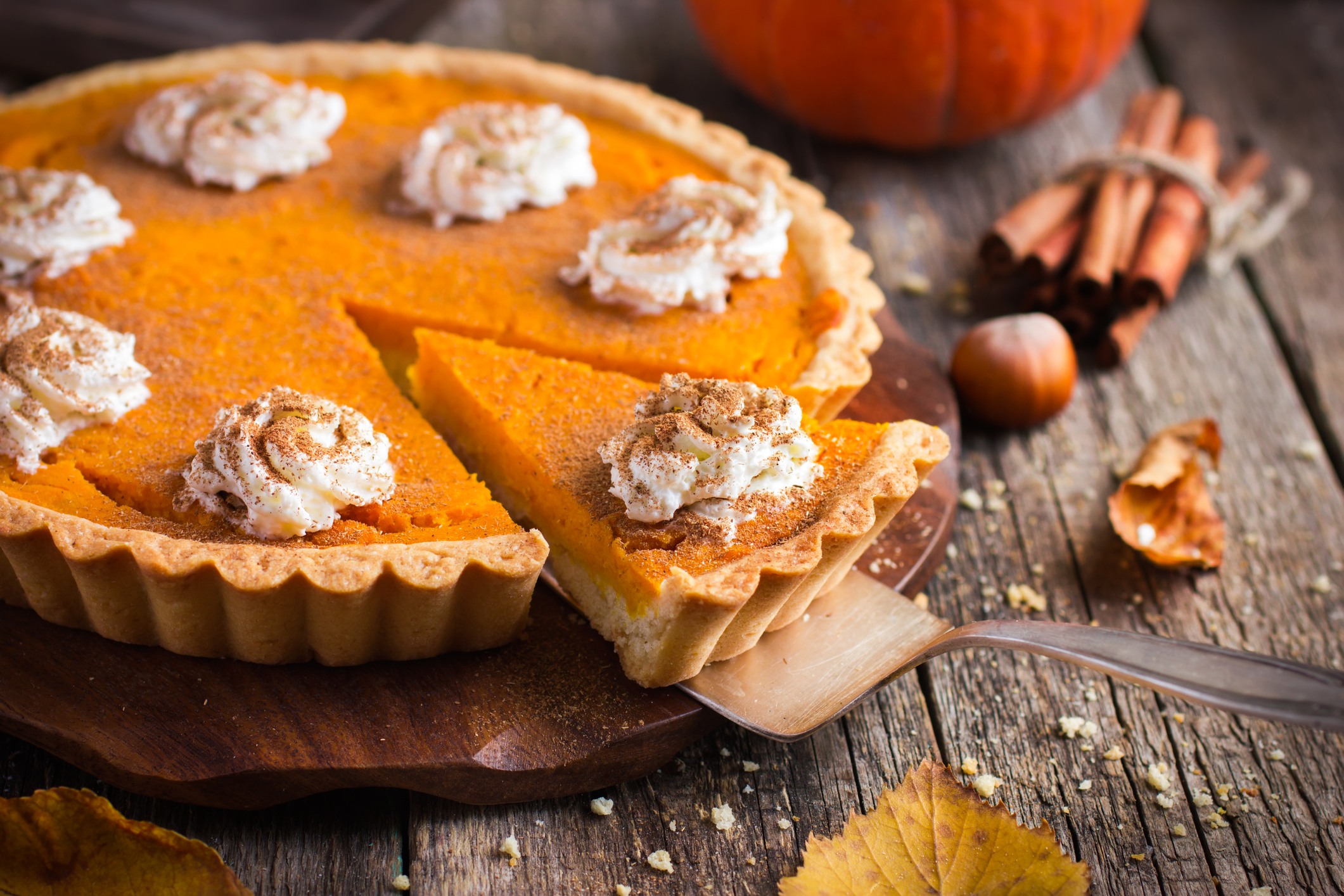 Getty Images
Vegan pumpkin pie hacks
Pumpkin pie is the quintessential autumn and holiday pie known to humankind. It decks the table at many holiday celebrations and is always gobbled up by hungry party guests. The smooth and slightly tart taste of the pumpkin filling combined with a buttery flaky pie shell is the ultimate treat and is also the perfect way to enjoy a midnight snack (if you have any leftovers). While this pie is perfect in its simplicity, sometimes a little spice is what's needed to transform the annual holiday get-together into something a little bit more jaw-dropping—so you can fork in more pie, of course.

7 Whip in some bourbon
Bust open the liquor cabinet, and get your hands on some bourbon—the finest barrel-aged spirit around. The liquor's butterscotch and pepper flavors will take your dairy-free whipped cream to the next level of goodness. Skim off the top of refrigerated coconut milk, add an ounce of bourbon, and beat on high until peaks form.

8Swap in a hazelnut crust
Hazelnuts are pricier than the average nut, but their heavenly taste is worth a few extra dollars. Call us crazy, but we say upgrade your typical whole-wheat crust for something a little nuttier.
9Drizzle on some salted caramel
Every dessert is better with salty caramel sauce, and swirling this confection over (or inside) your traditional pumpkin pie will add a sticky sweetness that will dazzle your senses like no pie ever has (obviously besides any of the aforementioned pies).
For more about vegan pie, read: