January 22 marks the first day of Lunar New Year in 2023, kicking off multiple days of festivities, feasting, and fireworks. Celebrated amongst multiple nationalities across East and Southeast Asia, the specific traditions range from culture to culture, but for many, this is a time to honor and celebrate family and usher in a new spring.
For Chinese and Vietnamese celebrations, the holiday also corresponds with a zodiac symbol—2023 marks the Year of the Rabbit in Chinese culture and the Year of the Cat in Vietnamese culture. In alignment with getting together with family, food plays a central role in the festivities across countries.
What is Lunar New Year?
Lunar New Year is a three-to-15-day celebration (depending on the country) that corresponds to the lunar calendar. Each year, the beginning of the holiday is determined by the rise of the first new moon and concludes with the rise of the full moon.
In China, it is referred to as the Spring Festival; in Vietnam, they call it Tết; and in Korea, it's Seollal. All acknowledge the coming of a new spring season and revolve around family gatherings, food, and time-honored traditions such as gifting small amounts of money, honoring ancestors, and lantern festivals. In addition to the first-day feast, food is also used as a gift and symbol of good fortune.
What are traditional Lunar New Year foods?
Again, food traditions vary from culture to culture, though there is some commonality among these dishes. Candied fruits and nuts, glutinous rice dishes, and whole fish may have different names across countries, but you'll find some iteration of all of these no matter where or with whom you celebrate. While recreating a whole, plant-based fish may be challenging, many traditional Lunar New Year dishes can easily be enjoyed as a vegan. We've included a list below of some of our favorite, tried-and-true vegan Lunar New Yeas recipes to help you celebrate every moment of this holiday.
13 vegan Lunar New Year foods
From umami-packed dumplings to sweet glutinous rice balls, here are 13 plant-based recipes to celebrate the Year of the Rabbit (or Cat).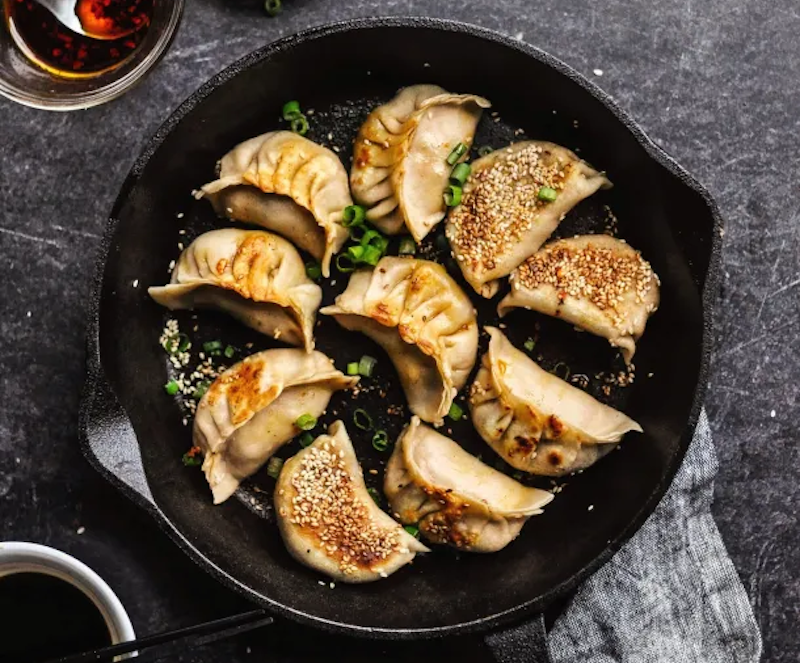 Vegan Mushroom Potstickers
1 Vegan Mushroom Potstickers
Dumplings (aka potstickers) are central in any Lunar New Year celebration. Their variety is infinite—sweet, savory, steamed, pan-fried—and you can stuff and prepare them any way you like. These shiitake mushroom potstickers are crisp on the outside, juicy on the inside, and bursting with umami. Make a large batch and freeze a few (uncooked) to last you the entire week.
Get the recipe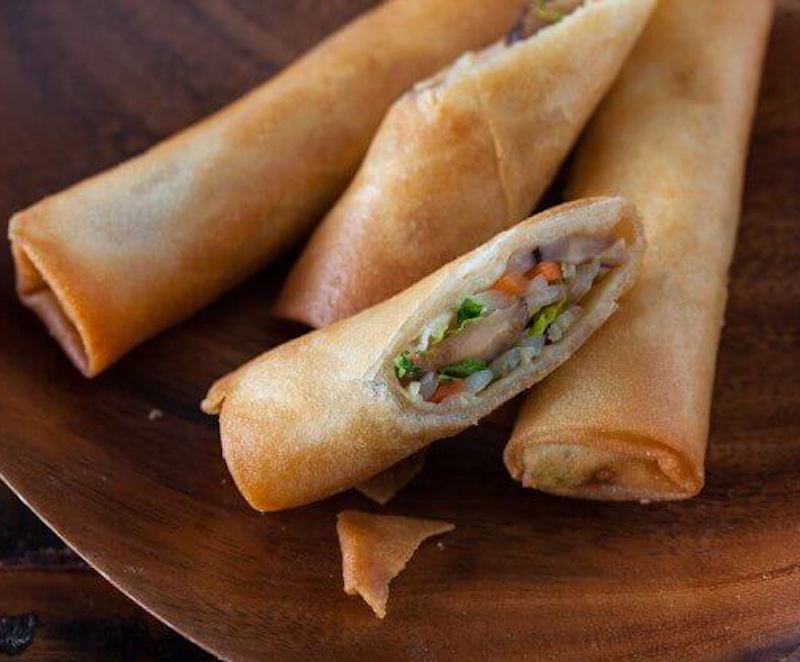 Steamy Kitchen
2 Vegetable Spring Rolls by Steamy Kitchen
Break out the deep-fryer or a deep cast-iron skillet—these are not the fresh, rice paper variety you might be thinking of. We're talking about crispy, flaky, fried spring rolls stuffed with soft veggies. One bite, and you'll swoon.
Get the recipe here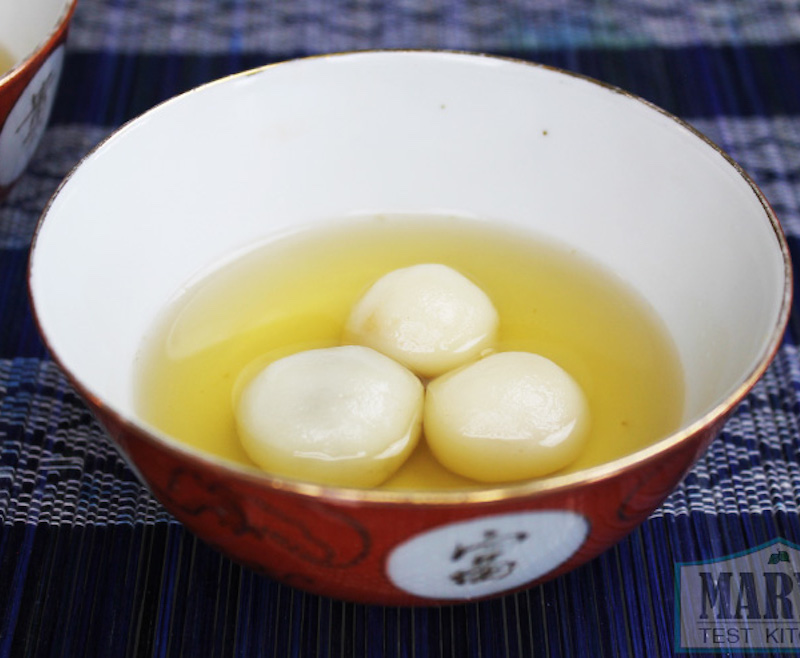 Mary's Test Kitchen
3 Sweet Chinese Rice Dumplings in Ginger Syrup by Mary's Test Kitchen
These sweet dumplings, or tong yuan, are made with glutinous rice flour. Despite its name, this flour is actually gluten-free, and it's the same used to make the outer chewy shells of mochi. The result is a lightly sweet, toothsome dessert one can enjoy while viewing the holiday's concluding event—the lantern festival.
Get the recipe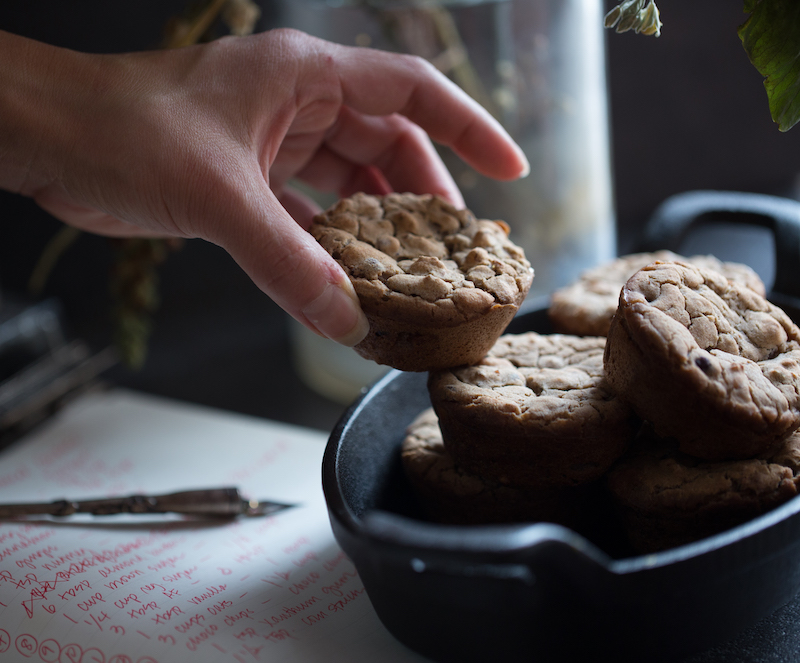 Korean Vegan
4 Korean New Year's Rice Cake
As devout fans of The Korean Vegan's social media posts and all-consuming cookbook, we turn to her for recipes that honor the Korean Lunar New Year. Excerpted from her book by the same name, these Dduck Dduck Goo sweet rice cakes are delightfully chewy on the inside, crispy on the outside, and studded with crunchy mixed nuts and seeds. Each little muffin is an explosion of textures and flavors that make it impossible to stop at just one.
Get the recipe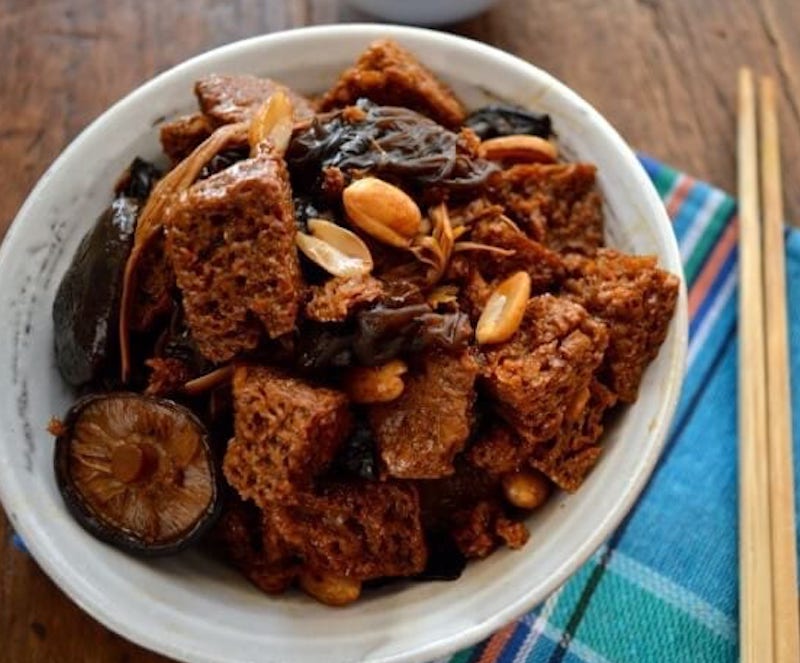 The Woks of Life
5 Braised Wheat Gluten with Mushrooms by The Woks of Life
You'll have to swing by your local Asian market to pick up the main ingredient for this cold appetizer, and once you try it, you'll constantly crave it. Hong shao kao fu is made with dried wheat gluten, wood ear mushrooms, dried lily flower, and peanuts, all soaked in a dark, slightly sweet soy-based sauce. The dried wheat gluten is very similar to tofu in that it acts like a sponge, soaking up whatever flavors you add to it. Bonus to the vegan nay-sayers: this dish has a ton of protein. Get the recipe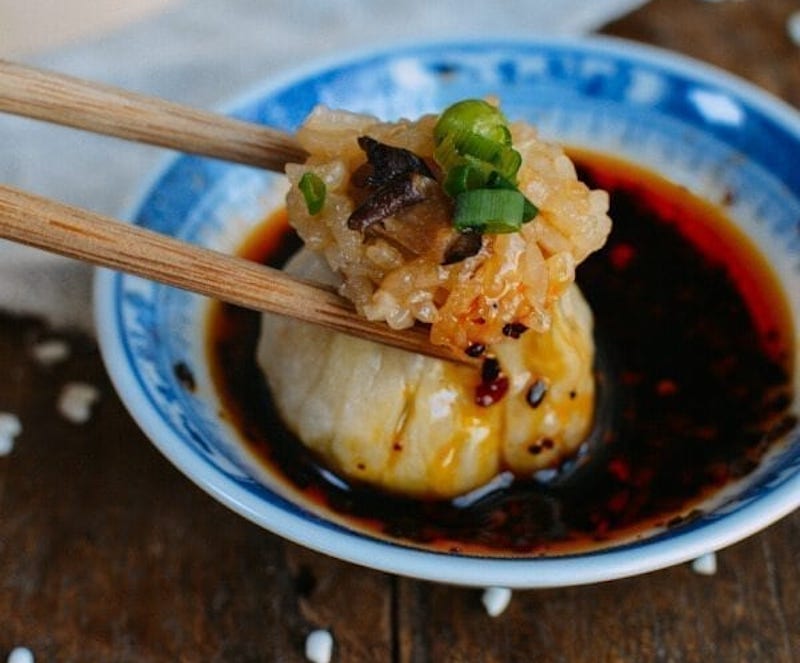 The Woks of Life
6 Sticky Rice Mushroom Shumai by The Woks of Life
One look at this puckered dim sum has us drooling. This recipe layers on the textures and flavors with a mix of sticky rice, shiitake mushrooms, and a complex sauce to coat every single crevice. You could easily make a meal out of these.
Get the recipe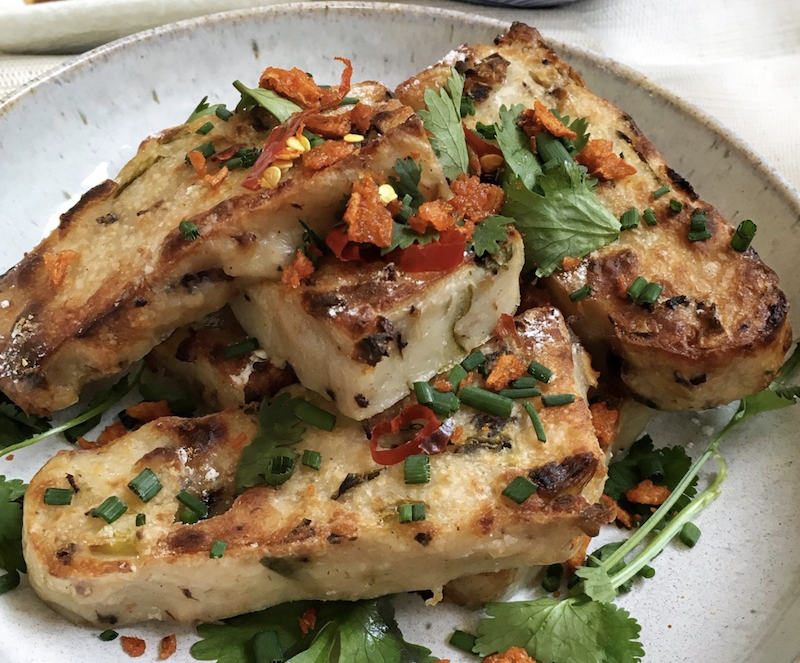 Celestial Peach
7 Taro Root Cakes by Celestial Peach
Lo bak go is a savory, dense cake made with taro root or turnips. Traditional recipes call for dried shrimp and/or Chinese sausage—both are replaced in this recipe with meaty shiitake mushrooms. How you enjoy them is up to you—either leave them steamed or take an extra step to pan-fry for a crispy-edged finish.
Get the recipe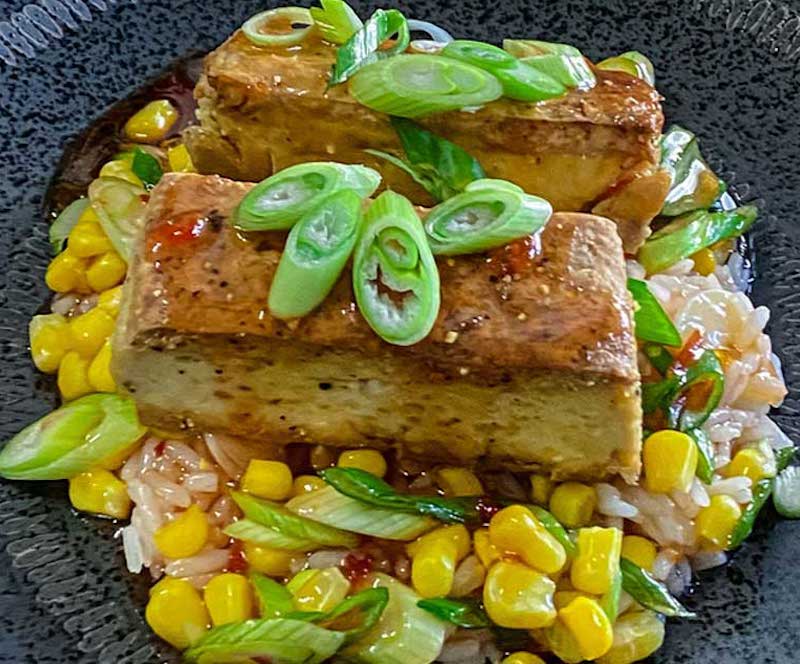 Wicked Healthy
8 Vegan Pork Belly by Wicked Healthy
When we say anything can be vegan, we mean it, and this recipe justifies this claim. The sibling duo at Wicked Healthy replicate the tastes and textures of tender pork belly by slow-roasting then pan-frying dry-rubbed tofu. Just try it. You and your omnivore friends will be amazed.
GET THE RECIPE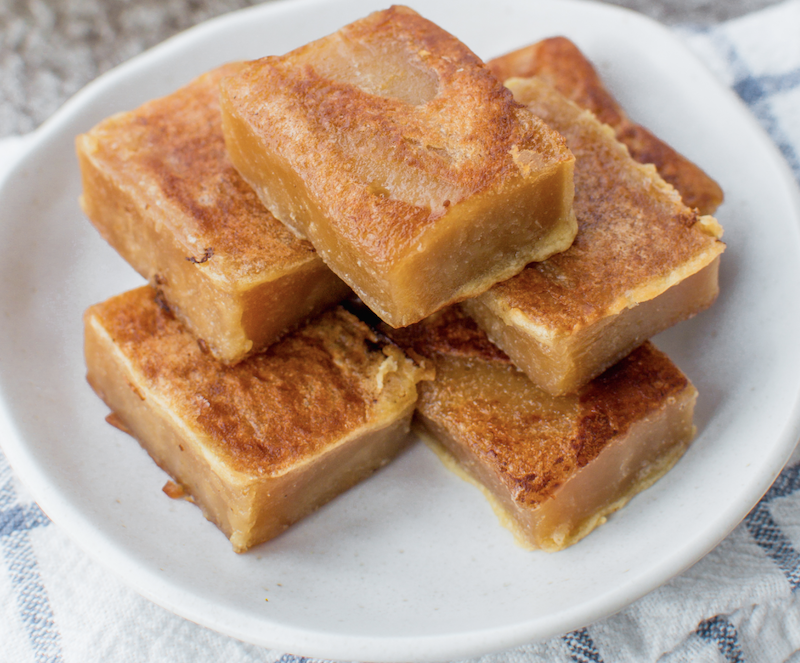 Radiant Rachaels
9 Vegan Sweet Rice Cake by Radiant Rachaels
Nian Gao is pure and simple. This sweet, dense dessert only requires four ingredients (Chinese cane sugar, chickpea flour, glutinous rice flour, and rice flour), yet the result is nothing short of addictive. Don't be surprised if you find yourself craving these sweet squares instead of cake in the next coming weeks.
Get the recipe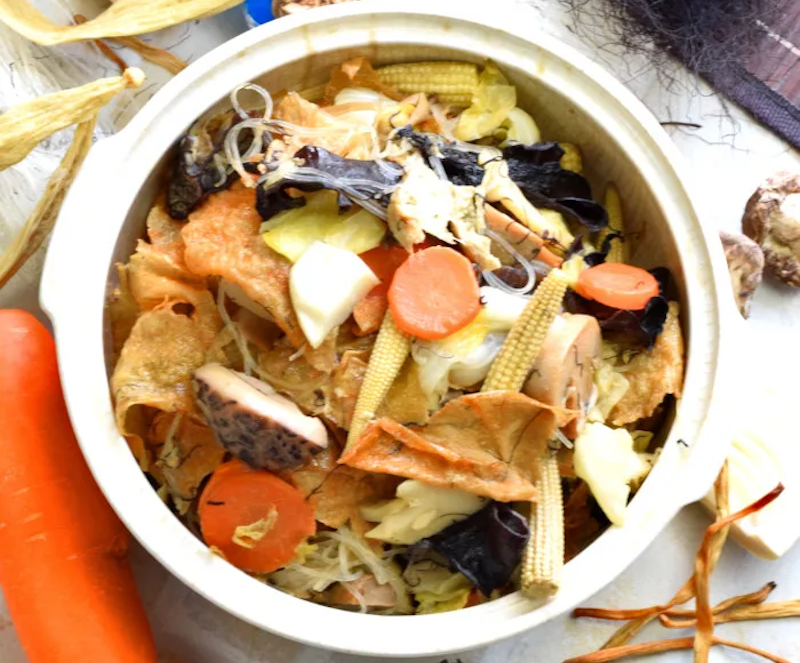 Buddha's Delight
10 Buddha's Delight
Lo Han Jai—more commonly known as Buddha's Delight in the US—is often parred-down in Chinese American restaurants. The traditional vegan dish includes 18 ingredients to represent the 18 Arhats, or Chinese saints. We recommend making the original version first, then simplifying the next time you make it, if you're crunched for time.
Get the recipe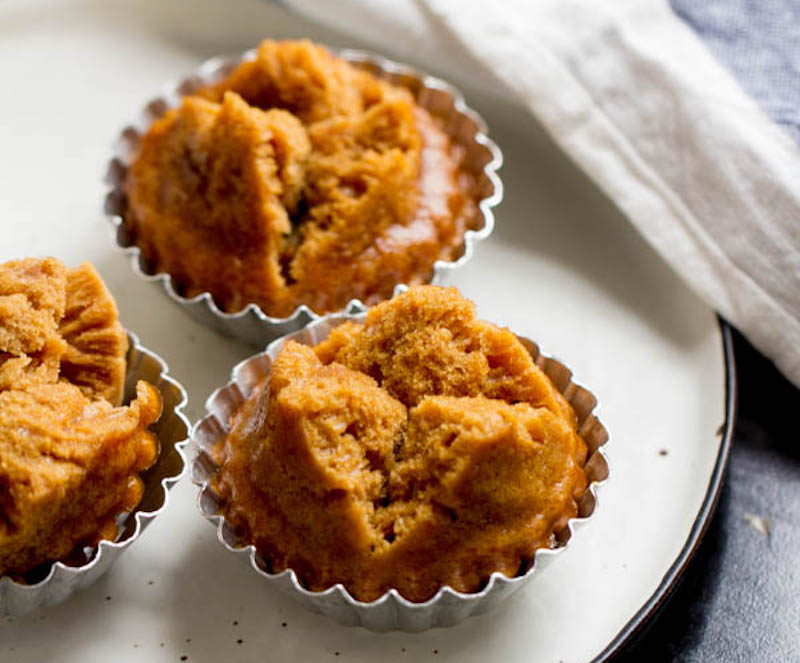 China Sichuan Food
11 Fortune Cake by China Sichuan Food
The ingredients for fa gao are simple, but the result is impressive. This humble cake made from all-purpose flour, water, brown sugar, and baking powder puffs up when steamed into a Chinese fortune-teller-shaped dome. These are served for both breakfast and dessert.
Get the recipe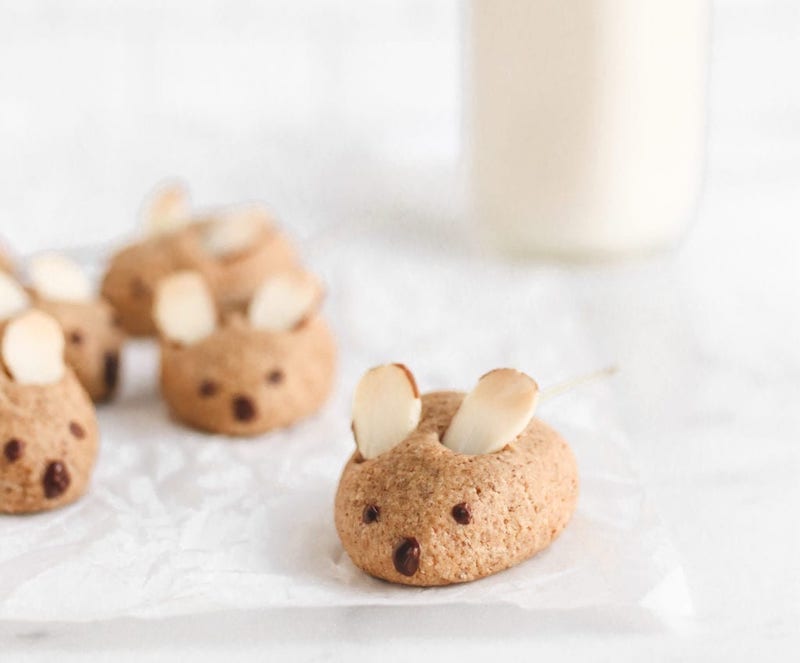 Veggiekins
12 Almond cookies
If you can make sugar cookies, you can make these delightfully crispy cookies. They're just sweet enough, and their crunchy texture makes them perfect for dunking into a strong cup of tea. This particular recipe happens to shape them into adorable mice, but you can always roll the dough into a more traditional (and less labor-intensive) circular cookie shape.
Get the recipe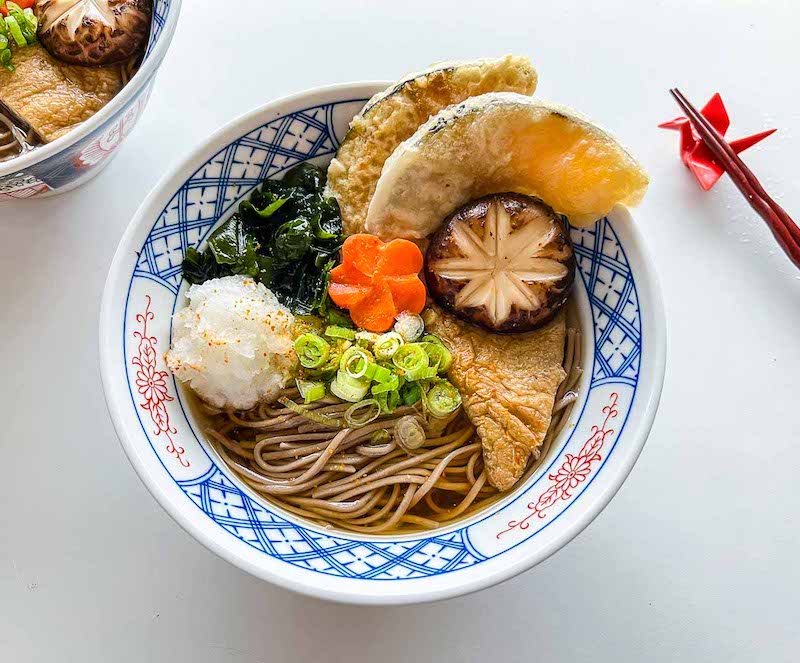 Okonomi Kitchen
13 Toshikoshi soup
Prepared for the Japanese Lunar New Year celebration, this simple, warming soup is comprised of a hot dashi broth, buckwheat soba noodles, and scallions. However, each region and family has its favorite add-ons. We love the tempura kabocha slices, wakame, and fried tofu cakes blogger Okonomi Kitchen added to this rendition. Note: she does include some traditional animal-based ingredients by way of explanation. To keep this vegan, omit the fish cake toppings.
Get the recipe
For more vegan recipes, read: