No matter where you go when the weather is warm, you can't miss them: Birkenstocks. They're easily spotted from a distance with their chunky metal buckles, thick straps, and orthopedic footbeds. Fashion cycles through trends like rapid-fire, especially since the notorious debut of fast fashion in the late 20th century. But, Birkenstocks have prevailed. Though these sandals are known for their strappy suede construction, these days there are vegan Birks available in all colors and styles.
Back in the '60s, Birkenstocks were the unofficial shoe of the hippie and beatnik uniform and they experienced another surge of popularity again in the early '90s in Laguna Beach. But, in the early aughts, the sandal stepped outside of granola countercultural circles and earned a mainstream following.
It's generally accepted that the moment that made anti-fashion footwear chic happened in 2012, when luxury shoe brand Céline sent a model wearing bejeweled Birkenstock sandals, designed by Phoebe Philo, down the runway. Not much has changed today. Birkenstocks remain in the favor of fashion editors and celebrities, such as Kendall Jenner and Gigi Hadid, and they're seen being worn with or without socks.
How sustainable is vegan leather?
Despite the association with those who take a walk on the earth-loving, crunchy granola side of life, the original Birkenstocks are made from cowhide leather. But, leather is no friend of the planet. It has ties to the cattle industry, which accounts for 65 percent of greenhouse gas emissions from livestock. And, a report released in December 2021 linked more than 100 fashion brands to the destruction of Brazil's Amazon rainforest. This is especially concerning because rainforests absorb twice as much carbon as they emit in a year. But when they're cleared, that carbon is released into the atmosphere.
Several studies indicate that Brazil's cattle herds—the largest in the world—are a major driver of the Amazon's deforestation. And, many of the brands highlighted in the report source leather for fashion goods from JBS, the largest meat processing company in the world. Brands are not necessarily sourcing leather from companies linked to the destruction of Brazil's Amazon rainforest. This is an industry-wide issue that is partially caused by a lack of transparency within the supply chain. Unfortunately, it also can't be fixed with the wave of a magic wand. More accountability, and regulations, are necessary.
However, even if you fix the transparency issues, the leather industry still relies on the death of animals in order to profit and thrive. In addition to the cruelty to cattle and the rainforest, reports have revealed both the human rights and environmental impact of the leather tanning industry.
But, the fashion industry is catching up to the urgent need to become more sustainable. Vegan leather has evolved beyond the unpliable pleather that exudes the kind of Joan Jett-esque cool-girl vibe that we could only dream of achieving. Some of the biggest names in footwear, like Adidas and Nike, have launched vegan shoes in recent years. The latter even collaborated with Billie Eilish not once, but twice, on animal-free leather sneakers.
With proper care, high-quality vegan leather lasts and it's also more environmentally friendly. Vegan leather can be made from natural materials, such as nopal cactus, pineapple leaves, apple skins, and even mushroom mycelium. Or, it can be made from artificial materials, like polyurethane, which is derived from plastic. While the latter sounds like it may not be more sustainable than conventional cowhide, a report developed by luxury goods corporation Kering revealed that the environmental impact of vegan leather can be up to a third less than that of the real thing.
What are vegan Birkenstocks made from?
In January 2017, Birkenstock announced its first vegan shoe collection, which was created in response to the rising consumer demand for animal-free footwear. Its cruelty-free footwear is primarily constructed from its proprietary vegan leathers, Birko-Flor and Birkibuc.
Birko-Flor is made from polyvinyl chloride, aka PVC, and it has a smooth, shine-free upper that looks and feels like oiled leather. The bottom layer is lined with a soft, breathable felt material to reduce friction. Birkibuc, meanwhile, emulates nubuck leather, which has a soft, brushed exterior. Both are made to be durable and long-lasting, like Birkenstock's signature shoes
In addition to these two types of vegan leather, the brand also makes sandals with woven textile straps. A few styles are made from lightweight microfiber, which has a suede-like feel to it. And, the brand's signature comfortable footbeds are made from jute and cork. The former material, which is primarily derived from the Corchorus olitorius plant, is moisture-wicking while the latter cushions the soles of your feet.
The best vegan Birkenstock styles
There are nearly 50 options for vegan Birkenstocks, including kids' styles. Here's your style guide to the iconic sandal.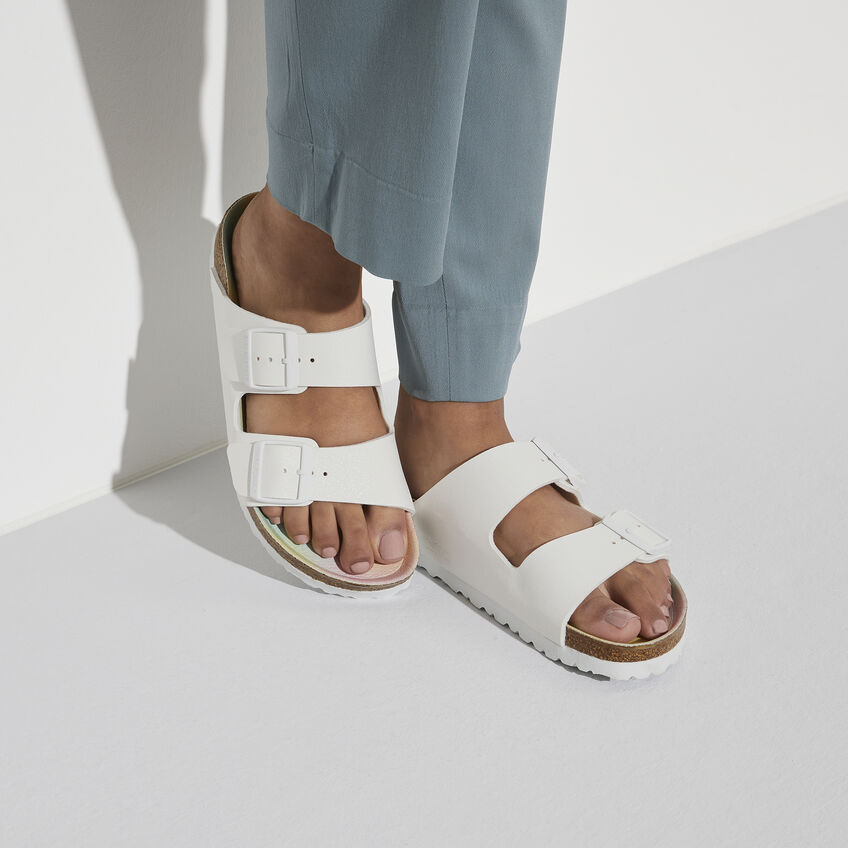 1 Arizona Vegan
When you think of a Birkenstock sandal, you probably picture the Arizona style and its two big, chunky straps. This sandal's design has remained unchanged since 1973—why change a classic, after all? The Arizona Vegan comes in 16 colors to match any outfit, such as black, tan, white, soft pink, lavender, and blue-grey. Some even feature a pastel ombre footbed. Finally, if you like a bit of height from your footwear, this shoe also comes in a platform version.
try it here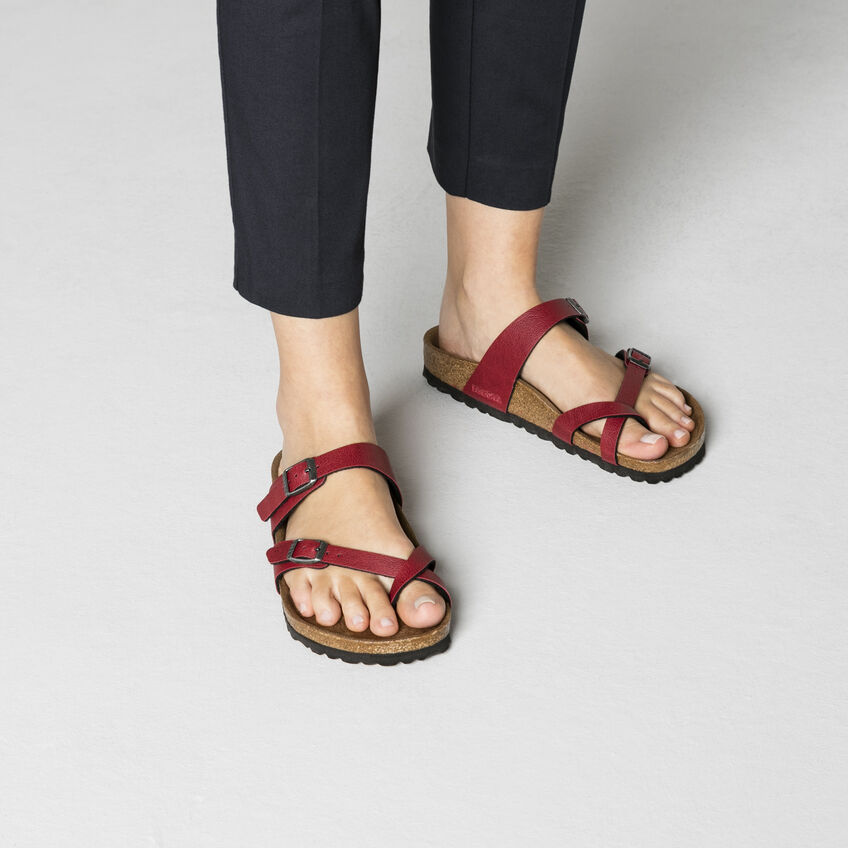 2 Mayari Vegan
For an elegant shoe that matches with jeans and a blouse, as well as a flowy summer dress, turn to the Mayari. This sandal features crisscrossed, adjustable straps and a single-toe loop. It comes in five colors: white, black, khaki, Bordeaux wine red, and a soft yellow.
try it here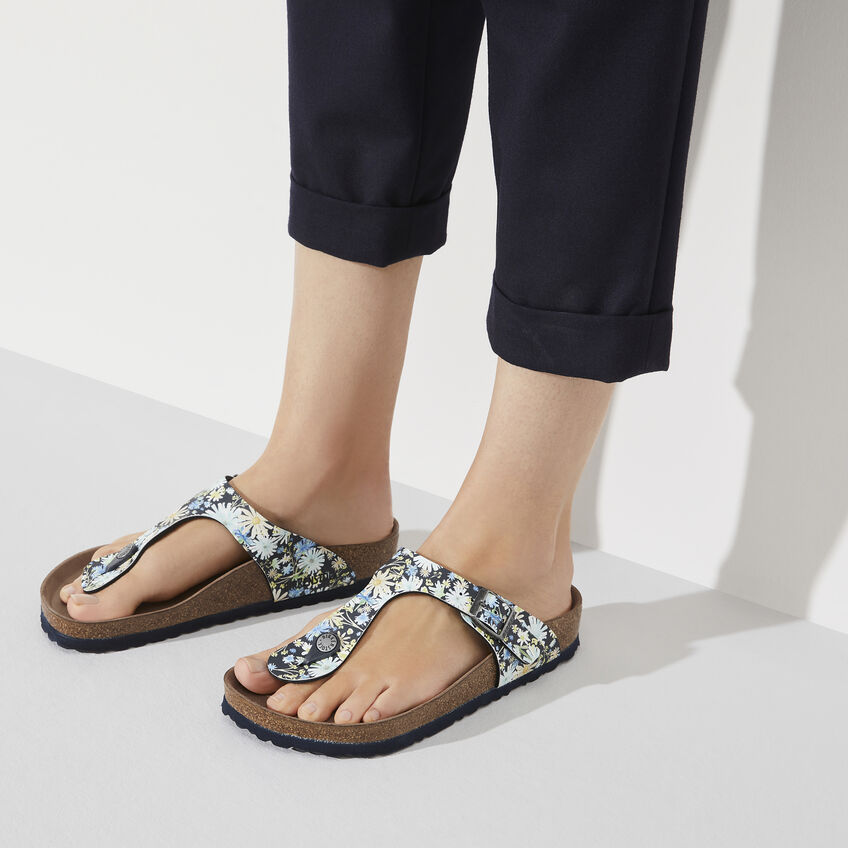 3 Gizeh Vegan
Featuring both regular and platform footbeds, the Gizeh is a minimalist thong-style sandal with an adjustable strap. It comes in five colors, including pink and blue botanical patterns. Florals for spring? Yes, always.
try it here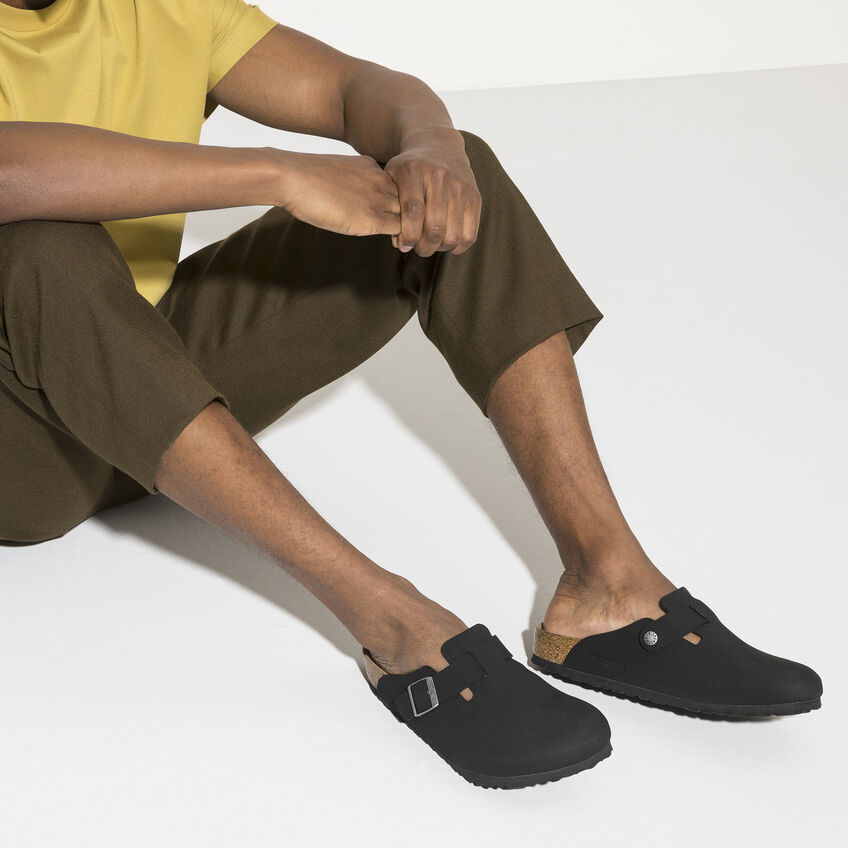 4 Boston Vegan
This slip-on clog named after Beantown features a single adjustable strap that adds a touch of sophistication. But, it's casual enough for everyday wear all year round, too, whether you're in the office or out and about. Long live the clog!
try it here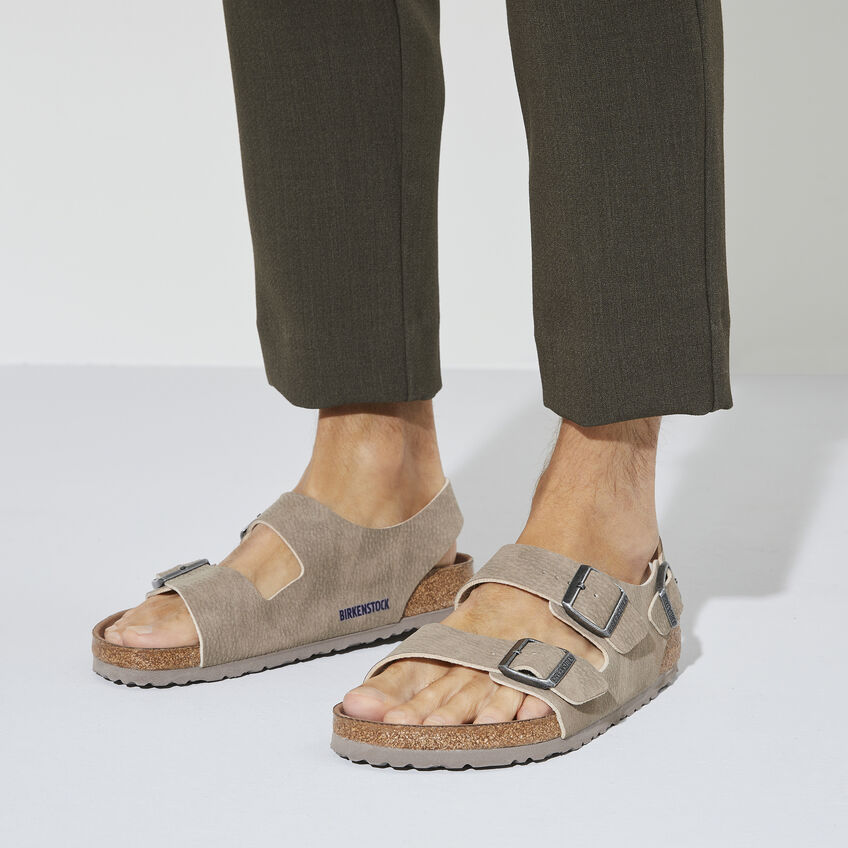 5 Milano Vegan
The Birkenstock Milano channels the timeless style of the Arizona, only it comes with an adjustable ankle strap in pebbled vegan leather that'll keep your shoes securely on your feet while on long treks and shopping trips.
try it here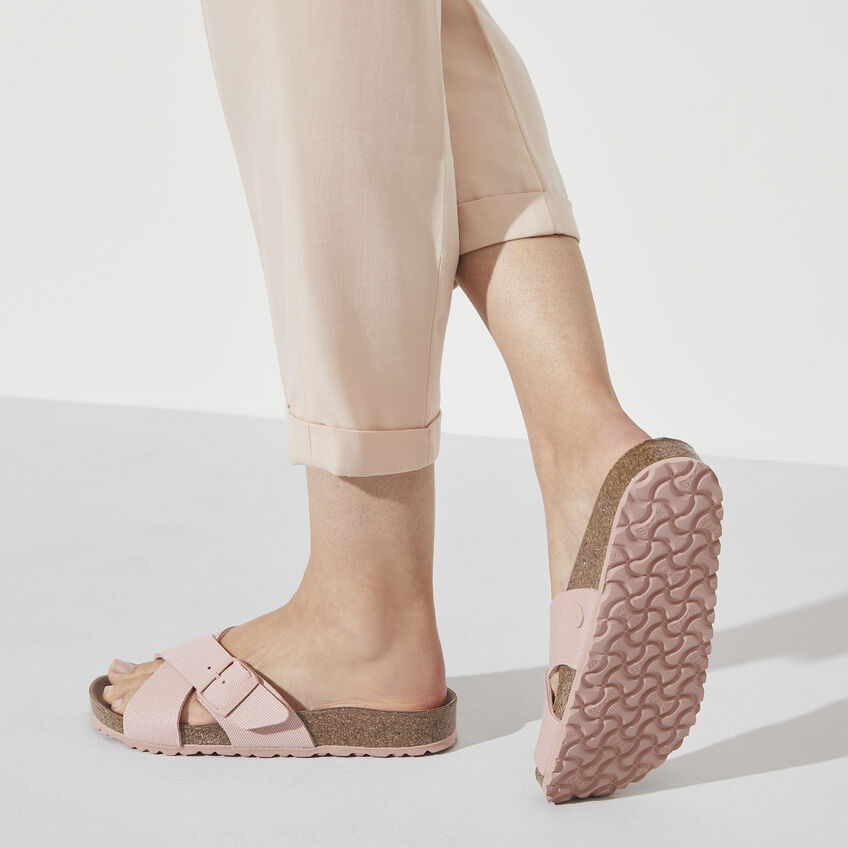 6 Siena Vegan
The textile-based criss-cross straps of the Siena Vegan give this sandal an elevated look.
try it here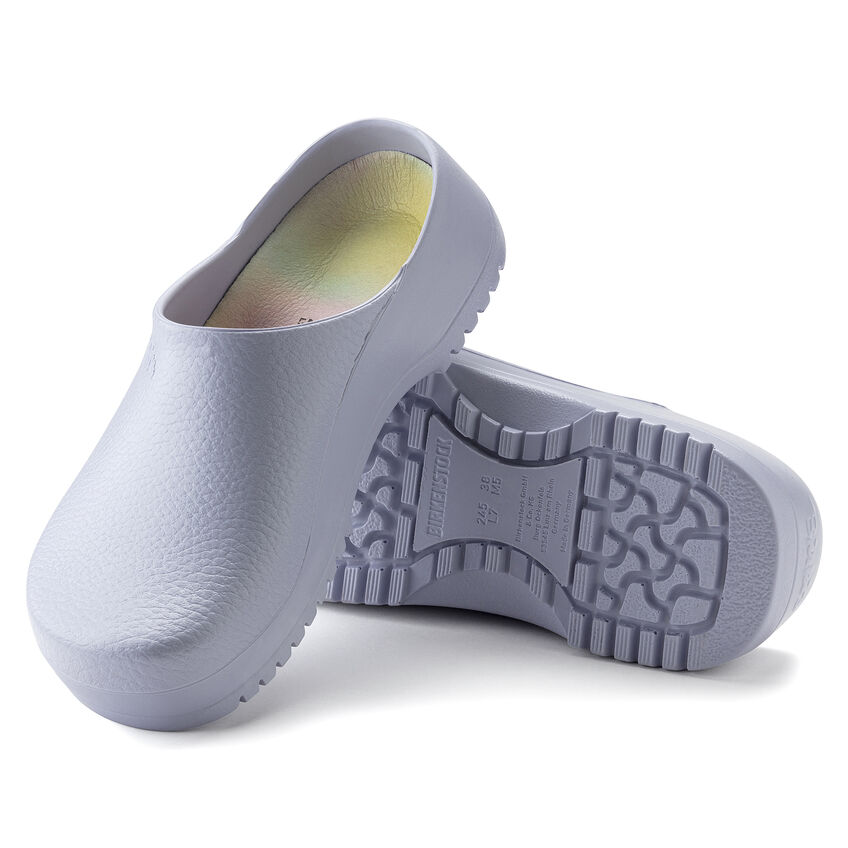 7 Super Birki Vegan
Who's ready for the pool? This clog-style shoe is water-resistant and dirt-repellant, making it easy to clean and keep spotless. Plus, each shoe has a colorful footbed that complements the upper.
try it here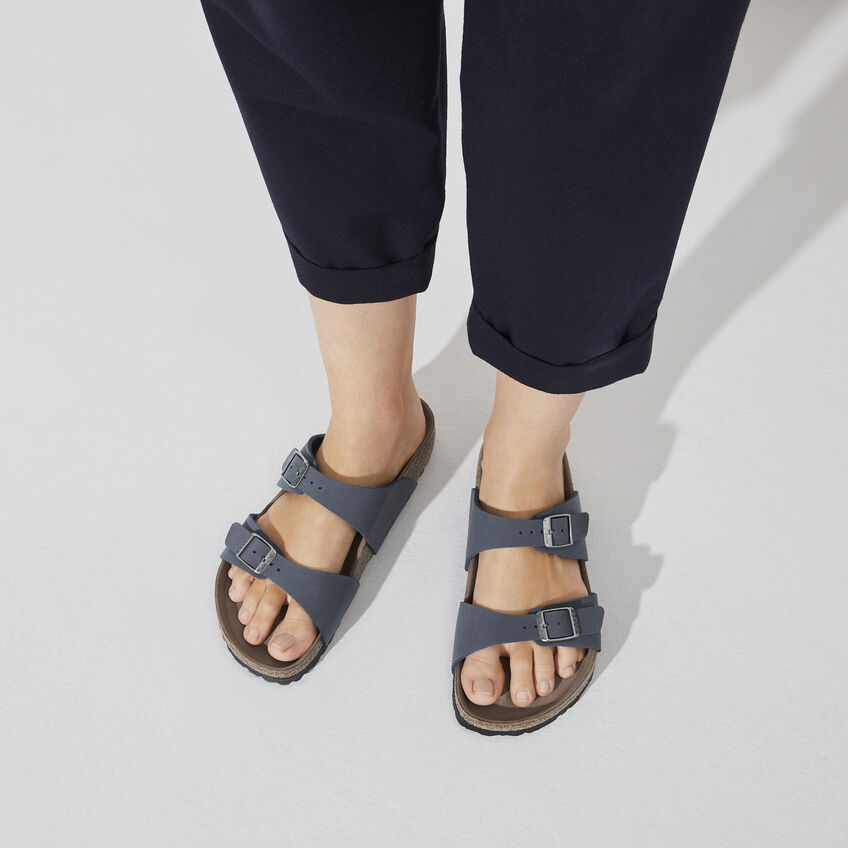 8 Sydney Vegan
Like the Arizona, the Sydney Vegan's draw is its two sturdy adjustable straps. But, the latter also comes in a variety of fun floral patterns. It's equal parts style and comfort—if you ask us, that's a major win.
try it here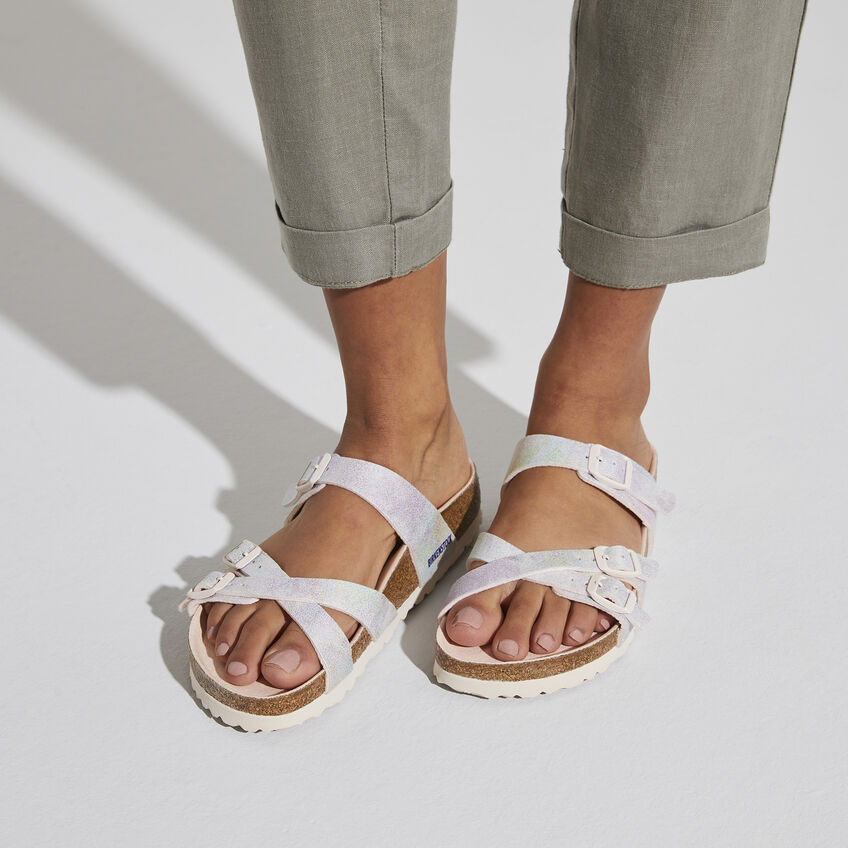 9 Franca Vegan
The Franca Vegan may come in only one color, but she's worth your attention. This elegant sandal has thin criss-cross straps in an iridescent silver that glimmers in a rainbow of colors and a light baby pink footbed, perfectly matched by the bright white sole.
try it here
Here at VegNews, we live and breathe the vegan lifestyle, and only recommend products we feel make our lives amazing. Occasionally, articles may include shopping links where we might earn a small commission. In no way does this effect the editorial integrity of VegNews.