Musical artist and longtime vegan Billie Eilish is partnering with sportswear brand Nike to launch a new vegan sneaker and apparel collection. In their second collaboration, Eilish and Nike will unveil a redesign of Nike's iconic Air Force 1 sneakers and a matching apparel line.
The new shoes—which are offered in simple tonal mushroom color—feature environmentally friendly materials, including vegan nubuck leather made with 80 percent recycled materials and 100 percent recycled polyester. Eilish's signature oversized style is emphasized through the shoe's chunky midfoot straps, an element inspired by two other Nike classics (the Alpha Force Low and Air Trainer 3). These straps cover the shoe's laces and are finished with tabs that mirror the Nike Grind midsole. For its Nike Grind materials, the brand uses manufacturing scrap and end-of-life shoes to create new materials. The beige footwear boasts Billie's "Blohsh" logo on the lace tag, and the insoles feature the slogan "It's hard to stop it once it starts."
Eilish has also helped Nike design a range of matching mushroom-colored apparel in her signature oversized style, featuring a hoodie, sweatpants, and t-shirt. The clothes are embellished with subtle silicone "Billie Eilish" graphics and feature the Nike logo turned on its side. "The challenge and opportunity with this collection was to respect the originals, but make them my own," Eilish said in a statement. "It was also important for me to mix in environmentally preferred materials where we could and present them in a way that felt fresh."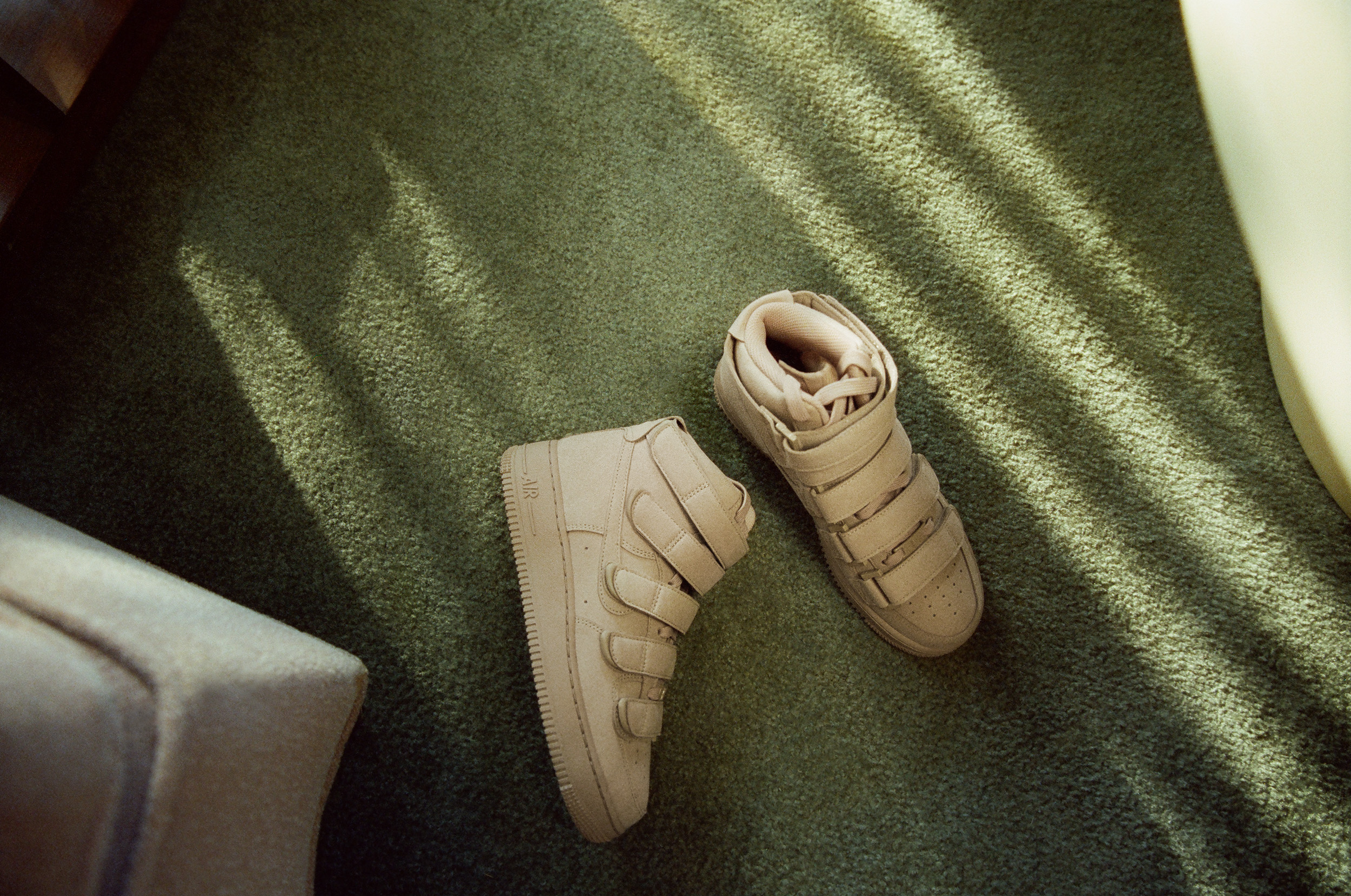 Nike/BillieEilish
The Nike Air Force 1 Billie and apparel collection are available on Eilish's website on April 24 before launching on the Nike website on April 25. And on October 13, Eilish and Nike are also launching the "Sequoia" colorway, featuring an all-over dark green vegan nubuck leather with a midsole that is a lighter shade of forest green.
Billie Eilish makes vegan Air Jordans
Last year, Eilish launched her first Nike collaboration with a vegan Air Jordan sneaker collection. A fan of Air Jordans from a young age, the musical artist's vegan shoes feature her signature on the insoles and are available in two styles: Air Jordan 15 in a neutral taupe hue and Air Jordan 1KO style in a "Ghost Green" colorway—reminiscent of Eilish's slime green hair color at the time of the launch.
Originally inspired by the X-15 hypersonic plane, the Air Jordan 15 is made with 20 percent recycled materials, and its moccasin-like look makes it easy to slip on—a key for Billie after she sprained her ankle and needed more stable footwear. The signature Air Jordan 1KO, made famous by retired basketball legend Michael Jordan, takes the classic Air Jordan 1 shape and stance and features Eilish's custom logo on the tongue tag.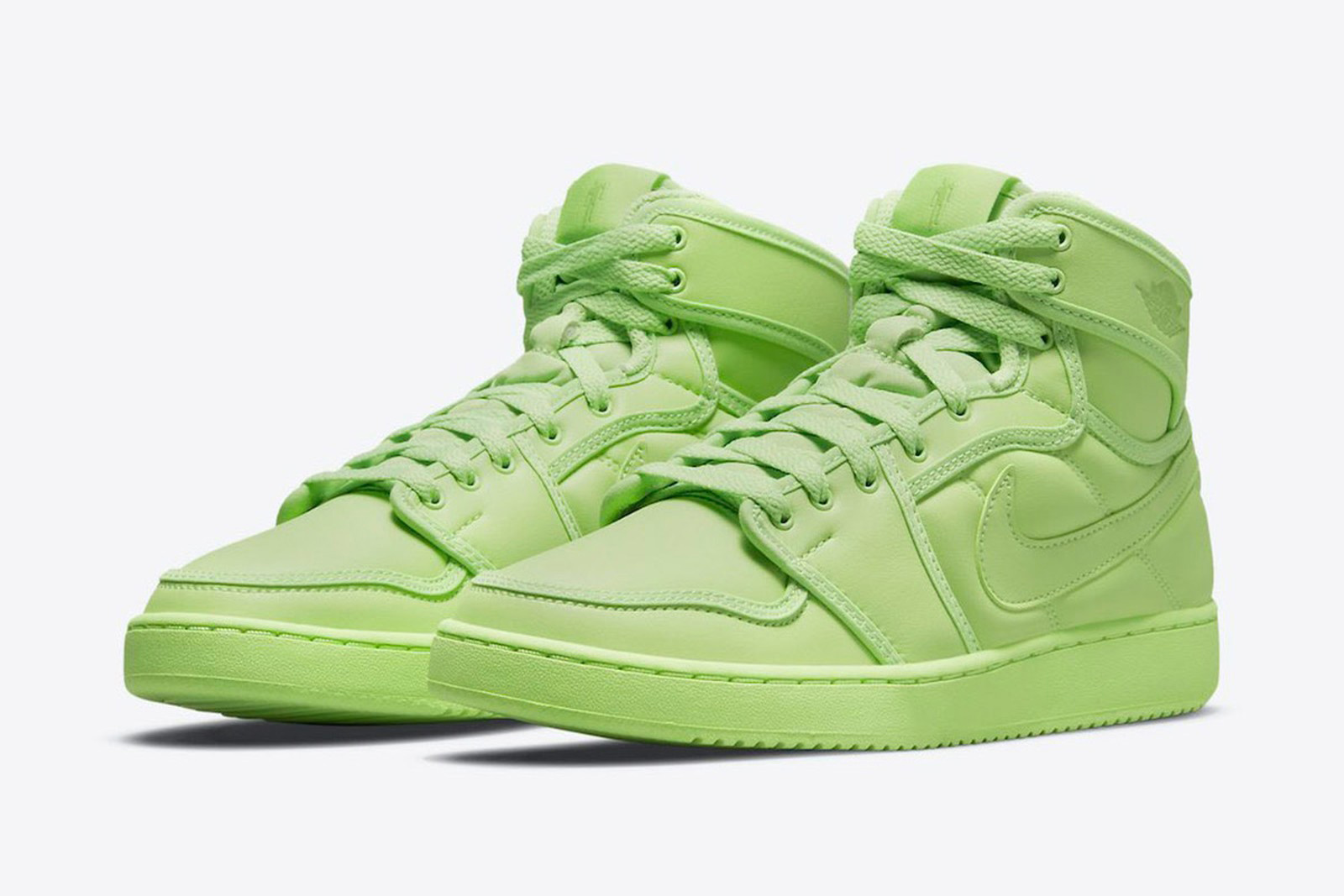 Eilish gushed that it was a "surreal experience" to be able to collaborate with the Nike brand on her own designs of the signature shoes. "I am so excited to finally share my two Air Jordan silhouettes with you," Eilish said on Instagram at the time. "I've always loved [Air Jordans] and it was such an incredible and surreal experience getting to create these, especially in a sustainable fashion."
Billie Eilish's vegan activism
In recent years, Eilish has become increasingly outspoken about the damaging effects animal agriculture has on the environment, and she often uses her social media platform to urge her fans to go vegan. Throughout the COVID-19 pandemic, Eilish worked to feed vulnerable communities while supporting local vegan restaurants through the Support + Feed initiative launched by her mother, Maggie Baird. Earlier this year, Eilish took to Capitol Hill to voice her support of the Healthy Future Students and Earth Act (H.R.4108)—proposed legislation that would make plant-based entrées more accessible to students nationwide. "I'm proud to advocate for this legislation that will help to fight climate change, combat food insecurity, and promote health equity," Eilish said in a statement.
In addition to her work with Nike, Eilish has collaborated with other brands to remove animal products from their collections. In 2020, Eilish teamed up with retailer H&M launched a sustainable clothing line under its Divided brand. Mimicking the loose-fitting silhouettes Eilish prefers to wear, the 16-item line was made from sustainably sourced, non-animal-derived materials and included T-shirts, bucket hats, belt bags, beanies, sweatshirts, and socks all printed with Eilish logos.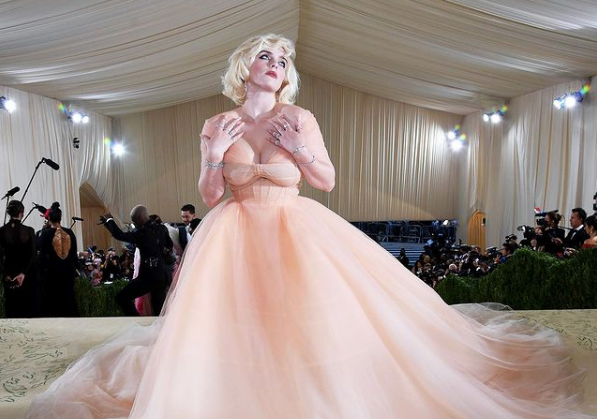 For last year's Met Gala, the singer arrived at the event in a peach-hued Oscar de la Renta gown with a train that covered a flight of stairs. But as a condition for wearing the gown to the biggest fashion event of the year, Eilish required the designer to abandon its use of fur forever. Oscar de la Renta obliged, joining peers such as Gucci, Prada, Versace, and many more in banning fur from their collections.
For more on Billie Eilish, read:
Billie Eilish Launches "Happier Ever After" Vegan Milk Chocolate Bar
9 Ways Billie Eilish Is Paving the Way for a Vegan Future
Billie Eilish: "It's a Really Good Time to Be Vegan"