Peet's Coffee and Tea is no Starbucks behemoth, but with nearly 250 stores across eight states and the District of Columbia, it's definitely on the radar. The chain has made considerable strides toward propelling the vegan movement—its pastry case features several vegan-friendly goodies and it was one of the first major coffee chains to adopt plant milks beyond soy. However, quite a few of its signature beverages contain animal products where we couldn't expect (stay away from the Havana Cappuccino, honey-themed drinks, Tea Fogs, regular Javivas, and Black Tie beverages). From secret menu items to standard cold brew, we're here to guide you to the best vegan-friendly summer sips at Peet's.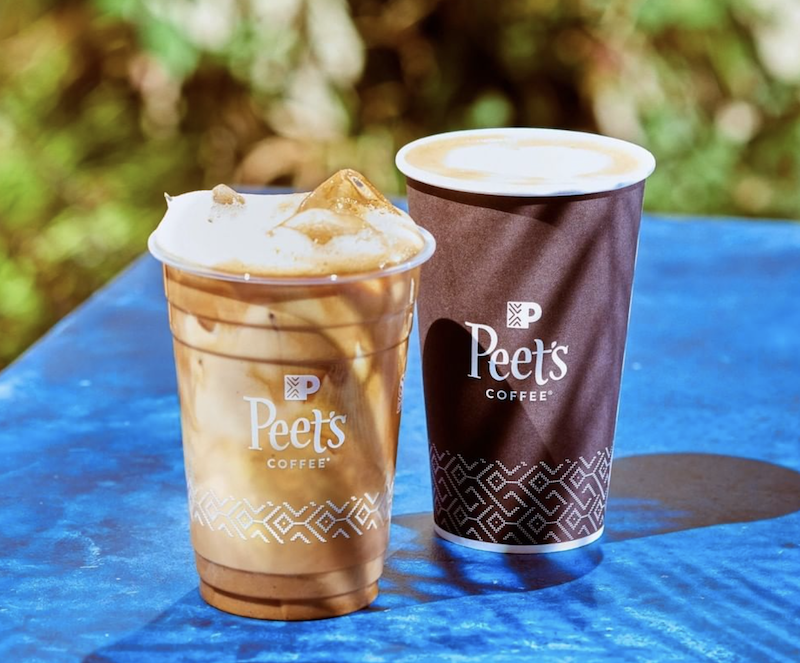 Peet's Coffee
1 Iced Brown Sugar Oat Latte
Part of the new summer brown sugar collection, this sweet drink is vegan as-is. It's crafted with Pacific brand oat milk, Peet's name brand espresso, and a few pumps (depending on the size) of both brown sugar syrup and simple syrup. It packs a caffeine and sugar jolt all in one cool sip.
Barista Tip: Experiencing some June gloom? This seasonal beverage is also served hot.
2 Brown Sugar Cold Brew Oat Latte
Similar to the Iced Brown Sugar Oat Latte, this beverage is plant-based at its core. The only difference between the two is the caffeine source. The former is made with espresso whereas this beverage is based in cold brew. Because of that, you'll get a bit more coffee flavor out of this particular drink.
Barista Tip: Peet's recently added brown sugar-flavored "Jelly", essentially boba, to its menu. If you're into boba, this is the drink to pair it with.
3 Iced Oat Milk Horchata Latte
No substitutions required, this cinnamony coffee beverage is vegan as it comes. Available hot or iced, creamy oat milk is blended with two shots of Peet's bold espresso and mixed with cinnamon spices and Madagascar vanilla syrup. Note: while it used to be on the main menu, this drink is now part of the Members Only Menu. However, anyone can order it if you're in the know.
Barista Tip: Past five o'clock? Take this home and add a shot of rum.
Peet's Coffee
4 Iced Brown Sugar Matcha Oat Latte
We never thought to pair brown sugar and matcha together, but Peet's makes it work. The drink is made with Peet's Organic Ceremonial Matcha Green Tea layered with oat milk sweetened with brown sugar and simple syrup, all served over ice.
Barista Tip: The chain also offers this beverage with Jelly.
5 Iced Latte
An iced latte is essentially your favorite plant milk with a shot of espresso—you'll get a caffeine jolt, but you'll barely taste the coffee. Because most plant milks are sweetened, a liquid sweetener isn't necessary. However, Peet's caries vegan-friendly Monin syrups that are available to add to any beverage. Flavors include vanilla, sugar-free vanilla, hazelnut, caramel, and coconut. Note: the caramel syrup is vegan. The caramel sauce (used in the Caramel Macchiato) contains dairy.
Barista Tip: Ask for an extra shot of espresso to enjoy a stronger coffee flavor.
6 Iced Mocha
No need to fear dairy lurking in the chocolate sauce, Peet's decadent iced mocha is vegan when ordered with plant milk.
Barista Tip: Ice takes up volume and waters down your drink over time. Ask for light ice to get more of the good stuff and to enjoy your drink longer.
7 Iced Espresso
Simple and straight to the point, an iced espresso is the fastest way to shock your system with caffeine.
Barista Tip: Ask for a splash of plant milk and you've got yourself an iced cortado—without the $0.70 upcharge for non-dairy milk.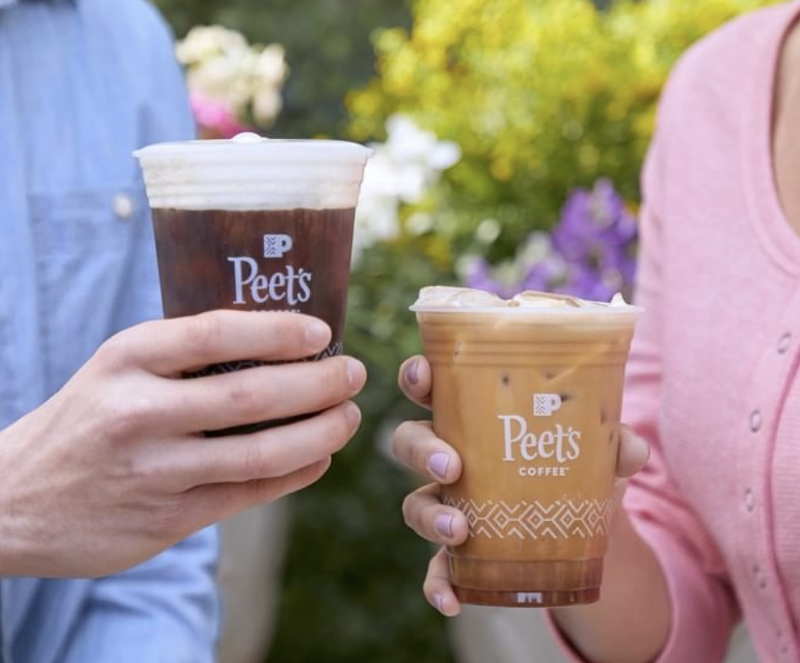 Peet's Coffee
8 Cold Brew Iced Coffee
Peet's version of iced coffee isn't hot-brewed coffee that's stored in the fridge—it's a genuine cold brew, meaning the grounds were steeped overnight in cold, filtered water. The effect is a smoother, more concentrated coffee that will rev your engine all afternoon.
Barista Tip: Be careful if you plan to add a splash of plant milk, as some varieties curdle in cold brew. Oat and soy tend to hold up the best.
9 Iced Matcha Green Tea Latte
Matcha isn't going anywhere, and Peet's is well aware. This once-seasonal beverage is here to stay, even if you don't see it on the menu. To order, simply as for a matcha latte with your favorite plant milk, served over ice.
Barista Tip: This beverage can be made with or without a pump of simple syrup. If you're not a matcha purist, the drink exponentially benefits from a bit of sweetness.
10 Iced Chai Latte
Unlike Starbucks, Peet's chai latte is vegan-friendly (Starbucks' contains honey). It's a mildly sweet, spicy treat that's not quite as caffeinated as coffee but still provides a brain boost. Like the iced matcha latte, you'll only see the hot version on the menu, but putting it over ice can certainly be done.
Barista Tip: Make it a dirty chai by asking for the Iced Chai Espresso Latte.
11 Iced Tea
Simple and refreshing, Peet's offers iced versions of its Wild Berry Hibiscus (herbal), Summer Solstice (black), and Green Tropical teas. Help yourself to a few drops of simple syrup at the self-serve station; liquid sweetener (opposed to powdered) mixes better with cold drinks.
Barista Tip: Pair any iced tea with lemonade for a refreshing and slightly caffeinated sip.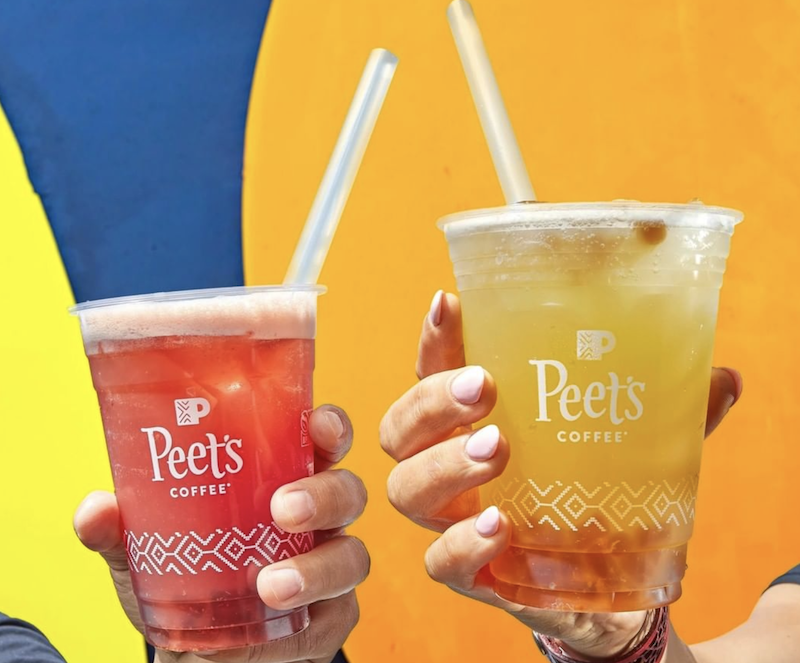 Peet's Coffee
12 Iced Tea Shakers with Fruit
Not into coffee but crave something more interesting than plain iced tea? Try an Iced Tea Shaker with Fruit. Peet's offers six intriguing and refreshing flavors, each pairing a different iced tea with fruit puree, simple syrup, lemonade, and fruit pieces. Options include Yuzu Citrus Black Tea, Strawberry Lemon, Citrus Hibiscus, Berry Hibiscus, Pineapple Citrus Green Tea, and Tropical Berry Green Tea.
Barista Tip: Simple syrup and lemonade a bit too sweet? Ditch the simple syrup for a drink that doesn't overdo it on sugar.
13Frappé
A Frappé is Peet's rendition of the Starbucks Frappuccino. The blended drinks are made with ice, freshly brewed coffee (or a tea like matcha and chai), and flavored syrup. To order your Frappé vegan, ask for no whip and swap in non-dairy milk. Also, avoid the Caramel and Chocolate & Caramel Swirl Frappés, as they contain dairy-based caramel sauce.
Barista Tip: While these beverages would be perfect topped with a swirl of coconut whip, the chain discontinued this offering in 2019. If you're looking for a fun topping, ask for a drizzle of chocolate sauce on top.
14Iced American Flat White
Peet's differentiates this niche beverage by combining a ristretto (aka a short, potent shot of espresso) with whole milk and pouring the mixture over ice. When ordered with plant milk, it's hardly different than an iced latte, and it costs the same.
Barista Tip: This is part of the secret Loyalty Member Menu.
15Iced Hazelnut Mocha
What is an iced hazelnut mocha but liquid, caffeine-infused Nutella? Yes, please. Ask for no whip and swap in your favorite plant milk and you're golden.
Barista Tip: Another secret menu item, this drink is easily recreated with a pump of hazelnut syrup to your regular mocha. Sipping a bit late? Ask for decaf or half-caf.
For more vegan drink guides, read:
16 Bottles of Summer-Ready Wine You Can Get Delivered
The Essential Vegan Guide to Starbucks Summer Drinks
10 (Mouthwatering) Vegan Frappuccinos at Starbucks