For ritzy, luxury, celebrity-approved grocery shopping, there is, arguably, nowhere quite like Erwhon Market.
Loved by Kourtney Kardashian, Hailey Bieber, and Miley Cyrus (to name just a few of its A-list fans), this picture-perfect Los Angeles chain is the place to be if you're after colorful smoothies, fresh, organic produce, and vegan snacks—but be warned, all of this also comes with a hefty price tag. And we do mean hefty.
But if you're willing to brave the cost, Erewhon Market has plenty of delicious vegan choices on the shelves. Here, we've gathered some of our favorite product picks. But first, what is the story behind this luxury grocery shopping destination?
What is the story of Erewhon Market?
Erewhon Market has been around for nearly 60 years and has always specialized in nutritious, minimally-processed, organic food items, many of which are locally sourced.
According to Tasting Table, the market (which started out in Boston, MA) was founded by Michio and Aveline Kushi back in the 1960s, who wanted to help people live healthier lifestyles. The name was inspired by English writer Samuel Butler and his critically acclaimed utopian novel Erewhon (which is an anagram of "nowhere").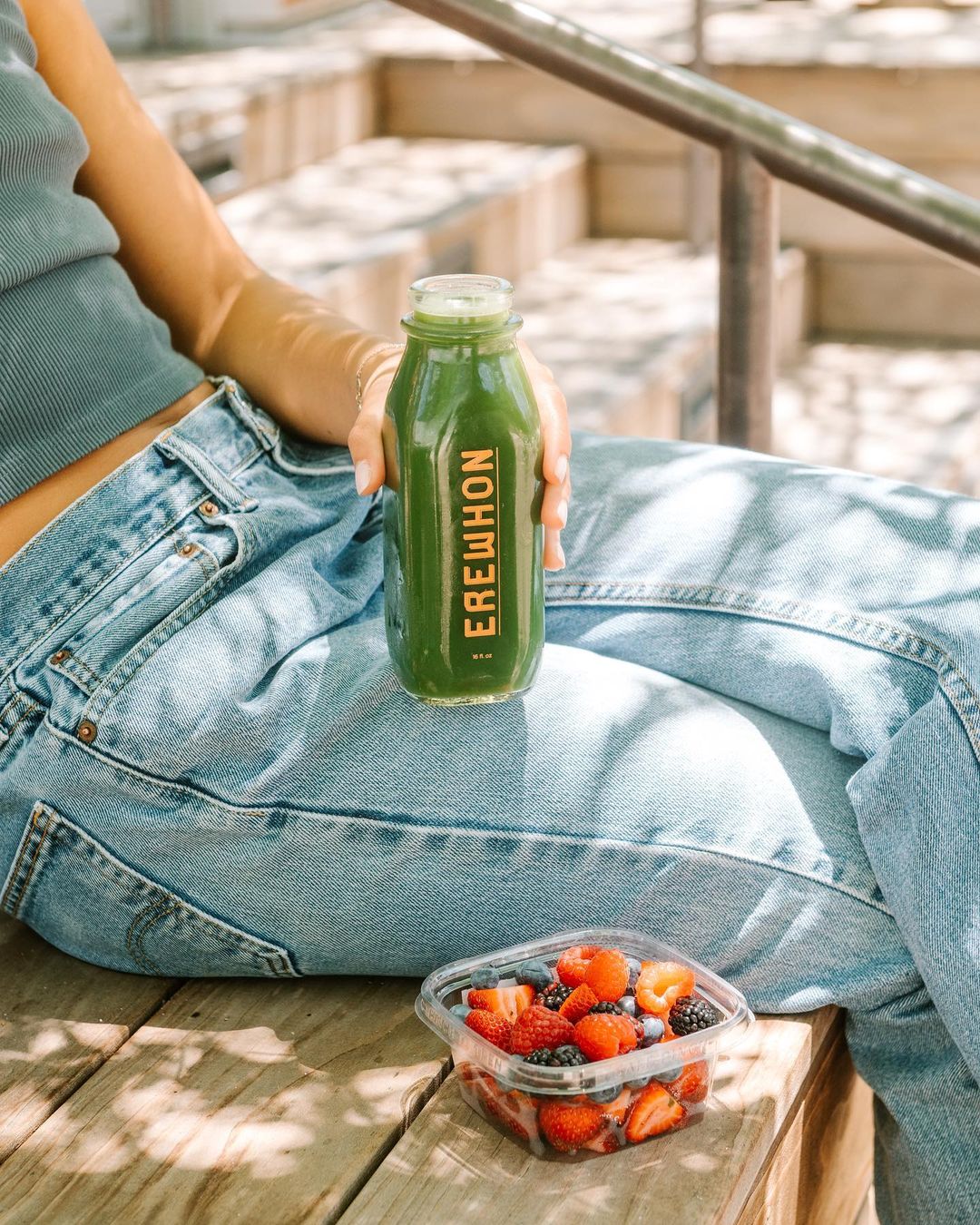 Erewhon/Instagram
"The Kushis were advocates of macrobiotic and natural foods, stocking the stall with nutrient-dense offerings like dried beans, nuts, and organic greens," explains food writer Jenny Latreille. "They were also among the first to offer traditionally made Japanese ingredients including soy sauce, miso, and tofu."
In 2011, Tony and Josephine Antoci took over Erewhon Market and expanded it across Los Angeles. Now with eight locations, the chain is one of the country's most upmarket and highly sought-after grocery spots.
11 of the best vegan food finds at Erewhon Market
If you're after a luxury and entirely plant-based grocery shop, or you're simply curious, here are some of the best vegan foods you can find on the shelves at Erewhon Market.
1 Organic Vegan Buffalo Cauliflower
Forget buffalo wings, you can have the same taste and experience, but none of the meat, with cauliflower, instead. Erewhon's buffalo cauliflower selection is, of course, coated with organic ingredients, including oregano, arrowroot, and pepper flakes.
Learn more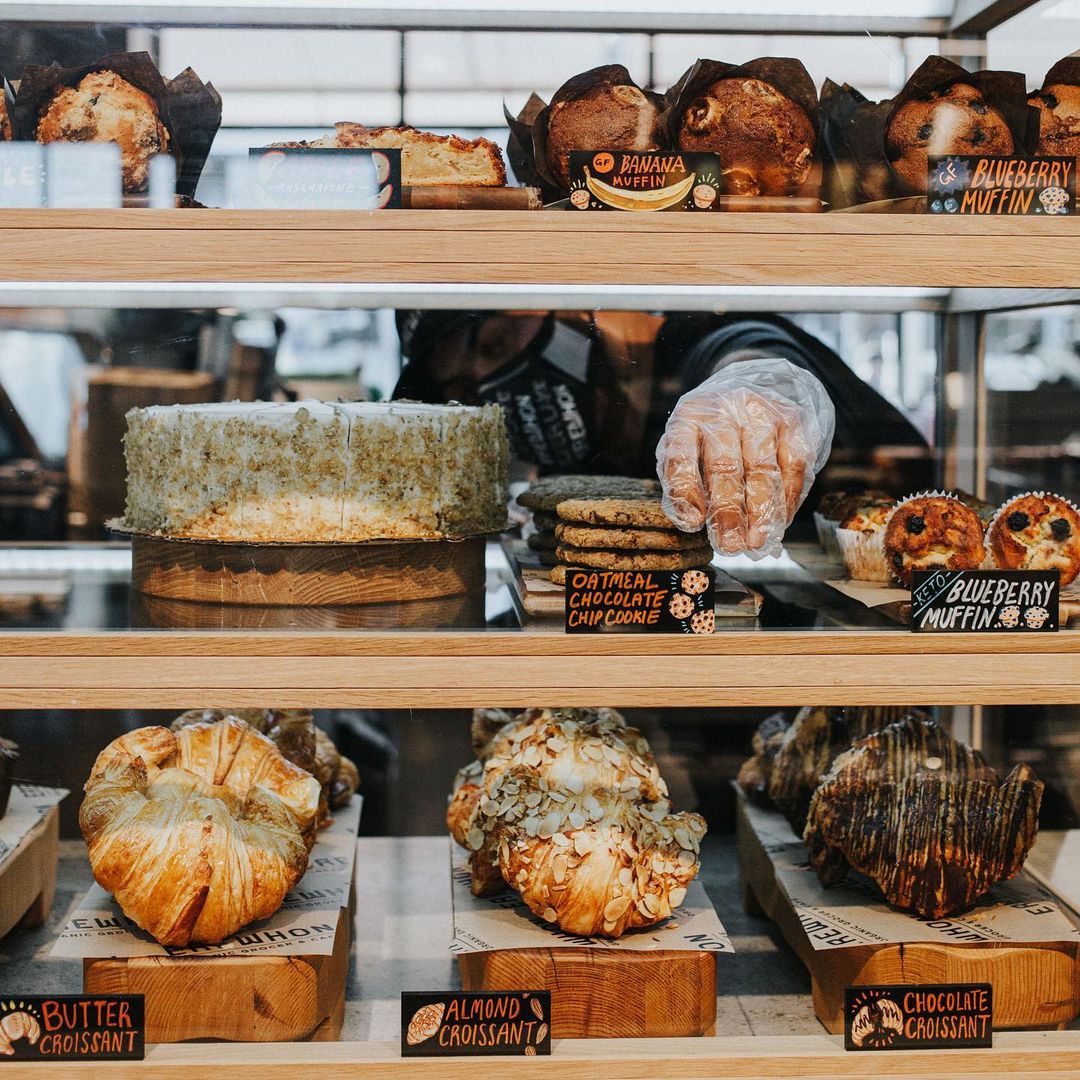 Erewhon/Instagram
2 Organic Vegan Oatmeal Chocolate Chip Cookie
Best enjoyed with your favorite plant milk latte, these oat milk chocolate chip cookies—which are made with organic vegan butter, flax seeds, and cinnamon—are a delicious afternoon treat.
Learn more
3 Tofu Sushi Rolls
When you're looking for an on-the-go, nutritious, protein-packed, and delicious lunch, these tofu sushi rolls, made with a mix of avocado, cucumber, nori, and wasabi, tick all of the boxes.
Learn morE
Lydia Makes Food/Instagram
4 Organic Vegan Brown Rice Balls
Enjoy these tasty brown rice balls—which are made with onions, spinach, vegan cheese, and a blend of herbs—with fresh salad and a selection of Mediterranean-inspired mezze dishes, like sundried tomatoes, dips, olives, and fresh bread, for example.
Learn more
5 Organic Vegan Turmeric Lasagna
Most traditional Italian lasagnas are made with some sort of beef or veal mince, but meat isn't actually essential to making a delicious pasta dish at all. In place of ground beef, this vegan lasagna from Erwhon relies on an organic dry-farmed tomato sauce, which is layered with a cashew kale sauce, vegan mozzarella from Good Planet, and pasta sheets made with turmeric.
Learn more
6 Organic Rhubarb Vegan Strawberry Pie Slice
One of the most indulgent pick-me-ups at Erewhon has to be this tasty vegan rhubarb and strawberry pie, which is available by the slice. It is, of course, made with organic ingredients, including tapioca flour, lemon juice, and some soy-free vegan butter, too.
Learn more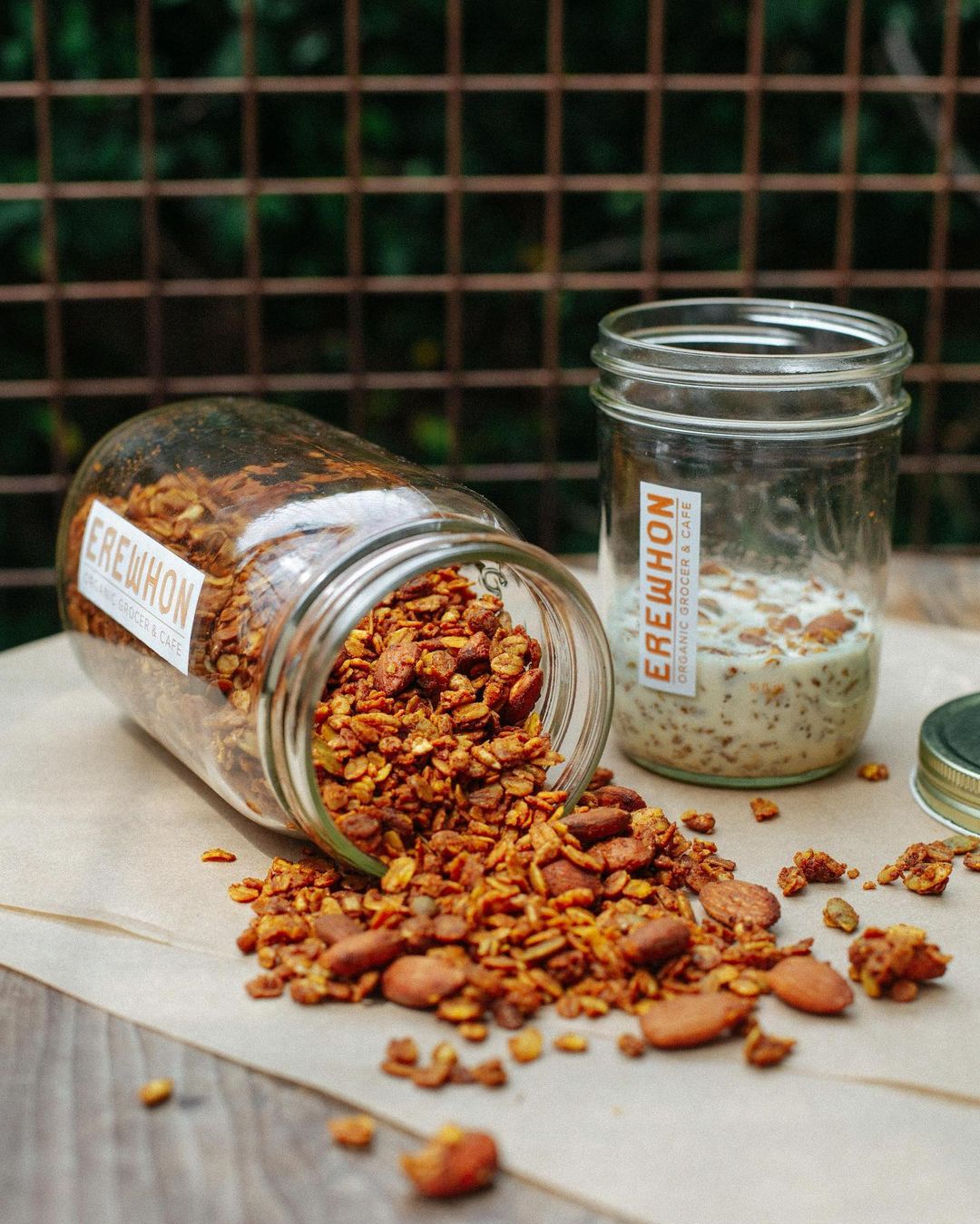 Erewhon/Instagram
7 Erewhon Vegan Granola
Load up on vegan granola at Erewhon, which features a blend of organic oats, seeds, and two different types of syrup (maple and agave). Granola is an excellent way to start the day because it's loaded with nutrients, like iron and zinc, and it's a good source of protein, too. If you don't like eating breakfast, it's worth noting that granola also makes a great afternoon snack.
Learn more
8 Organic Vegan Pesto
Pesto is a great pantry staple to have on hand because it's so versatile. You can serve it with pasta, add it to soup, use it as a dip for chips and carrot sticks, and even stir it into salads. While some pesto contains parmesan cheese, this option from Erewhon is made with only organic basil, olive oil, pine nuts, and garlic, as well as a touch of sea salt and black pepper.
Learn more
9 Vegan Butternut Squash Soup
Soup is often thought of as a winter dish, but it's also great in the summer (and if you like, you can even serve it chilled on super hot days). Plus, soup is also a great way to pack more vegetables into your diet. This nourishing recipe from Erewhon, for example, is loaded with not only butternut squash, but also celery, onions, carrots, Yukon potatoes, and more.
Learn morE
10 Vegan Greek Dolmas
When you're at a Mediterranean restaurant, you'll usually find dolmas, which are essentially stuffed grape leaves, on the menu. But if you don't have time to stop and eat out, you can also grab some vegan Greek dolmas from Erewhon, which, are made with organic ingredients, like rice, onions, dill, olive oil, and all-natural grape leaves.
Learn more
11 Vegan Borscht
Popular in Eastern Europe, particularly in Ukraine, borscht soup is traditionally made with beets, which gives it a distinctive, vibrant color. While most recipes also call for some sort of meaty stock, like chicken or beef, this bright and nutritious option from Erewhon subs in vegetable stock, instead.
Learn more
For more on vegan grocery shopping, read: