Apples wouldn't be the first (or the second) flavor we'd pick to pair with espresso, but the coffee behemoths have spoken, and apples have become the taste of the season. Granted, pumpkin isn't going anywhere, but it's certainly been forced to co-star with apple in 2022. We've tried a handful of the new apple flavor-infused beverages at major coffee chains, and for people who generally don't partake in sweet drinks, we were pleasantly surprised at how much we enjoyed these options … and would order them again. From caramel-y apple macchiatos to cinnamon-spiked apple oat lattes, here are the three vegan apple drinks you need to try before they're gone, plus a simple recipe to make your own.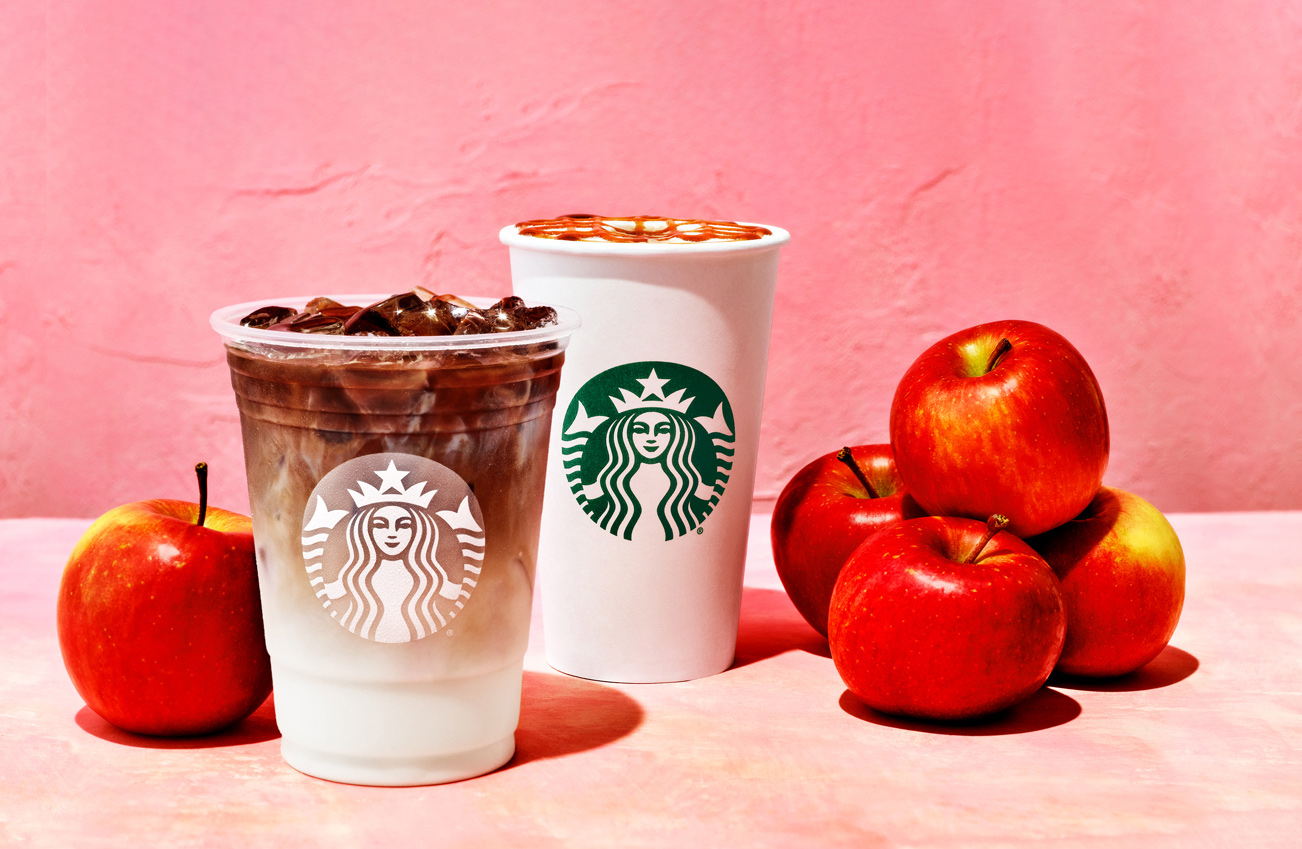 Starbucks
1 Starbucks' Apple Crisp Oatmilk Macchiato
For the umpteenth year in a row, Starbucks has failed to create a vegan-friendly version of its iconic PSL (the pumpkin syrup contains dairy, so there's no way around it). However, the company did provide a concession by way of releasing its first vegan-as-is fall beverage: the Apple Crisp Oatmilk Macchiato. Available hot or iced, this drink is made with Starbucks' signature Blonde espresso, Oatly oat milk, Apple Brown Sugar Syrup (which does not contain actual apples), and Spiced Apple Drizzle (which does contain apple juice concentrate). A few notes: this drink is technically not new—the original concept was introduced last year, but with dairy as the default. In 2022, Starbucks kept the flavoring elements consistent and simply swapped in oat milk as the default milk option. In regards to the taste, when ordered as-is, this is a very sweet drink. To cut the sweetness, swap the oat milk for almond milk, add a shot of espresso, or decrease the pumps of syrup (two come in a tall). Further, the Spiced Apple Drizzle is a bit pointless if you order this iced. It immediately sinks to the bottom and doesn't mix in, so unless you look forward to a cloyingly sweet shot of syrup to polish off your drink, go without.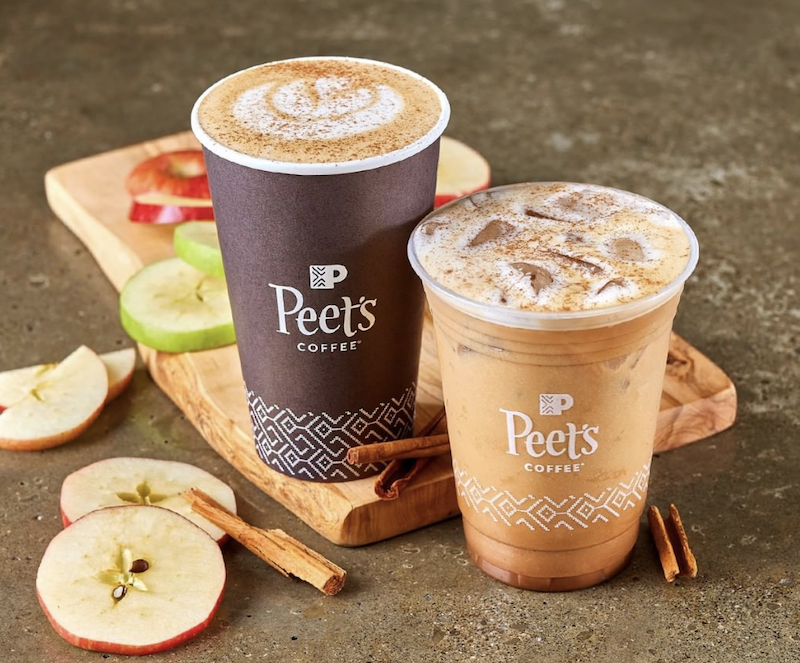 Peet's Coffee
2 Peet's Coffee Apple Cinnamon Oat Latte
You won't find this on the menu board, but Peet's loyalty members can open their app and discover this vegan beverage under the Member's Only tab. If you're not a member, you can still enjoy this item—just ask your barista and they'll take care of you, no barcode scan or phone number required. This seasonal, exclusive beverage is crafted with oat milk, espresso, and Caramel Apple Butter Syrup (which is vegan), then topped with a dusting of cinnamon. It's also available iced for when the dog days of summer linger into September. Note: Peet's main menu features a new Caramel Apple Latte, which is very similar to the oat latte, but not quite vegan. The key difference is in the topping. The Caramel Apple Latte is topped with Caramel Drizzle which contains dairy. Another way to enjoy a burst of apple flavor in your favorite Peet's drink: just ask for one or two pumps of the Caramel Apple Butter Syrup in your coffee, iced coffee, latte, or cappuccino.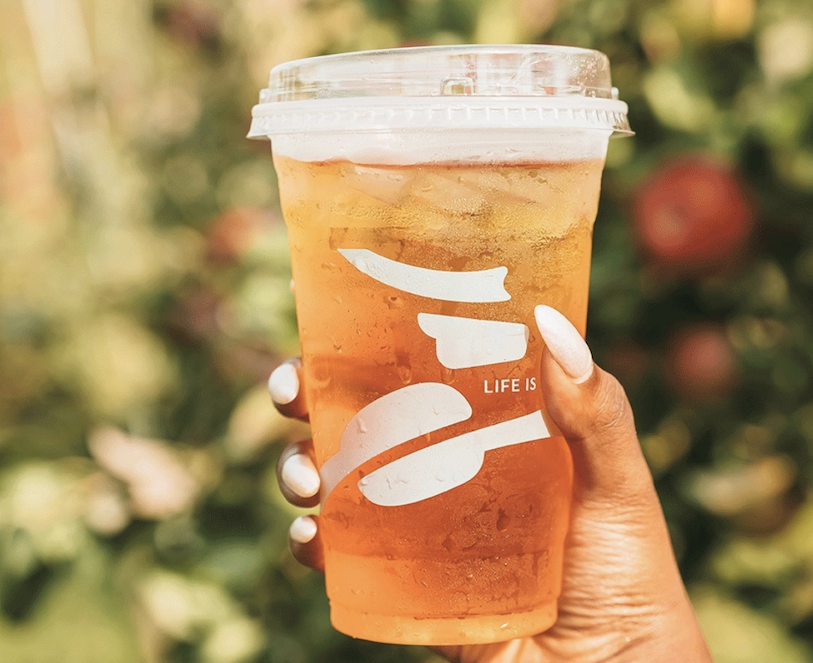 Caribou Coffee
3 Caribou Coffee's Bousted Apple Blast
Caribou Coffee is notorious for hiking up the price of non-dairy milk, but you can side-step that steep charge and get your caffeinated apple fix with this vegan beverage. The iced drink shakes up chilled apple cider, vegan caramel apple syrup, and the chain's Bousted base (a caffeinated concoction derived from coffee, guarana, and ginseng) for an energizing but not coffee-forward pick-me-up. It's essentially Caribou's version of a Starbucks refresher, minus the floating freeze-dried fruit. If lattes are more your thing, you can create a caramel apple-flavored latte by ordering a non-dairy latte with a pump or two of this syrup. A word of caution: the syrups at Caribou are vegan, but the caramel drizzle is not. This rule generally applies to most coffee shops such as Starbucks and Peet's.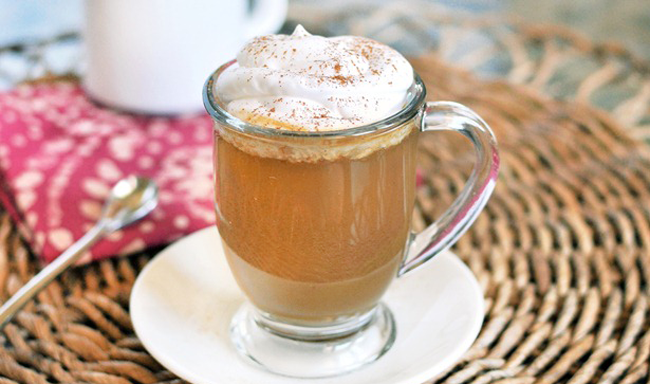 4 Make your own
No one expects you to craft a barista-level flavored latte when you rush out the door on a Wednesday, but on rainy fall weekends, it's nice to take a little time to make something other than your go-to pour-over or bottled, ready-made latte. You don't even need an espresso machine to hack it. Get yourself a vegan-friendly apple-flavored syrup—such as Monin's Caramel Apple Butter—and brew a very strong cup of coffee. Steam eight ounces of your favorite non-dairy milk then mix in three to four ounces of coffee and a pump of syrup. Taste and adjust as necessary (more syrup for a sweeter drink, more coffee for a less-sweet drink). If it's a special occasion (or just because), add a dollop of vegan whipped cream and finish with a sprinkle of cinnamon. Cheers.
For more on vegan coffee drinks, read: