Historians believe that some of our earliest human ancestors first ate fish nearly 2 million years ago. According to Science, they gathered at ancient lakes and rivers in what we now know as Kenya and caught and deboned catfish with stone tools. Back then, seafood was a vital source of nutrition for our ancestors. Today, we have a plethora of foods to choose from, but we still have a big appetite for creatures from the deep blue sea. According to some estimates, global seafood production reached a staggering 179 million metric tons in 2018, and most of that was consumed by humans.
But there's a problem with the amount of fish, shrimp, crab, lobster, and other sea animals we're eating: research suggests that the ocean can no longer cope with our demand. According to the World Bank, nearly 90 percent of global marine fish stocks are either fully exploited or overfished. This is bad news for underwater ecosystems, because it creates a catastrophic imbalance, leading to the loss of vulnerable marine life.
But fishing gear itself is also a threat to wildlife. When industrial fishing trawlers drag their nets through the ocean, they don't just catch fish, but they also accidentally catch animals like seals and seabirds, too. According to one study by WWF and Sky Ocean Rescue, around 720,000 seabirds, 345,000 seals and sea lions, 300,000 cetaceans, 250,000 turtles, and millions of sharks are dying annually after getting caught up in the fishing industry.
Fixing all of this is incredibly complex. The global seafood market is a profitable industry, worth more than $257 billion, and it's run by several major corporations, like Japan's Mitsubishi Corporation, US' Red Chamber Group, and Norway's Mowi. But at least one of the industry's biggest players, Thailand's Thai Union, is ready for change. Here's more about how seafood could look in the future (hint: it could be less about fish and more about plants).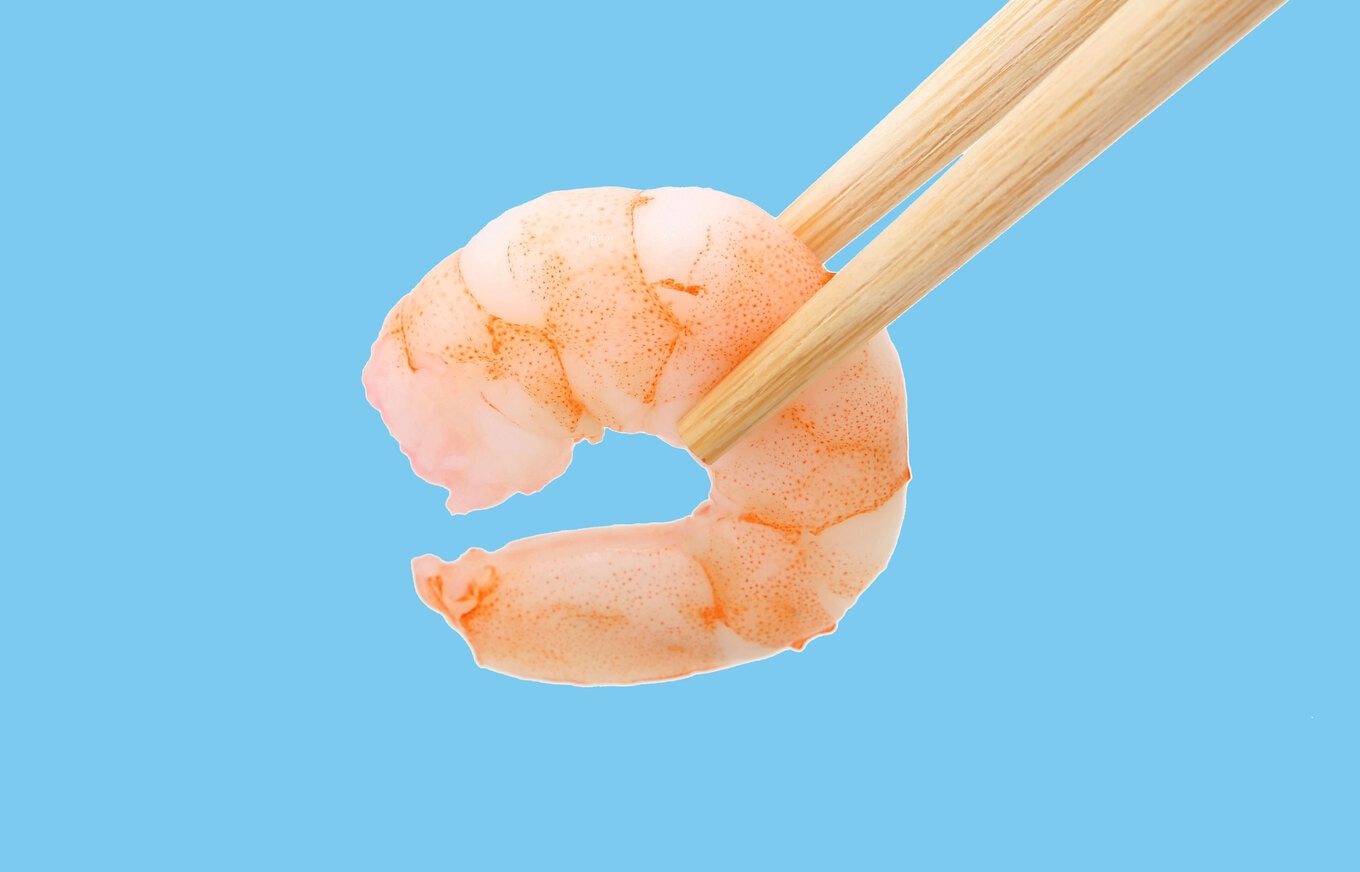 Seafood industry giant embraces vegan innovation
In 2021, Thai Union, one of the world's biggest producers of seafood, hit headlines when it announced it was gearing up to launch vegan tempura shrimp. It wasn't the first time the major company had dipped its toe into the plant-based sector—before that, it launched plant-based crabcakes and dim sum into the food service sector.
In 2023, the company is more committed than ever to the world of plant-based seafood. It's driven by consumer demand, of course, but also by the exciting untapped creative potential of vegan seafood and the environmental benefits it brings.
"While the alternative meat market is fairly developed, the alternative seafood market is still in its nascency," Maarten Geraets, Thai Union's managing director of alternative proteins, told VegNews. It's true that, while the plant-based meat market is expected to hit more than $15 billion by 2027, right now, estimates indicate that the plant-based fish market will hit $1.3 billion by 2031. It's growth, but there is still plenty of room for more.
"The potential is extremely exciting and is incredibly relevant for an incumbent seafood player," says Geraets. "This demand will drive innovation within the seafood industry, and we'll undoubtedly see more future-fit, alternative seafood solutions in the coming years. Consumers are very willing to try new propositions, but brands need to impress to drive repeated consumption."
In the UK and Europe, one of Thai Union's most recognized brands is John West. When it comes to tinned tuna, you can find it in most fish-eating consumer cupboards. In a bid to capitalize on this trust and, indeed, impress its customers, earlier this year, John West launched Vegan Fish-Free Tuna with Tomato and Basil and Vegan Fish-Free Tuna with a Dash of Oil in the Netherlands, where 42 percent of the population follow a flexitarian approach to diet.
The launch supports Thai Union's Healthy Living, Healthy Oceans initiative, which aims to strengthen its growth and profitability while also focusing on health, well-being, and sustainability. "The world needs this change," says Geraets. "In my view, the seafood industry must adapt and embrace the rich opportunities presented by this shift in consumer behavior."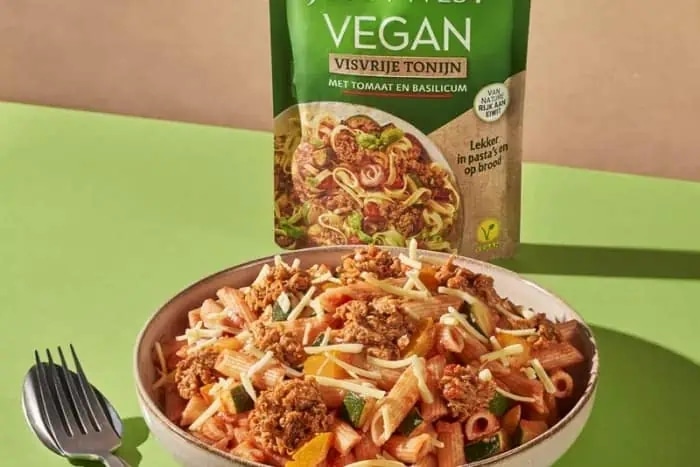 John West
Joining with vegan innovators
But even the biggest of companies can't transform an industry alone. And they don't have to, because right now, the food industry is not short of brands developing creative, great-tasting vegan seafood products.
Good Catch, for example, recently debuted the first plant-based salmon burger in the US. Canadian brand Gardein is known for its Crabless Cakes, while US brand the Ish Food Company, a certified B Corporation, makes everything from vegan shrimp to vegan lobster.
Last year, Thai Union partnered with the latter to help increase its manufacturing and distribution, and subsequently invest in the growth of the sustainable vegan seafood space. It has also partnered with French algae company Algama, plus, other seafood giants have also started to see the potential in plant-based innovation. In 2020, Bumble Bee Foods, a leading producer of canned tuna, partnered with Good Catch to help it bring its plant-based fish products to more consumers.
Much like Geraets, Bumble Bee Foods' president Jan Tharp believes it is "critically important" for the seafood industry to adapt. "As an industry [we need to] continue to find innovative solutions to decouple growth with environmental impact," she said in a statement. "Providing great-tasting alternative ways for consumers to enjoy ocean-inspired foods is a key pillar of our long-term commitment to ocean health."
Other companies have kept things in-house. After spying the potential in the vegan seafood sector, Conagra Brands, another food industry giant, launched fish-free fingers under its plant-based Green Cuisine range with Birds Eye. The latter is known for its frozen fish and, in the UK, its very own fish finger mascot, Captain Birdseye, is iconic. At the time, Birds Eye's senior marketing manager Jess Ali said that it wanted to create a vegan version of its original recipe to "appeal to more Brits dietary requirements."
There's no doubt, the seafood industry needs to change. But as Thai Union is keen for us to know, this isn't going unnoticed by the fishing industry's biggest names. Progress is underway, assures Garaets. In 2022, for example, the company launched the first vegan shrimp wonton in Thailand, which was then nominated in the Gulfood Innovation Awards "in recognition of the fresh innovation" it brought to the plant-based category.
"We are actively pursuing this opportunity for the US market and look forward to launching further alternative protein solutions for consumers in time," said Geraets. "As a new category, we need to develop more meaningful connections with consumers and find new ways to tell our story."
For more on vegan fish, read: