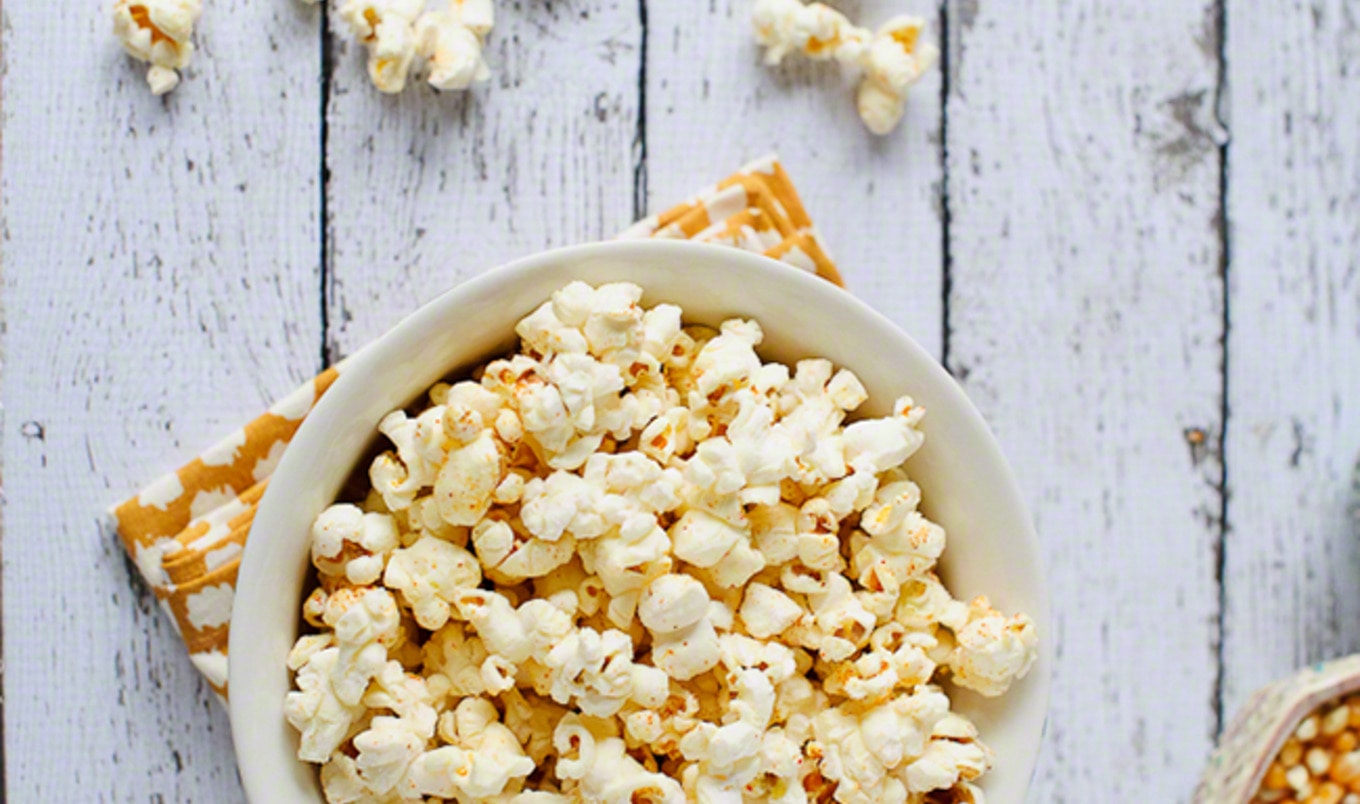 Whether you prefer savory or sweet, we've got something for everyone on this list of snack-worthy recipes.
January 16, 2018
---
Normally, we'd be just fine with drizzling a pot of freshly popped corn with melted vegan butter and a dusting of nutritional yeast, but when we're feeling a bit more inspired, this list of game-changing recipes has us thinking that we can always find a good reason to celebrate with popcorn.
1. Dorito Popcorn
Enjoy all the flavors of the classic chip in this all natural recipe from Whole New Mom, whose homemade seasoning blend is free from chemicals and tastes just like the "real" thing. One bite, and former Doritos fans will rejoice over this dairy-free twist on a classic snack.
2. Cinnamon Maple Caramel Popcorn
Cookie & Kate ditches the butter and corn syrup found in traditional caramel corn with this naturally sweetened, healthier version that will still have you licking your fingers. Maple syrup, almond butter, and spices are the only ingredients you'll need to achieve salty-sweet cinnamon flavored crunchiness in this recipe.
3. Mint Chocolate Chip Glazed Popcorn
One of our favorite ice cream flavors is transformed in this fun and colorful recipe from Cupcakes & Kale Chips. The popcorn is full of whimsy, with a light minty flavor, reminiscent of summer days and ice cream scoops. Miniature chips add pops of chocolate throughout this irresistible snack.
4. Sweet & Spicy Wasabi Popcorn
Can't decide between savory or sweet? Get them both in this grown-up recipe that packs a bit of heat into each mouthful. Potent wasabi powder and sugar coat freshly popped kernels, along with a dash of cayenne pepper in this zesty blend from Kitchen Confidante.
5. Vanilla Almond Popcorn
Real Food Real Deals glazes homemade popcorn with a gooey, golden sauce and then bakes the concoction until crunchy. Sweetened with dates, this flavorful batch is full of nothing but healthy ingredients, so you can indulge guilt-free!
6. Vegan Curry Popcorn with Coconut
Curry, ginger powder, and unsweetened coconut flakes are tossed with popcorn clusters in this inventive recipe by Naturally Ella. Ready in five minutes and featuring a mere six ingredients, this versatile recipe can easily be customized by using different curry powders. Want it sweeter or spicier? Just add a bit of sugar or cayenne.
7. Chile Lime Tequila Popcorn
101 Cookbooks combines all the flavors of a jalapeño margarita in this popcorn version of the cocktail. You don't have to be a mixologist to savor this tasty blend that whisks melted, dairy-free butter, lime juice, zest, and minced jalapeño, then dresses it over a just-popped bag of kernels. A spicy pepper combination is sprinkled on top, and the mixture is shaken (not stirred!) vigorously to ensure every piece is seasoned to perfection.
8. Dark Chocolate Popcorn Party Mix
What's Cooking Good Looking tosses her popcorn with a homemade rosemary sea salt blend, along with toasted almonds and pumpkin seeds. It is only then that the mix is doused with melted hot chocolate and refrigerated until ready to serve. Fit for a crowd or a party of one, this recipe won't last long!
9. Masala Popcorn
This Indian-inspired recipe from Pure Vegetarian Bites is exploding with flavor thanks to the inclusion of chaat masala, garam masala, curry, coriander, and turmeric. Slices of green chili peppers and curry leaves are fried and tossed with the seasoned popcorn for an addicting snack.
10. Lemony Kale Popcorn
Simply Fresh Dinners grinds freshly baked kale chips with lemon zest in the food processor for a homemade sprinkle that is not only healthy but also delicious. Serve alongside kale chips for the ultimate platter of vegan movie munchies.
11. Healthy Caramel Popcorn
Add roasted peanuts to this recipe from Chocolate Covered Katie for a healthier version of Cracker Jack. This caramel sauce comes together with three ingredients and can be ready in five minutes if you microwave your popcorn. We're ready for National Popcorn Day and Spring Training with this recipe!
12. Cinnamon Kettle Corn
Change your kettle corn obsession with this sweet and spicy twist. Hell Yeah It's Vegan! keeps it traditional by popping corn kernels with vegetable oil and sugar, but instead of simply adding salt to the mix, the popcorn also gets a dusting of aromatic cinnamon.
13. Cheesy Vegan Popcorn
You won't miss the cheese with this salty and satisfying recipe from The Healthful Ideas. Nutritional yeast is the star ingredient in this addictive blend, but turmeric, cayenne pepper, paprika, garlic powder, onion powder, and sea salt are also key players in this seasoning medley that will have you eating every last kernel in the bowl.
14. Rosemary Truffle Popcorn
This light and herby recipe from Turnip The Oven starts with a homemade rosemary oil. Once the popcorn is popped and infused with the fragrant oil, more is drizzled in, along with truffle oil. Sea salt is the final touch to this elegantly simple recipe.
Stephanie Dreyer is a freelance writer and recipe developer on a mission to help families cook and eat healthier.