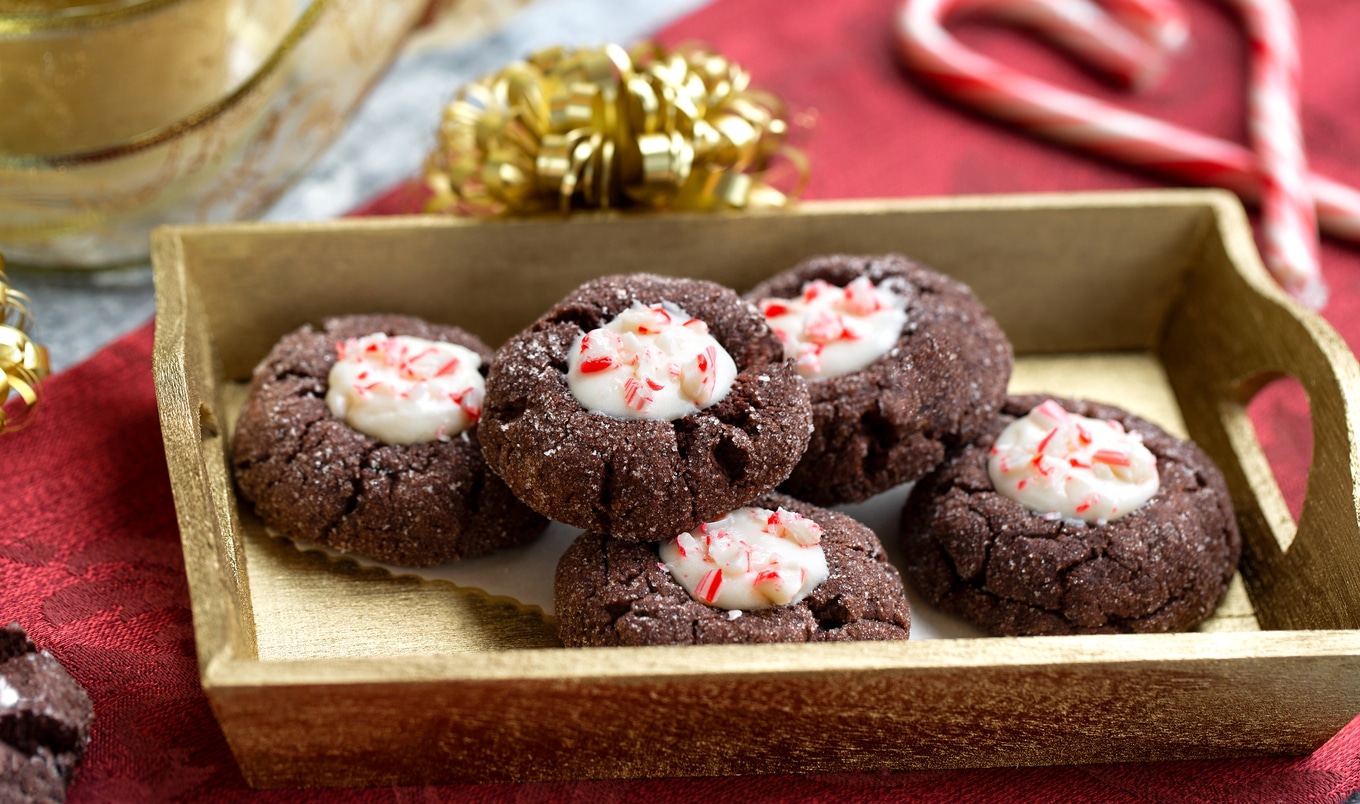 This VegNews Holiday Cookie Contest winner evokes the holiday spirit with crunchy candy canes, smooth peppermint buttercream, and an intensely chocolate base.
December 2, 2022
What you need:
For the cookie dough:
¾ cup semisweet chocolate chips
6 tablespoons vegan butter
¾ cup light brown sugar
1 cup granulated sugar, divided
2 tablespoons ground flaxseed, combined with 5 tablespoons water
1 teaspoon vanilla extract
1½ cups all-purpose flour
⅓ cup cocoa powder
2 teaspoons baking powder
1 teaspoon sea salt
For the peppermint buttercream:
¼ cup vegan butter, chilled
¼ cup vegan cream cheese, softened
1½ cups powdered sugar
1½ teaspoons peppermint extract
1 tablespoon water
2 candy canes, crushed
What you do:
For the cookies, preheat oven to 350 degrees. Line 2 large baking sheets with parchment paper and set aside. In a double boiler, combine chocolate chips and vegan butter, and melt until smooth.
Remove from heat, and whisk in brown sugar, ¼ cup granulated sugar, flax mixture, and vanilla extract.
In a medium bowl, whisk together flour, cocoa, baking powder, and salt. Add chocolate mixture to flour mixture, and stir to combine.
Into a small bowl, place remaining ¾ cup granulated sugar. Scoop 2 tablespoons of cookie dough and roll into ball shape. Coat with sugar and place onto lined cookie sheet, placing 2 inches apart. Gently make a thumb imprint in each ball. Bake for 10 minutes, remove from oven, and let cool completely on wire racks.
For the buttercream, in a medium bowl, add vegan butter, cream cheese, powdered sugar, and peppermint extract, and mix until smooth.
To assemble, fill each cookie center with buttercream and sprinkle crushed candy cane on top.