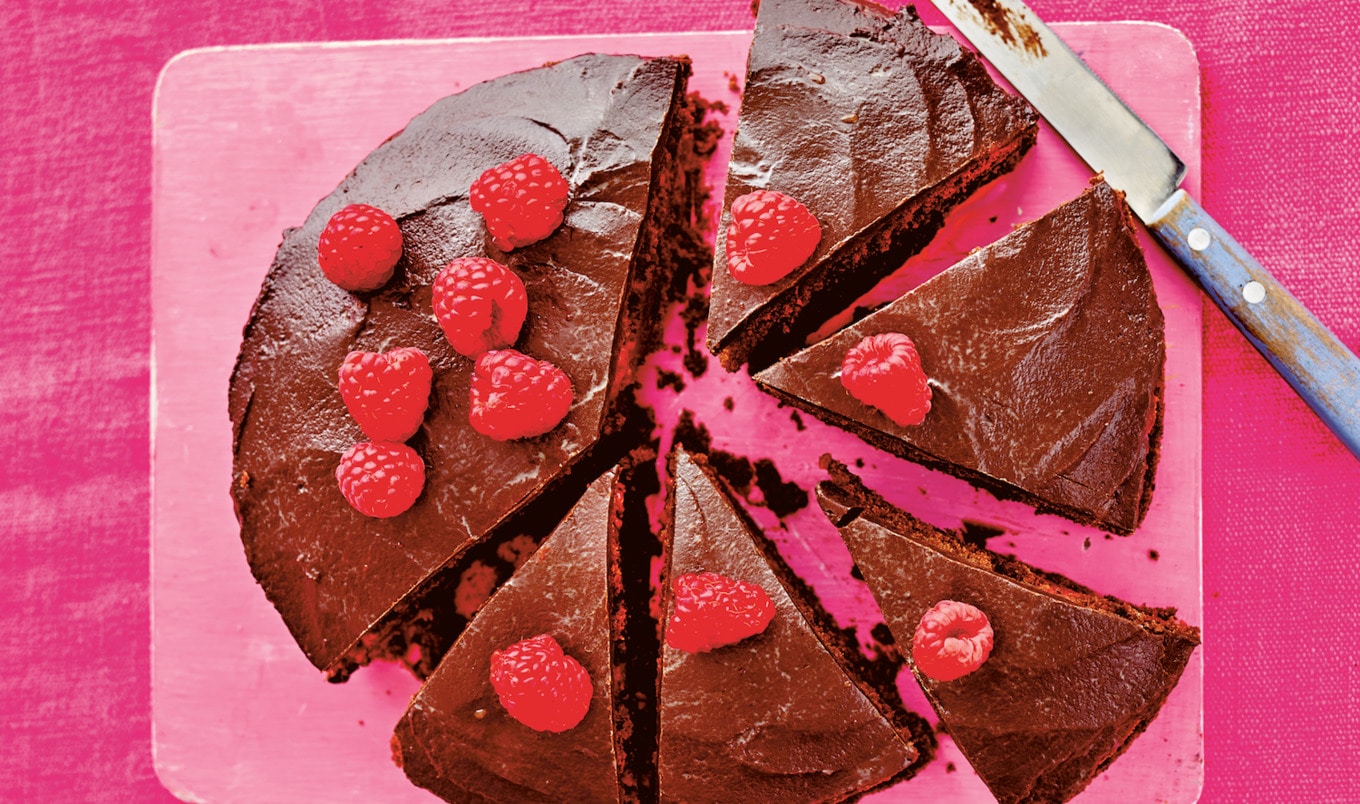 A classic chocolate cakes gets a fruity, vegan makeover and is finished with thick homemade frosting.
February 11, 2022
Is there any more decadent flavor combination than chocolate and raspberries? This luscious, fudgy cake—from Heather Whinney's Virtually Vegan—provides a definitive, thanks to rich cocoa, plump raspberries, and addictive homemade chocolate frosting.
What you need:
For the cake:
⅓ cup vegan butter
2 tablespoons maple syrup
1 teaspoon apple cider vinegar
1 cup boiling water
2½ cups self-rising flour
2 tablespoons unsweetened cocoa powder, plus more for dusting
½ cup superfine sugar
1 teaspoon baking soda
½ vanilla bean pod, scraped
½ cup fresh raspberries, roughly chopped, plus more for topping
For the chocolate frosting:
7 oz vegan dark chocolate
⅓ cup vegan butter
2 tablespoons almond milk
½ cup confectioners' sugar, sifted, plus more for dusting
What you do:
Preheat oven to 350 degrees. Line two 8-inch cake pans with parchment paper.
In a stand mixer, add butter, maple syrup, apple cider vinegar, and boiling water. Beat on low until butter has melted and is fully combined.
In a bowl, add flour, cocoa powder, sugar, baking soda, and vanilla bean seeds, and stir. Add to wet mixture and beat on low until batter is smooth.
Divide the mixture between pans, smooth with a rubber spatula, and bake for 20 to 30 minutes, until a knife inserted into the center comes out clean. Let cakes cool in pans for 10 minutes, then invert onto a wire rack to cool completely.
For the chocolate frosting, in a glass bowl, add chocolate and butter. Place over a saucepan of simmering water and stir occasionally until melted. Remove from heat and let cool slightly, then stir in milk. Slowly add confectioners' sugar while mixing, until frosting thickens and becomes glossy. Place in refrigerator to set.
To assemble the cake, remove frosting from refrigerator and stir. Spread half of frosting over one cake and top with chopped raspberries. Place second cake on top, and spread with remaining frosting. Decorate with remaining raspberries, and dust confectioners' sugar and cocoa powder over top.