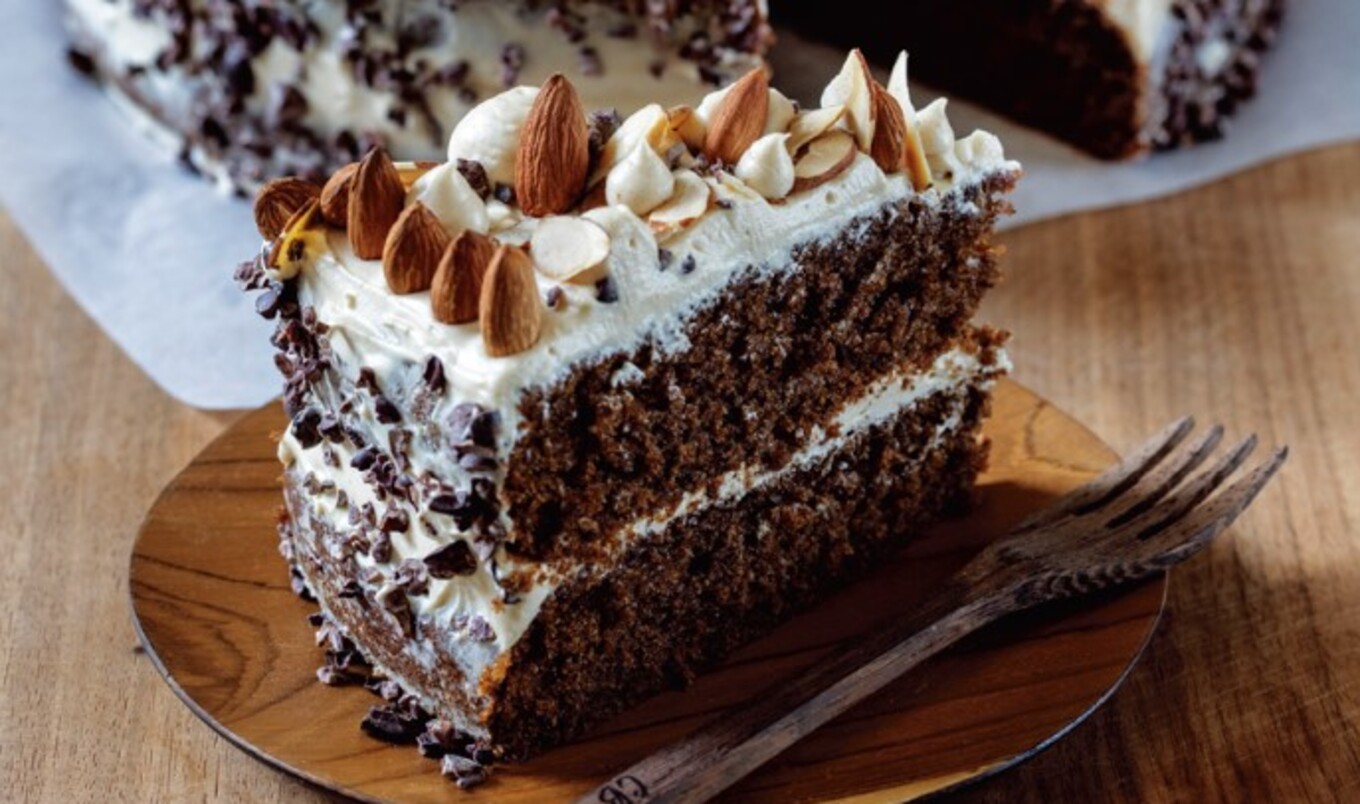 Whether you're a coffee aficionado seeking the perfect complement to your morning brew or a dessert enthusiast in search of a sophisticated treat, this espresso cake will awaken your senses.
September 20, 2023
The essence of your favorite coffeehouse experience is artfully captured in this cake from the BReD cookbook, bringing together the boldness of espresso and the delicacy of cake, resulting in a sublime harmony of taste that will leave you enchanted with every single bite.
What you need:
For the coffee frosting:
½ cup cold vegan butter
1½ cups plus 3 tablespoons powdered sugar
1 cup vegan cream cheese
2 tablespoons dark rum or coffee liqueur
2 tablespoons brewed espresso, cooled
1¼ teaspoons vanilla extract
For the cake:
3 tablespoons plus ¾ teaspoon ground flaxseed
1½ cups unsweetened soy milk
1 cup plus 3 tablespoons canola oil
1 cup coconut sugar
2 shots brewed espresso, cooled
2 tablespoons vanilla extract
1½ teaspoons apple cider vinegar
2⅔ cups all-purpose flour
⅔ whole-grain spelt flour
2 teaspoons ground cinnamon
2 teaspoons ground espresso beans
2¼ teaspoons baking powder
2 teaspoons baking soda
¾ teaspoon salt
For decorating:
Cocoa powder
Shaved vegan dark chocolate
Toasted whole or sliced almonds
What you do:
1. For the coffee frosting, in bowl of a stand mixer fitted with a paddle, cream butter on medium-high speed until soft, 1 to 2 minutes. Add powdered sugar and beat on medium-high until smooth. Add cream cheese and beat until smooth and creamy, 1 to 2 minutes. Add rum, brewed espresso, and vanilla, and mix until smooth.
Transfer to an airtight container and place in refrigerator to set for a couple of hours.
2. For the cake, preheat oven to 350 degrees. Lightly coat two 9-inch springform pans with oil, then line bottoms with parchment paper.
3. In the bowl of a stand mixer, mix flaxseed and milk and let sit until smooth paste forms, about 10 minutes. Whisk in canola oil, coconut sugar, brewed espresso, vanilla, and apple cider vinegar.
4. In a large bowl, whisk flour, spelt flour, cinnamon, espresso powder, baking powder, baking soda, and salt.
5. Add dry ingredients to wet ingredients. Using paddle attachment, beat on medium speed until a smooth batter forms, 1 to 2 minutes. Stop mixer halfway through and use a rubber spatula to scrape down sides and bottom of bowl to ensure there are no lumps or dry patches.
6. Divide batter evenly between prepared pans. Bake until a butter knife inserted in center of cakes comes out clean, 25 to 30 minutes. Let cool in pans on a cooling rack for 15 to 20 minutes.
7. Remove ring from pan and let cake layers cool completely before frosting.
8. Transfer 1 cake layer to a serving plate. Using a piping bag fitted with a plain tip or an offset spatula, pipe or spread a third of frosting over cake layer. Place other cake layer on top and lightly press down. Pipe or spread a third of frosting around sides and then remaining frosting over top. Pipe some decorative droplets. Decorate by sifting cocoa powder over top, sprinkling on shaved chocolate and toasted nuts. Place finished cake back in refrigerator for at least 30 minutes to let frosting set.
For more recipes like this, check out: