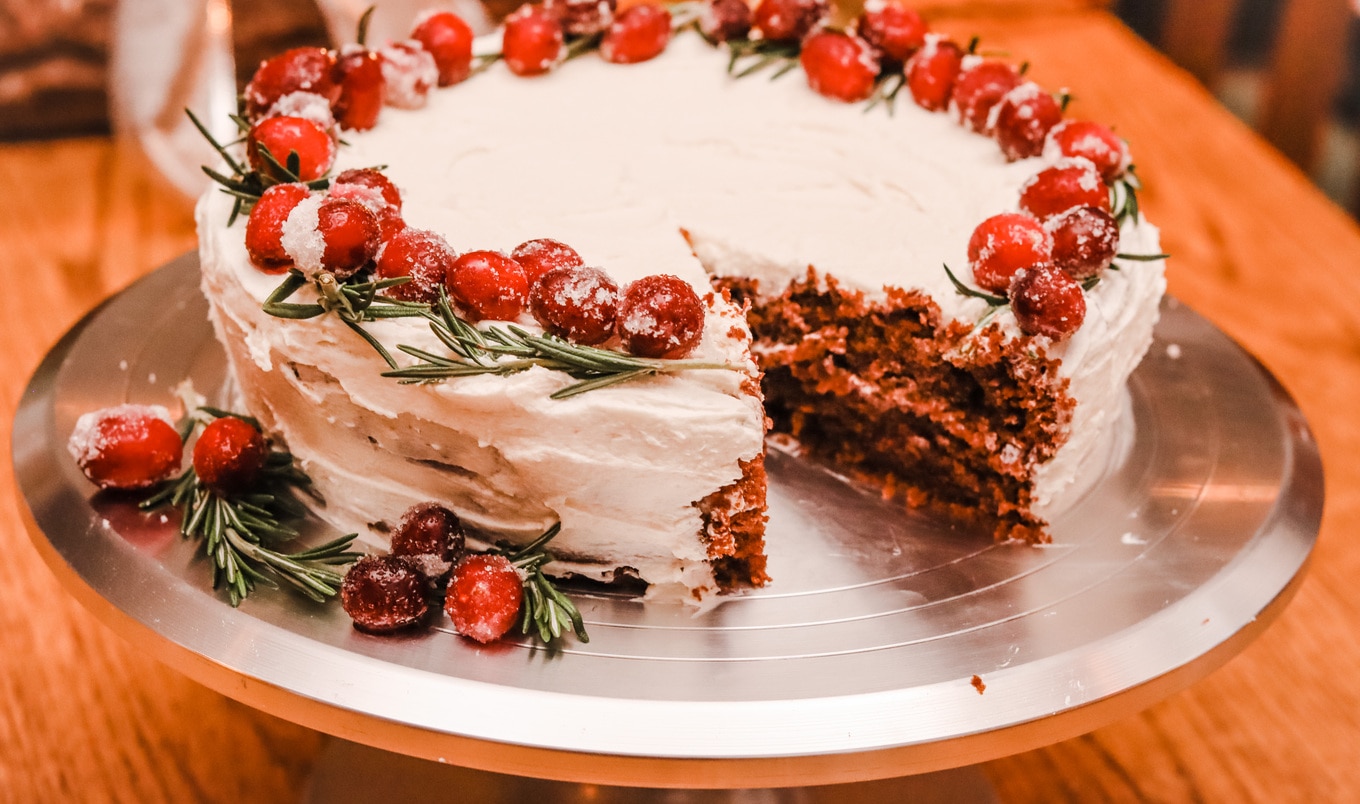 Candied berries and aromatic herbs make this classic cake recipe holiday-ready.
December 25, 2022
This traditional, red-hued chocolate cake from Bon Appetit's first vegan chef Chrissy Tracey is paired with rich and velvety vegan buttercream frosting to satisfy all those sweet tooth cravings. Swap the toppings for sprinkles, chocolate shavings, or other candied fruits for a cake that's ready for any holiday or birthday.
What you need:
For the buttermilk:
1⅓ cup vegan milk
1½ tablespoons apple cider vinegar
For the cake:
2⅓ cup cake flour
1 teaspoon baking soda
¼ cup unsweetened cocoa powder
1 teaspoon red powdered food coloring
½ cup vegan butter, room temperature
1¾ cup sugar
¼ cup plus 2 tablespoons aquafaba
½ cup vegetable oil
2 teaspoons vanilla extract
1 teaspoon white vinegar
For the buttercream frosting:
1 cup vegan butter, room temperature
1 cup powdered sugar
1 tablespoon vegan milk
2 teaspoons vanilla extract
¼ teaspoon lemon juice
For garnish:
Candied cranberries
Fresh rosemary
What you do:
Preheat oven to 350 degrees. Grease two 9-inch cake pans, and line bottom of pans with parchment paper. Set aside.
For the buttermilk, in a large measuring cup, add milk and vinegar. Whisk and set aside.
For the cake, in a medium bowl, sift cake flour, baking soda, cocoa powder, and food coloring. Set aside.
In a stand mixer, cream butter and sugar for 3 minutes until well combined. Add aquafaba and mix for one more minute, until peaks form. Add oil, vanilla, and vinegar and continue to mix for two minutes. While mixer is running at medium speed, alternate adding dry ingredients and buttermilk to mixer, ending with dry mix.
Into prepared cake pans, evenly distribute cake batter and bake for 28 to 30 minutes. Remove from oven to cool. After five minutes, run butter knife around edges of cakes and let cool completely, about 30 minutes.
For the frosting, in a medium bowl, combine butter, powdered sugar, milk, vanilla, and lemon juice. Set aside.
Remove cooled cakes from pans and set on a cooling rack. Apply icing to top of one cake, spreading evenly. Place second cake on top and frost top and sides of cake evenly. Garnish with candied cranberries and fresh rosemary before serving.