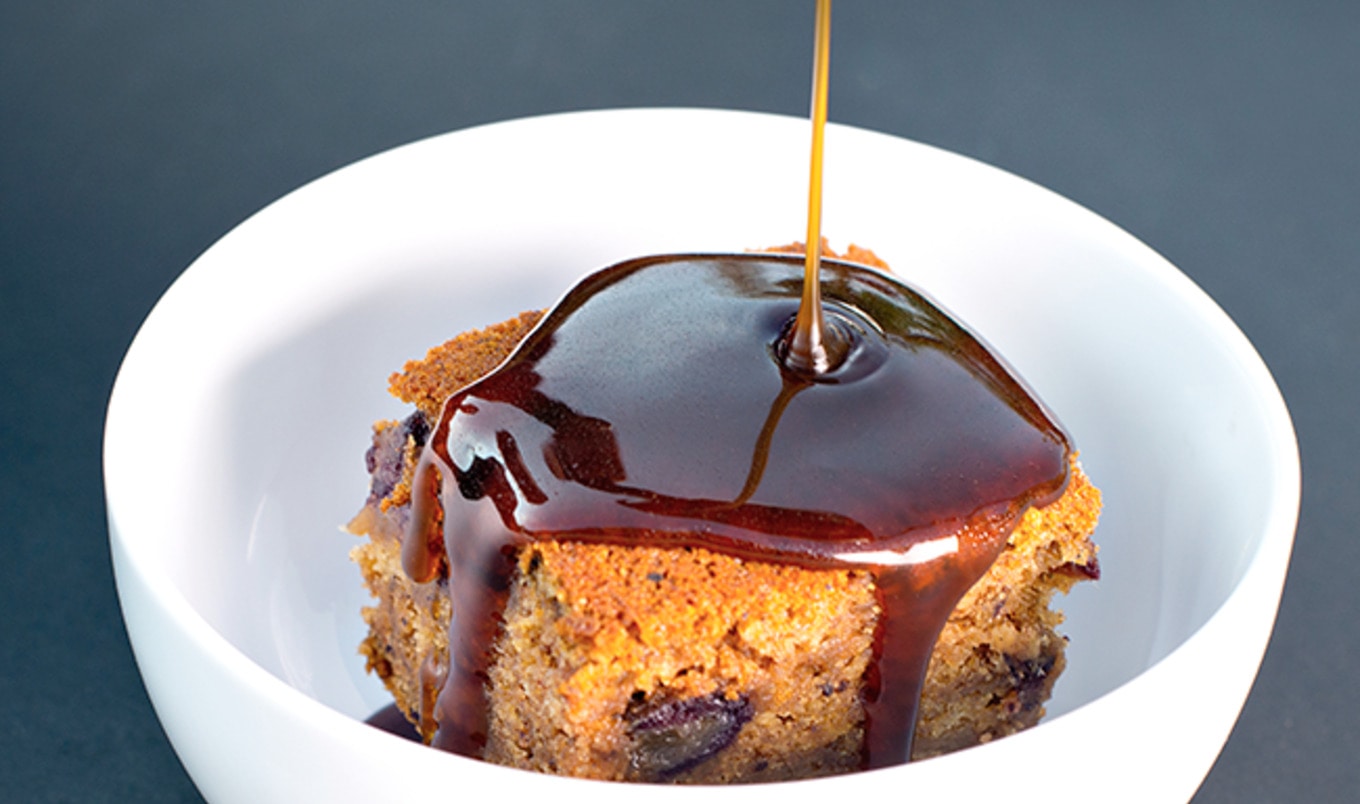 If you're going to be indoors for winter, you might as well enjoy amazing vegan desserts.
December 8, 2022
You know who loves sticky toffee cake? Everyone, but, more specifically, Madonna. At least that's what we've heard. These tasty treats are also popular at the Veganuary headquarters, which is why we're sharing this recipe for the most delicious cruelty-free holiday season ever.
What you need:
For the cake:
1½ cups dates, pitted
1 cup vegan milk
½ cup water
1 teaspoon baking powder
¾ cup vegan butter
¾ cup soft brown sugar
1½ cups white self-rising flour
⅛ teaspoon ground nutmeg
½ teaspoon ground ginger
½ teaspoon ground cinnamon
6 walnut halves, for garnish
For the toffee sauce:
¾ cup corn syrup
1 cup vegan butter
1 ½ cups brown sugar
1 teaspoon vanilla extract
½ cup soy creamer
What you do:
1. For the cake, into a small saucepan, chop the dates into quarters and cover them with milk and water, and simmer until soft. Remove from heat and stir in the baking powder, which will froth as you add it to the date mixture. Leave to cool for approximately 15 minutes.
2. Preheat an oven to 375 degrees.
3. Grease and line a 8 x 8-inch shallow cake pan and line with parchment paper. Beat together the butter and sugar until creamy. Add the date mixture and stir.
4. Into the sieved flour, mix the spices. Fold the flour into the cake mixture and spoon the mixture into the prepared pan. Bake in the pre-heated oven for 30 minutes or until the cake bounces back when pressed.
5. For the sauce, into another small saucepan, melt the syrup, butter, sugar, and vanilla. Simmer for 5 minutes without stirring.
6. Leave to cool slightly, and then stir in the creamer.
7. Prick the pudding all over and pour half the sauce over the cake. Serve the rest with the cake add walnuts to decorate.