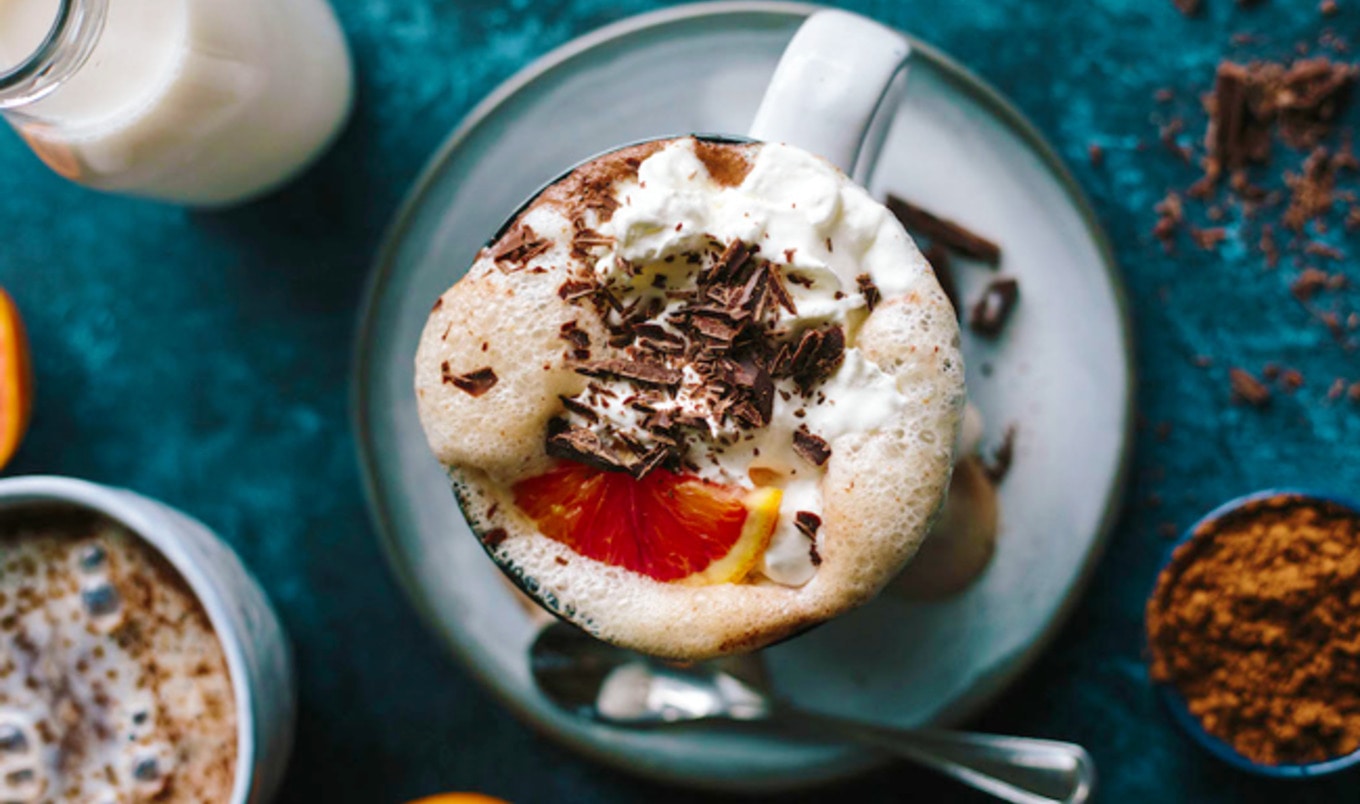 Ditch the dairy with one of these delicious homemade vegan hot chocolate recipes perfect for warming up on chilly winter nights.
December 15, 2021
---
Hot chocolate is the ultimate cold-weather drink. With winter just around the corner, we're featuring 13 plant-based beverages that'll have you wishing winter lasted all year long. From exotic and nutty to minty and spiked, this list has more than a dozen ways to make your chocolate dreams come true.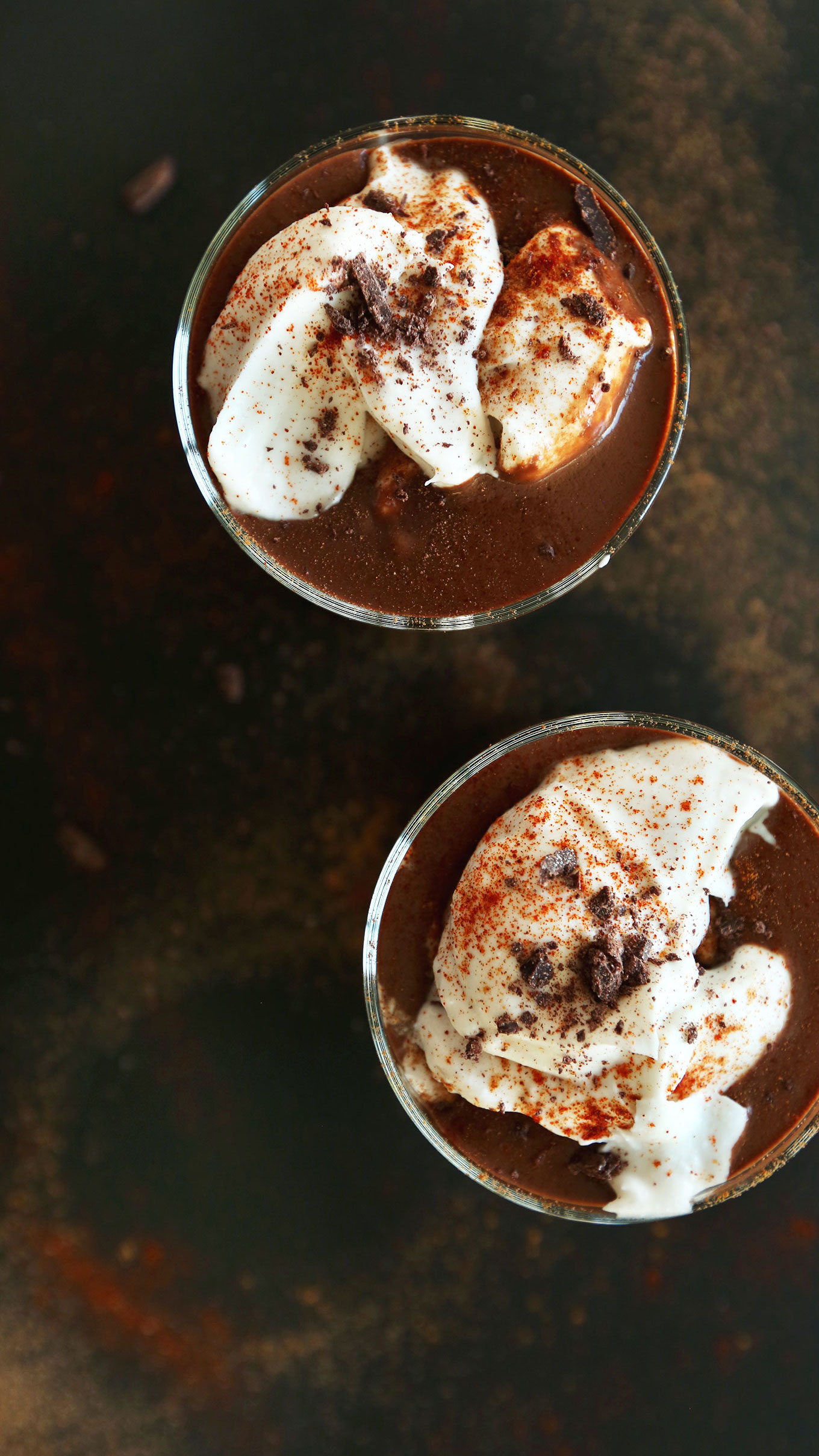 Minimalist Baker
1 Vegan Mayan Drinking Chocolate
One taste of this indulgent dessert by Minimalist Baker, and we're in chocolate heaven. All you need are seven ingredients and 15 minutes to create this simple yet sophisticated beverage. Decadent dark chocolate is perfectly balanced with Mayan spices (cinnamon, nutmeg, and cayenne) in what will quickly become your new chocolate obsession.
Get the recipe here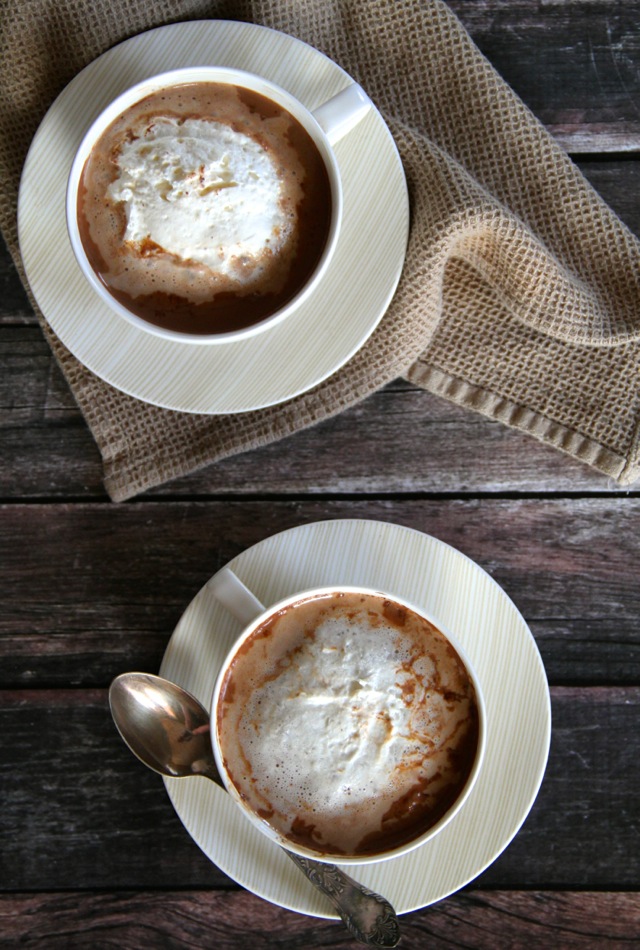 Running with Spoons
2 Vegan Pumpkin Hot Chocolate
Creamy vanilla almond milk is the base in Running With Spoons' sweet treat (which tastes like autumn in a cup). A spiked pumpkin purée combines with maple syrup to create all the flavors you crave on a brisk winter day. Cozy up with a blanket and a mug of this cocoa to be transported back to the pumpkin patch.
Get the recipe here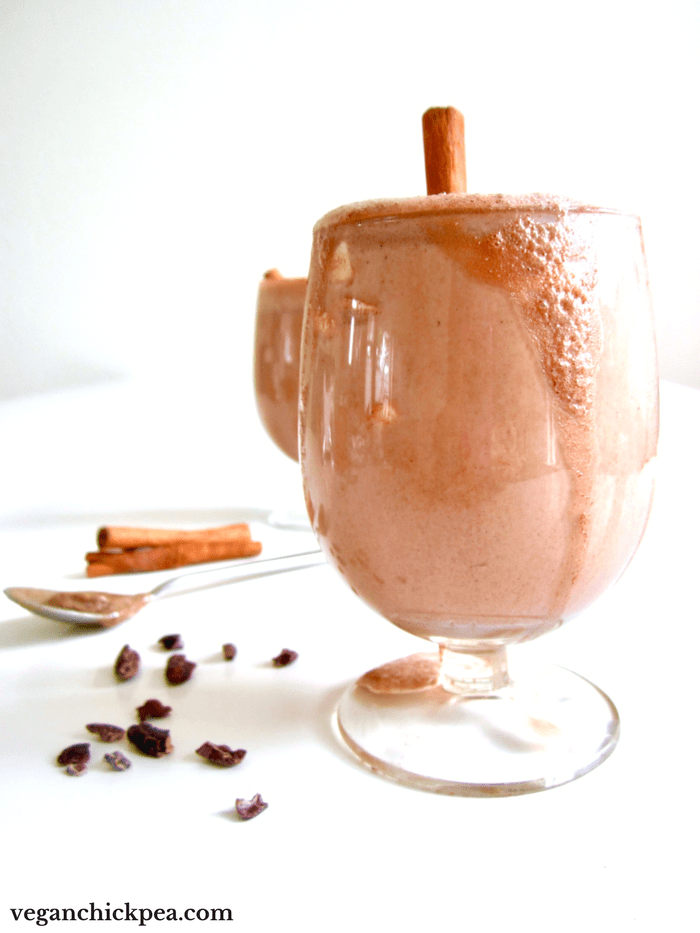 Vegan Chickpea
3 Healthy Hazelnut Spiced Hot Chocolate
Cinnamon and hazelnut essential oils are the secret ingredients in this inventive recipe, but that's not all that adds to the magical taste in this cup of cocoa, as Vegan Chickpea also stirs in two spoonfuls of hazelnut butter for a deliciously nutty, toasty flavor in every mouthful.
Get the recipe here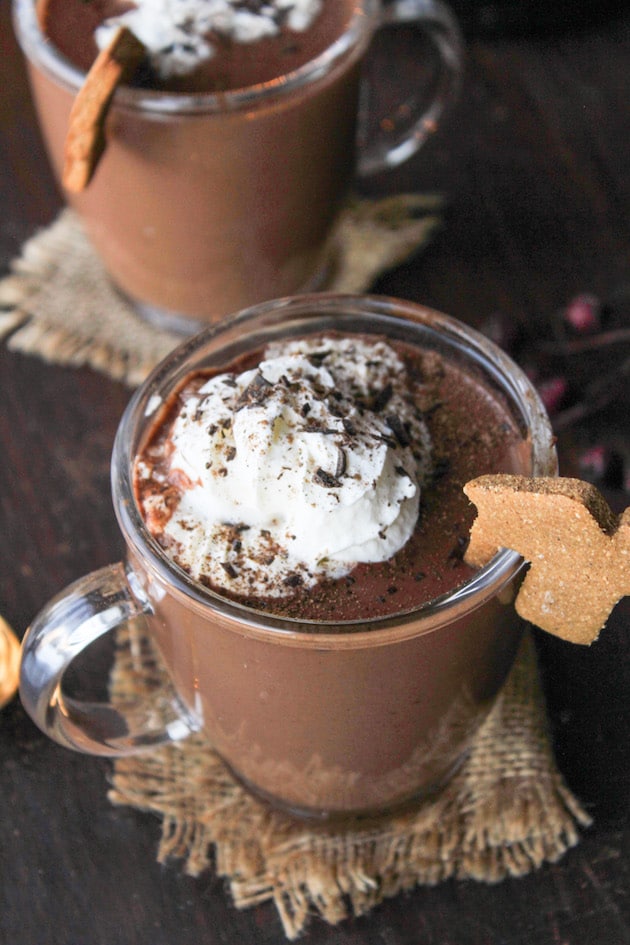 A Saucy Kitchen
4 Gingerbread Vegan Hot Chocolate
This thick, velvety drink from A Saucy Kitchen will satisfy those holiday season cravings. Full-fat coconut milk creates the same thickness of dairy-based hot chocolate, while fragrant ginger, cinnamon, allspice, and vanilla add flavors reminiscent of the holiday season. Make a batch of gingerbread cookies for dunking, and we're ready to deck the halls.
Get the recipe here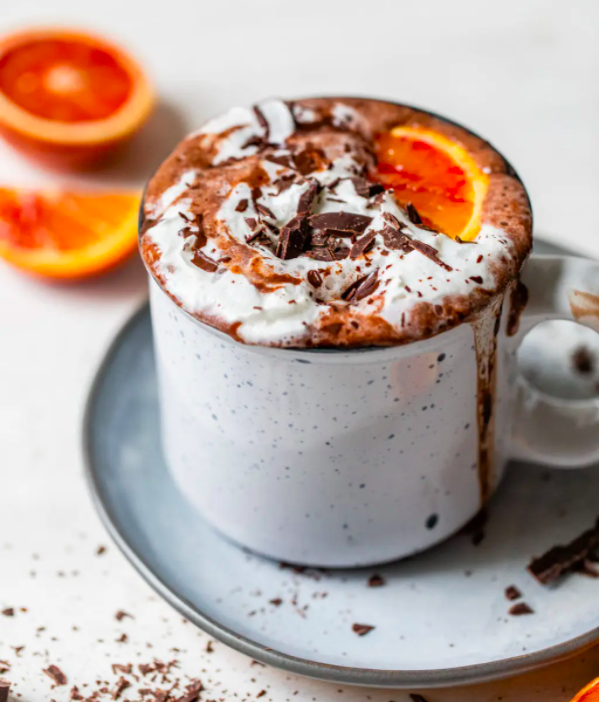 The Almond Eater
5 Blood Orange Hot Chocolate
If you're looking for a new (and different) way to enjoy hot chocolate, this zingy version from The Almond Eater is the way to go. Freshly squeezed blood orange juice and grated orange zest are mixed with traditional hot cocoa ingredients for a vibrant hot beverage that will put a spring in your step. Even better? This fun and unique recipe is ready in just 10 minutes and is made with only six ingredients.
Get the recipe here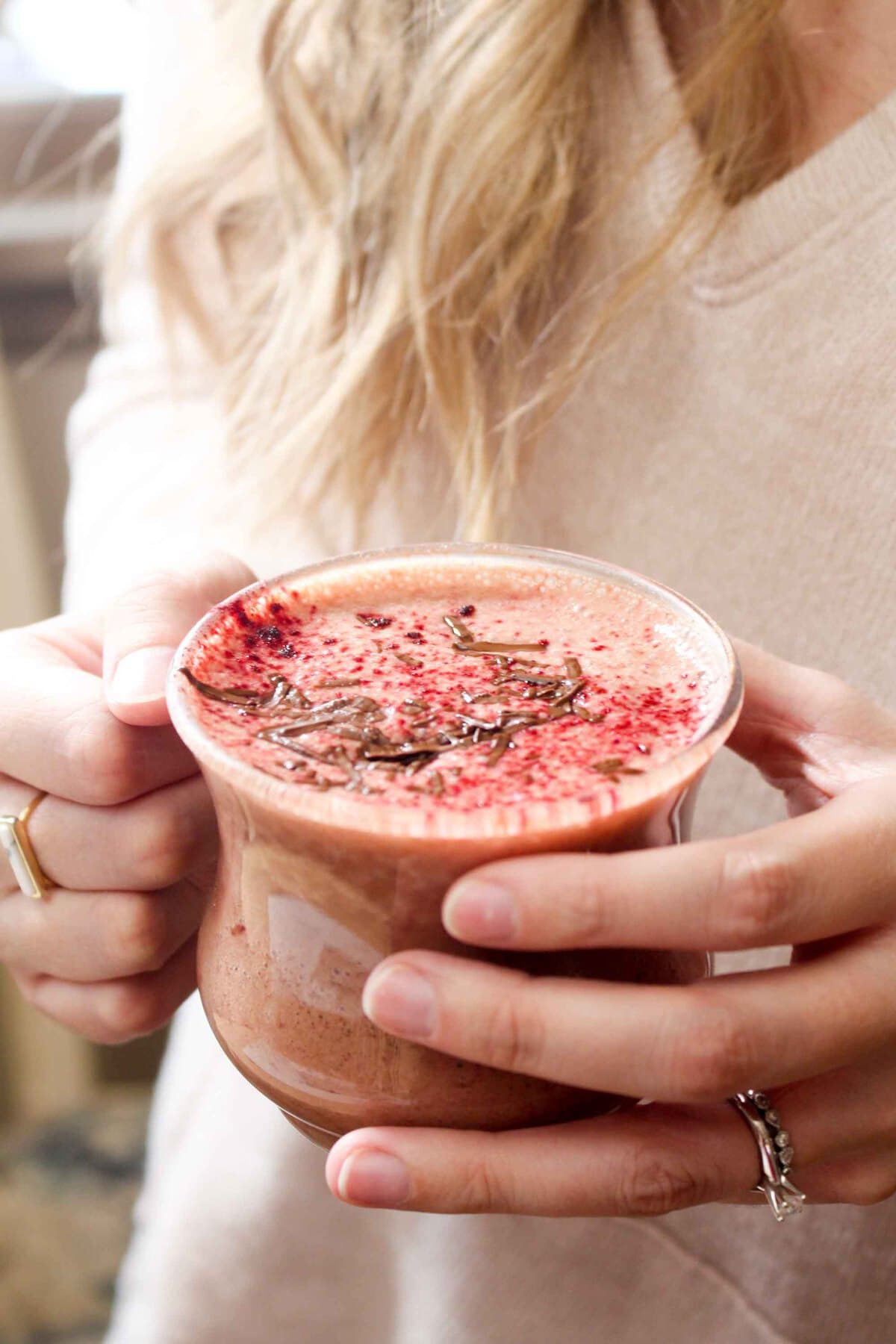 Darn Good Veggies
6 Red Velvet Hot Chocolate
Darn Good Veggies has an antioxidant-rich surprise ingredient in this cocoa recipe—beet powder! Our favorite red vegetable adds an earthy, rich taste to this drink that pairs beautifully with the other ingredients. Cacao powder adds chocolatey flavor and more antioxidants, while Medjool dates add natural sweetness. Cheers to sweet health in a glass!
Get the recipe here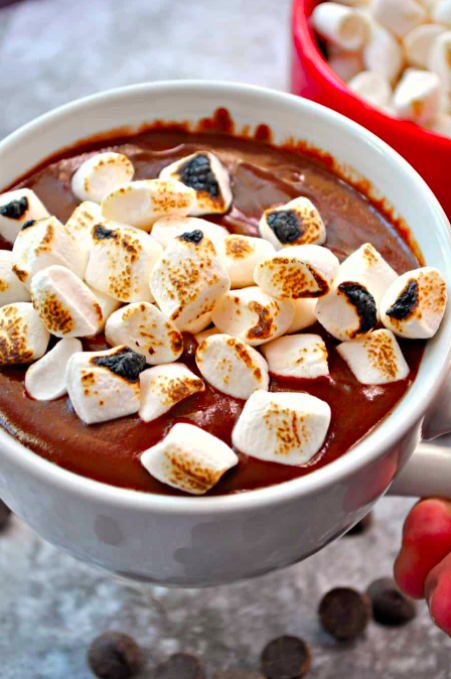 Rabbit and Wolves
7 Vegan S'mores Drinking Hot Chocolate
This drinking chocolate is full of all the flavors in your favorite campfire treat. The luscious chocolate is flavored with everything you taste in a golden graham cracker (cinnamon, brown sugar, molasses and vanilla). Rabbit and Wolves then tops the piping hot cup of cocoa with toasted vegan marshmallows for a classic twist on a campfire favorite.
Get the recipe here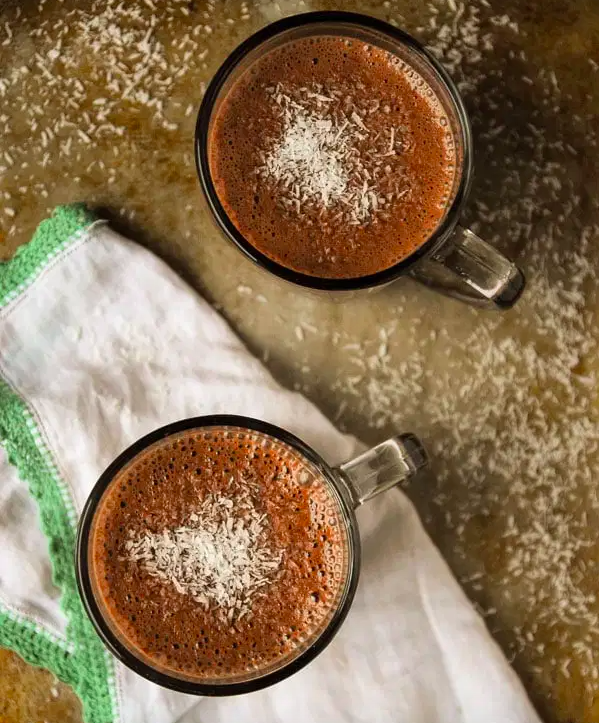 Heart of a Baker
8 Creamy Vegan Coconut Hot Chocolate
Heart of a Baker uses a blender to prepare this velvety mug of cocoa (she has a stove top alternative, too.) Chopped dark chocolate and shredded coconut are mixed with coconut milk in a high-powered blender until hot. For even more awesomeness, garnish with shredded coconut for a picture-perfect cup of hot chocolate that is smooth to the taste.
Get the recipe here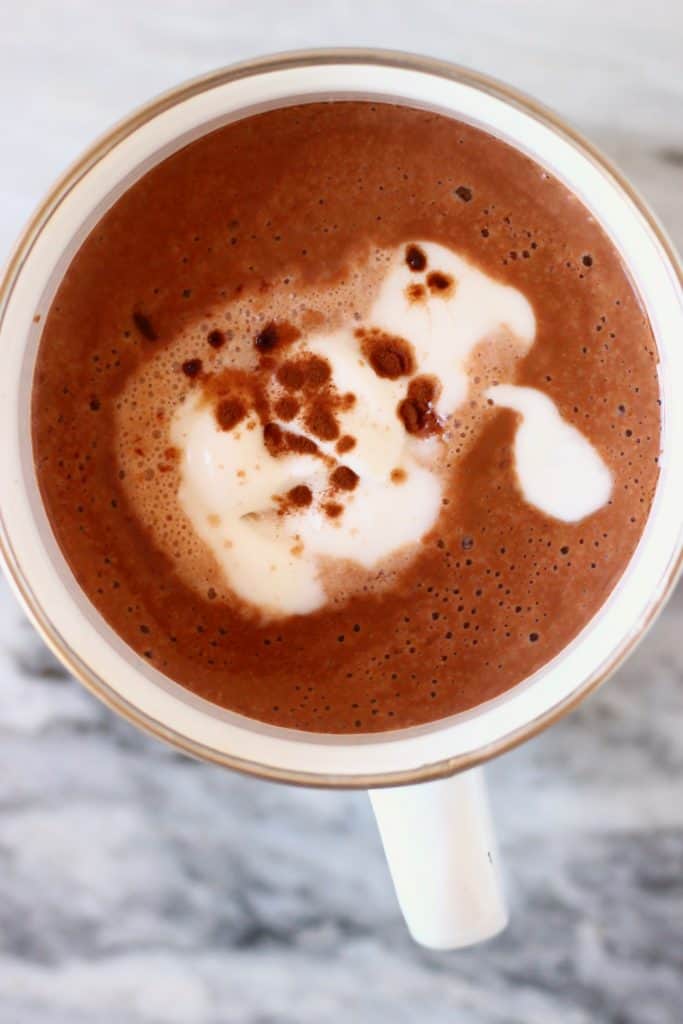 Rhian's Recipes
9 Vegan Red Wine Hot Chocolate
Give your hot cocoa a boozy kick with a pour (or two!) of red wine. Surprisingly, the fruity aroma of red wine perfectly complements the rich, earthy flavor of dark chocolate. Rhian's Recipes recommends using almond or cashew milk for the best dairy-free substitute in this recipe.
Get the recipe here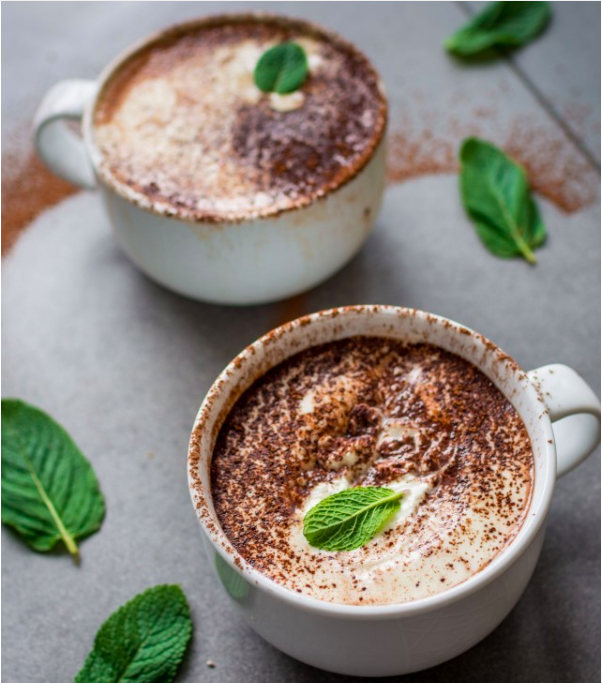 Lauren Caris Cooks
10 Vegan Peppermint Hot Chocolate
Mint + chocolate = a dreamy hot chocolate match. In this recipe from Lauren Caris Cooks, peppermint extract adds refreshing notes to frothy almond milk coated with dark chocolate. Top with coconut whipped cream for a classic hot chocolate.
Get the recipe here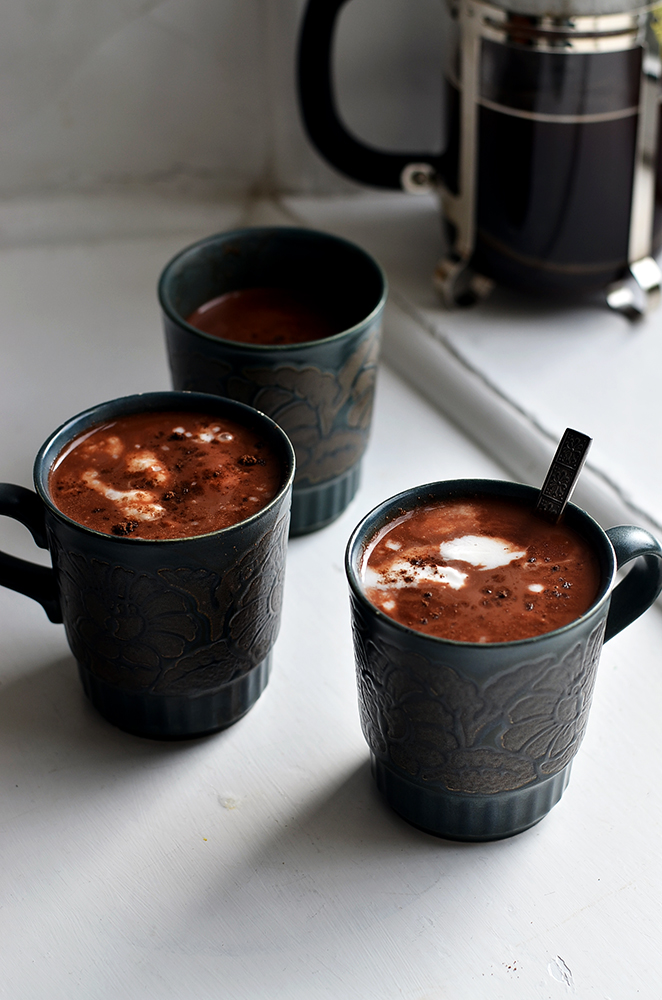 The Hungry Herbivores
11 Coffee Mexican Drinking Chocolate
This pick-me-up beverage from The Hungry Herbivores is similar to a mocha, but better! Combine your favorite dark chocolate and strong-brewed coffee for a breakfast beverage with which you'll want to indulge all morning long.
Get the recipe here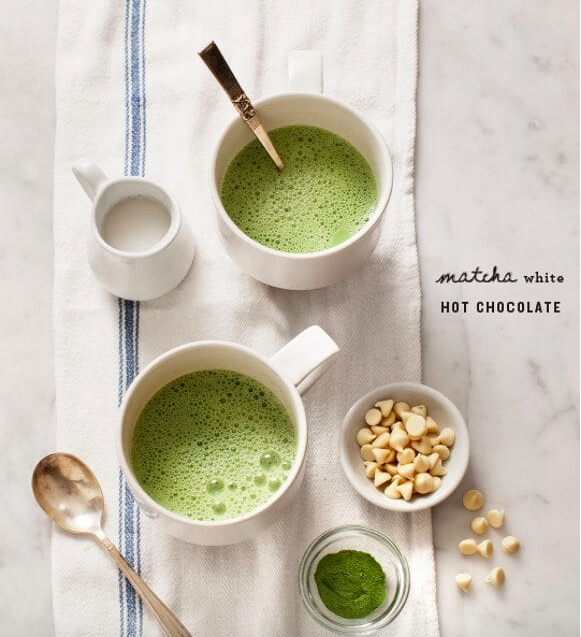 Love & Lemons
12 Matcha White Hot Chocolate
For a fancy adult take on the classic cup of hot chocolate, try Love & Lemons' bright, beautiful recipe featuring popular matcha tea powder. Start by whisking almond milk and vegan white chocolate, then stir in matcha for a comforting beverage that is delicious and visually stunning.
Get the recipe here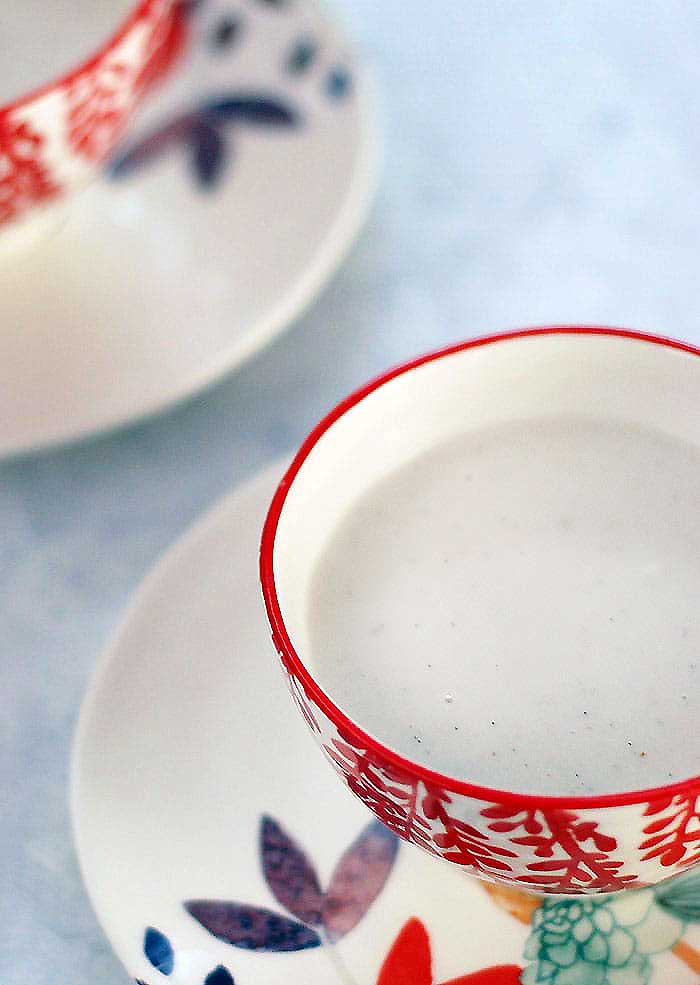 Healthy Slow Cooking
13 Hot White Chocolate
This thick, rich cocoa by Healthy Slow Cooking is made with homemade dairy-free milk and is sweetened naturally with dates before cacao butter and vanilla beans—scraped straight from the pod—are whisked in. Trust us—this silky drink is irresistible.
Get the recipe here
For more chocolaty recipes, read:
Vegan Almond Hot Chocolate
Chocolaty Vegan Molten Lava Cakes
Crunchy Vegan Coconut Pecan Biscotti
Stephanie Dreyer is a freelance writer and recipe developer on a mission to help families cook and eat healthier.