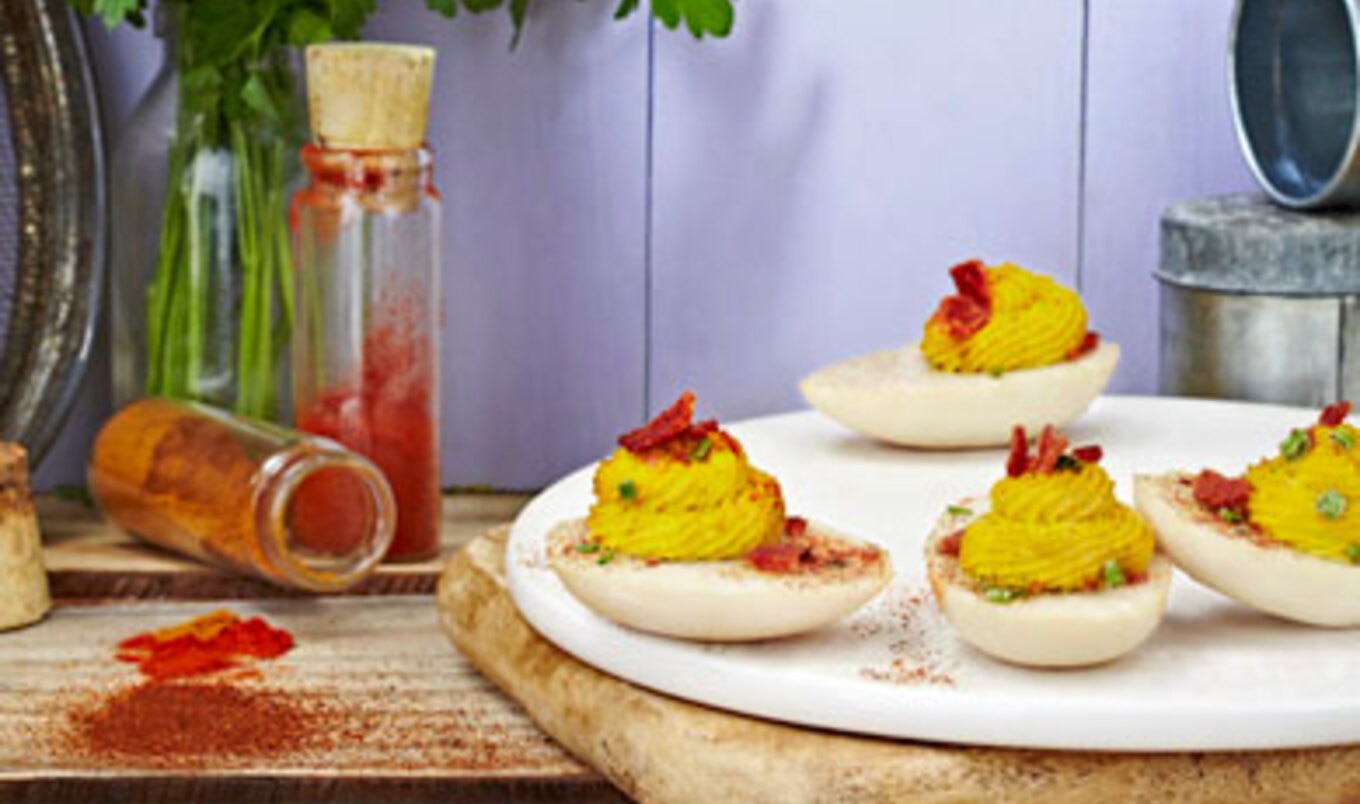 A creamy ranch dressing and smoky bacon flavor make these vegan eggs the perfect appetizer.
April 9, 2017
Easter is fast aproaching, so how about planning a twist on the classic appetizer? Our version is healthy, beautiful, and cruelty-free—what more could you ask for?
Makes 18 eggs
What you need:
1 tablespoon agar agar powder
1 cup water
2 14-ounce cans cannellini beans, drained and rinsed
1 tablespoon rice flour
4 tablespoons nutritional yeast, divided
3-3/4 teaspoons Indian black salt (see Chef's Tip)
1-1/4 teaspoons turmeric
1 tablespoon yellow mustard
3 tablespoons vegan mayonnaise
2-1/2 teaspoons fresh chopped parsley leaves
1-1/4 teaspoons fresh chopped dill
1/2 teaspoon white pepper
1-1/2 teaspoons onion powder
1/8 teaspoon salt
1/4 teaspoon freshly ground black pepper
Vegan bacon bits and chopped fresh chives, for garnish (optional)
What you do:
1. In a large saucepan, whisk together agar and water, then heat over high heat until boiling. Continue boiling for 5 minutes, then remove from heat.
2. In a food processor, add beans, rice flour, 1 tablespoon nutritional yeast, and black salt and process until smooth. Whisk 2/3 cup bean purée into agar mixture as it cools. Using either a chocolate-egg mold or a muffin tin, fill with 1 tablespoon agar mixture. Place mold or pan into refrigerator to chill for 25 minutes or until eggs are solid enough to remove when gently pressed.
3. While eggs are chilling, in a food processor with remaining bean purée, add remaining 3 tablespoons nutritional yeast, turmeric, mustard, mayonnaise, parsley, dill, white pepper, onion powder, salt, and pepper and blend until creamy.
4. Using a spoon or a pastry bag filled with bean mixture, top each egg with about 1 tablespoon bean mixture. Before serving, sprinkle eggs with vegan bacon bits and chives.
Chef's Tip
The trick to creating a truly authentic egg-like taste is to use Indian black salt (known as kala namak), which mimics the sulfuric taste of eggs. If you can't find Indian black salt in stores, it is easily available online.
Photo courtesy of Vanessa Rees