You cannot fail by gifting chocolates on Valentine's Day—unless your significant other has a chocolate allergy, in which case, we send our condolences. These vegan-friendly chocolatiers have stepped up their game for the special occasion, offering silky smooth and velvety confections in unparalleled flavors from Hazelnut Praline Cream to White Wine Pear and more. Valentine's Day is fast-approaching, so order a vegan box from one of these 17 chocolate shops today.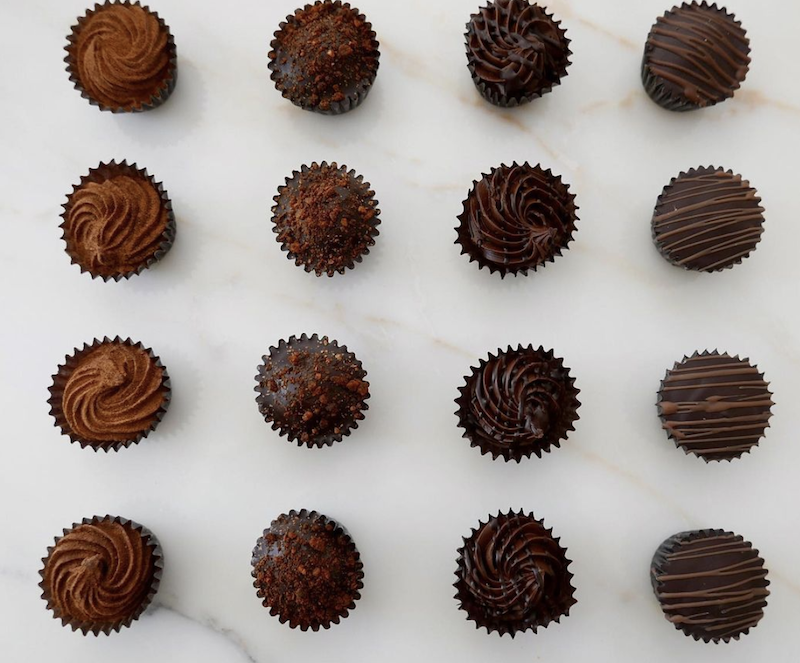 1. Cocoa Parlor
This isn't your standard box of chocolates where you're left with a box of half-eaten, subpar truffles. As a small-batch, inventive chocolatier, Cocoa Parlor's vegan white, milk, and dark chocolate truffles are unique one-bite wonders that will make you fall in love. To purchase a set, choose your assortment count (from six to 24-pieces) and select your favorite confections. You can't go wrong with the Strawberry Milkshake, Balsamic Fig, or Dark Chocolate PB.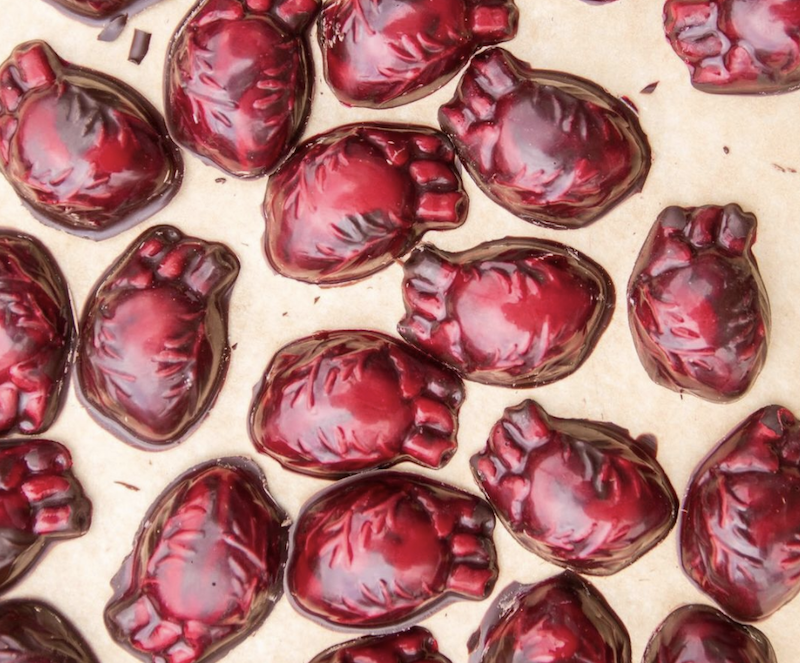 2. Lagusta's Luscious
Does your partner roll their eyes at commercially induced romance? Skip the gushy cartoon heart and go literal with a bleeding heart instead. Lagusta's Intense Anatomical Hearts are darkly realistic, and the flavor is as bold as the design. Each bonbon is filled with crushed cacao nibs, Stumptown coffee beans, black salt, and dried cherries. For a slightly less intense but equally gothic declaration of love, the truffle-filled Love Is Dead chocolate skull is a terrific option. And for those who love romance, the Box of Hearts holds all of the sweet charm and none of the somber notes.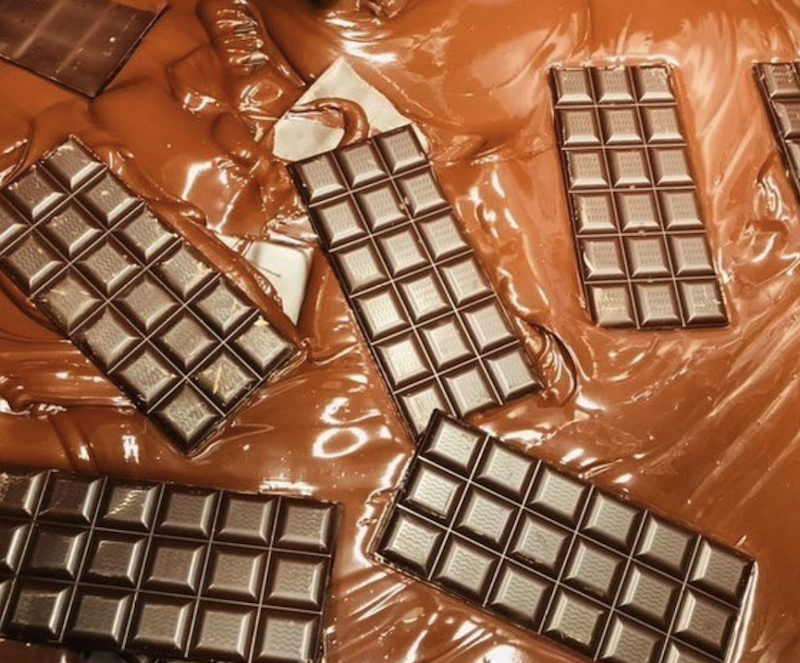 3. Dandelion Chocolate
Technically, this chocolate doesn't come in a box, but it does come with an elegant ribbon and three remarkable bars of single-origin vegan dark chocolate. For the true dark-chocolate lover who can appreciate the nuances of pure chocolate tasting, this is the gift to get.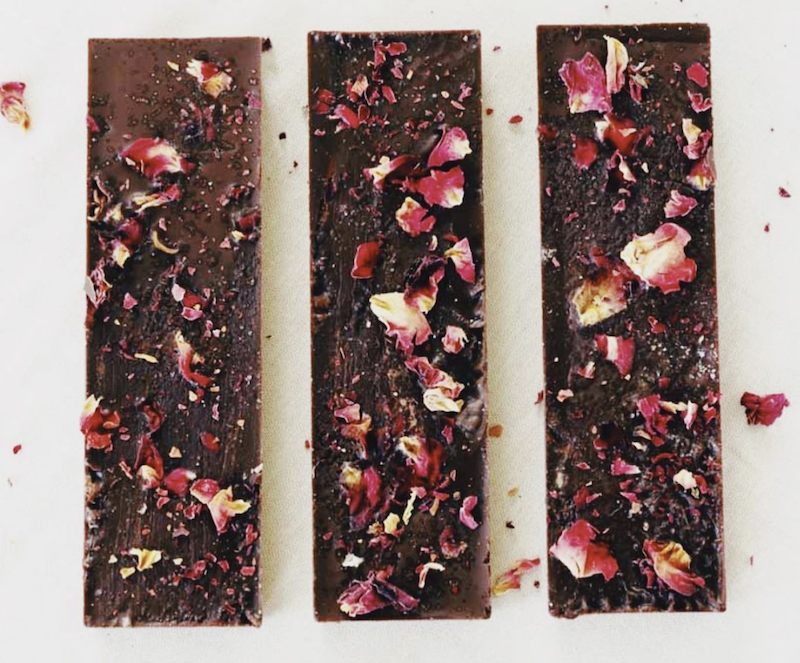 4. Casse-Cou Chocolat
Yet another venture by the vegan culinary mogul Matthew Kenney, this plant-based chocolate company just launched in February. The intentionally curated, botanical-infused confections are all made in partnership with renowned chocolatier Sebastian Brecht. Treat your loved one (or yourself) and sample the brand new selection.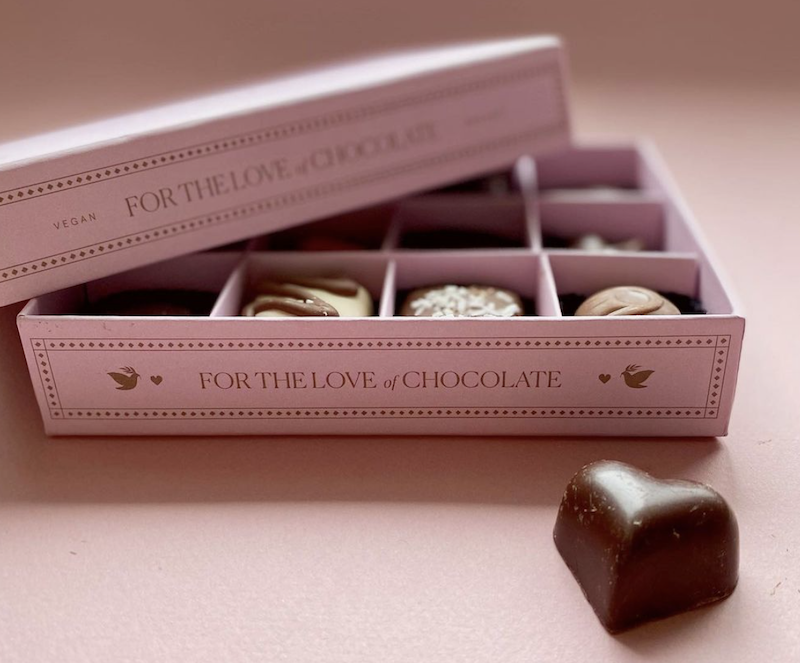 5. SJAAK's
Vegans can always rely on this plant-based chocolatier to churn out whimsical confections when any holiday rolls around. This year, the company is offering a huge array of chocolate boxes and heart-shaped sets for everyone you hold dear. Give something practical and delicious with the Assortment of Valentine's Hearts. Each reusable wooden crate is filled with five flavors of heart-shaped truffles (Raspberry, Lavender, Maple Sugar Caramel, Green Tea, and Lemon). For a tongue-in-cheek gift, the Melt My Heart box is just what you need.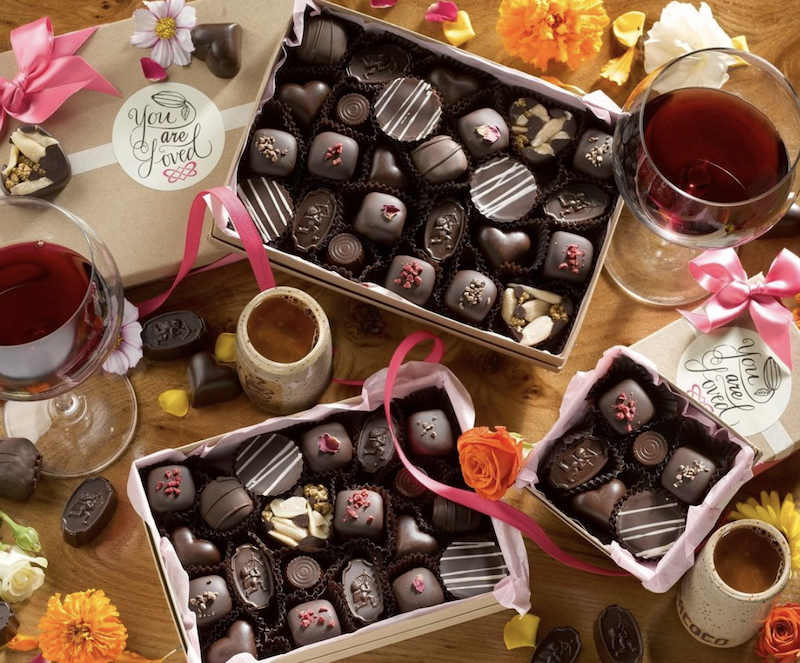 6. Coracao
Build your own box of vegan chocolate delights and get 15-percent off your custom creation. Choose from classic Peppermint Patties to Mulberry Cacao Nib Hearts to Almond Butter Cups and more. This option is ideal for those with food sensitivities as all options are peanut, gluten, cane sugar, and soy-free.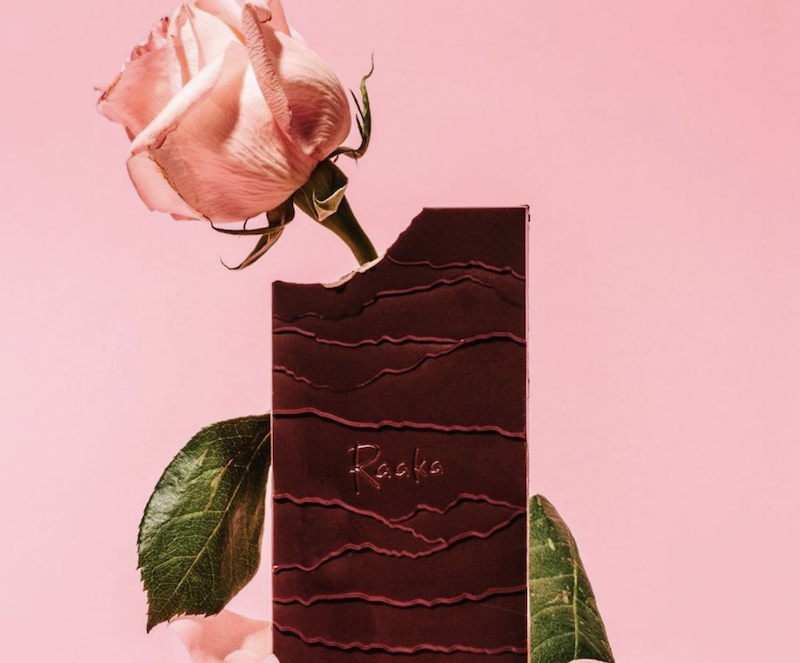 7. Raaka Chocolate
Why give eight tiny truffles when you can give eight full-sized chocolate bars? Raaka's Library Gift Box showcases the company's delicious range of products including flavors such as Bourbon Cask Aged, Oat Milk, Bananas Foster, and Green Tea Crunch. This box has a chocolate to match any sweet craving.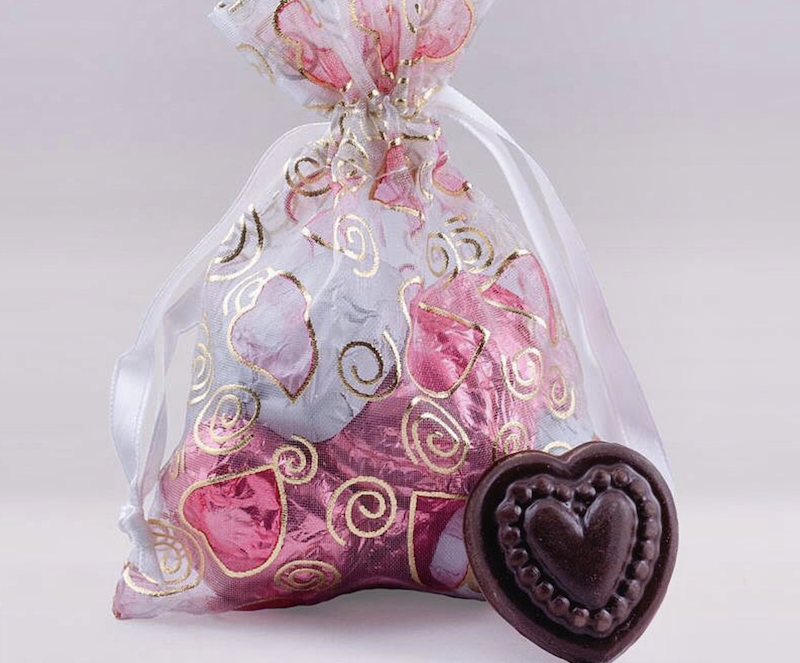 8. Amanda's Own Confections
Send some love to this Ohio vegan chocolatier by purchasing a bag of adorable Valentine's Day-themed confections. From the exquisitely decorated chocolate hearts to the picture-perfect present boxes, each piece melts in your mouth for a decadently pure chocolate experience.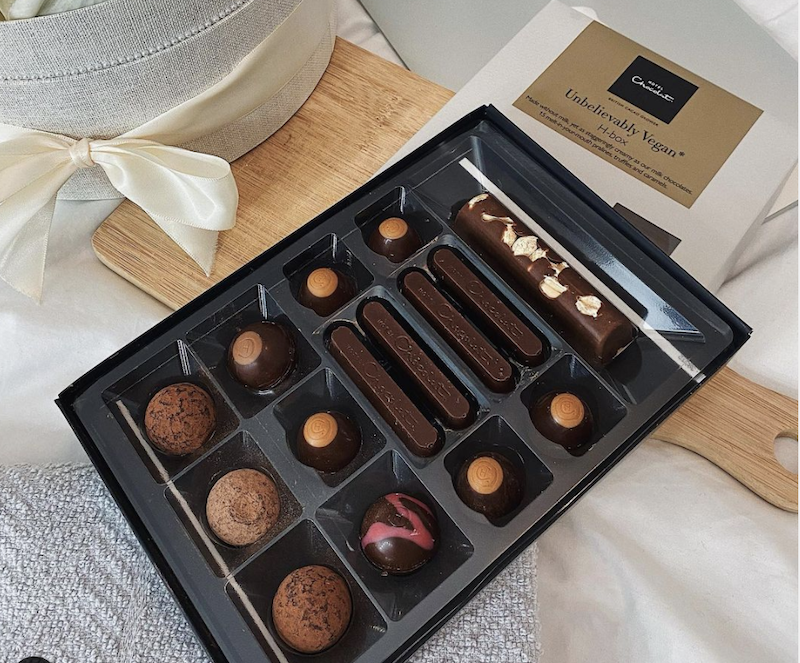 9. Hotel Chocolate
We will gladly pay for the extra shipping and currency exchange just for a taste of these UK-based chocolates. While the company offers smaller vegan treats such as dark chocolate hearts, we highly suggest going all-in with the All Dark Vegan Chocolate Hamper Collection. From the hefty Dark Chocolate & Cacao Nibs Slab to the dainty Dark Chocolate Ginger Puddles—this hamper has more than enough chocolaty goodies to share.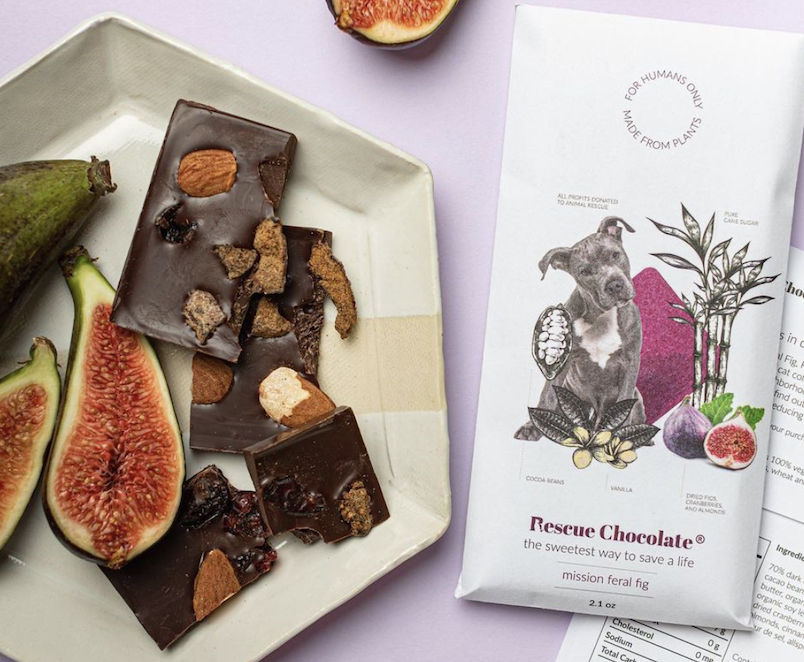 10. Rescue Chocolate
When you make a purchase from this non-profit chocolatier, you're doing more than saving yourself or your S.O. from unmet chocolate cravings—you're saving animals. A portion of the proceeds from each chocolate bar protect wild and domestic animals from mistreatment and abuse. Choose from four Valentine's-themed collections that include an assortment of best-selling bars—from Up & Up PBJ Pup to Foster-ific Peppermint.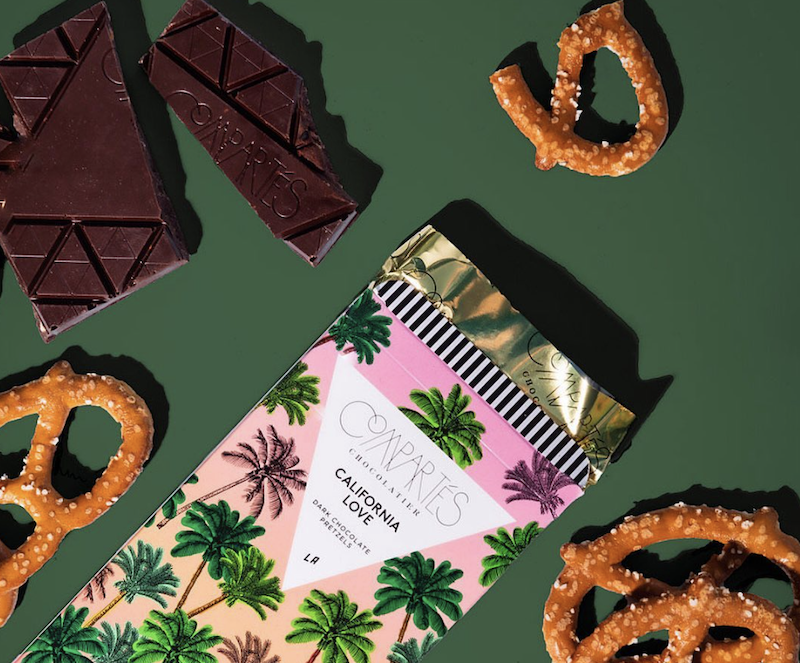 11. Compartes
These sleek chocolate boxes are the epitome of luxury. This sophisticated chocolate brand produces a number of divine vegan bars—such as Nightcap Whisky or Salted Pistachio—but we've got our eye on the gift sets. Choose from an assortment of Almond Butter-Filled Chocolates, Marzipan Dark Chocolates, or Hazelnut Praline Cream Chocolate Truffles to truly pamper your main squeeze.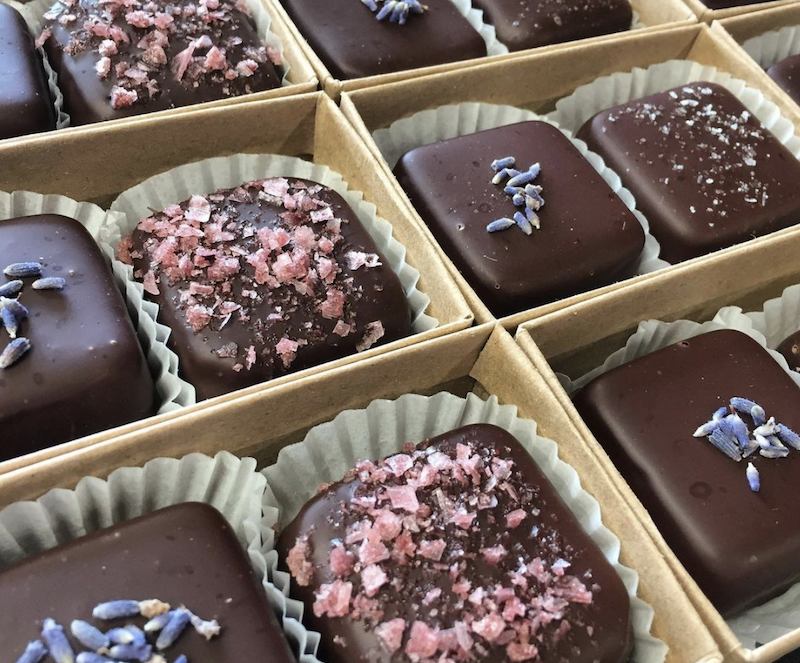 12. Missionary Chocolates
When plans go a bit haywire on your special day—dinner is burning, the power went out, and you're spending the night alone on the couch for the third year in a row—chill out with these CBD-infused truffles. If it's an especially taxing night, don't worry, they also come in Extra Strength. Not into CBD? Opt for a box of Missionary's dozens of CBD-free flavors from Elderberry to Simply Espresso.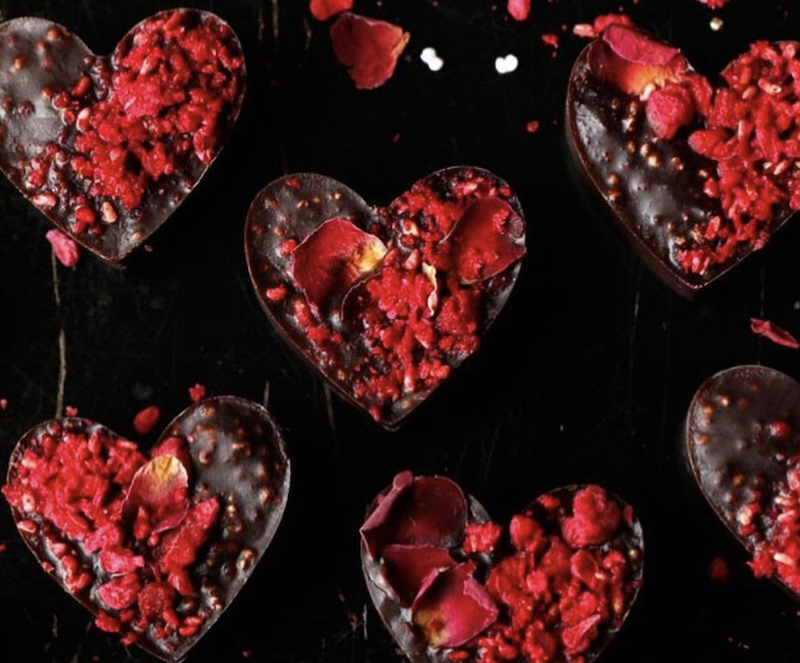 13. Amore Di Mona
Everyone gets giddy when presented with a large heart-shaped box of chocolates. It's one of those things we would never (or rarely) buy for ourselves yet is so appreciated when gifted. This generous assortment comes with 33 chocolate confections with flavors ranging from solid dark chocolate hearts to cherry truffles. On second thought, we might just buy one for ourselves.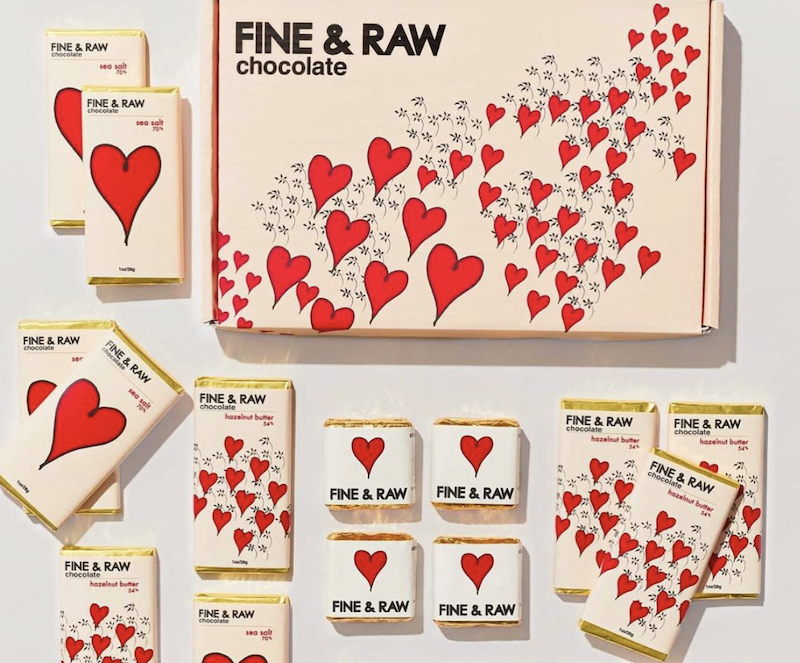 14. Fine & Raw Chocolate
How much do you love your person? If you're just starting out, a few one-ounce Valentine's Hazelnut Butter bars will do the trick. Mildly into it? The Bonbon Deluxe Gift Set shows you care without overly committing. However, if there's a ring on your partner's finger (or you're hoping to put one on it) the elaborate All Day I Dream of Chocolate set says it all. The collection includes enough chocolate to last an individual through next year (24-piece truffle box, eight full-sized bars, 16 two-ounce bars, and two jars of hazelnut butter). Sometimes, chocolate is all you need in life.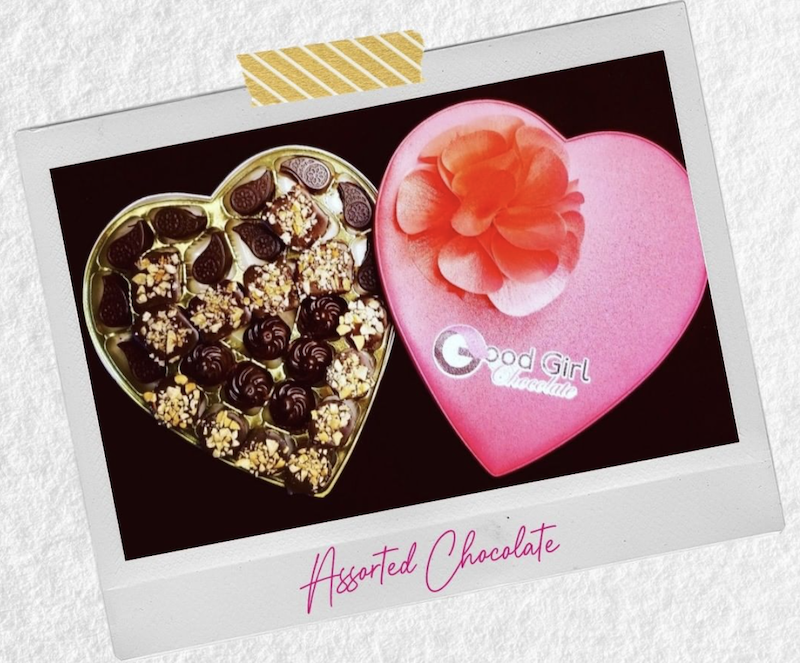 15. Good Girl Chocolate
This award show-worthy single origin chocolate was featured in last year's Grammys gift bag. Choose from two heart-shaped assortments (13-count or 29-count) that are filled with elegantly decorated Caramel Cakes, Fudge Cupcakes, Pecan Fudge pieces, and Cashew Caramels.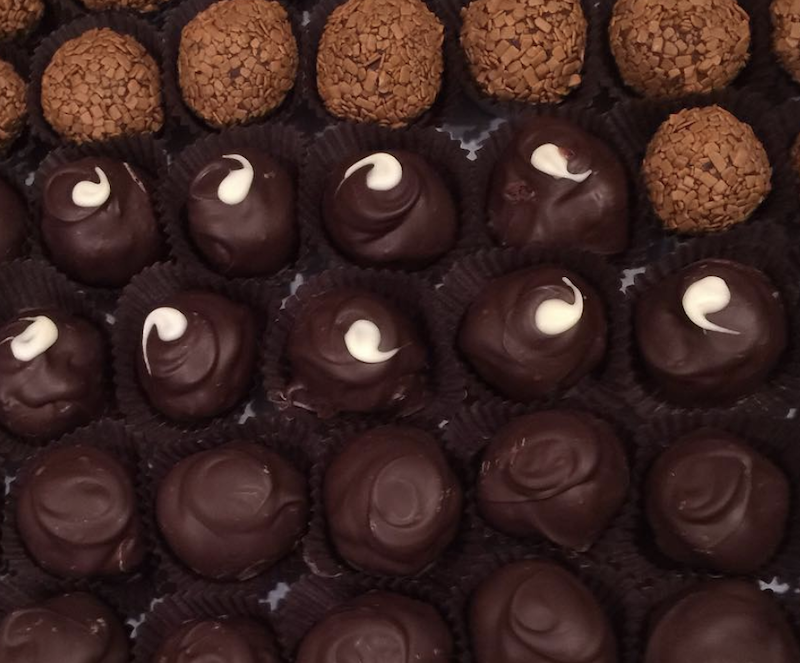 16. Harbor Candy Shop
While not exclusively vegan, this confectionary creates fantastic vegan truffles and other chocolatey delights. The $38 Favorite Vegan Sampler includes an array of exquisite truffles, nut clusters, chocolate-dipped dried fruit, marzipan, and more. Twenty percent of all Vegan Sampler sales go toward animal advocacy organizations, so go ahead and splurge on a box for yourself, too.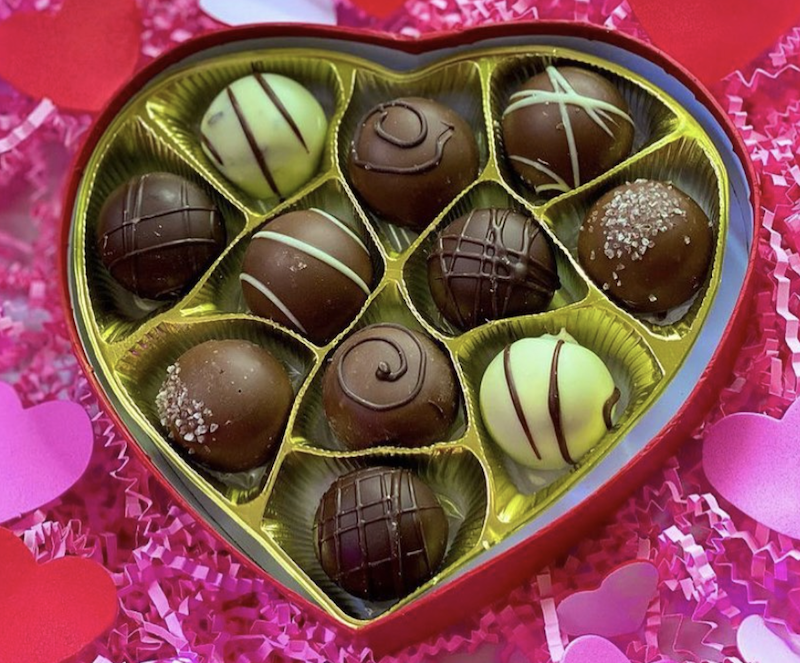 17. No Whey!
Find everything heart-shaped and chocolate-covered at this virtual vegan chocolatier. From 15-24 piece signature truffle collections to kid-friendly chocolate heart lollipops, you can find something sweet for everyone you love. We particularly love the new Cherries in Dark Chocolate heart box which includes individual chocolate-covered cherries that are perfect for snacking.
Tanya Flink is a Digital Editor at VegNews as well as a writer and runner living in Orange County, CA.