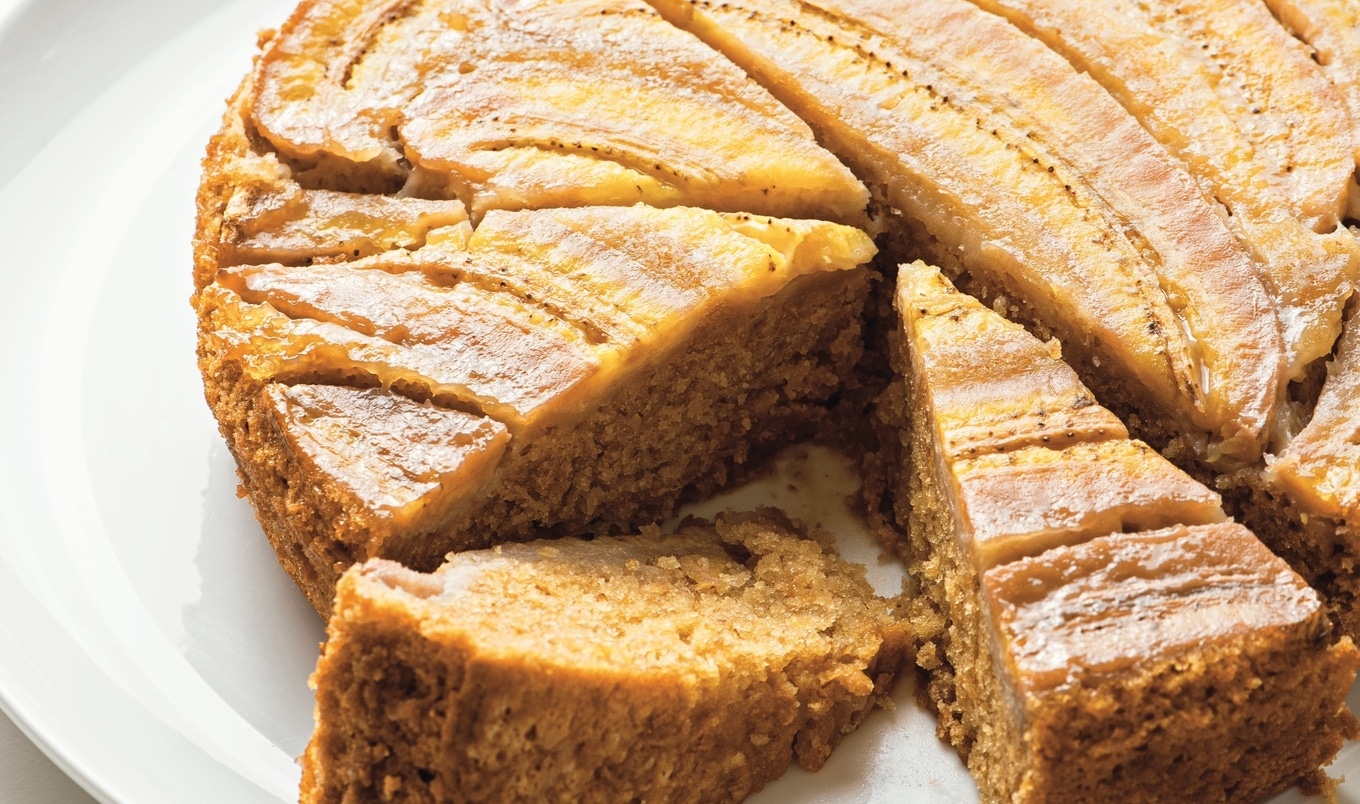 Under a layer of gooey, sweet caramelized bananas lies a soft, yogurt-infused vegan cake that makes for a culinary slice of heaven.
July 28, 2023
Make extra of this luxurious, sweet-and-salty caramel sauce from The Vegan ABCs Cookbook to drizzle over apples, ice cream sundaes, or to swirl into brownie batter.
What you need:
For the miso caramel sauce:
1 cup sugar
¼ cup cold water
½ cup reduced-fat unsweetened coconut milk
2 tablespoons white miso
2 teaspoons vegan butter

¼ teaspoon salt
For the banana cake:
2 tablespoons ground flaxseed
6 tablespoons water
¼ cup miso caramel sauce
3 ripe bananas, sliced lengthwise
1½ cups flour
1 teaspoon baking soda


1 teaspoon lemon zest
½ 
teaspoon salt
1 cup plain unsweetened vegan yogurt
1 cup sugar
½ cup sunflower oil


1 tablespoons lemon juice
2 teaspoons vanilla extract
What you do:
For the miso caramel sauce, into a small saucepan, add sugar and water and stir to combine. Turn heat to medium-low and cook, without stirring, only swirling pot occasionally, until mixture is bubbly and has turned a light amber color, about 8 to 10 minutes. Take pan off heat and set aside.
To a separate small saucepan, add coconut milk, miso, butter, and salt. Use a small silicone spatula to break up miso. Turn heat to low and whisk until mixture is completely smooth and warm.
Add miso mixture into sugar mixture and quickly whisk together. Cover and let cool.
Preheat oven to 350 degrees. Line a 9-inch springform pan or baking pan with parchment paper.
In a small mixing bowl, whisk flaxseed and water. Set aside for 5 minutes to thicken.
Into prepared pan, pour caramel sauce and use an offset spatula or back of a spoon to spread in a thin layer close to edges. Lay bananas on top of caramel, with flat sides facing down and rounded sides facing up, so when cake is flipped upside down, cut side will be facing up. Set aside.
Into a large mixing bowl, add flour, baking soda, zest, and salt. Add flax eggs, yogurt, sugar, sunflower oil, lemon juice, and vanilla. Mix, using a hand mixer on low, until batter is smooth.
Pour batter over bananas and place in oven. Bake for 60 to 75 minutes, or until top is golden brown and a toothpick comes out clean.
Let cake sit for at least 30 minutes. Carefully invert cake onto a serving platter and release springform pan or tap top to release cake. Remove parchment round. Cool completely before serving.
For more recipes like this, check out: