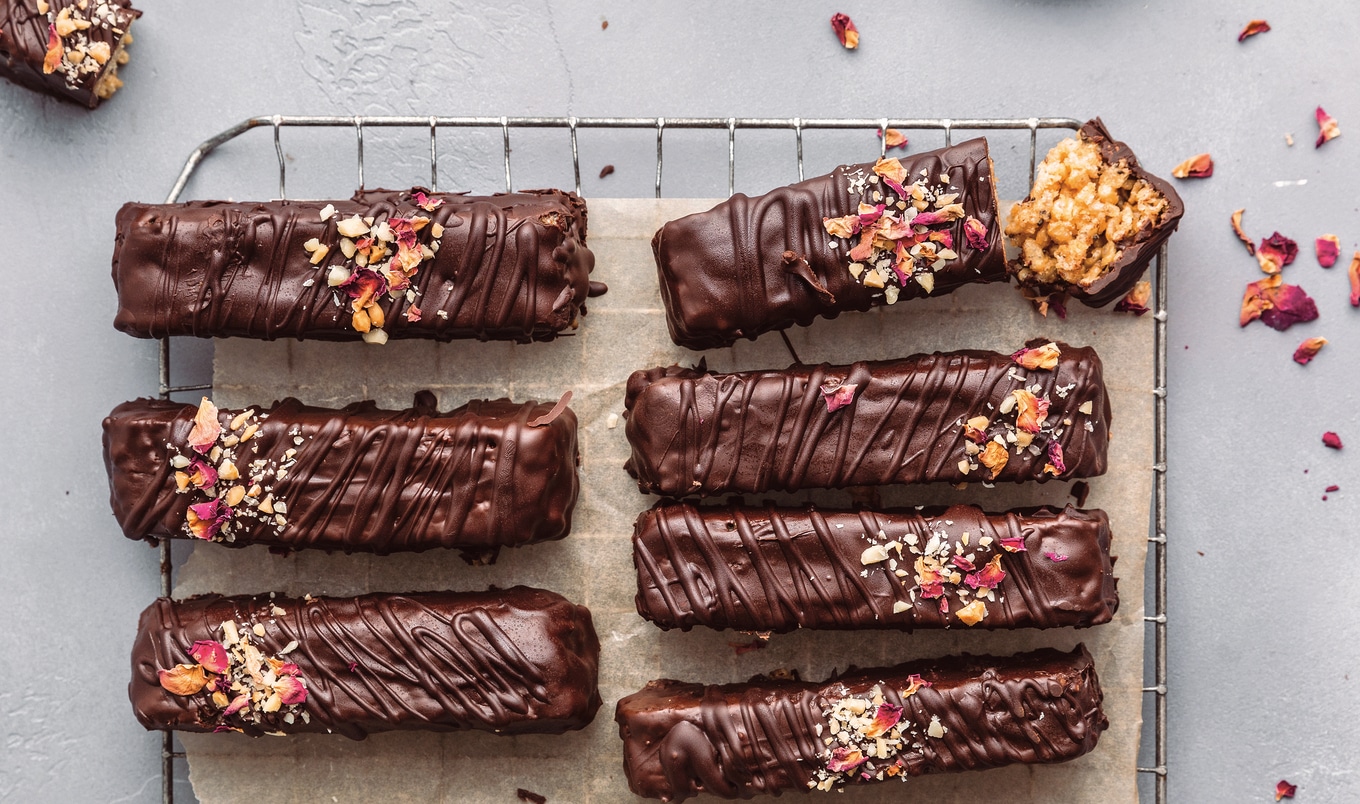 A light dusting of elegant, floral rose petals make these chocolate bars a perfect homemade gift to give around the holidays.
December 17, 2022
Crunchy, puffy rice cereal plus creamy peanut butter makes these bars from the Vegan Chocolate Treats cookbook a delightful cross between crunch bars and peanut butter cups. Swap in pecan or almond butter for a peanut-free take.
What you need:
3 cups rice cereal
1 tablespoon chia seeds
⅓ cup peanut butter
7 tablespoons maple syrup
3 tablespoons coconut oil
1 teaspoon vanilla extract
For the chocolate coating:
1 cup vegan chocolate chips
2 teaspoons coconut oil
Culinary-grade rose petals, crumbled, for topping
What you do:
Line an 8 x 8-inch pan with parchment paper, leaving a 1-inch overhang.
In a large mixing bowl, place cereal and chia seeds and set aside.
In a microwave-safe bowl, add peanut butter, maple syrup, coconut oil, and vanilla and microwave for 15 seconds, and then stir until smooth. Pour mixture into bowl with cereal and stir until all cereal is well coated. Press mixture into bottom of pan and pack down tightly. Place pan in refrigerator and chill for 30 minutes.
Remove pan from refrigerator, use parchment overhang to remove block of bars from pan, and cut into 10 evenly sized bars. Place in freezer.
For the coating, in a microwave-safe bowl, melt chocolate and coconut oil in 15-second increments, stirring in between, until smooth. Cover rice bars completely in chocolate and chill in freezer until solid, 10 to 15 minutes. Sprinkle with rose petals before serving.