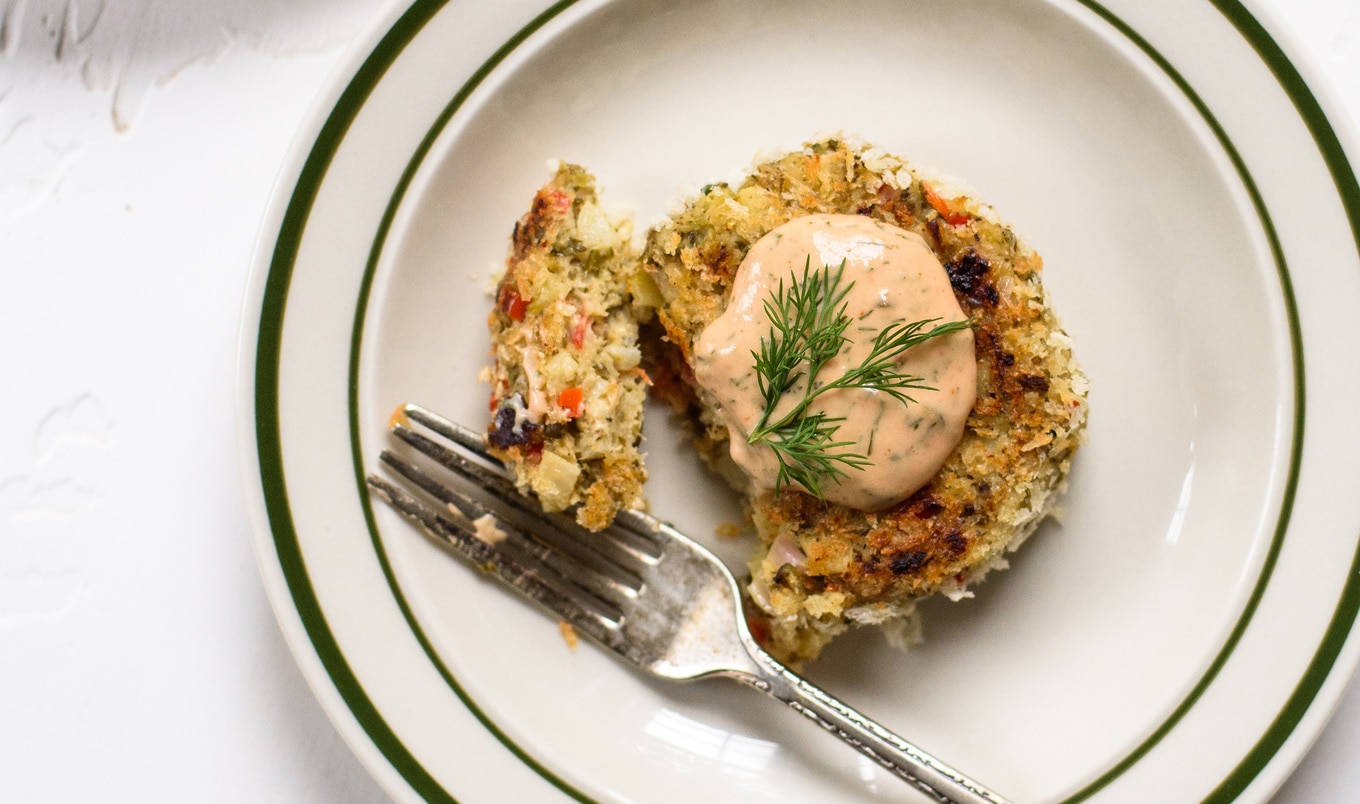 Light, crispy, and oh so flavorful, these jackfruit-based crab cakes are sure to be a hit at your next dinner party.
June 4, 2022
Serve these flavorful patties from the Compassionate Cuisine cookbook with savory Caesar salad for an elegant and impressive date night meal.
What you need:
For the sauce:
1 cup vegan mayonnaise
¼ cup finely chopped shallots
2 tablespoons finely chopped fresh parsley
2 tablespoons chopped capers
2 tablespoons ketchup
2 teaspoons Dijon mustard
2 teaspoons lemon juice
1 teaspoon vegan Worcestershire sauce
½ teaspoon paprika
½ teaspoon minced garlic
¼ teaspoon black pepper
⅛ teaspoon cayenne
⅛ teaspoon salt

For the crab cakes:
1½ cups breadcrumbs
¼ cup plus 1 tablespoon vegan mayonnaise
2 tablespoons capers, rinsed and chopped
2 tablespoons lemon juice
2 teaspoons kelp flakes
1 tablespoon yellow mustard
1 teaspoon Old Bay seasoning
½ teaspoon salt
⅛ teaspoon black pepper
⅛ teaspoon cayenne pepper
1 (20-ounce) can of jackfruit, in brine, drained and chopped
½ cup finely chopped red bell pepper
1 cup finely chopped celery
¼ cup minced fresh parsley
1 large shallot, minced
3 tablespoons olive oil
What you do:
For the sauce, in a small bowl whisk all ingredients. Refrigerate until ready to serve.
For the crab cakes, in a shallow dish place ¾ cup breadcrumbs and set aside. In a medium bowl, add mayonnaise, capers, lemon juice, kelp flakes, mustard, Old Bay seasoning, salt, pepper, and cayenne, and stir. Add jackfruit, bell pepper, celery, parsley, shallots, remaining ¾ cup of breadcrumbs, and stir to combine. Let stand for 10 minutes to allow breadcrumbs to bind everything together.
Gently shape into four patties, about 3 inches wide and ½ inch thick. Coat patties in breadcrumbs. In a large skillet over medium heat, warm oil. Fry cakes until golden brown and crisp, about 3 minutes per side. Serve immediately with a dollop of remoulade sauce on top.
Photo credit: Linda Soper-Kolton and Sara Boan