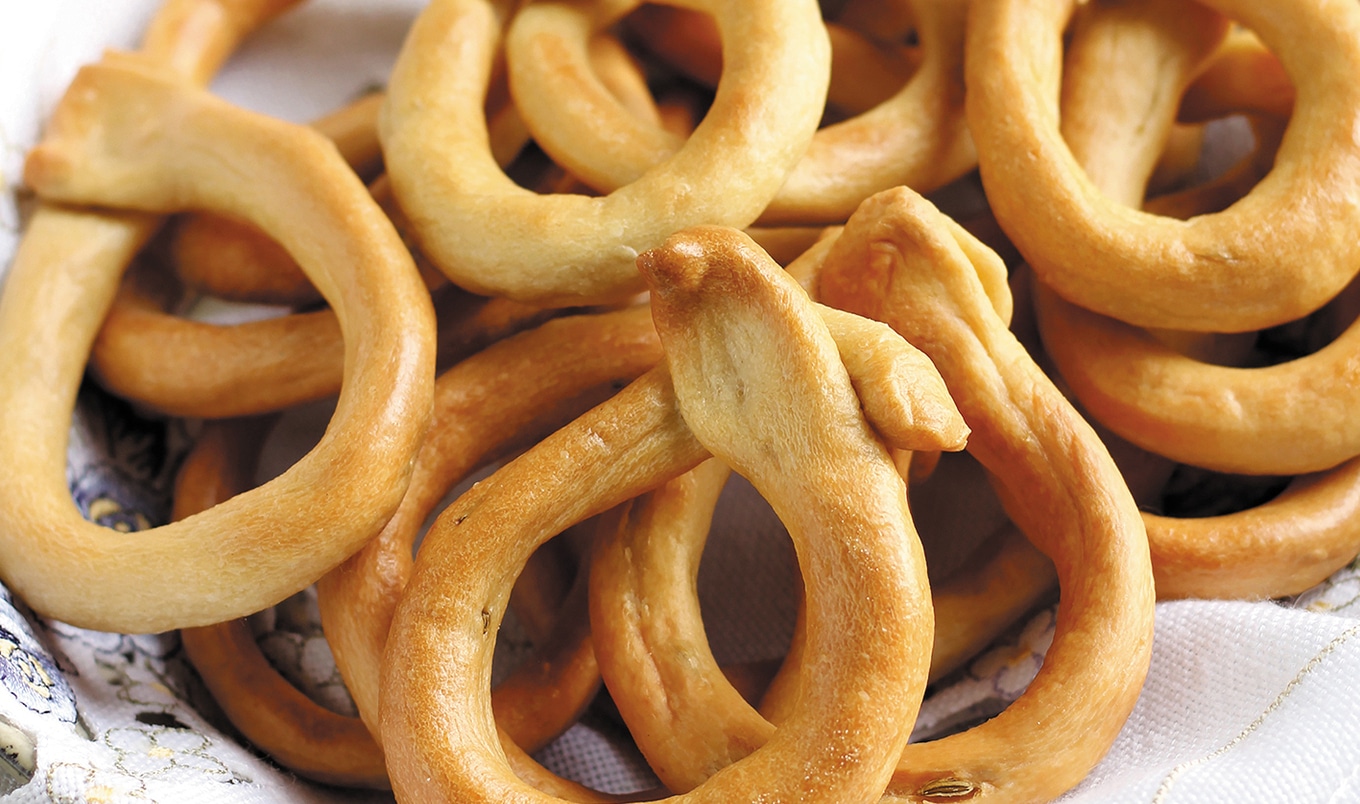 There are multiple versions of these crunchy, crackery Italian snacks, but this plant-based version really packs a crunch.
July 26, 2023
You will need a pasta machine to roll the dough for these classic ring-shaped Italian snacks from the A Vegan Summer in Southern Italy cookbook, but it's well worth the effort. They're baked to perfection with a delicate, fragrant scent from fennel seeds.
What you need:
¼ teaspoon dried yeast
3 cups flour
2 teaspoons salt
1 to 2 tablespoons fennel seeds
⅓ cup olive oil
What you do:
In a small bowl, dissolve yeast in ¼ cup of warm water.
In a large bowl, combine flour, salt, and fennel seeds. In another bowl, combine ½ to ¾ cup water and oil. Pour water and oil mixture into flour along with liquid yeast, a little at a time. Stir until a dough is formed. If dough is too dry, add a dash more water. If too wet, add a dash more flour. Dough should be soft, but not sticky. Turn onto a floured surface and knead for 10 minutes until smooth.
Roll dough into a large log and slice width wise. Flatten each piece with your hand. Sprinkle with flour and pass through a pasta machine three to four times on widest setting.
Stack sheets of dough on top of each other, press down and compress with hands. This will result in less air pockets. Form into a large log.
Slice off small pieces of dough and roll into 7-inch ropes about width of a pencil. Form into a ring shape. Pinch ends together. Repeat with remaining dough, making even in size. Place on a clean towel.
Preheat oven to 350 degrees. Heat a large pot of water to a boil. Drop in taralli in batches. Once they rise to surface, remove and place on a cloth or towel to dry.
Transfer to a baking tray, being careful not to overcrowd. Bake for 30 to 40 minutes, removing once golden brown to brown.
For more recipes like this, check out:
Here at VegNews, we live and breathe the vegan lifestyle, and only recommend products we feel make our lives amazing. Occasionally, articles may include shopping links where we might earn a small commission. In no way does this effect the editorial integrity of VegNews.