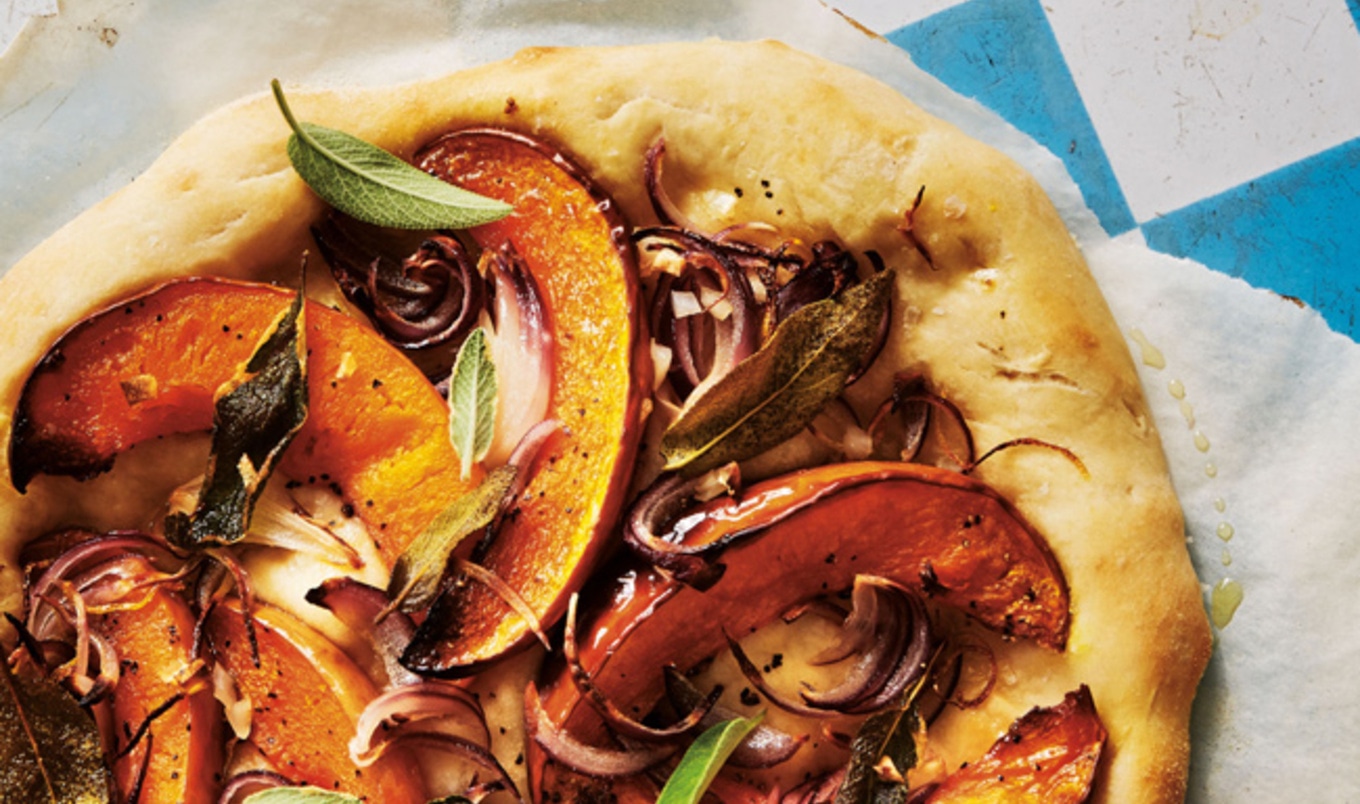 In this tantalizing dish, traditional Italian flavors meet the warm and earthy notes of autumn, resulting in a mouthwatering creation that's sure to delight your senses.
October 8, 2023
Imagine a petite, perfectly crisp pizza crust, lovingly topped with roasted pumpkin slices, caramelized red onion, and aromatic sage leaves. Each bite is a harmonious symphony of textures and tastes, blending the natural sweetness of pumpkin with the savory allure of roasted onions and the fragrant essence of sage.
What you need:
For the dough:
1¾ cups white bread flour
1 teaspoon salt
1 teaspoon active dry yeast
1 teaspoon sugar
1 cup lukewarm water
1 tablespoon olive oil, plus more for oiling
Fine semolina, for dusting
For the topping:
18 ounces pumpkin, seeded and sliced into crescents
1½ teaspoons salt
4 tablespoons olive oil, plus more for drizzling
1 red onion, sliced
2 garlic cloves, minced
Handful of sage leaves
Grated zest of 1 lemon
What you do:
1. Preheat oven to 400 degrees. Into oven, place a large baking sheet to heat up.
2. Into a large bowl, place flour and salt. In a pitcher, mix yeast, sugar, and water, and let bubble for about 5 minutes. Pour yeast mixture into flour mixture and add olive oil.
3. Mix, then knead dough on work surface until smooth (you may also use a food processor up to this stage, if you prefer). Return dough to bowl, cover, and let rest in a warm place for 1 hour.
4. On a rimmed baking sheet, toss pumpkin slices and salt in olive oil. Roast for 15 to 20 minutes, or until soft and caramelized around edges, then add red onion and garlic and roast for another 10 minutes.
5. Transfer risen dough onto an oiled surface, cut into two pieces, and roll each into a circle. Dust two pieces of parchment paper with semolina and place a dough circle on each. Arrange pumpkin and onion over pizzette, scatter on sage leaves, and drizzle with olive oil.
6. Slide pizzettes onto parchment paper and then onto hot baking sheet in oven. Bake for 10 to 12 minutes. Remove from oven and sprinkle with lemon zest.
For more recipes like this, check out: