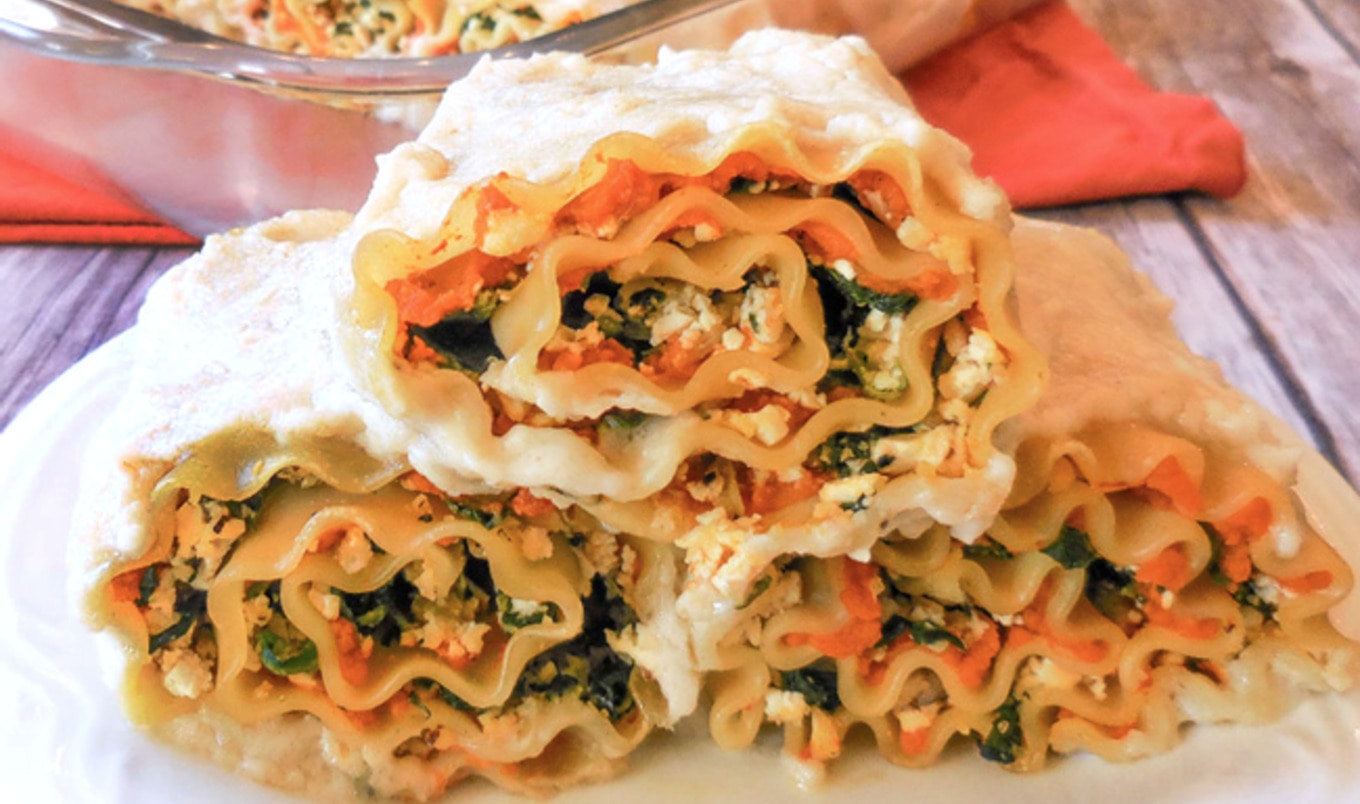 Whether it's a holiday potluck or a cozy night at home, this seasonal, savory crowd-pleaser is sure to be a hit at your next gathering!
October 18, 2017
If it's fall, that can mean only one thing, and that thing is pumpkin-flavored everything. However, after countless PSLs, sometimes we want to enjoy our autumnal squash in new, exciting ways, which is why we've created these delectable pumpkin lasagna rollups. Traditional lasagna noodles are layered with naturally sweet pumpkin and a robust tofu spinach ricotta, and then rolled into perfectly sized portions. Rich and creamy vegan bechamel sauce adds a decadent touch. Indulge and enjoy!
Serves 6
What you need:
For the tofu-spinach ricotta:
1½ teaspoons olive oil
⅓ cup chopped shallots
1 (15-ounce) block extra-firm tofu, drained
2 tablespoons lemon juice
2 teaspoons sea salt
1½ teaspoons ground black pepper
1 (12-ounce) package frozen chopped spinach, thawed and drained
For the béchamel sauce:
4 tablespoons vegan butter
4 tablespoons all-purpose flour
1 teaspoon onion powder
1 teaspoon garlic powder
½ teaspoon sea salt
2 cups unsweetened almond milk, room temperature
For the rollups:
12 uncooked lasagna noodles
1 tablespoon olive oil
1 (15-ounce) can pumpkin purée
What you do:
1. For the tofu spinach ricotta, into a medium-sized skillet, heat oil over medium-high heat. Add shallots and cook 3 minutes, until softened.
2. Into a food processor (or blender), add sautéed shallots, tofu, lemon juice, sea salt, and pepper. Pulse until combined. Stir in chopped spinach and set aside.
3. For the bechamel sauce, into a medium-sized saucepan over medium heat, add butter. When butter is melted, whisk in flour to form a roux. Add onion powder, garlic powder, and sea salt. Gradually add almond milk, ½ cup at a time, whisking thoroughly after each addition.
4. Reduce heat to low and simmer 10 minutes, whisking occasionally, until slightly thickened. Remove from heat. Sauce will thicken further as it cools.
5. For the rollups, preheat oven to 350°. Cook noodles according to package directions, adding olive oil to the cooking water. Drain and lay noodles flat to cool, patting with a paper towel to remove excess water.
6. Over each lasagna noodle, spread 1 tablespoon pumpkin purée. Over each pumpkin-covered noodle, layer 3 tablespoons tofu spinach ricotta.
7. Spread ¼ cup bechamel sauce in bottom of baking dish.
8. Beginning from a narrow end, roll each lasagna noodle into a pinwheel shape. Place seam-side down in a prepared 9"x13" baking dish. Pour remaining bechamel sauce in an even layer over the rollups.
9. Bake 30 minutes. Allow to sit at room temperature 10 minutes before serving warm.