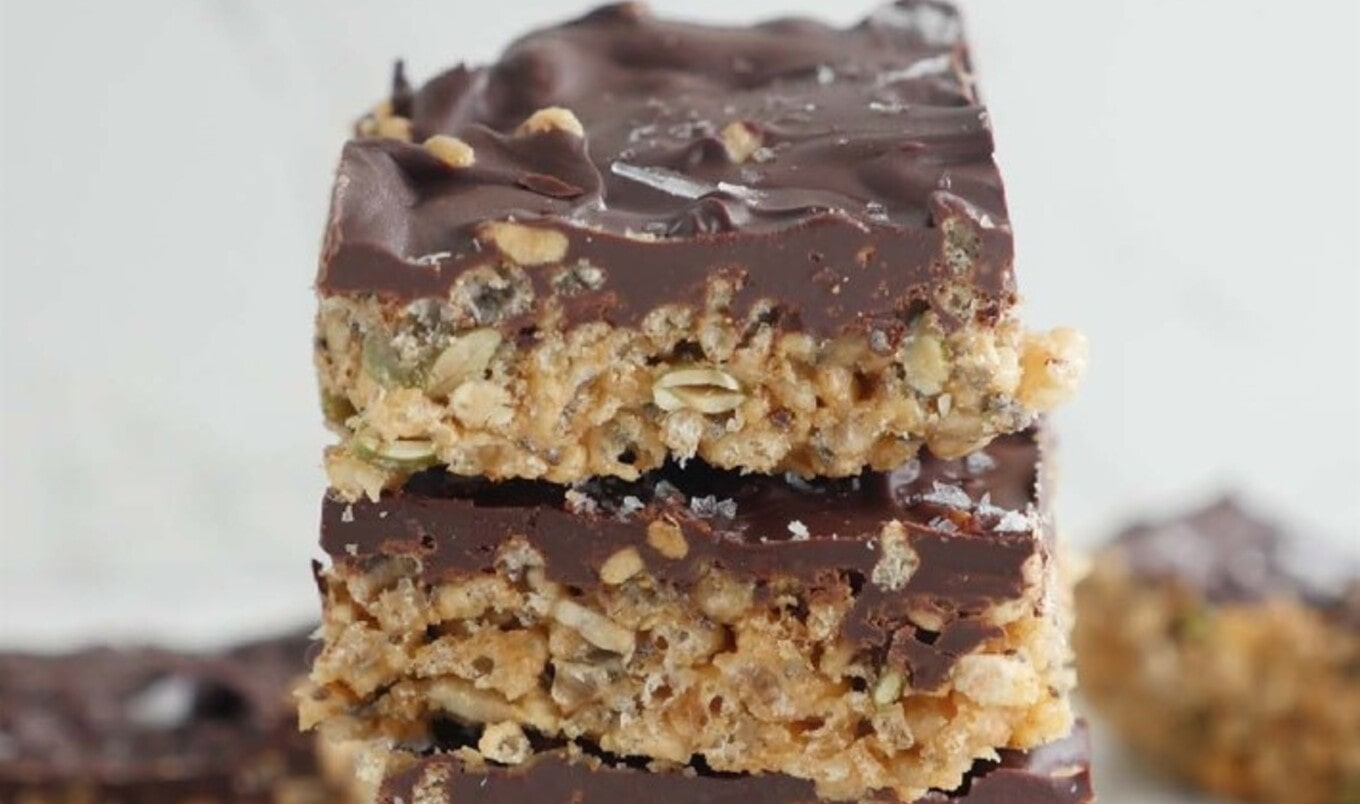 This plant-based take on the classic treat packs the same sweetness and crispiness, but without the marshmallows, butter, or refined sugar.
December 13, 2022
The pumpkin, sunflower, and chia seeds in these crispy rice treats from the Mostly Plant-Based cookbook, not only add to these bars crunch factor, but also provide a boost of plant protein and good fats.
What you need:
2½ cups puffed brown rice cereal
¼ cup pepitas
¼ cup shelled sunflower seeds
2 tablespoons chia seeds
¼ cup plus 1 tablespoon coconut oil, melted, divided
¼ cup maple syrup
¼ cup creamy cashew butter, or nut butter of choice
1 teaspoon vanilla extract
1 cup dark chocolate chips
Flaky salt, for topping
What you do:
Line an 8-inch square baking pan with parchment paper with ends overhanging for easy removal of bars.
In a large bowl, combine puffed brown rice, pepitas, sunflower seeds, and chia seeds.
In a small saucepan, heat ¼ cup of oil, maple syrup, cashew butter, and vanilla over medium heat, stirring frequently, until combined and liquid, 45 to 60 seconds. Pour wet ingredients over dry and use a rubber spatula to mix, ensuring cereal is evenly coated.
Into prepared pan, pour mixture and use a spatula to spread in an even layer. Press down firmly.
In a microwave-safe bowl, place chocolate chips and remaining 1 tablespoon of oil, and microwave on high in 30-second increments, stirring after each increment, until melted, about 90 seconds total. Pour over brown rice mixture to coat and smooth into an even layer. Top with flaky salt.
Place in freezer to set for 30 minutes. Once set, remove from pan and cut into squares. Store in a sealed container in refrigerator for up to a week or in freezer for up to a month. Let frozen bars sit out for 10 to 15 minutes before consuming.