Over a dozen brands of vegan chicken nuggets, tenders, and wings can be found on supermarket shelves, but until recently, this common freezer food was harder to find while dining out. Beyond Meat is changing that. Last week, it announced a mass distribution of its new Beyond Chicken Tenders to over 400 food service locations nationwide. We're not listing all of them—we need time to go out and try them for ourselves, but we did want to give a shout out to the most popular chain and independent restaurants carrying the latest meaty product from Beyond Meat. Pull up Google Maps to find the restaurant nearest you.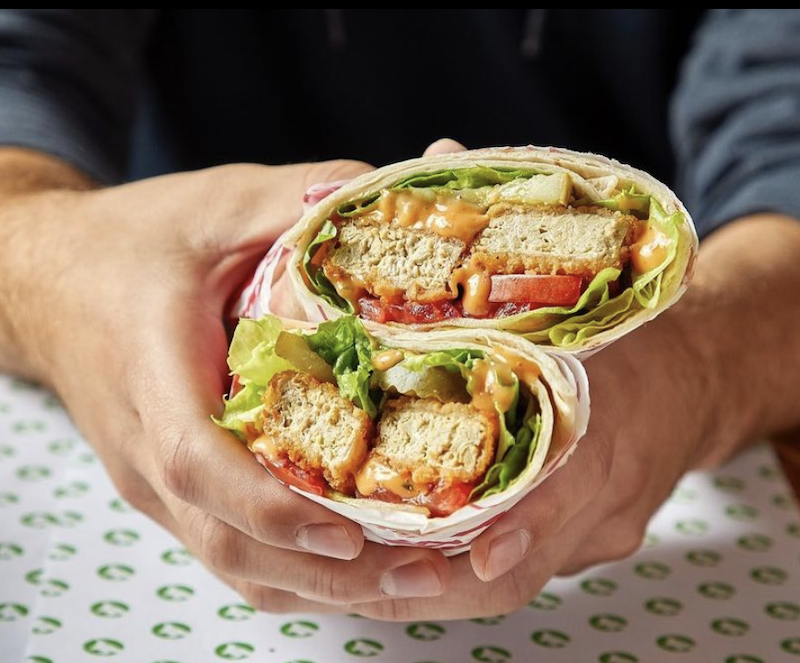 Epic Burger
Epic Burger
This Chicago burger chain already has a vegan Beyond Burger on offer, so it's only natural to add the new chicken tenders to the menu. Ask for some vegan mayo for dipping and finish the meal with a dairy-free Lemon Ice dessert.
Find it here
Dog Haus
Ignore the name—this chain serves far more than just hot dogs. When ordering in-store or online, focus your gaze on the Plant-Based menu to find the Beyond Chicken. Pair your crispy tenders with tots, sweet potato fries, or regular fries and a vegan-friendly craft beer.
Find it here
Fire Wings
This chicken chain was far from vegan-friendly until its partnership with Beyond Meat. Now, heat-seeking vegans can accompany their wing-loving friends to enjoy a meal of wings, beer, and appetizers. Note: ask your server about the sauce ingredients as some contain dairy or honey.
Find it here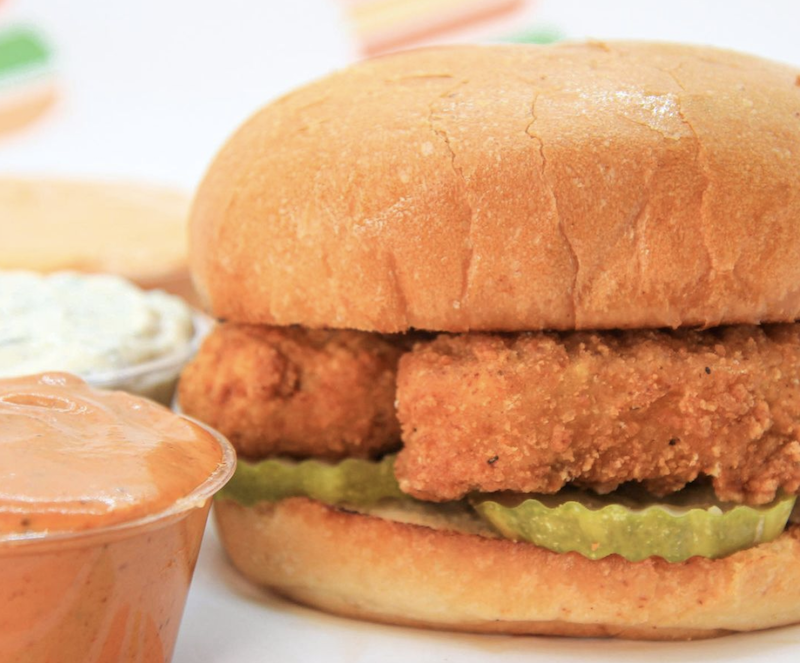 Burger Patch
Burger Patch
Sacramento and Davis, CA residents were the first to try the Beyond Chicken. This vegan microchain wasted no time in rolling out the novel product by debuting three new menu items. Choose from the Beyond Spicy or the Beyond Crispy chicken sandwiches or savor the chicken as-is with the Ultimate Trio, which includes three tenders and your choice of plant-based dipping sauce.
Find it here
Flyrite Chicken Sandwiches
We love it when a menu is clearly labeled with vegan options. Easily navigate the Flyrite menu by searching for the (V). Order your tenders with tots, kale slaw, or a fruit cup to round out the meal.
Find it here
Melt Bar and Grilled
Those who love an eccentric bar and restaurant, look no further. Ask for the vegan menu and order up a mountainous Sensational Vegan Cowboy Salad, fried pickles with vegan ranch, or a vegan Firecracker Chicken grilled cheese stuffed with Beyond Chicken Tenders. You may have to visit a few times—the vegan menu is huge.
Find it here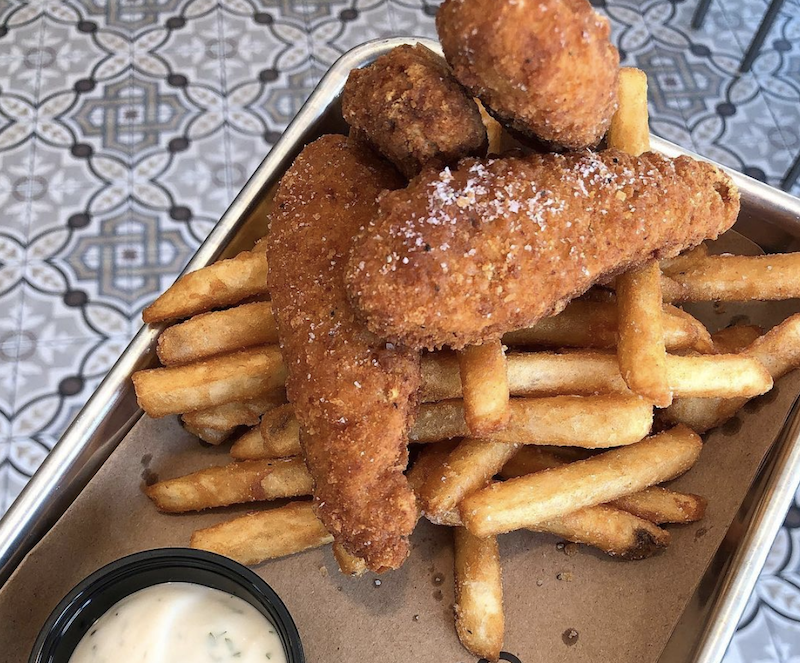 Duke's on 7
Duke's on 7
We love a good neighborhood spot with a thoughtful vegan menu. In addition to the plant-based buffalo cauliflower, black bean burger, and Korean barbecue bowl, vegan patrons can nosh on a basket of Beyond Chicken Tenders and fries served with vegan ranch at this cool Minnetonka, MN eatery.
Find it here
Toppers Pizza
Thanks to this new partnership, Toppers Pizza chain is finally rolling out vegan-friendly options. The six-item specialty menu includes Beyond Chicken Tenders with choice of Dippin Sauce (the marinara and dairy-free ranch are vegan-friendly), Veganstix (cheesy bread), and a Vegan Buffalo Chicken-less pizza complete with Daiya mozzarella, Beyond Chicken pieces, green onions, and a drizzle of dairy-free ranch. Note: some items on the plant-based menu are vegetarian but can be modified for vegans.
Find it here
Nuno's Tacos & Vegmex Grill
First thing to know about Nuno's: it does way more than tacos. As part of a limited-time engagement, the Dallas restaurant is offering Beyond Chicken Tenders in every which way—from a simple basket of tenders to tender-topped buffalo chicken pizza, tender-stuffed Fritos sandwiches, and of course, a tender taco plate.
Find it here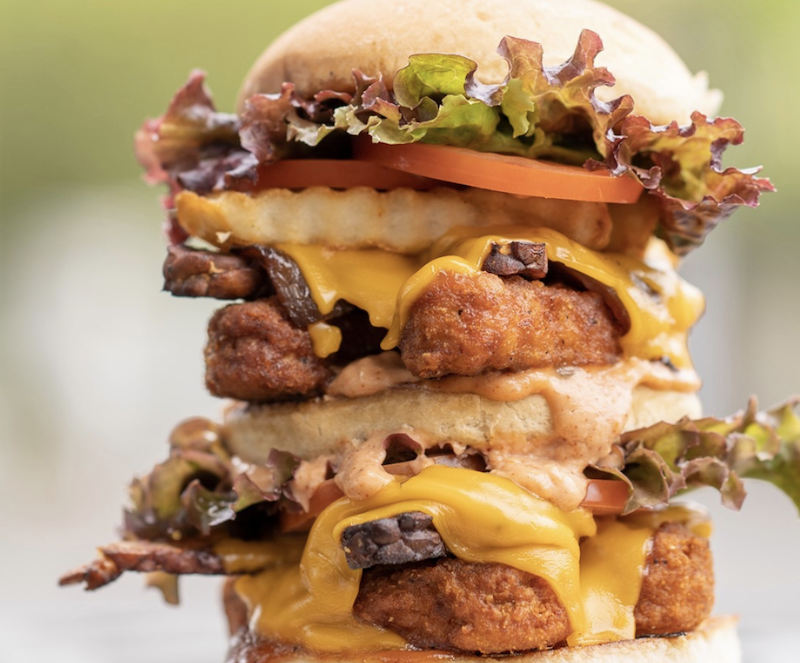 Next Level Burger
Next Level Burger
Despite this bi-coastal vegan burger chain having a chicken-chain spinoff (Next Level Clucker), the Beyond Chicken Tenders are debuting as a part of the Next Level Burger menu. Patrons can order the new product in the form of a monstrous triple decker burger: the Beyond Chicken Animal Burger. The knife-and-fork handhold is layered with four Beyond Meat Tenders, tempeh bacon, grilled onions, cheese, special sauce, barbecue sauce, lettuce, tomato, and crinkle-cut fries (yes, the fries are in the burger). Order fast—this is a limited-time offer.
Find it here
Plant-Based Pizzeria
When in Atlanta, the go-to vegan pizza spot is the Plant-Based Pizzeria. For a limited time, you can pair a basket of Beyond Chicken Tenders with your pie. Get them at both the Sandy Springs and Midtown locations while they last!
Find it here
Stanley's Northeast Bar Room
This cool Minneapolis hang has so many vegan options! It's a challenge to choose from the tofu-topped Phuket Bowl or the Vegan Reuben, but whatever you do, save room for the Beyond Chicken Tenders.
Find it here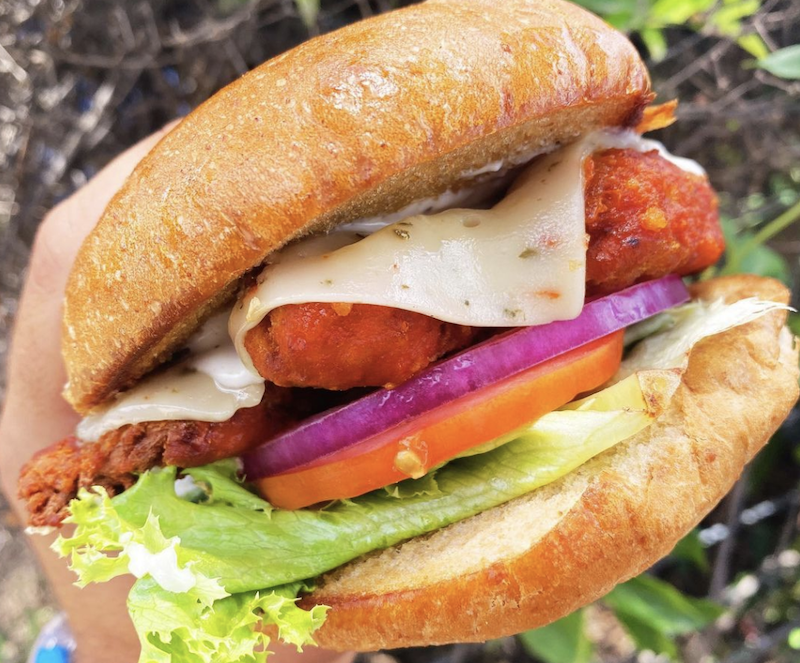 Plow Burger
Plow Burger
Austin residents, rejoice. Switch up your typical plant-based burger order and get your hands on the Ultimate Beyond Chicken Sandwich made with tenders, vegan ranch, lettuce, tomato, red onion, and melted pepper jack cheese. Note: it's only available until July 19!
Find it here
Sarpino's Pizzeria
If you've noticed a trend of burger joints, pizza places, and independently owned pubs, you've nailed it. Sarpino's is yet another regional pizza chain expanding it's plant-based options with the addition of Beyond Chicken Tenders. With locations spanning from Minnesota all the way down to Florida, there's a good chance you could find one near you. Add a side of tenders to your Vegan Mediterranean, White, or Italiano pizza.
Find it here
Verdine
Attention, Houston: if you haven't had the chance to check out this new restaurant, now is the time. In addition to its excellent (and extensive) vegan food and drink menu, the hotspot now offers a Crispy Chikn' Caesar Wrap stuffed with Beyond Chicken Tenders and caesar dressing-tossed greens inside a spinach tortilla. Get it while you can—it won't be a special for long.
Find it here
Find the nearest restaurant serving Beyond Chicken Tenders by inputting your zip code here.
For more Beyond Meat launches, read:
Panda Express Sells 1,300 Pounds of Vegan Orange Chicken in One Day
Vegan Beyond Meat's Chicken Tenders Are Coming to 400 Restaurants
McDonald's and Beyond Meat Sign 3-Year Deal to Launch Plant-Based Options