Gone are the days when you had to remember to stockpile vegan snacks in your carry-on for every trip. The plant-based movement has penetrated the world of airline food service, which up until recently was notorious for less-than-delectable meals and a depressing lack of vegan options. These days, vegans can look forward to more than just the snack options—for longer flights, completely vegan meals are available when you call ahead Bonus: many airlines will serve these "special meals" first, which means you could be halfway through your salad before your seatmate is served his questionable-looking "steak" with "gravy." Specific meal options are always subject to change—particularly when dealing with supply chain issues—but here are a few airlines you can rely on to provide plant-based sustenance during your travels.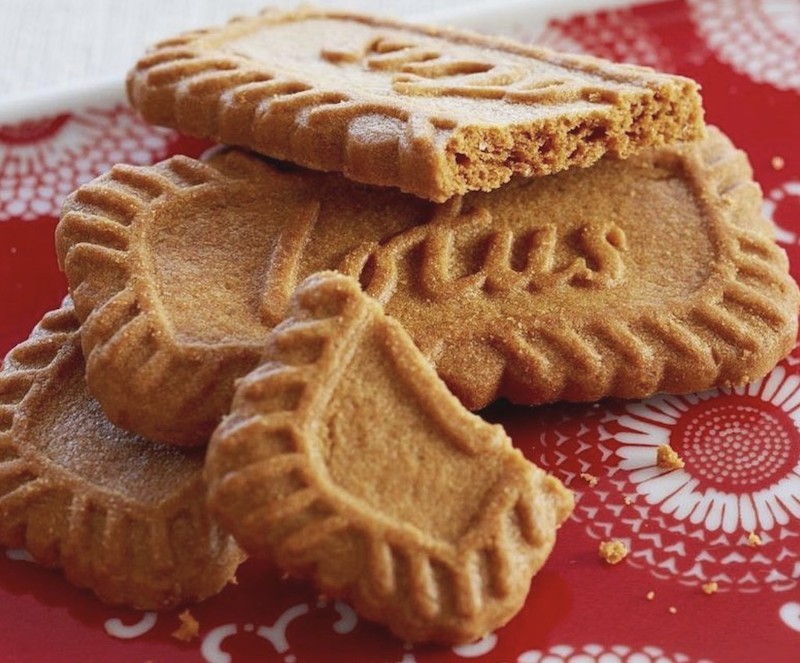 BIscoff US
US domestic vegan snack options
If you're flying domestic within the US, you may not require a full meal, but a snack is always a welcome distraction on a flight lasting more than 90 minutes. Those who've flown in the past three years, you've likely realized that salted peanuts are no longer available. In fact, most airlines banned them around 2018 and 2019 due to the risk they pose to passengers with severe peanut allergies. While those without this particular food allergy sorely miss those roasted, salty snacks, many airlines have replaced the peanuts with something better (and no, it's not hard pretzels, though those are pretty universal, too). We're talking Biscoff cookies. These accidentally vegan crunchy cookies are served on Delta and American Airlines flights. United used to carry Biscoff treats but replaced them with Oreo Thins, which were short-lived. As of spring 2022, the only complimentary vegan snack offered on United is GourmetNut Mega Trail Mix, though the Recline Snack Box can be purchased for $8. The latter is complete with hard pretzels, red licorice, Oreos, and LesserEvil popcorn. Those flying Jet Blue can look forward to munching on 88 Acres Seed Bar Things and PopCorners Popcorn Chips along with a black cup of Dunkin' coffee—sorry, no soy milk yet. The information on available snacks is limited for other US airlines, but unless you're flying Spirit, there should be some type of popcorn, nut, or chip option that's vegan-friendly. Those unwilling to leave their snack cravings to chance should pack their own food—unless it's a liquid or something quasi-liquid like hummus, you can get almost any food item through security.
7 best airlines for vegan food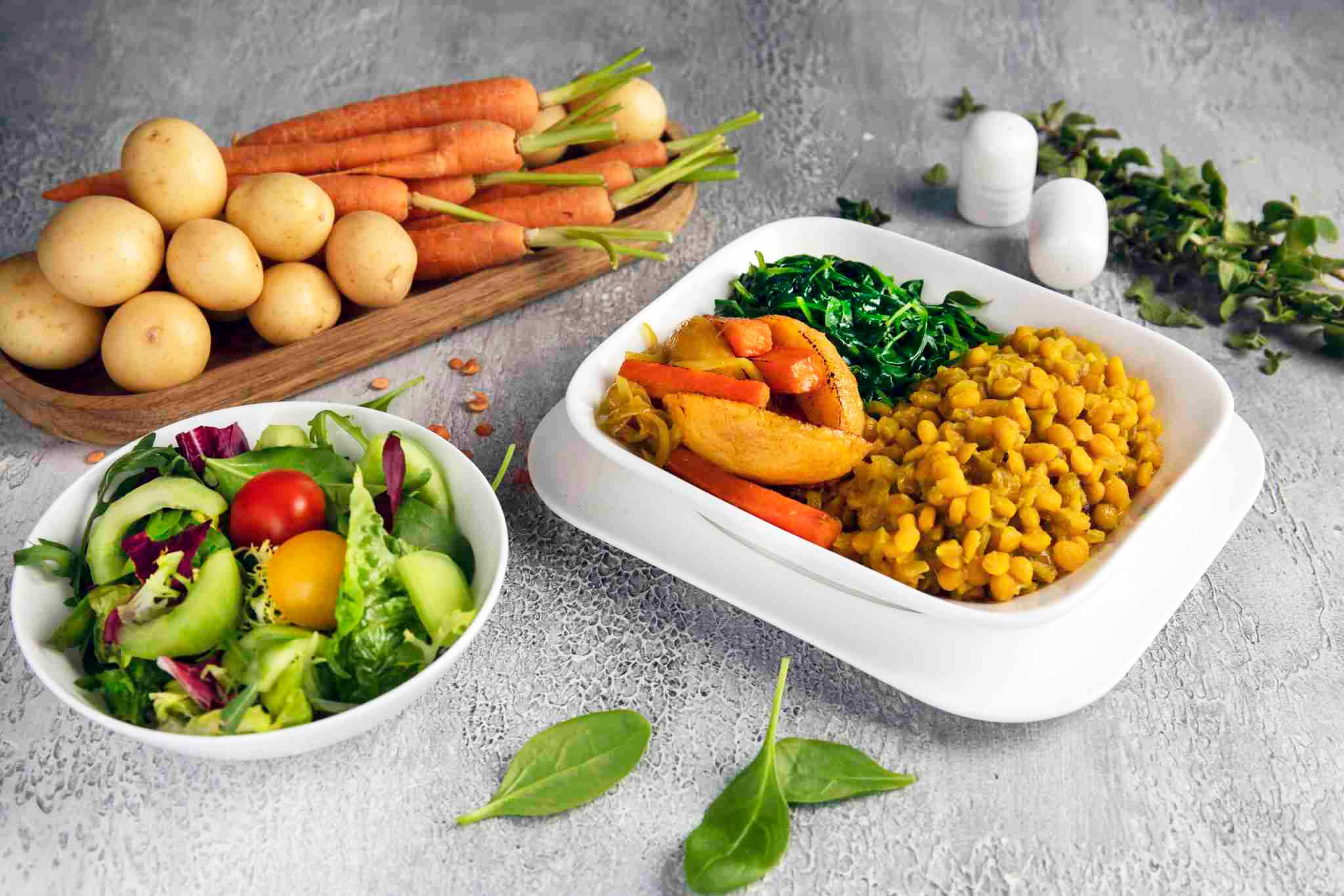 Emirates Airlines
1 Emirates Airlines
You don't have to be in first or business class to get the vegan treatment on Emirates Airlines. Even those in economy can choose a vegan meal, but you do need to book the meal at least 24 hours before your flight. While the misir wat (an Ethiopian spicy red lentil stew with sautéed spinach, spiced potatoes, and carrots) is a common option, exact meals vary by flight, season, and destination. If it's not this one, you might see others like Tofu Jalfrezi, Shiitake Ravioli, or Ancho Three-bean Chili.
2 Singapore Airlines
Singapore Airlines always has a vegan meal available, but you'll need to pre-order when you book your flight. The options range but are traditionally prepared in a "Western" style and always include the major vegan food groups. For example, spaghetti marinara served with salad, fruit, and a bread roll or chili with rice, steamed veggies, salad, and fruit are two recently reviewed options on abillion—a vegan food review site.
3 American Airlines
About 23 percent of American Airlines' customers choose to pre-order a vegan meal, according to information obtained in 2020. Grilled cauliflower with chili is just one example, but you might also find grilled vegetables served with a grilled eggplant caponata appetizer. A vegan salad, multigrain roll, and chocolate brownie may accompany the entrée, too.
Swiss Airlines
4 Swiss International Air Lines
When an airline partners with Hiltl, the world's oldest vegetarian restaurant, you know you're in good hands. While there is a vegetarian hot meal on long flights, you can also preorder an à la carte option from Hiltl while booking your flight. The meal, which doesn't list any animal products in the ingredient list, includes a mesclun salad with Hiltl salad dressing, vegetable green curry with basmati rice, and mango mousse with fresh mango compote.
5Lufthansa
This popular European airline offers a range of vegan meal options for longer flights for those who pre-order ahead. However, its German subsidiary airline—Eurowings—provides more than just a bread roll and an assortment of grains, vegetables, and fruit. The airline partnered with Berlin-based vegan supermarket, Veganz, to serve vegan gummy bears beginning in May 2022. Depending on who you ask, these whimsical treats maybe even better than Biscoff.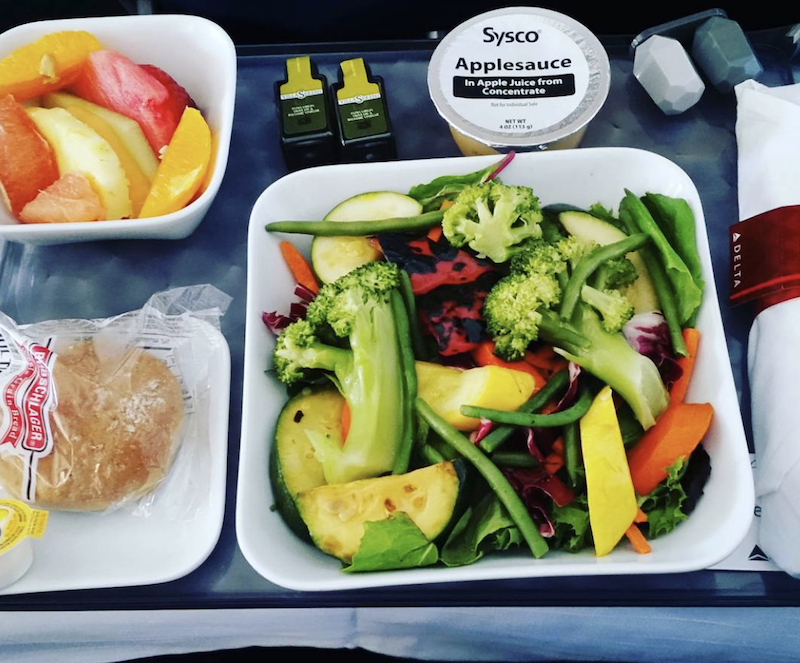 @peaceful.table/Instagram
6Delta
Vegan meals, such as a lentil and artichoke ragout, rotate on Delta as part of its special meal program. Note that on its website, the airline lists "vegetarian (vegan) meal" as one of three vegetarian meal options, which is what you should specify when ordering. These meals are available to all classes on international flights and to first-class on certain cross-country domestic flights. Complete your meal with a complimentary, Delta-stamped Biscoff cookie and you'll stave off hunger even if you get stuck on the runway waiting for a gate to open.
7 Qantas
A vegan meal option is part of Qantas' in-flight special menus which vary by location and season, but expect to find any combination of rice, fruit, vegetables, grain, soy, pulses, tree nuts, or nut products. Both the Vegan Vegetarian Meal and the Jain Vegetarian Meal are plant-based. Choose the latter option if you're in the mood for something made with Indian spices.
For more on the vegan travel, read:
Here's How to Pack for Your Next Vegan Vacation
5 Vegan-Friendly Beach Towns You Need to Visit
7 Best Vegan-Friendly Hotels in America