On an unassuming block in Honolulu, hidden in plain sight among office buildings, gas stations, and dry cleaners, a small, slate-gray building is churning out some of the most sophisticated and dazzling meals locals have ever experienced. Inside awaits a world filled with plant-based culinary artistry, unbelievably fresh produce, and an explosion of flavor. The restaurant is Tane Vegan Izakaya, the first-and-only strictly plant-based sushi and izakaya in Hawaii's capital city. And here, masterful takes on nigiri, specialty rolls, and classic ramen—all without fish, meat, and eggs—are rivaling even the city's best seafood restaurants.
How chef Kin Lui got his start
Lush greenery, the bluest of skies, and white sandy beaches—this stunning backdrop of the mountainous, volcanic city of Honolulu is where over 350,000 people call home. Among that lucky number is Hong Kong-born chef Kin Lui, who began his career on the sun-soaked island. Lui's resumé is as extensive as it is impressive. After moving to Hawaii at 15, he secured an after-school job at Pizza Hut that helped set the foundation for a career in restaurants. First, he was a busboy at a fine-dining restaurant in Waikiki—then, a server at a local Japanese restaurant. Before long, he made the move to San Francisco where he would go on to master his signature izakaya skills while tenuring at Kyo-Ya, one of the most expensive sushi restaurants in the city. Not long after, he met chef Raymond Ho, who would become a quick friend and, eventually, a business partner when the duo decided to forge their own enterprise.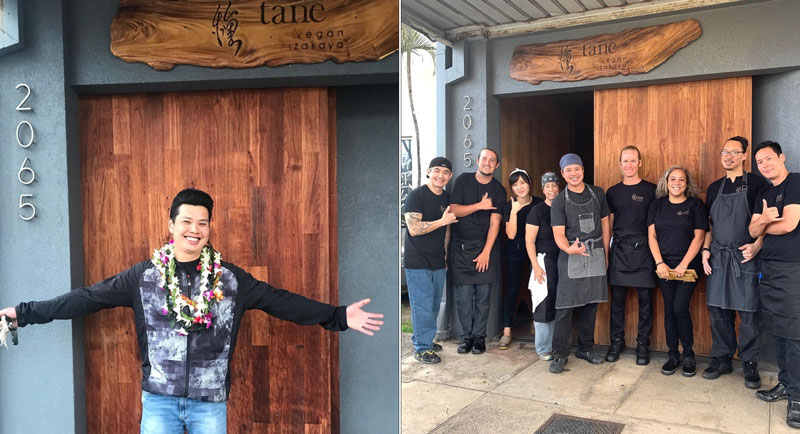 Chef Kin Lui (left) and the Tane team (right)
While brainstorming ideas for a new type of eatery, a sudden realization came by way of a newspaper article. "One day, at lunch during my shift, I saw an article talking about how the bluefin tuna was going to go extinct if we don't change the way we eat," Lui recalls. "After lunch, I still had to go back and serve bluefin tuna to customers. So we decided to open our own sushi bar." The restaurant would be focused on "sustainable fish," a topic that nationally recognized environmentalist and author Casson Trenor built his career upon. Trenor consulted the two chefs on their menu, helping them with the opening of San Francisco's Tataki, "America's first sustainable sushi restaurant," which would go on to be a major hit with the city's locals and visitors alike.
After a third location and a TIME magazine "Heroes of the Environment" accolade in 2009, the trio looked to pursue an entirely new concept for the opening of their fourth location. "We wanted to do something no one had ever done before," Lui says. At the time, Tataki had a one-page vegetarian menu for those that abstained from seafood. Lui wanted to run with the idea, but Trenor challenged him to take it a step further and make the menu entirely plant-based without a trace of eggs or dairy. This venture took a year to complete, but from the hard work, one of the most acclaimed vegan restaurants in the world, Shizen, was born in 2015.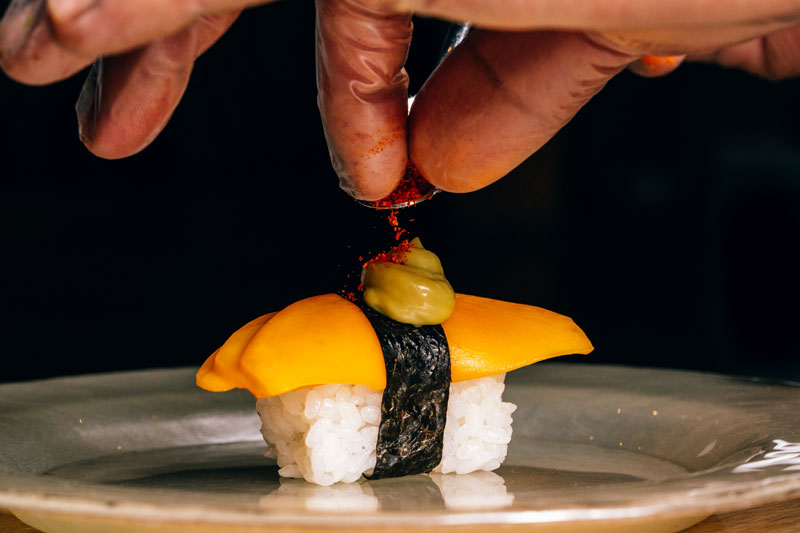 Tane team
Three years later, after building the vegan institution from the ground up, Lui decided it was time for a change of scenery. The 42-year-old chef always knew he wanted to open his own restaurant in the hometown that nurtured his love for cooking, so he packed up and moved back to Hawaii. After an entire year of location hunting proved fruitless, Lui had all but given up hope, booking a flight to move back to the Bay Area. Serendipitously, the day he flew back, a friend from high school called about a Japanese restaurant that was for sale on the island. Lui flew back the same night to see the space and just like that, Tane found its home.
Tane's seeds are planted
The Japanese word "tane" translates to "seed," and no person takes this more literally than chef-owner Lui. While the concept bears similarities to San Francisco's Shizen, Tane Vegan Izakaya sprouted purely from Lui's own hard work and ingenuity—from the sleek, contemporary interior to the personal connections he forged with nearby farmers to help fill his restaurant with an abundance of fresh, local produce. It's this mix of painstaking intention and good luck that is ensuring a fishless izakaya on an island saturated with seafood eateries can not just survive but thrive.
Another serendipitous moment came in the form of Philippines-born Catherine N. Palazo, a pastry chef who found herself in Hawaii looking for a fresh start. Palazo had no prior Japanese cooking experience, but Lui saw talent in her, so he brought her under his wing. The partnership was more than just a gig—she'd found a mentor whose skills she admired as much as his philosophy. "It's not about making a name for himself and being famous," Palazo says of Lui's work ethic. "It's about reaching people all over the world—whether they're vegan or not—and helping them appreciate that vegetables can taste so much better than meat."
While sushi chefs go to the fish market every morning to handpick fish for their dinner service, Lui and the team go to the farms early in the morning to pick produce, rather than ordering from purveyors. "Hawaii is very diverse, and we wanted to use a lot of local produce from small farms. We work closely with our farmers and support the community," Lui said. "It's a seed—a philosophical idea."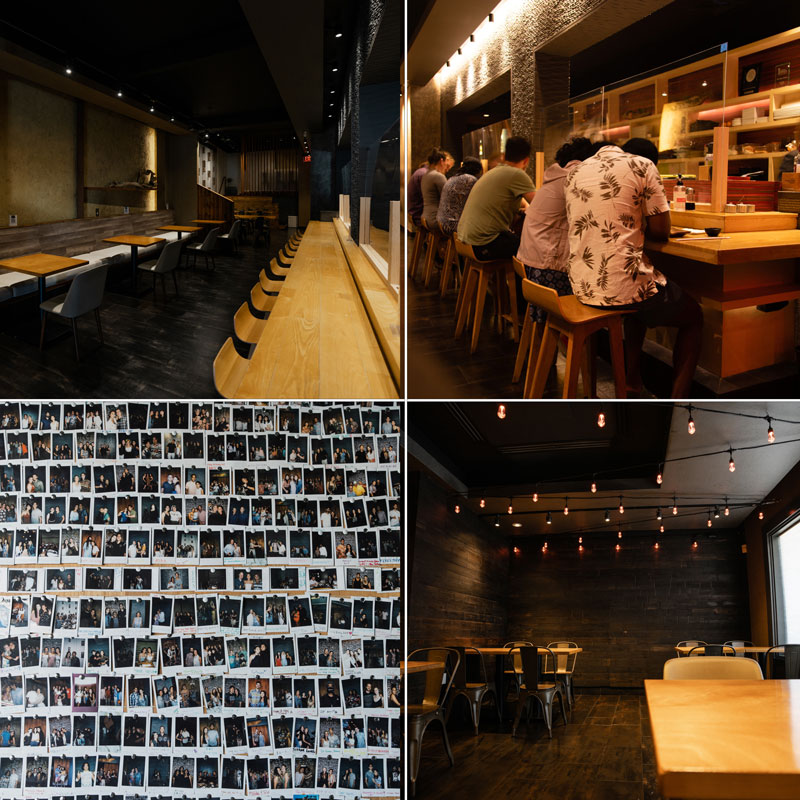 Tane
That seed came to bloom in the beautifully designed space that harkens back to nature, inviting diners to a warm, unforgettable experience. Before even entering, Polaroid photos of happy diners hang on nearby walls, a testament to how important community is for the eatery. Inside, guests are bathed in the soft red glow from string lights dangling above. Casual diners can sit up front, able to glimpse stunning Hawaiian sunsets while savoring their meal, or at the sushi bar near the front, where magic happens before your eyes. For those embarking on an intimate date night, the sleek middle section emits a warm, subtle yellow glow for two to enjoy hushed conversations and flirtatious giggles between bites, with a full wall display of the finest sake available. If you're celebrating an event, the back area is reserved for large groups for a night to remember. No matter the occasion, be sure to make a reservation, as spots fill quickly, especially on busy weekends.
Tane's vegan menu
Guests who step into Tane as skeptics are guaranteed to leave as believers. Believers in the power of vegetables, that is. Juicy, handpicked tomatoes become complex, integral parts of an uramaki-style roll; chewy, bouncy noodles are slicked in yuzu shoyu and tossed with fresh cucumber, carrots, nori, and rice crackers in the refreshing cold soba salad; and earthy torched miso eggplants provide a convincingly fishy texture for a simple nigiri bursting with intense flavor.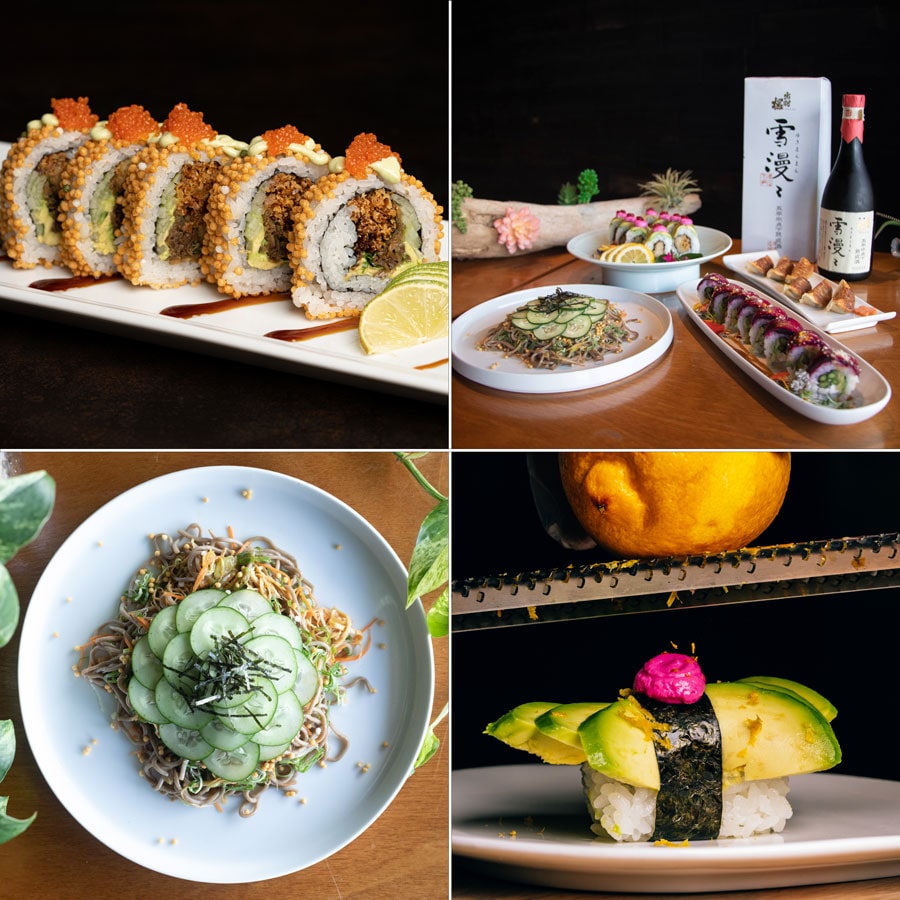 Tane
When you first visit Tane, it's best to do so with friends to experience the entire menu and dine family-style. For starters, a classic miso soup will warm you up, while the poke salad with marinated fried tofu, red onions, cashews, and scallions tossed in a yuzu-kombu-shoyu sauce will tantalize the palate. Shared plates feature shiitake mushrooms stuffed with shredded tofu and sprinkled with matcha salt; agedashi tofu with hand-cut daikon; and panko-sprinkled, marinated katsu. Delve into a few or order them all—you can't go wrong. If you're in need of comfort food, one of the four ramen noodle bowls should do the trick. Each one—the delicate Shio, complex Shoyu, rich Roasted Garlic Miso, and bold Spicy Garlic Miso—employs a variety of flowers, seaweeds, and mushrooms to flavor their aromatic broths, guaranteed to soothe the soul.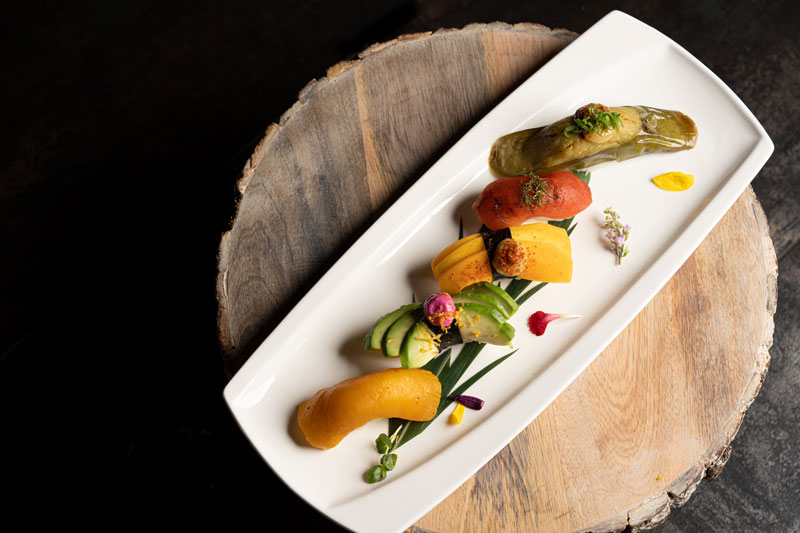 Tane
But of course, the star of the show is the eatery's sushi. In Lui's nigiri, grilled enoki mushrooms stand in for fish, their natural umami contrasted and highlighted by a drizzling of sumptuous ponzu and garlic oil. It's then topped with buttery ripe avocado, an intriguing smoked beet aioli, and a shower of lemon zest before being placed carefully on a bed of vinegar-seasoned rice. "The details make the dish. When we're making it, we enjoy everything that we prepare, and that translates to our customers," Lui explains. "We believe they can feel the love we put into our food."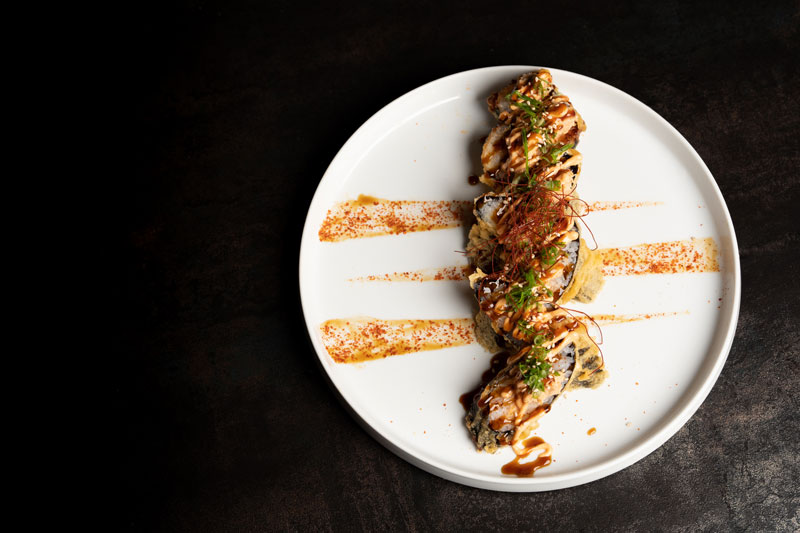 Tane
Like any sushi restaurant, Tane makes classic rolls ranging from the simple California roll to spicy "tofuna" roll. But the most explosive of flavors come by way of the specialty rolls, all named after famous beaches in Hawaii and California. Adventurous eaters should try the Manila Dune, an unusual blend of spiced burdock, shredded tofu, avocado crema, spicy chili, and lotus root chips. Or opt for the Kailua, a ginger-shoyu tomato with pickled mango, marinated shiitake, and asparagus topped with sweet mustard shoyu, wasabi mustard, and rice cracker pearls. Catch your breath in between rolls with a beer from local brewery Kona Brewing Company, or try one of the many sakes imported from small family breweries throughout Japan. When you're ready to get back to eating, go for the Half Moon, a sweet potato tempura roll with smoked bean curd, pickled mango, tomato, yuzu, shiso, and jalapeño. Then, share the crowd-favorite The Wedge, featuring spicy tofu tempura, scallions, shichimi togarashi, spicy aioli, and sweet shoyu. Craving something sweet? Chef Palazo's pastry expertise shines on the menu with unique dessert specials like her Orange Olive Oil Cake with Ricotta and the Pineapple Galette topped with scratch-made ice cream drizzled with miso caramel.
"We're grateful that the vegan community on the island was very supportive. They're bringing their friends who aren't vegan and the majority of them are mind-blown," Palazo says. "The moment they take their first bite, it's like an invisible light bulb. You see a glow on their face, and they say, 'I didn't know that an okra or eggplant or tofu could taste like this.'"
Tane's future plans
Like much of how Tane came to fruition—a matter of right time, right place—Lui and his partners have found yet another perfect location to continue to grow the seed. Tane opened its second outpost in Berkeley, CA last year, further intertwining Lui's homeland with his beloved Bay Area. But whether you visit Tane on the island or in the Bay, the mission of sharing the power and mastery of plants with anyone and everyone grows deeper. "You have to believe in what you love and what you love to do. We want to share this food and philosophy with anyone that walks in," Lui says. "One day hopefully, we can grow this seed to different places where people can still enjoy the roots from here."
For more vegan restaurants, read: