The California Bay Area is known for many things: its burgeoning tech industry, foggy coastal weather, culturally diverse communities, and now, its vegan food scene. From comforting soul food to unbelievably cheesy, meaty deli-style dishes, you can find pretty much anything made vegan. But I'm focused on my favorite meal of the day—brunch!—and all the places I can get my pancake, scramble, omelette fix sans animal products in the beautiful Bay.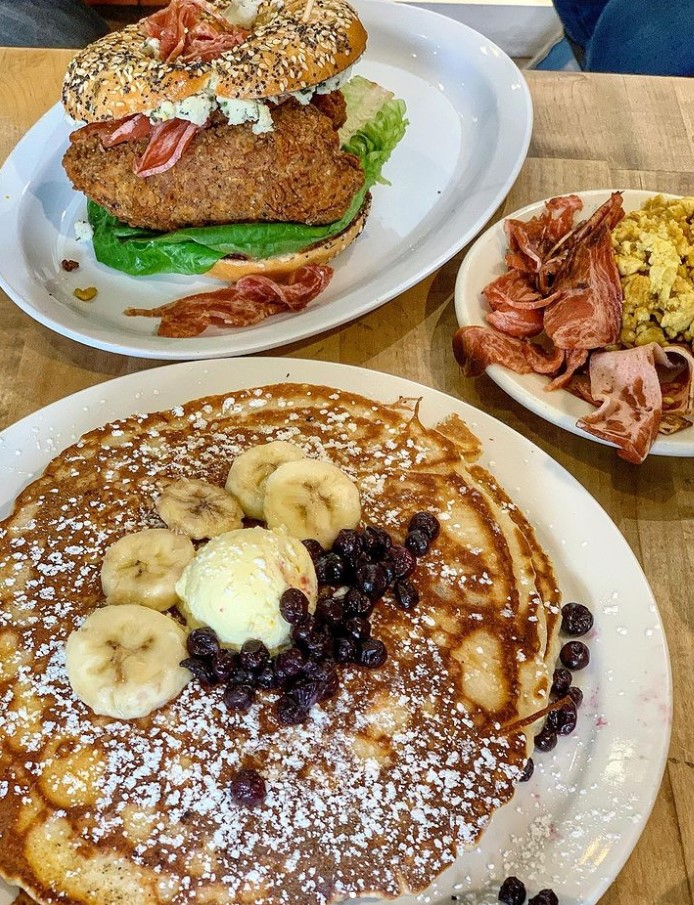 @april.foodie/Instagram
1 The Butcher's Son (Berkeley)
If you haven't been to this vegan mecca yet, it's an absolute must-stop. Get there early because the line will stretch out the door, but don't worry if you're a late-riser; you can contemplate your order in line. Go for the #thisismyaddiction: soft garlic bread with tofu scramble, housemade cashew mozzarella, greasy vegan bacon, avocado, and eggless mayo. And you absolutely must order a doughnut-stuffed pancake (you get to choose the doughnut you want stuffed inside, including cream-filled)—don't forget to add chocolate chips. Go hungry and take a slice of New York-style cheesecake to go. And good news Los Angeles' eaters, this hotspot has now expanded to LA!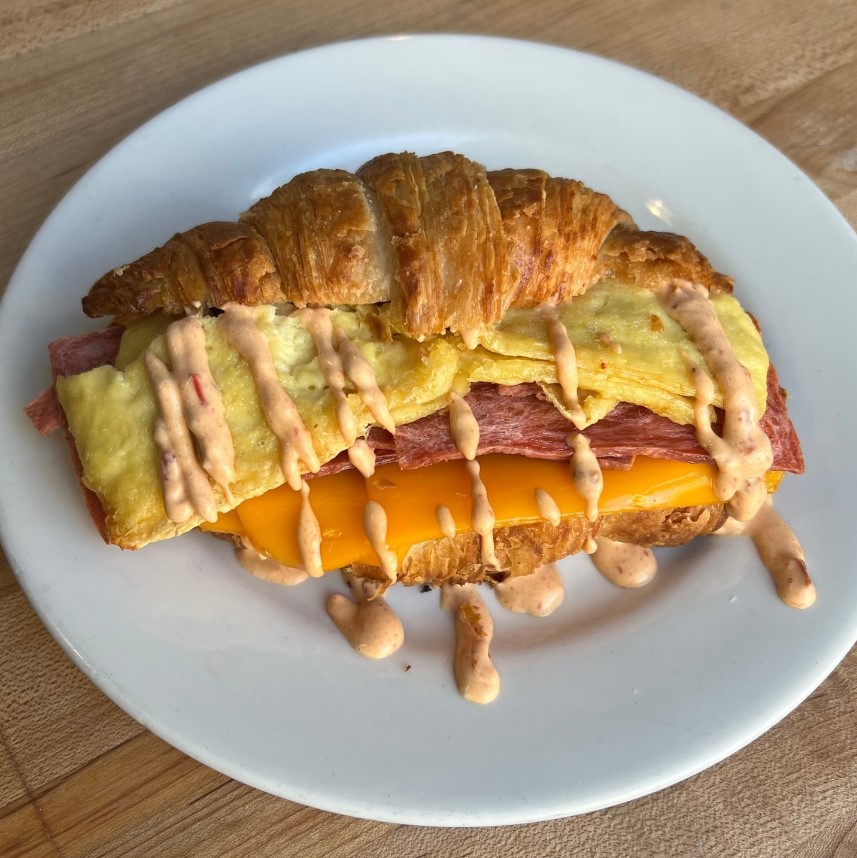 @timelesscoffee/Instagram
2 Timeless Coffee (Oakland and Berkeley)
Step inside this all-vegan coffee roastery, bakery, and chocolatier shop and inhale that sweet espresso scent. This perpetually busy, order-at-the-counter shop serves up rotating brunch specials on the weekend but always offers doughnuts, cakes, cookies, scones, frittatas, quiches, cream cheese danishes, dipped biscotti, and so much more. Get a dreamy, creamy oat milk mocha without the fear of accidentally getting dairy milk in your drink, and chow down on dishes like gluten-free crispy chicken and waffles, or my personal favorite, the moist apple tea cake.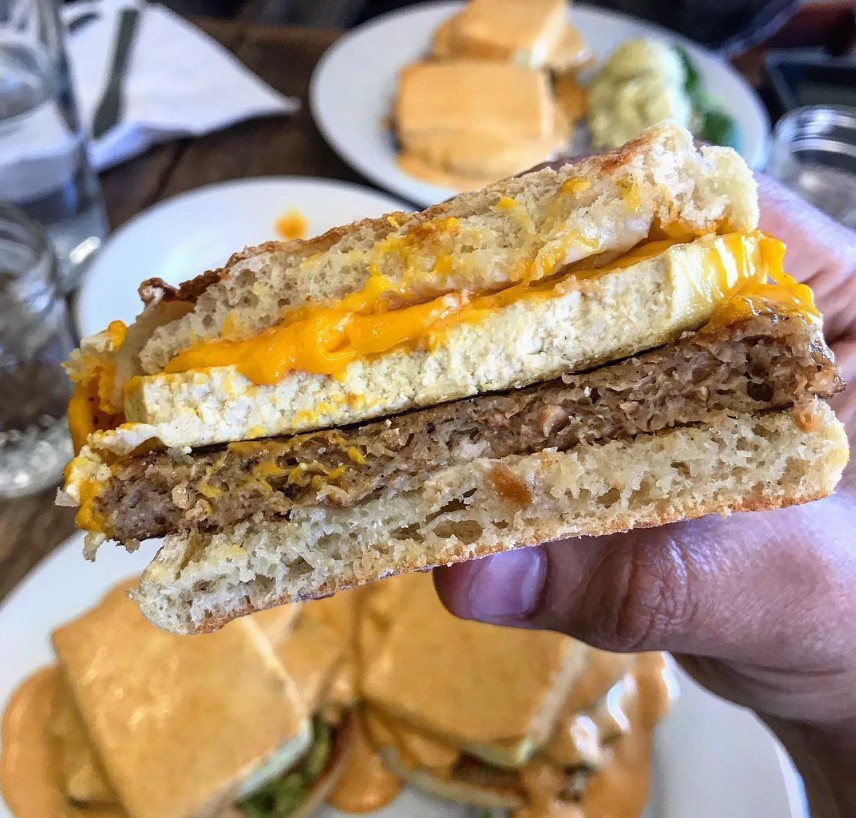 @planetofthevegans/Instagram
3 Two Mamma's Vegan Kitchen (Oakland)
This cozy, queer-owned neighborhood joint focuses on serving up familiar comfort food brunch favorites such as Belgian waffles with fresh fruit, breakfast sausage sandwiches, tofu benedicts loaded with egg-free creamy hollandaise sauce, and savory, avocado-loaded mushroom florentines. Order up an iced latte, filling fruit smoothie, or fresh squeezed juice, served in a Mason jar, to wash it all down.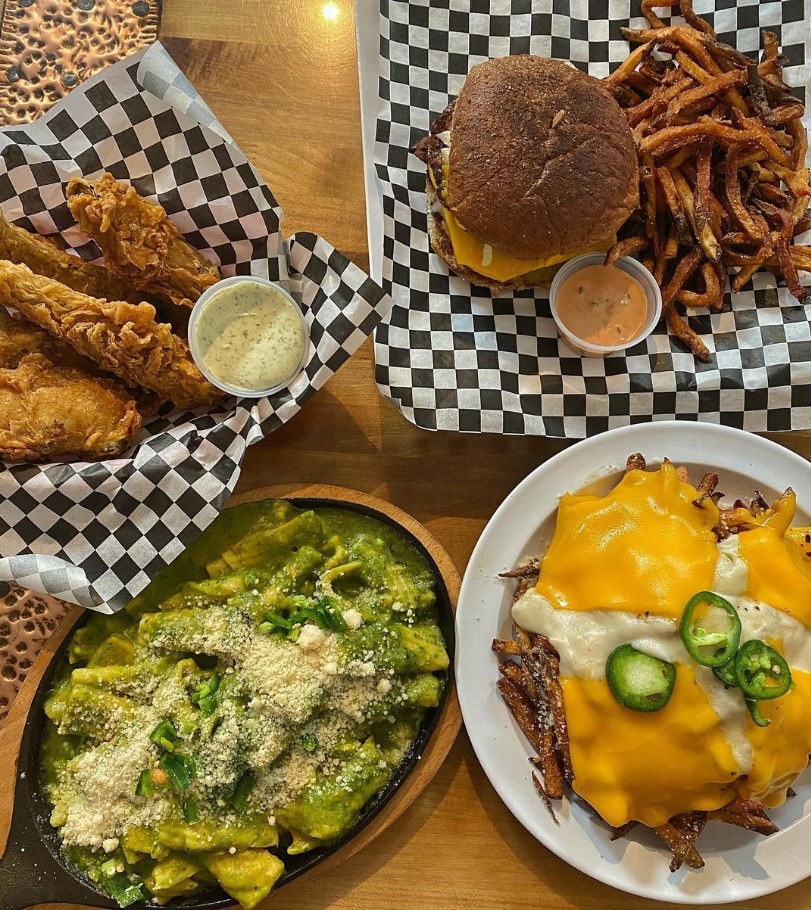 @harpeatz/Instagram
4 Souley Vegan (Oakland)
Serving the Oakland community for over 16 years, this East Bay soul food institution feels home-y and lived-in, with walls covered in photos of guests and the many celebrities who have stopped in (we're talking Stevie Wonder, Erykah Badu, activist Angela Davis, and NBA-legend Javale McGee, just to name a few). Every Sunday, the eatery serves up their Sunday brunch complete with bottomless mimosas, sweet potato waffles, okra gumbo, seitan "shrimp" N' grits, and sausage gravy over rosemary biscuits. But it's not just Oakland anymore. This beloved foodie destination now has ghost kitchens in Los Angeles and Las Vegas.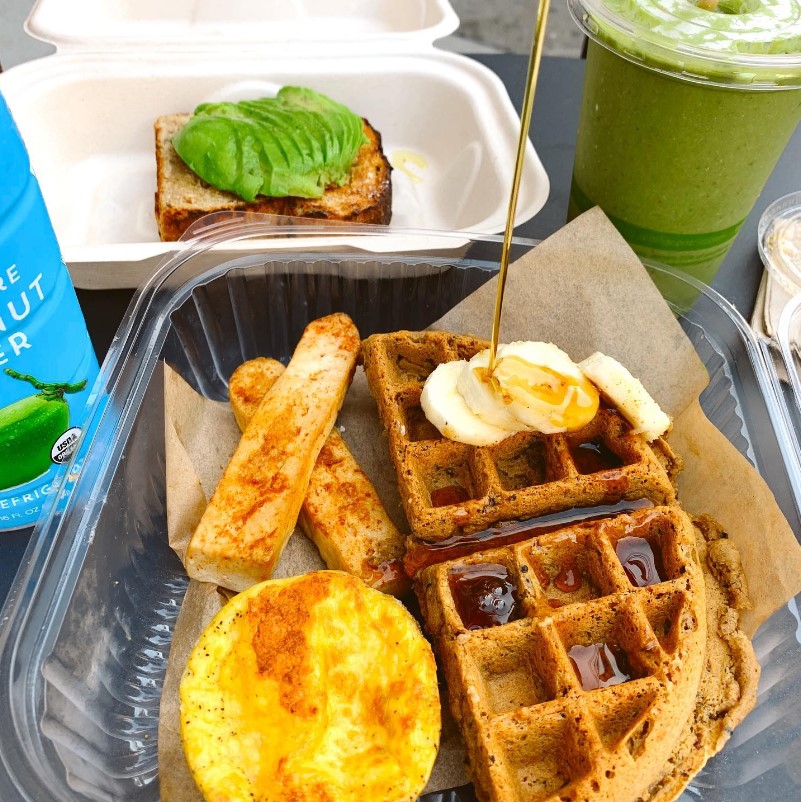 @healthy_ho/Instagram
5 Nourish Cafe (San Francisco)
With two locations in the City by the Bay, this light-filled, millennial-focused eatery puts its focus on healthful dishes like fully loaded acai and smoothie bowls, towering avocado toasts, and warming chia and oatmeal bowls that are so pretty, they're practically begging to be posted on Instagram. Their menu for toasts alone is calling my name. Go for the perfectly pink Dragonfruit Bowl with pineapple, buckwheat granola, and coconut. Plus, grab an Espresso date-sweetened shake to go!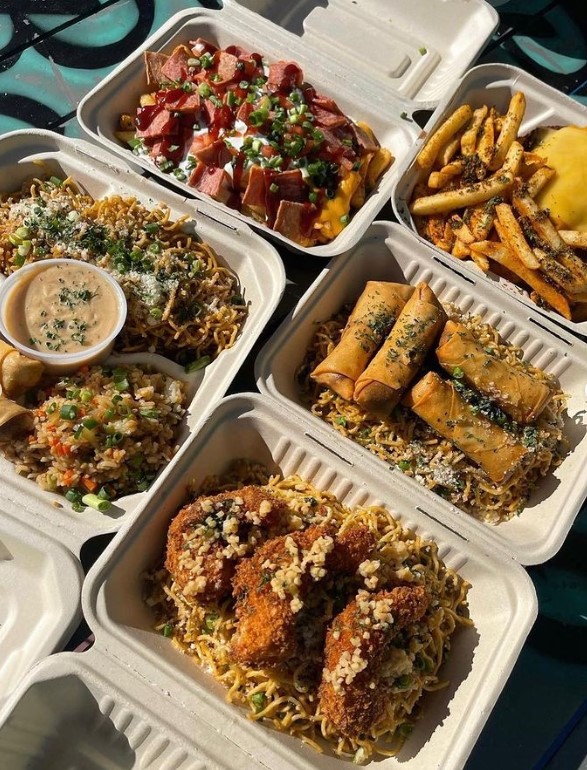 @dothebay/Instagram
6 Vegan Mob (Oakland)
This Bay Area spot quickly became an Oakland destination, making a name for itself when it sold out in six hours on opening day. And once you try their food, you'll totally understand why. With only limited outdoor seating, come prepared to order and go, or take it to the nearby Lake Merritt for a brunch picnic. The California Breakfast Barbequito stuffed with plant-based nacho cheese, bacon, eggs, fries, guac, sour cream, and green onions is enough to keep you full all day long, but if they happen to be serving their peach mobbler, you better grab a piece to go, as well!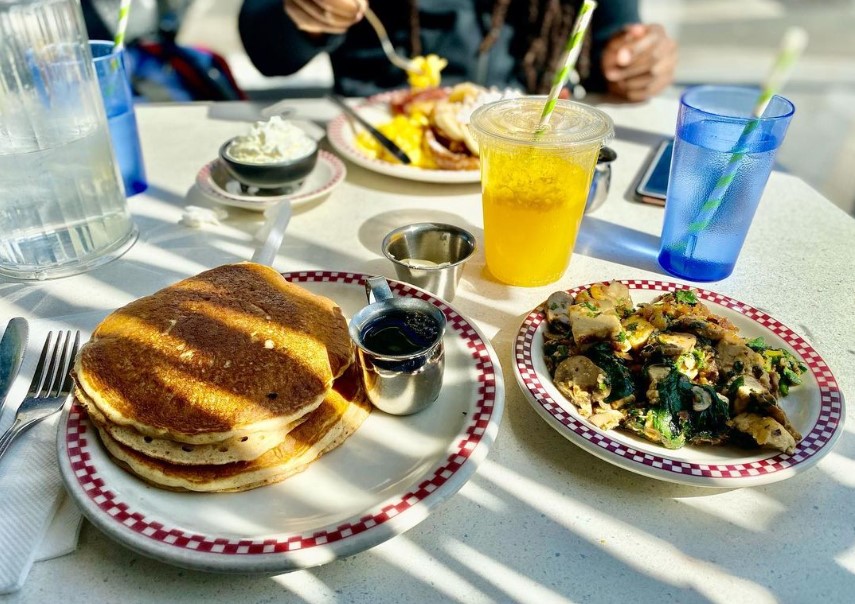 @thetravelingtofudie/Instagram
7 St. Francis Fountain (San Francisco)
The oldest ice cream parlor in the city might seem like an unlikely place to find a truly great vegan brunch, but that's just the beauty of San Francisco. They serve up diner-style pancakes—sans eggs or dairy—and you can add strawberries, chocolate chips, bananas, walnuts, and blueberries to your stack. Craving savory? Go for the vegan jack cheese-stuffed breakfast burrito or black bean-loaded vegan rancheros.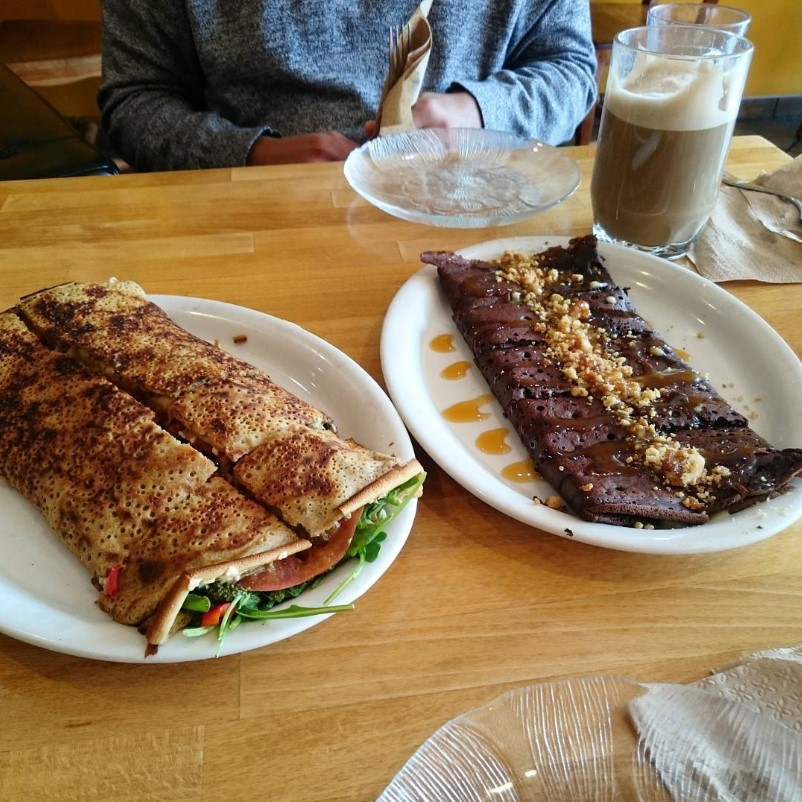 @sarahannsanchez/Instagram
8 Crêpes Bistro (San Jose)
This hole-in-the-wall, local favorite crepe shop can veganize almost any of its menu items—from savory to sweet crepes and buzzy cacao smoothies. If you're really feeling sweet, go for the French Affection with coconut whipped cream and homemade caramelized walnuts. And if you're feeling savory, go for the Royal Veggie with vegan cheese, roasted eggplant, mushrooms, avocado, marinated white onion sauce, and lemon tahini sauce. Even better? Go for both!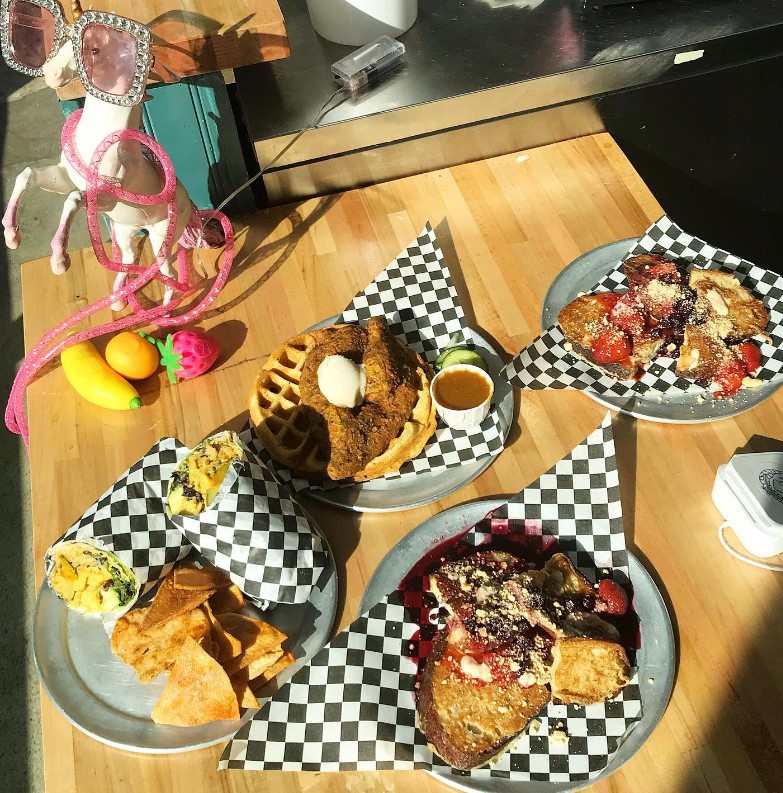 @gay4u.biz/Instagram
9Gay4U Vegan Eats (Oakland)
Formerly known as Hella Vegan Eats, this queer and POC-owned eatery reopened in a new location in late 2019 with a firm commitment to always serve trans POC individuals for free. Its quirky, fun treats and deliciously good food have remained the same, with rotating menus of dishes such as soy chicken and waffle burgers, Bruja bowls with black eyed peas and cashew-coconut crema, and Friendship Toast with raspberry-blueberry compote and cashew cream cheese.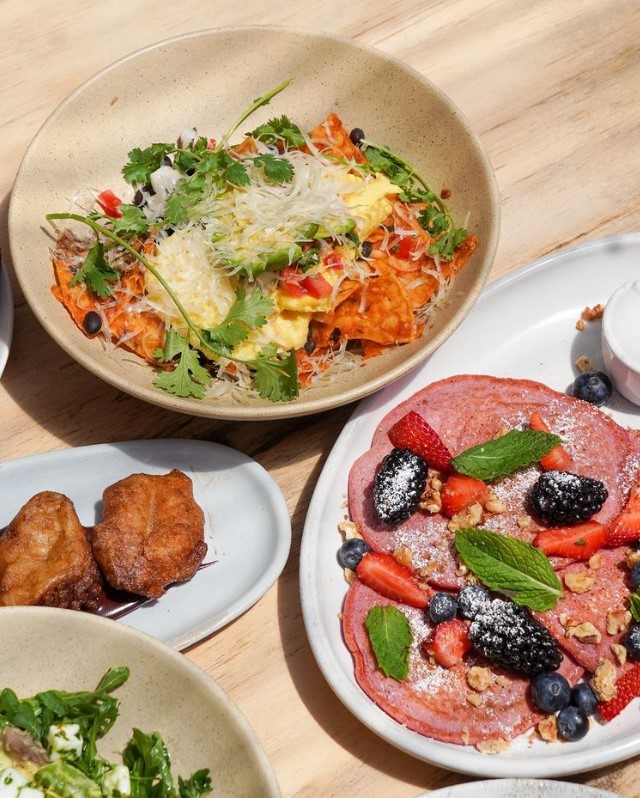 @wildseedsf/Instagram
10 Wildseed (San Francisco)
A gorgeous, well-stocked full bar awaits behind the glass doors of this totally plant-based, health-leaning restaurant. Come for the bustling atmosphere and stay for delicious eats such as carrot lox on seeded bread, banana fritters with chocolate-tahini sauce, and JUST Egg omelettes with Beyond Meat sausage. It might not seem totally brunch-y, but the Donburi bowl with kimchi, avocado, marinated mushroom, and chard is perfection if you feel like you need a reset.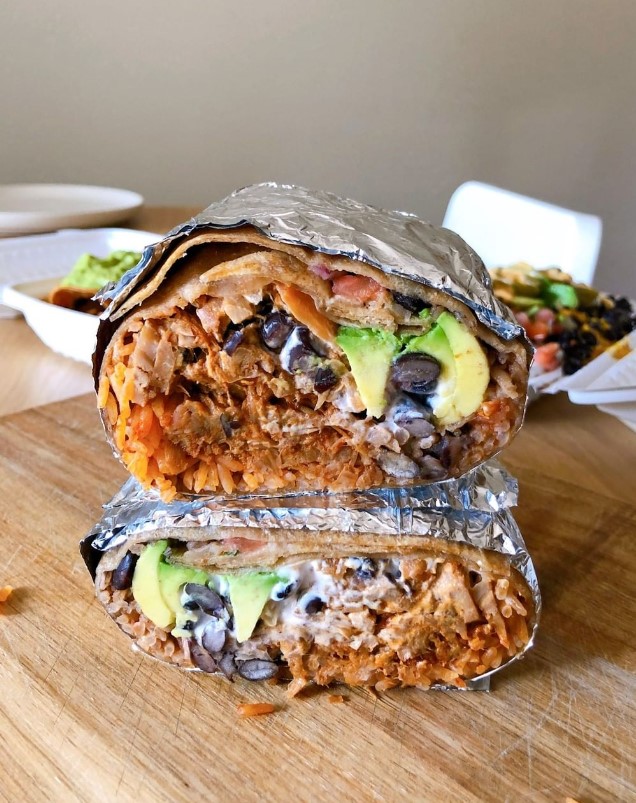 @sfbayfood/Instagram
11The Happy Hooligans (San Jose)
Located in a strip mall, this unassuming eatery is bursting at the seams with vegan options galore. Their breakfast menu is served all day, so come in to get your brunch fix at any hour. While their Belgian waffles served with molasses cider maple syrup are ultra-dreamy, the savory options such as the Breakfast bowl with tofu-scrambled eggs, diced ham, cheese sauce, pico de gallo, sour cream, and avocado is just as dreamy.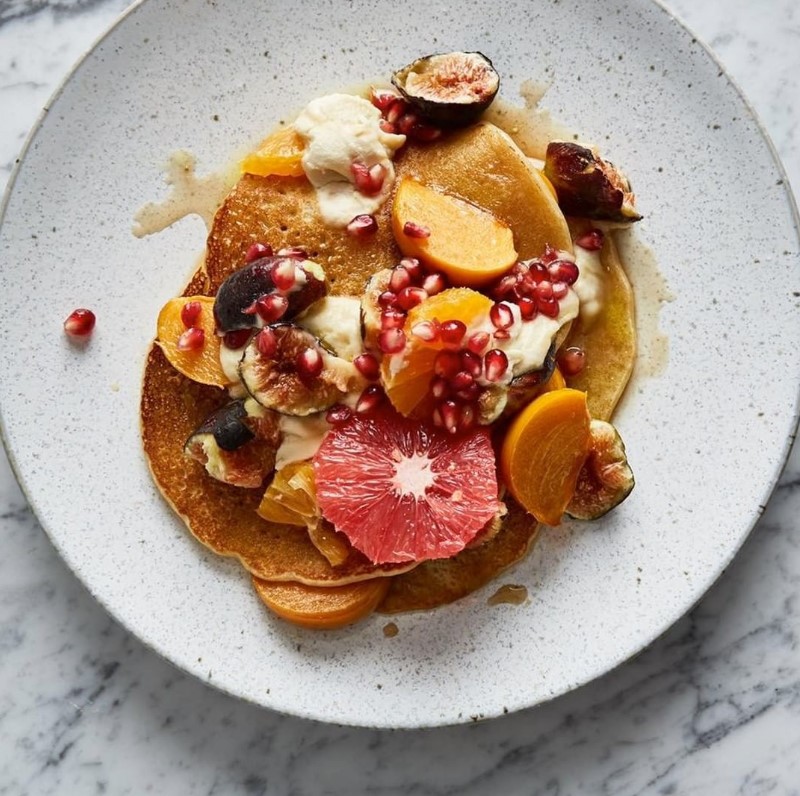 Baia
12 Baia (San Francisco)
This Italian-inspired restaurant made headlines when it took over the bi-level space of Jardinière in the Hayes Valley neighborhood of San Francisco, CA. Baia—which means "bay" in Italian—is a partnership between renowned vegan chef Matthew Kenney and Tracy Vogt, who owns farmed animal sanctuary Charlie's Acres in nearby Sonoma, CA. Try the savory scrambles, seasonal fruit-topped semolina pancakes, vegan egg-stuffed breakfast sandwiches, and avocado brunch pizza (trust us).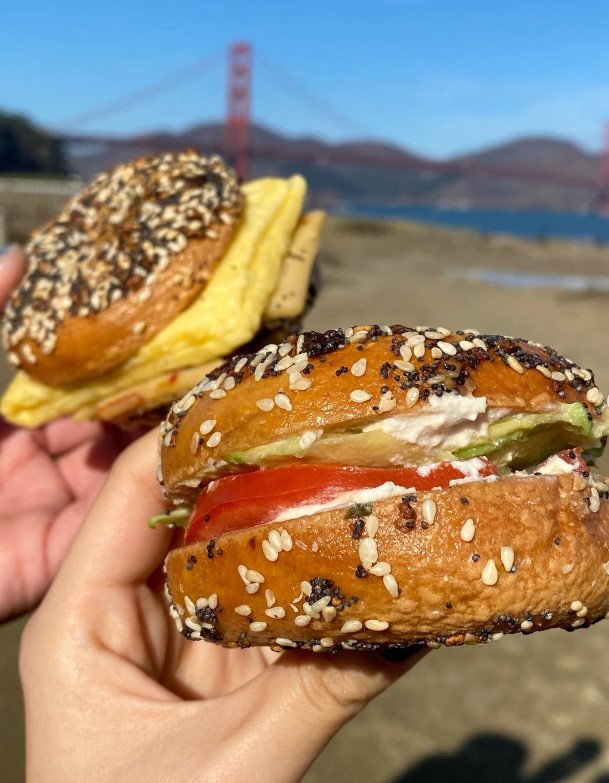 @jodiesveganeats/Instagram
13 The Happy Vegan (San Francisco)
You won't find gluten or soy on this pickup-only eatery's menu, but we can promise you everything is tasty! Some menu stand-outs include vegan chicken spinach omelettes, carrot lox bagels, pesto-vegan egg-mozzarella breakfast sandwiches, plant-based chicken and waffles, and golden Belgian waffles. Order ahead for a super speedy pick-up!