On a sunny spring day in 2013, the doors to Crossroads Kitchen opened in the trendy Beverly Grove neighborhood of Los Angeles, marking the first time celebrities, gourmands, and everyday Angelenos could mingle at a sophisticated, entirely vegan fine-dining establishment.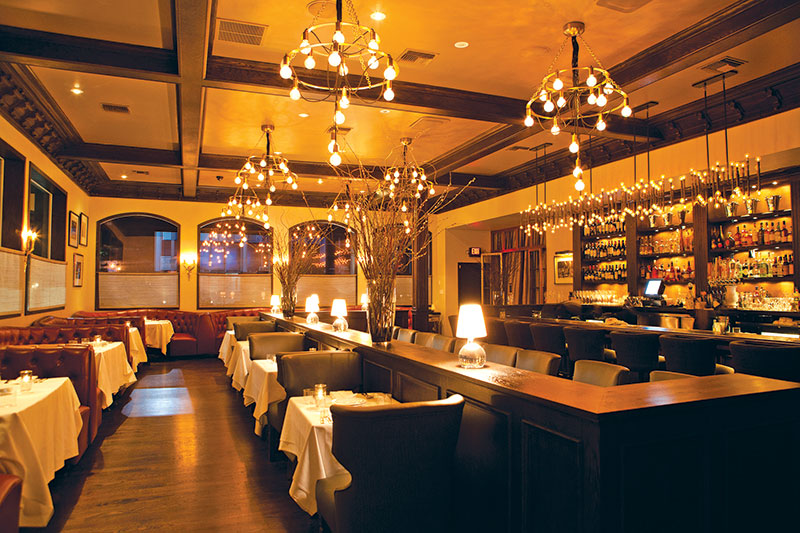 Interior of Crossroads Kitchen
Inside, the classic décor is reminiscent of a cozy Upper West Side steakhouse but, of course, with no steak in sight. Modern hand-crafted chandeliers cast an amber glow over diners huddled in cozy, faux-leather banquettes and wing-backed chairs as framed tour photographs of rock stars like Stevie Nicks, Freddie Mercury, and David Bowie adorn the walls, reminding you that this is Hollywood.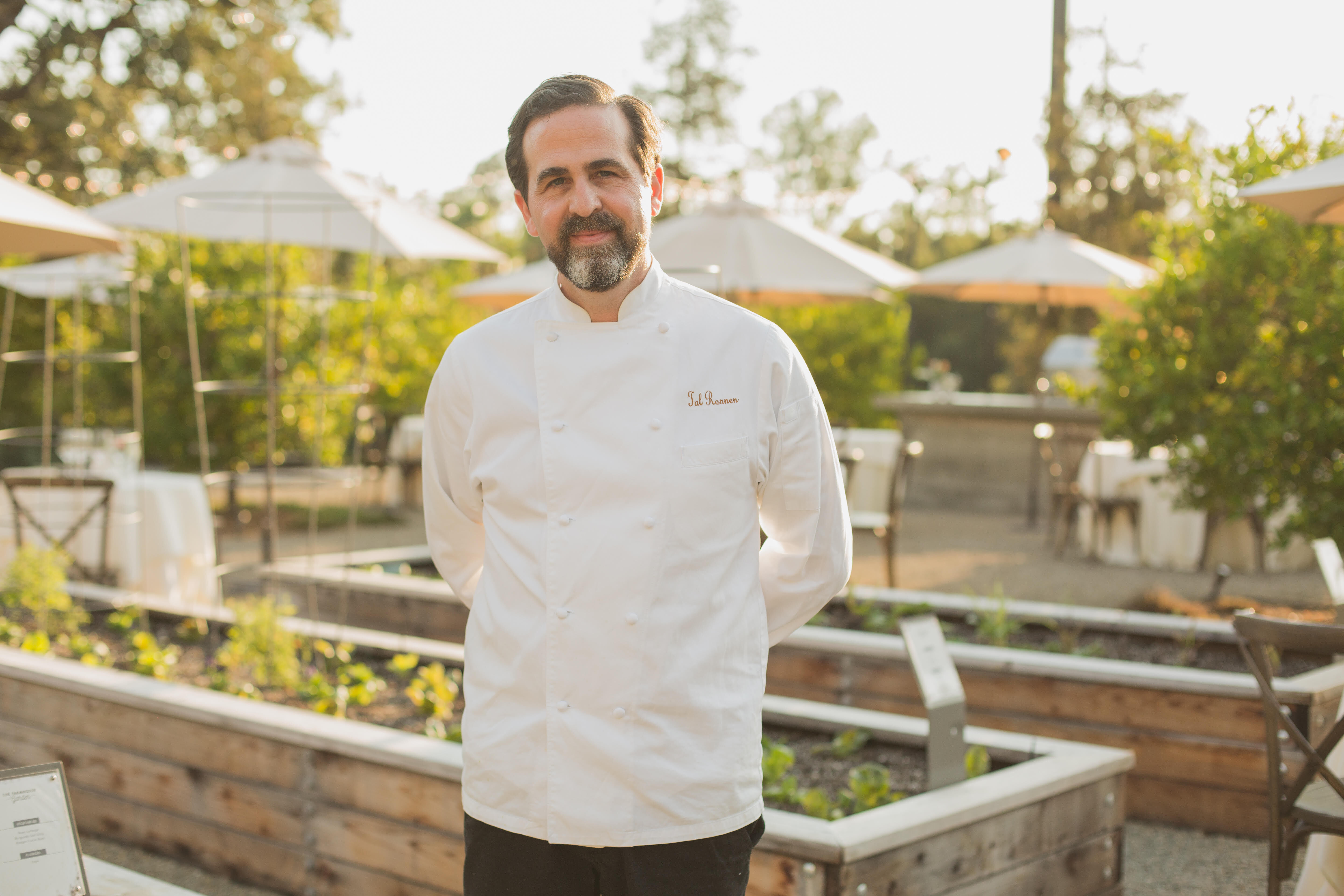 Tal Ronnen of Crossroads Kitchen
Keep your eyes open, and throughout dinner service, you'll catch the enigmatic chef Tal Ronnen emerging from the kitchen to thank guests at their tables. Born in Israel and raised in New York, the longtime vegan graduated from the Natural Gourmet Institute in pursuit of opening his own vegetable-forward restaurant. Before he would get the chance, though, he kept busy, penning a New York Times bestselling cookbook; cooking high-profile meals for everyone from the Dalai Lama to Oprah to the US Senate; and co-founding the plant-based cheese and yogurt company Kite Hill. In 2006, Ronnen met his soon-to-be executive chef Scot Jones, a fixture in the culinary scene in northeast Ohio. The two bonded over their affinity for plant-based Mediterranean-Italian cuisine, and just like that, the roadmap to Crossroads Kitchen was created.
Vegetables come first
There's a refinement and intentionality to Ronnen's menu: it's a marriage between classic Italian—think pastas, homemade sausages, and from-scratch sauces—and a Mediterranean way of celebrating (and challenging) fruit and vegetables. "There's a pattern to the food," Ronnen says. "Everything gels and goes together, from your appetizers to the pizzas and salads." And with no obvious cues that the menu is vegan, Crossroads is a destination for all foodies, whether herbivores or meat eaters, evident in the fact that around 90 percent of its diners are non-vegans.
View this post on Instagram
The restaurant's rustic traditionality and commitment to quality, no-corners-cut cuisine keep throngs of fans coming back for more—especially for the house pasta. Noodles made fresh each day serve as the base for offerings like the Lasagna Bolognese, filled with Impossible meat and béchamel sauce, and the truffle butter-infused Fettuccine & Truffles. Be sure to try the Fettuccine Capesante featuring mushroom scallops and fennel or the Stinging Nettle Agnolotti made with mushroom scallops, peas, and marsala demi.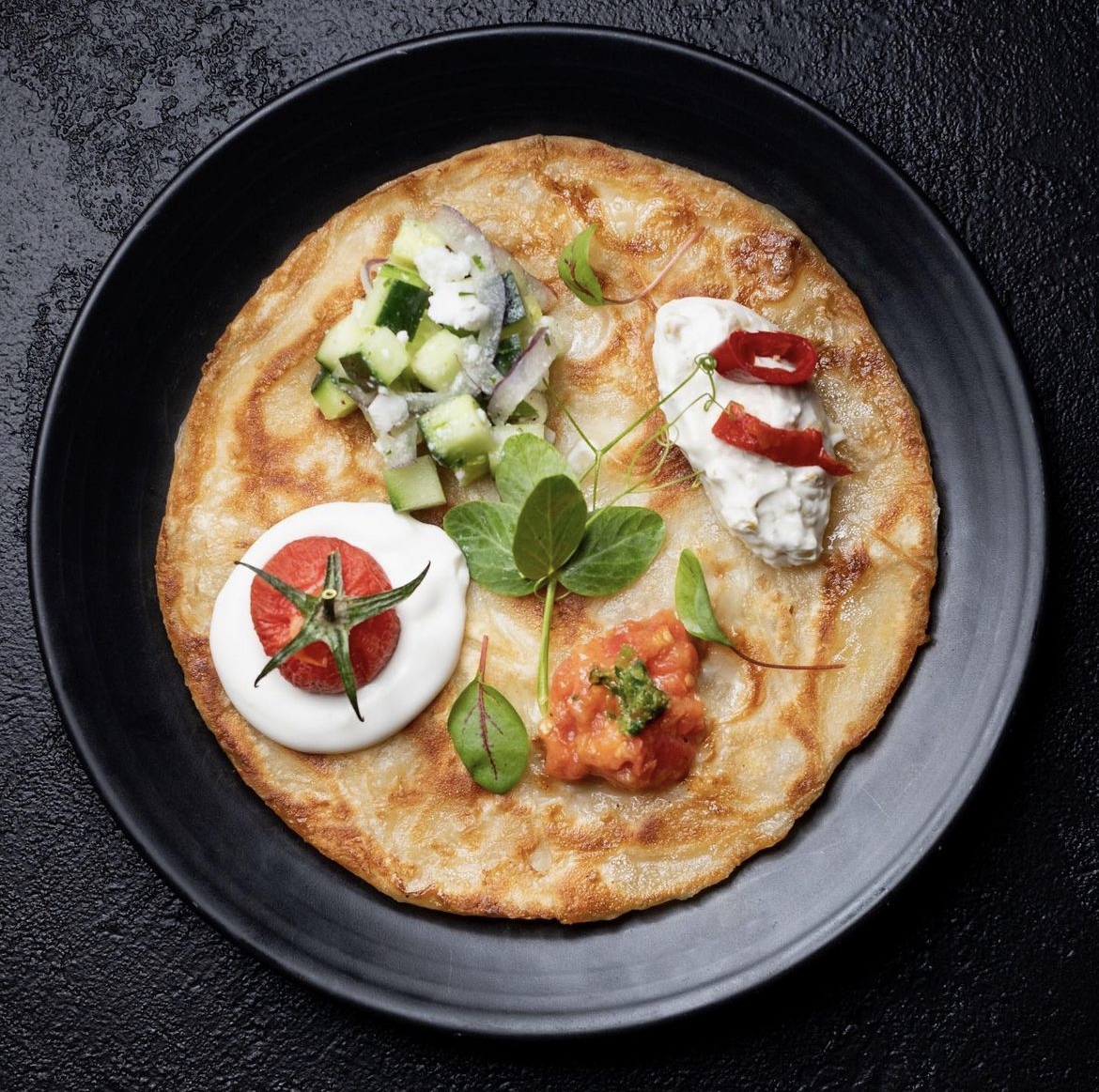 Malawach at Crossroads Kitchen/Jakob Layman
For something lighter, the Caesar salad balances chiffonade kale, garlic focaccia croutons, and a silky dressing with just the right amount of garlicky, briny funk. Or start off with the Malawach, a Yemenite Jewish flatbread with smoked yogurt, cucumbers, feta, olive cream cheese, and crushed tomatoes. For a more substantial vegetable-forward dish, the Eggplant Filet does not disappoint when presented with mashed potato, seasonal mushrooms, and bordelaise sauce.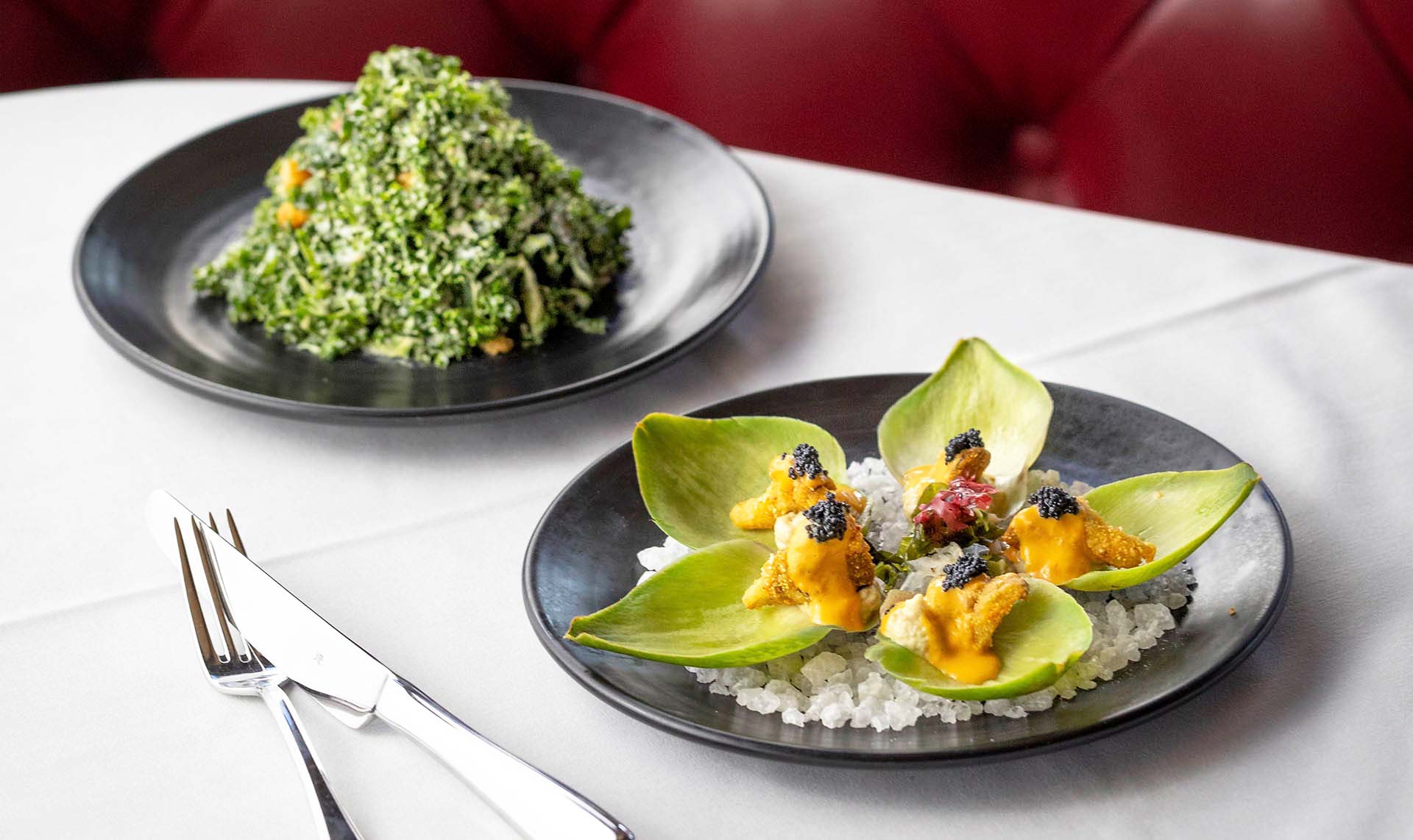 Artichoke Oysters and Caesar Salad at Crossroads Kitchen/Jakob Layman
Innovative vegan cuisine
And though Ronnen and Jones draw major inspiration from the traditional tastes of the Mediterranean, they aren't afraid to go avant-garde, either. Small plates meant for sharing feature the first-of-its-kind Artichoke Oysters, a crispy mushroom béarnaise topped with artichoke purée and kelp caviar on a bed of artichoke leaves. This innovative creation sparked the idea for a seasonal seafood tower filled to the brim with plant-based oyster shooters, calamari (cooked king oyster mushrooms and hearts of palm), tempura-battered lobster mushroom cocktails, ceviche made from rambutan, smoked carrot lox with kelp caviar and almond crème fraîche, and clams casino (with smoked shallot to mimic bacon)—all accompanied by housemade sauces including cocktail, tartar, and mignonette.
"We're creating menu items that people never thought possible in the plant-based space," Ronnen adds.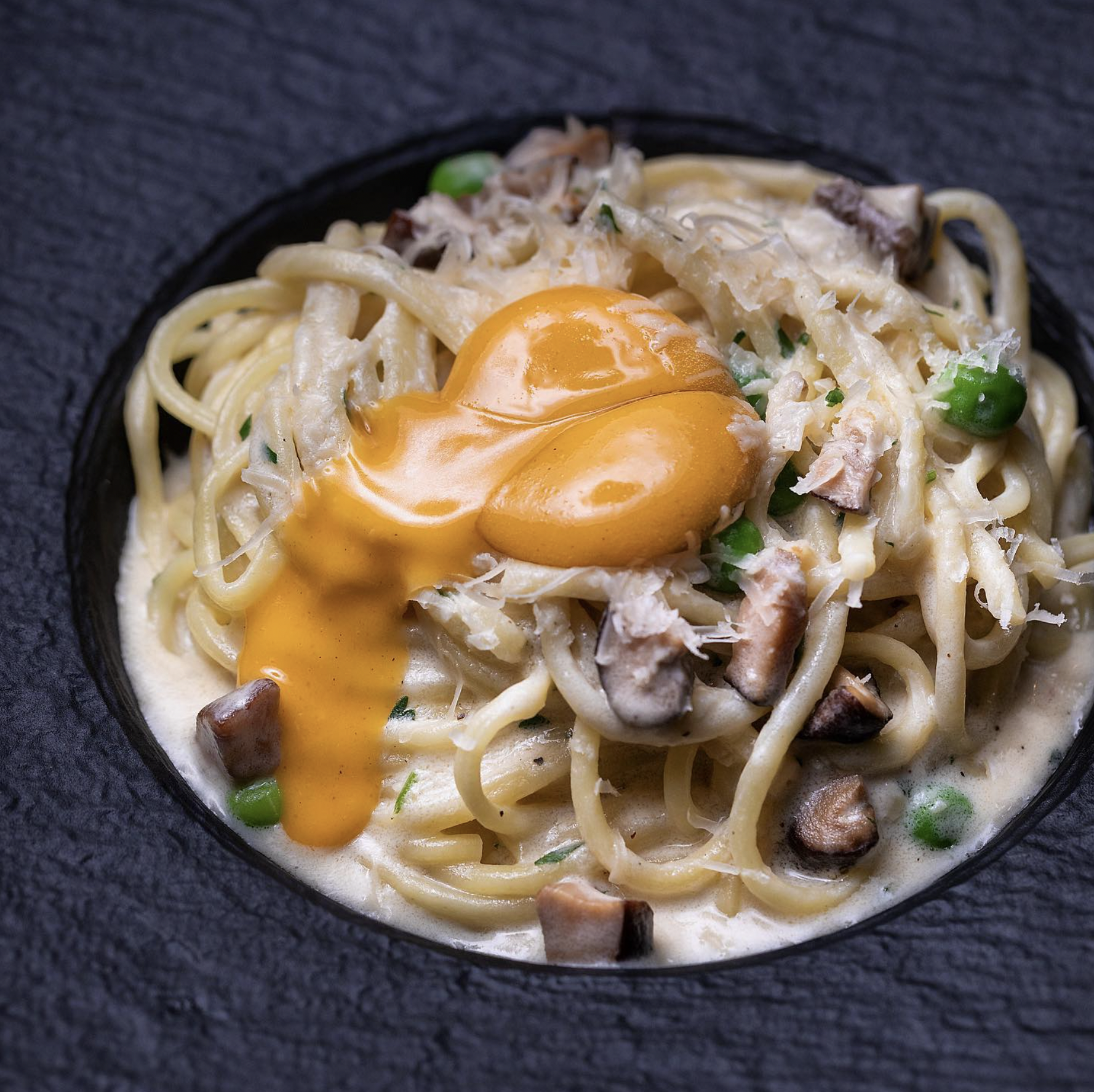 Spaghetti Carbonara at Crossroads Kitchen/Jakob Layman
Case in point: creamy, charred Kite Hill ricotta served with olive oil-grilled sourdough bread; a reimagined "egg" yolk ingeniously crafted from yellow tomatoes and sulfurous kala namak that wows diners in the crowd-favorite Spaghetti Carbonara; and almond milk burrata atop pastas like Spicy Rigatoni Vodka or a variety of in-season picks such as sherry maple-roasted sunchokes with mission figs. To continue experimenting year-round, the culinary team at Crossroads creates four seasonal menus a year, highlighting fresh produce grown within 20 miles of the restaurant, so every visit is a refreshing time to try something new.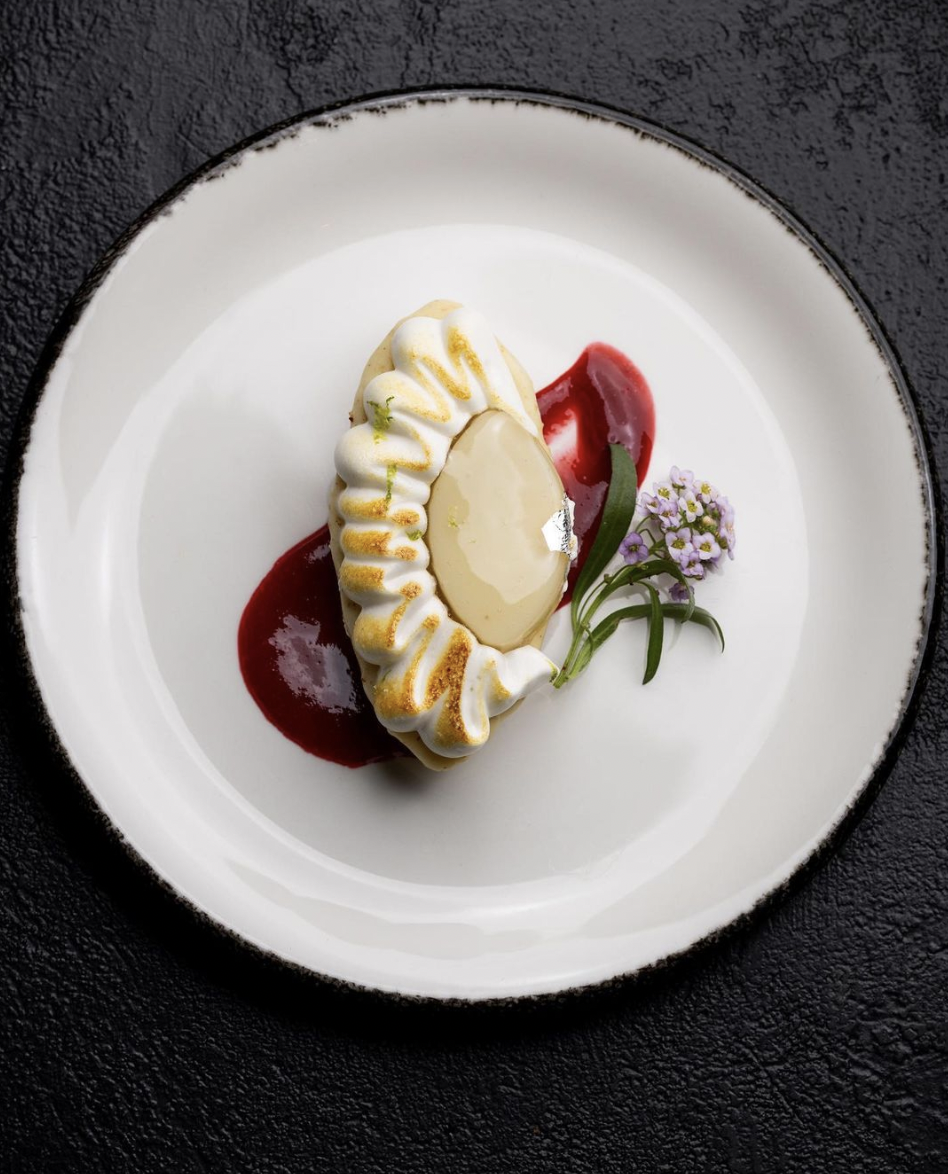 Lemon Tart at Crossroads Kitchen/Jakob Layman
Crossroads' buzzy-yet-romantic atmosphere and an extensive list of libations make it a prime date night spot to unwind over drinks. The Look My Way—a tropical mix of rum and mezcal with blistered shishito peppers and fire water bitters—is a surefire way to turn up the heat. The Friend or Foe is just the trick to make a friend out of anyone you meet at the bar, thanks to its tasty combination of gin and green chartreuse with agave, cardamom bitters, and sparkling rosé. When in doubt, go for Ronnen's personal favorite, the Hard Times, a Crossroads take on an Old Fashioned made with black bourbon whiskey, apple brandy, lemon maple, and house ras el hanout (an aromatic North African blend of more than a dozen spices). And after drinks, you won't want to skip dessert. Split the Brownie Sundae, made with creamy, light-as-air coconut vanilla ice cream topped with brandied cherries and decadent fudge sauce. Even among more inventive seasonal creations like a lemon tart with a hazelnut sponge cake and strawberry rhubarb mille-feuille, it's a total standout.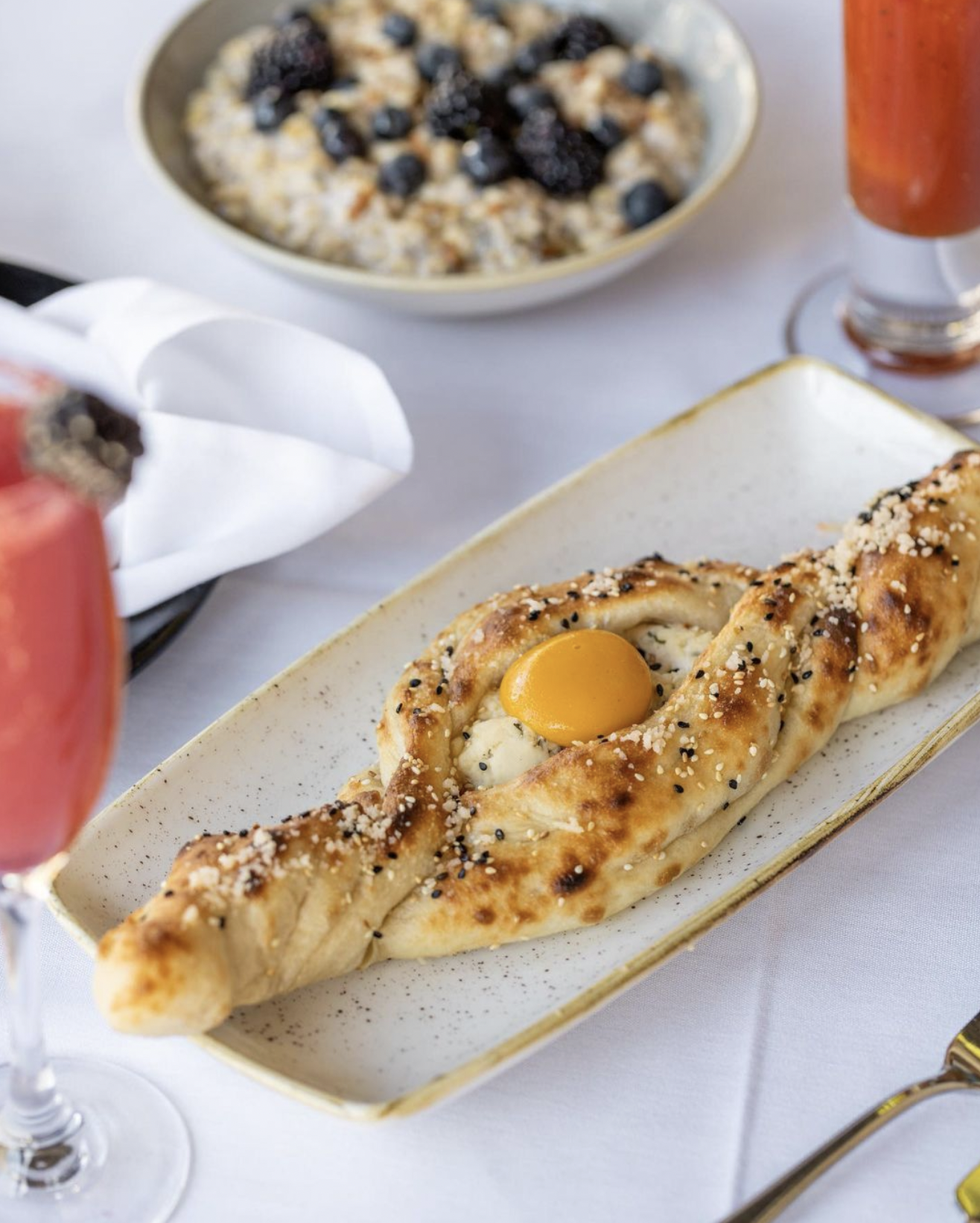 Khachapuri at Crossroads Kitchen
A solid dinner menu can make any restaurant good. But a good brunch menu can make a restaurant great, and when it comes to brunch, Crossroads is fantastic. Try something fun and familiar, like the crispy Chicken & Waffles with roasted fingerling potatoes and spicy-sweet maple syrup with hot sauce. Or sample something new, like the Khachapuri, a Georgian specialty made with chardonnay-provolone cheese sauce, ricotta, and Crossroad's famous runny vegan egg yolk on freshly made bread. Wash it all down with a Blackberry Mimosa, or pretend you're vacationing on the Italian coastline with a refreshing Aperol Spritz.
Pushing forward after COVID-19
When the global pandemic ravaged the restaurant industry in 2020, Crossroads, like so many others, had to adapt, and fast. So the team stayed open for to-go meals, rolling out meal kits that allowed diners to easily make their favorite dishes from the safety of their own homes. "Our regular menu is a fine-dining menu which doesn't travel great, and frankly, in a time where people are so uncertain, the last thing on their mind is eating fine-dining food," Ronnen said. "So we had to pivot."
View this post on Instagram
The kits included dishes like the Tagliatelle Bolognese, Scallopini Parmesan, Chickpeas Marsala, and Tiramisu, along with a grilling kit full of Impossible burgers, Italian sausages, and French onion dip. The kits were a success, with celebrities such as Joaquin Phoenix, Natalie Portman, and Guns N Roses' Steven Adler sharing their love for the at-home packages on social media. But despite this, with Los Angeles County's shaky mandates on the closing and re-opening of in-person and outdoor dining, Crossroads was still hurting, and it was forced to cut its staff of more than 50 down to just a few. "It was tough. We had to lay off the majority of our staff, which was just heartbreaking."
Through quick thinking, determination, and a bit of luck, the eatery began to see some hope after a difficult few months. It joined the vegan initiative Support + Feed, which kept plant-based restaurants running by connecting them with hungry frontline workers and vulnerable populations. Then the community rallied around the eatery, raising more than $26,000 for its former employees. With this help easing some of the strain, the team was able to focus on getting creative, launching online cooking classes with their very own Scot Jones to provide those in quarantine a new hobby. A video of their vegan egg yolk even went viral, receiving over 1.4 million views and more than 300,000 likes on TikTok. This, along with shoutouts from megastars like Katy Perry and Billie Eilish, helped Crossroads gain fans from across the web.
Truffle Mushroom Bianca pizza at Crossroads Kitchen/Jakob Layman
All the support and positive reinforcement spurred Ronnen and his small team to find more ways to serve their customers and stay in the game. A pizza pop-up offering housemade pepperoni on Neapolitan- and Sicilian-style pizzas and cannolis for dessert kept staff busy and pizza lovers clamoring. "The pop-up was inspired by us trying to keep more employees with us," Ronnen explains, "We've always had a very strong pizza program so it was easy to create a menu and execute it." After the pizza's success, what would be next? Tacos, obviously. "LA has such great Mexican food that to do something that we called 'traditional' or 'craft' tacos just would not have made sense so we went the other way and did a Taco Bell-inspired fast-food pop-up." The Crossroads Tacos concept featured five-layer burritos with Kite Hill sour cream, crunchy street tacos with Impossible beef, and loaded nachos with Kite Hill's queso, which launched in 2021 thanks in part to its warm reception during the trial run.
The future of Crossroads
Crossroads Kitchen and its staff have earned its status as a national vegan institution throughout their eight years of service, and perhaps even more so during the destructive pandemic. Creativity, confidence, and persistence have kept the restaurant on the map to this day, while competition continues to grow and many fail to keep up.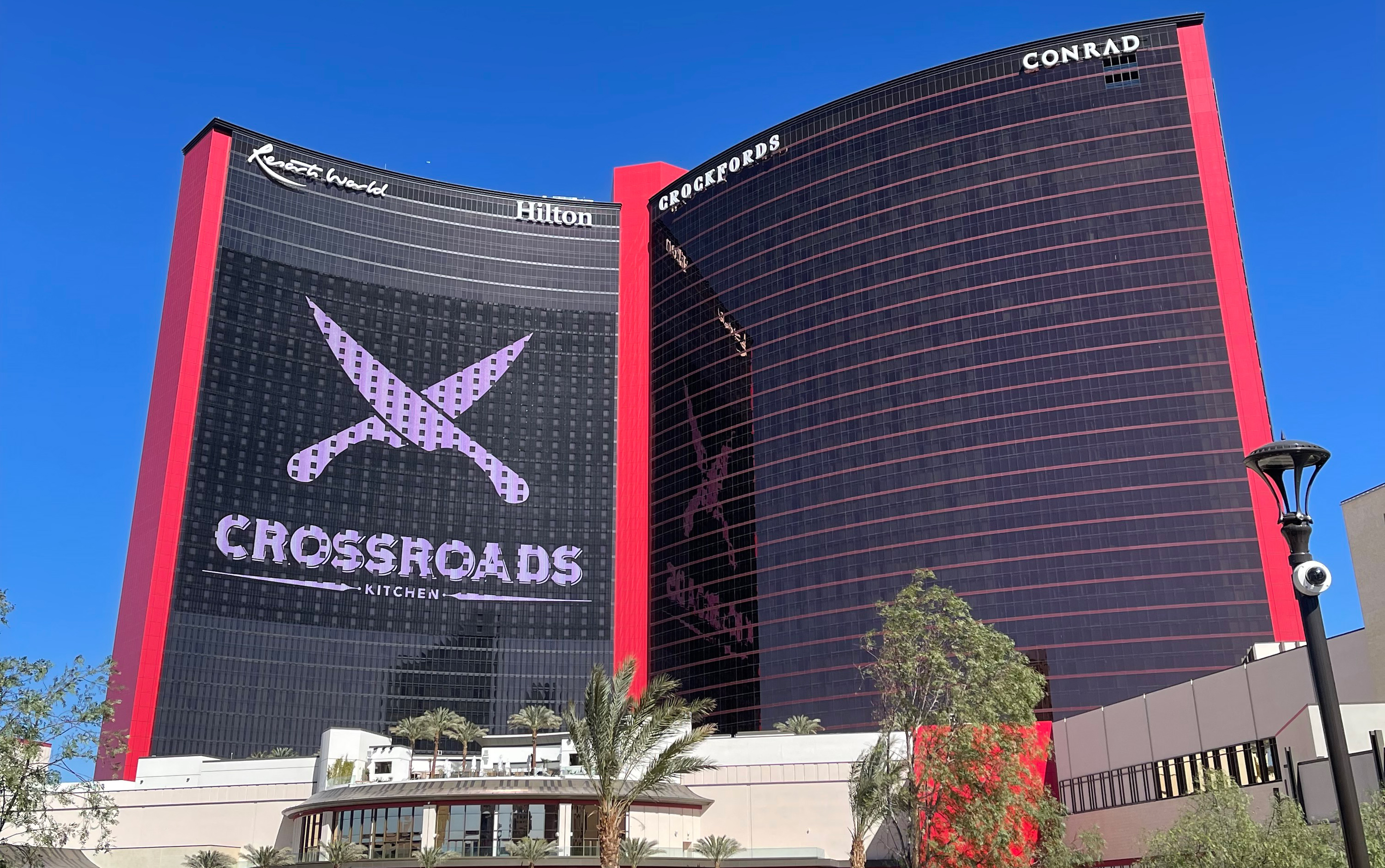 Crossroads Kitchen Las Vegas
In 2022, the team expanded to locations at Resorts World Las Vegas as the first vegan fine-dining establishment on the famed Las Vegas Strip with new inventive dishes such as Chestnut Foie Gras served with grilled sourdough, Caviar and Chips made with kelp, and Bucatini Pesto pasta with toasted pine nuts. In addition, Crossroads Kitchen's location in Calabasas, home to the likes of investor Travis Barker and wife Kourtney Kardashian-Barker, opened to much fanfare.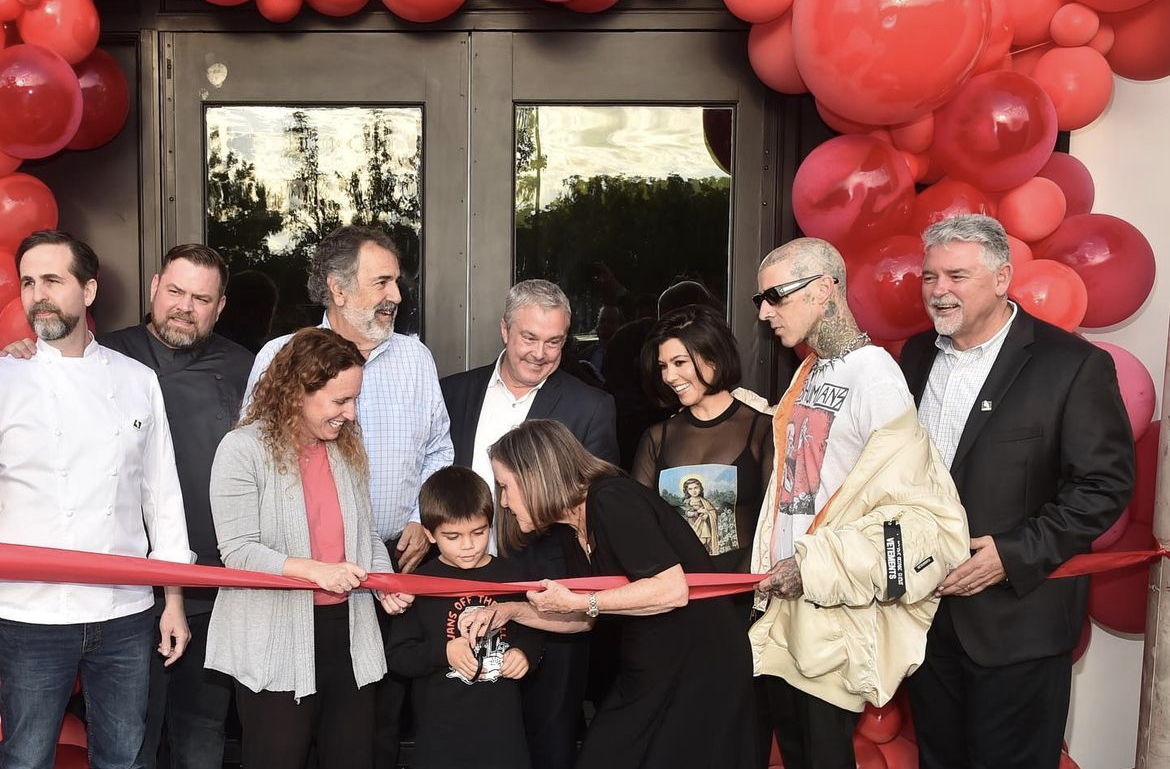 Crossroads Kitchen Calabasas
"It's incredible to sit back and watch. I've been cooking professionally for 20 years and people literally laughed at me when I started [creating vegan dishes]," Ronnen recalls. "Now, I hear from a lot of the chefs that I've worked with that hit me up for recipe ideas … it's great." It's this openness that comes through Ronnen's vision to create a place where all walks of life can cross paths—regardless of their diet—to enjoy good food and a timeless, ambient atmosphere.
A night out at Crossroads might mean a star sighting of Paul McCartney and Ringo Starr, one or two Kardashians, or the Instagram influencer of the moment. But no matter what, your dining experience—full of world-class vegan food and top-notch service—is guaranteed to make you feel like the star.
For more vegan restaurants, read: