Starting tomorrow, Starbucks will launch its new seasonal menu which features its first-ever vegan holiday beverage: Iced Sugar Cookie Almondmilk Latte. Inspired by "spritzen" cookies, a German holiday sugar cookie, the new vegan as-is holiday beverage (which can be ordered iced or hot) is made with a sugar cookie-flavored syrup combined with Starbucks Blonde Espresso, almond milk, and topped with red and green cookie sprinkle.
"Starbucks customers continue to look for new ways to enjoy plant-based options and customize their Starbucks Experience, and we are delighted to introduce the new holiday menu featuring our first non-dairy, holiday coffee beverage," a Starbucks spokesperson told VegNews.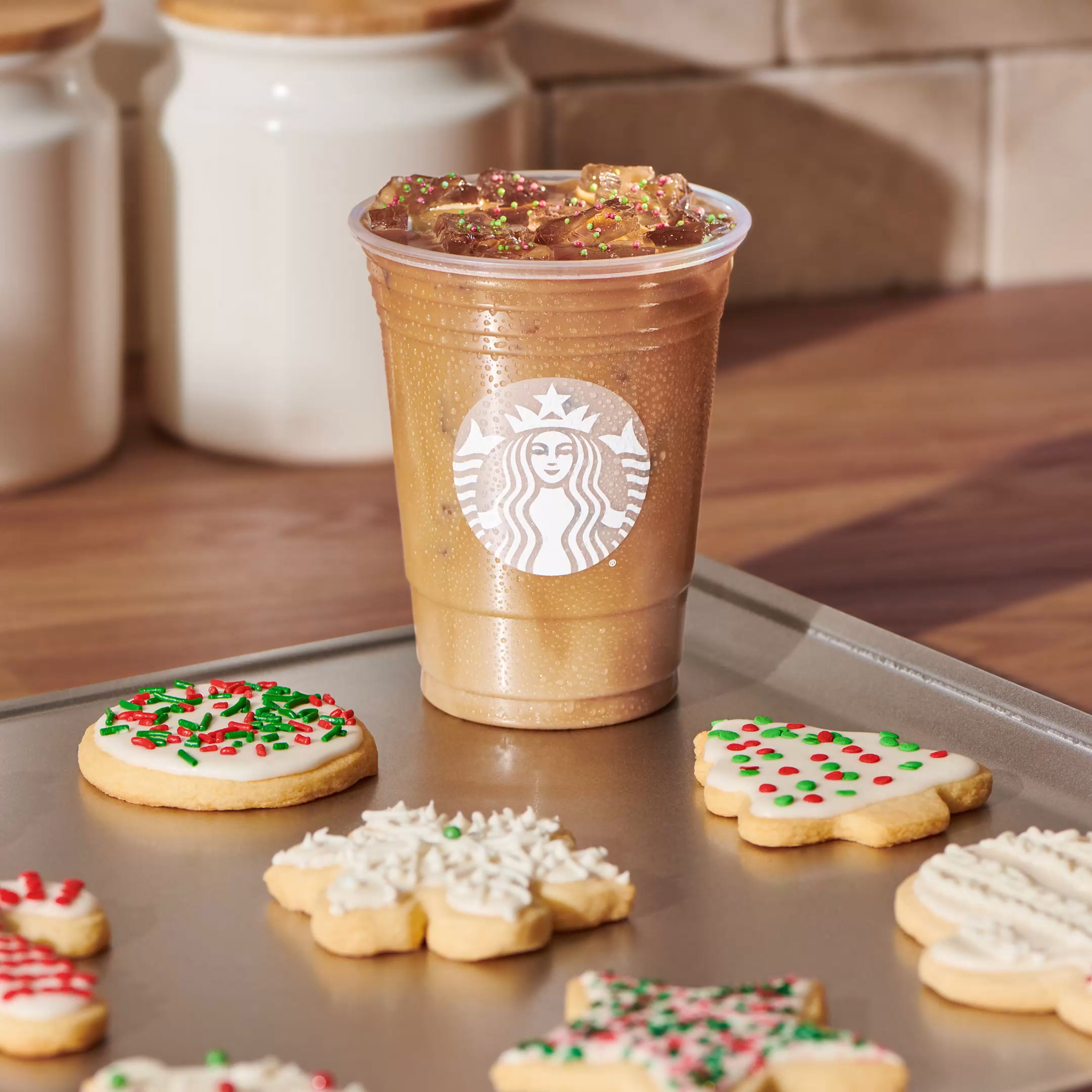 Developed to evoke holiday baking memories, the new beverage was created by Erin Marinan from Starbucks R&D and Starbucks employee Sara Bennett. "Almond is used quite a bit in baking. The almond flavor from the almond milk makes for a natural pairing with the nutty notes in Starbucks Blonde Espresso," Marinan said in a statement. "We also wanted to harness the buttery and vanilla notes of the cookie, which you can pick up in the aroma from that first sip from the sugar cookie flavored syrup and sprinkles. It reminds me of making cookies with my mom and sisters growing up. It gives me all the nostalgic feels of the holiday."
The holiday drink does not require any modification to be ordered vegan but Starbucks does not label it as such due to potential cross-contamination concerns. The Iced Sugar Cookie Almondmilk Latte is available while supplies last alongside returning holiday drinks, including an early launch of the Irish Cream Cold Brew which can be ordered vegan with plant-based milk. Starbucks is also serving its holiday drinks in four gifting-inspired cup designs: wrapping paper, candy canes, holiday lights, and ribbon.
Starbucks holiday drinks
In the United States, Starbucks' most anticipated holiday beverage, the illustrious Pumpkin Spice Latte (PSL), still contained dairy ingredients in its base when the chain released it in August. However, Starbucks did not let vegan customers down with a fall beverage it released alongside the PSL.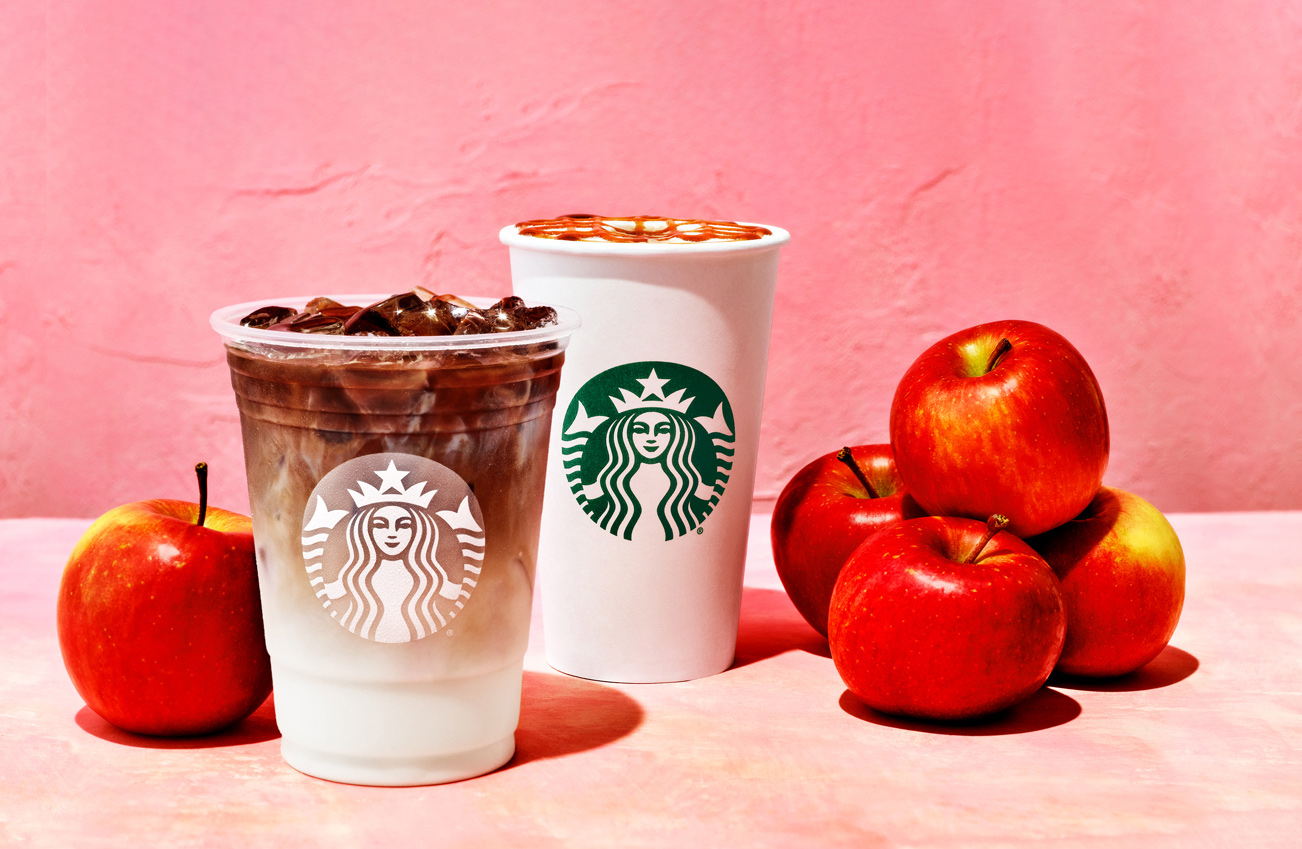 The Apple Crisp Macchiato—inspired by apple-centric baked goods such as apple cider doughnuts and apple pies—was made with a combination of milk, brewed espresso, apple brown sugar syrup, and came topped with a spiced apple drizzle. The deep apple flavor of the beverage came from apple purée and ordering it vegan involved a simple swap of the dairy milk for any of Starbucks' four vegan milk options (oat, almond, soy, or coconut).
A more sustainable Starbucks
Starbucks aims to become a resource positive company by 2030 and is implementing various measures, including plant-based menu updates, across its global operations to get there. Starbucks launched its Greener Stores initiative in 2017 and this year, opened its first Greener Store outside of North America in Shanghai, China. There, the menu is more than 50-percent plant-based and oat milk, not climate damaging dairy, is the default milk option in beverages.
While Starbucks has transformed 2,300 of its North American outposts into Greener Stores since 2017—and two new locations are planned for Seattle and Southern California—none have yet featured plant-based food and drinks as heavily as its Shanghai location.
However, in addition to its first vegan holiday beverage, Starbucks is testing out a few fully plant-based items stateside. Last year, Starbucks tested the Plant Powered Breakfast Sandwich, Plant Powered Potato Bake bites, and Chickpea bites, at one Issaquah, WA location where it also tested Miyoko's Creamery's vegan cream cheese. The Plant Powered Breakfast Sandwich—made with meatless sausage, dairy-free cheese, and mung bean-based eggs—landed at Dallas area locations in January, but Starbucks has yet to expand the vegan sandwich to its national menu. The chain also began testing vegan whipped cream—made from a lentil base—at two Seattle locations in September.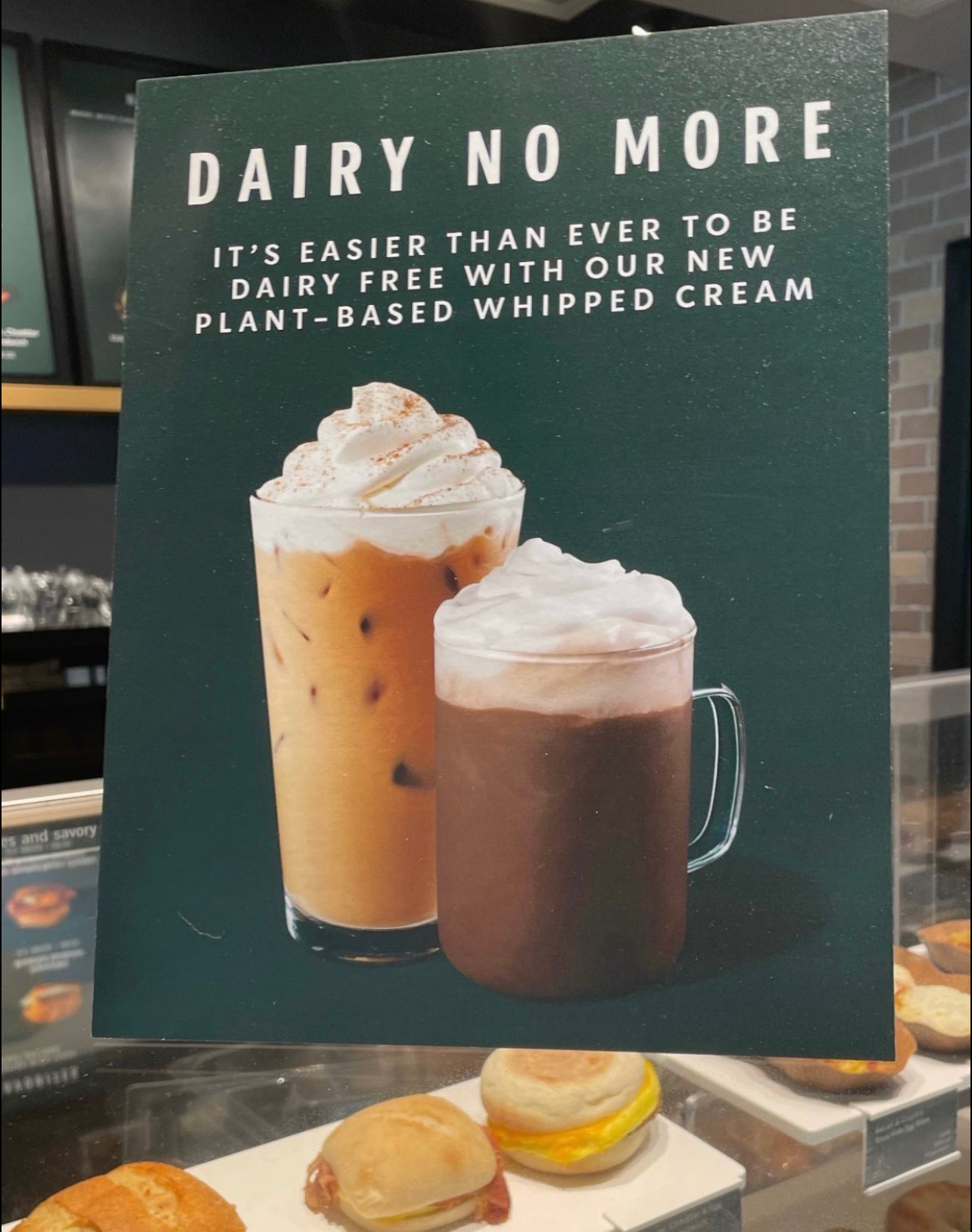 "Building on Starbucks' sustainability commitment, the company's goal is to expand plant-based choices as an environmentally friendly menu contributes to our goal to be a resource positive company," the spokesperson told VegNews. "We continue to innovate with plant-based ingredients across key platforms like espresso, cold brew, refreshment, food, and more as we aim to provide our customers a variety of choices as part of their Starbucks experience."
For more about vegan at Starbucks, read:
Starbucks Just Launched Its First Vegan Protein Box Nationwide
Starbucks to Launch Oat Milk at All US Stores

The Essential Vegan Guide to Starbucks Fall Drinks