Raise an extra-large mug to this creamy festive beverage! Usually containing milk, cream, and eggs, it's a miracle there's not just one but a plethora of vegan options for eggnog. Whether you save it for Christmas Eve or down nog all season long, here is an exhaustive list of all the vegan nogs available on the market, as well as five fabulous recipes to make it at home. Cheers!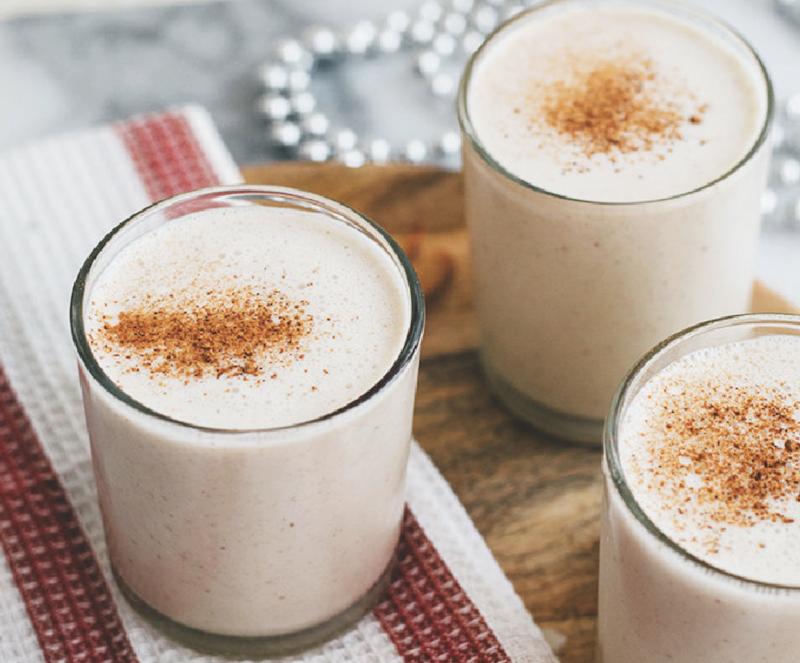 Crazy Vegan Kitchen
What is eggnog?
Original versions of eggnog can be dated back hundreds of years to medieval England. The milk-based beverage typically included dairy cream, sugar, egg, wine or beer, and an assortment of thickening agents from oats to bread. Food historians have dated spiced eggnog, or posset, as far back as the 1200s. It was a food reserved for aristocratic circles as ingredients such as spices and sugar were cost-prohibitive to most. Fast-forward to the British colonization of North America, and eggnog gained accessibility due to the abundance of dairy and rum. The rum soon became an essential ingredient, as the alcohol prevented the beverage from spoiling in a time before the invention of refrigeration.
Today, commercially sold eggnog contains milk, cream, sugar, egg yolks, spices, and often dry milk powder and stabilizers. Note, you won't find alcohol pre-mixed into these products. In lieu of booze to kill bacteria, today's eggnogs are pasteurized and refrigerated. There are generally two types of nog—those meant for mixing with alcohol and those meant for drinking straight from the carton. The mixing variety tends to be sweeter and thicker—two necessary components to balance out the booze. Those intended for enjoyment sans alcohol are often slightly less sweet and less viscous.
Given the heavy use of animal ingredients in traditional eggnog, it may seem difficult to find a vegan version. Fortunately, there is a vegan version of everything—including this holiday drink. Here are the best store-bought vegan eggnogs to buy and to make.
Vegan nogs you can buy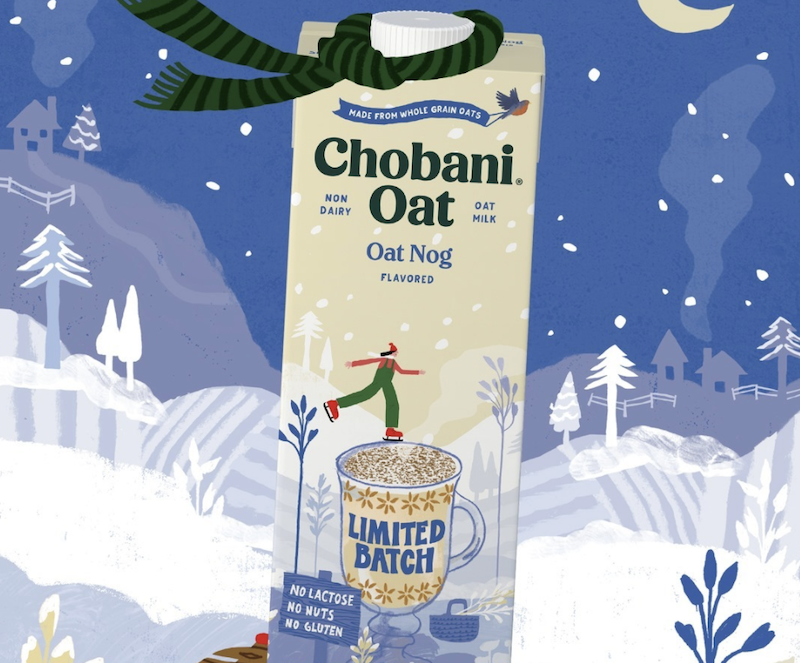 Chobani
1 Chobani Oat Nog
Really, Chobani, you make such incredible oat-based dairy products. From your creamers to your yogurts and now this nog, will you please drop the dairy and focus solely on the oats? Truly, it's your calling.
Find it here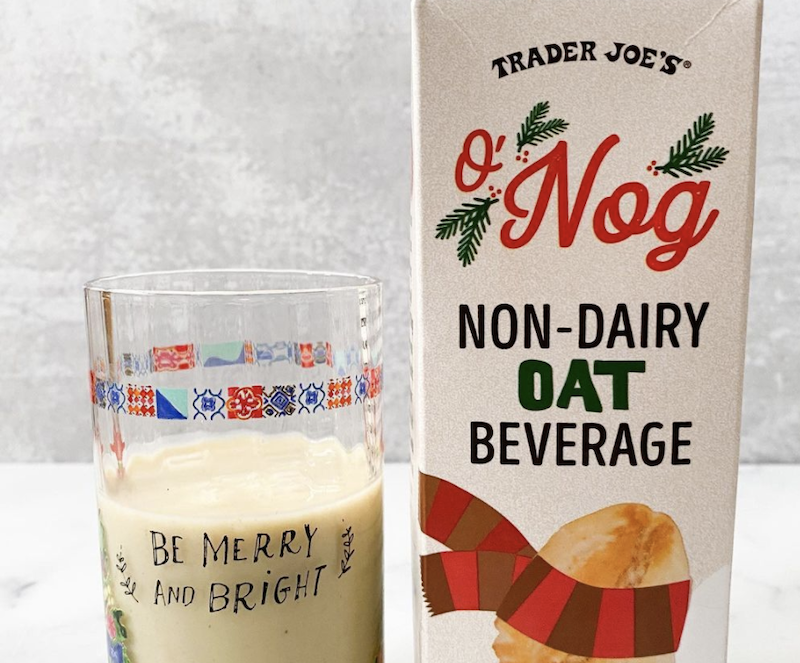 @vegantraderjoes/Instagram
2 Trader Joe's O'Nog
First came the almond beverage nog, now, this tiki-themed grocer is leaning into the oat trend. Look for the cartoon oat wrapped in a festive green-and-red striped sweater as you scan the aisle for this limited-time offering.
Find it here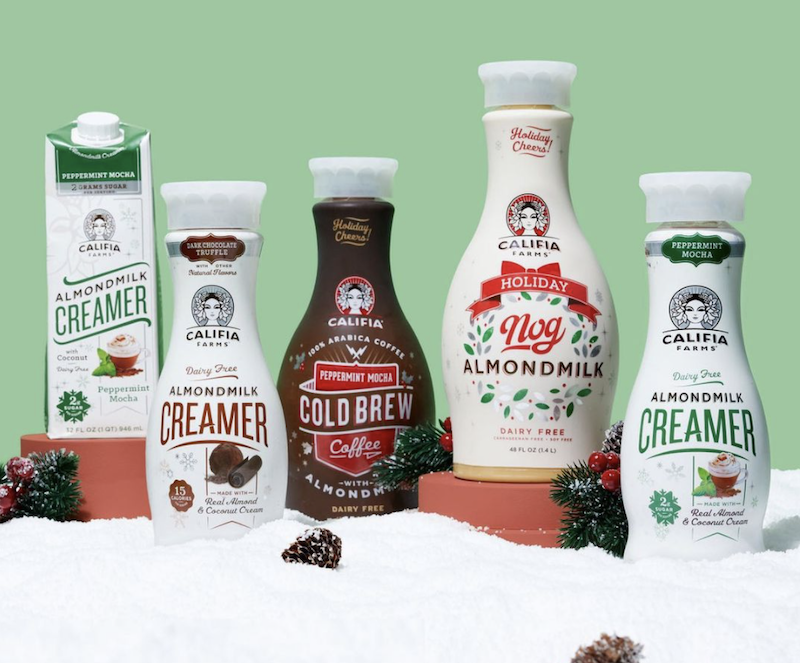 Califia Farms
3 Califia Farms
This behemoth of a vegan beverage brand was one of the first to come out with a dairy-free nog. Made with the company's beloved almond milk and a good amount of sugar, this treat is light and sweet. It beckons for a tipple of rum or brandy!
Find it here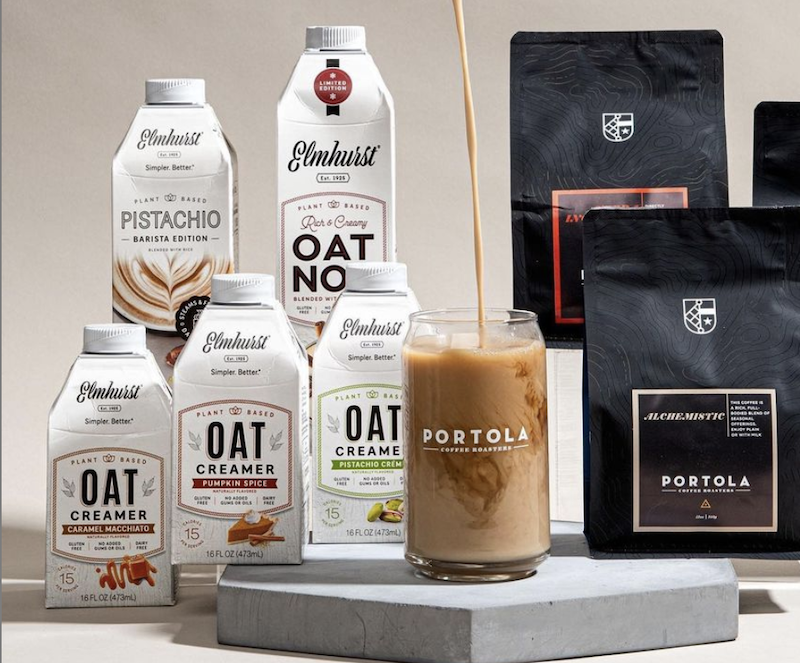 Elmhurst 1925
4 Elmhurst Oat Nog
Announcing a product debut! This plant-based dairy brand just launched its inaugural nog beverage made with oats and cashews for a super creamy sip. Made with just six ingredients, this is the cleanest store-bought eggnog you can find on supermarket shelves.
Find it here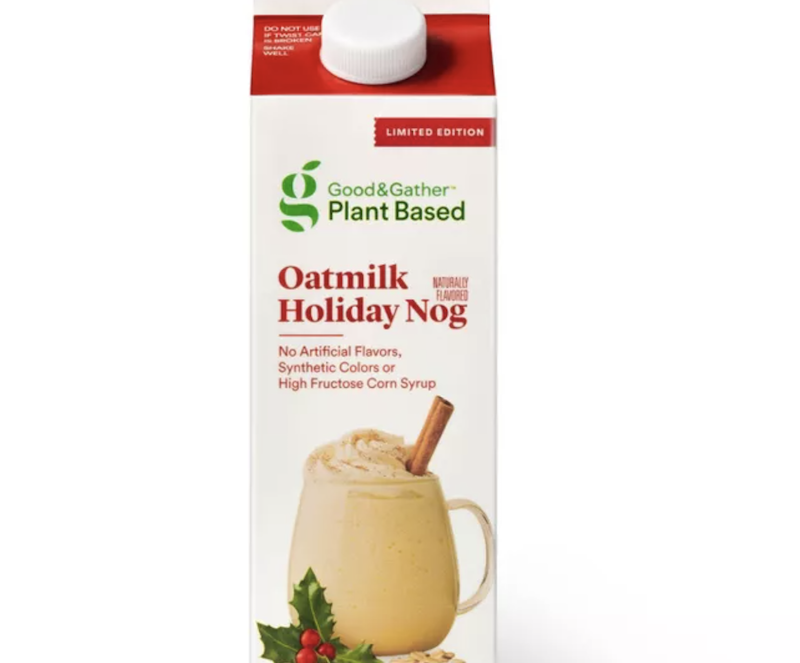 Good & Gather
5 Good & Gather Plant-Based Oatmilk Holiday Nog
Even Target is getting on the vegan nog bandwagon this year. This beverage is thick and creamy—perfect by the glass or poured into a shot of espresso for a foamy vegan eggnog latte!
Find it here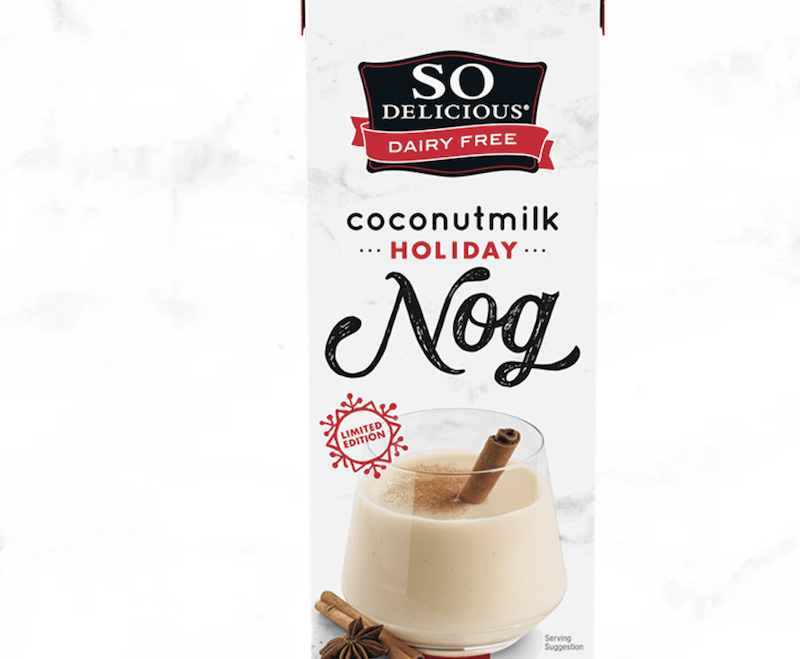 So Delicious
6 So Delicious Coconut Holiday Nog
Blast Mele Kalikimaka as you sip on this coconut-based holiday bevvy. The hint of coconut takes you to the tropics while the nutmeg brings you back to cozy winter nights. If you're adding a bit of libation, rum is the way to go.
Find it here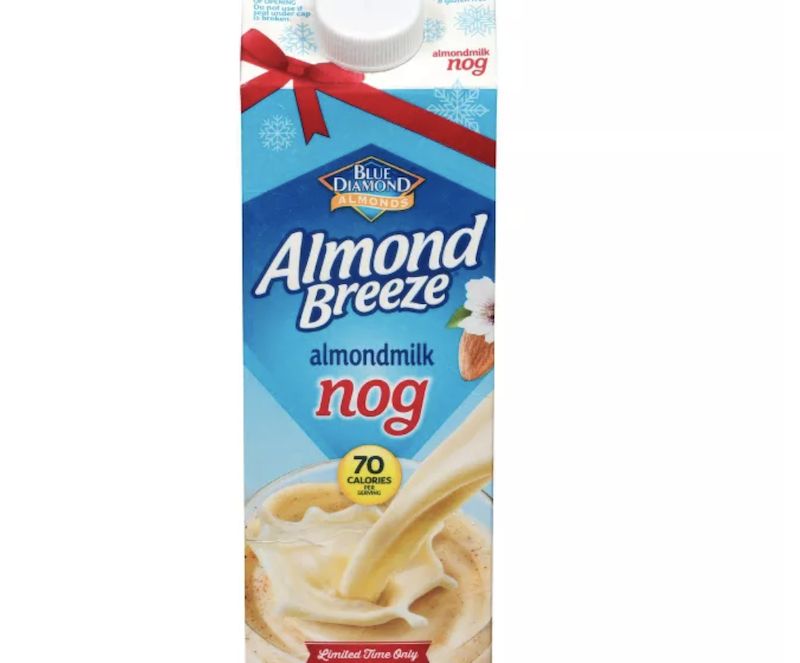 Almond Breeze
7 Almond Breeze Almondmilk Nog
Light and sweet, this drink is great for kids on its own or adults when spiked with alcohol. Rum, brandy, or bourbon, it's all good.
Find it here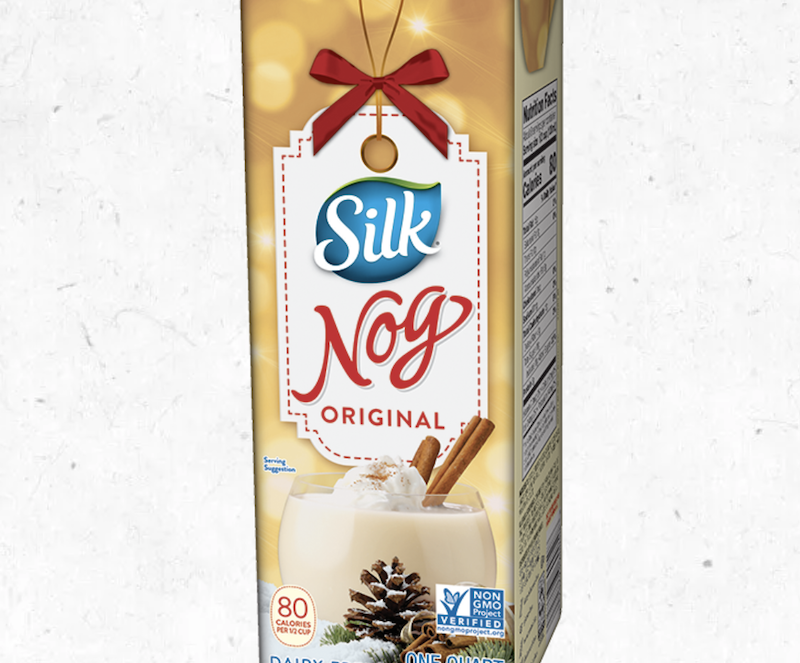 SIlk
8 Silk Original Soy Nog
Made with super sturdy soy milk, this nog can stand up to heat. Steam it for a foamy latte, warm it over the stove with a bit of rum, or get creative and use it in your next baked good. This product was made for these Soy Nog Whoopie Pies with cinnamon-chocolate cream cheese frosting. Find it here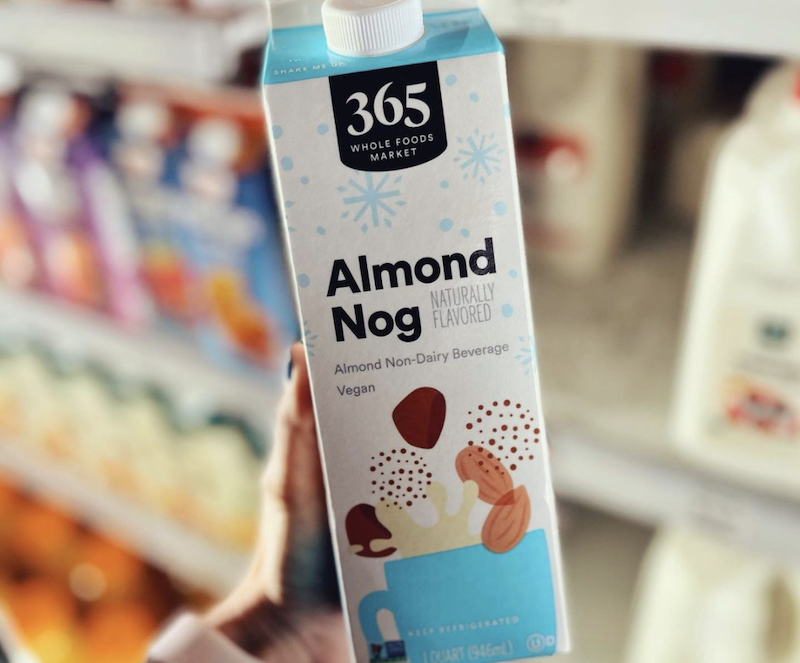 9 365 by Whole Foods Market Almond Nog
Spiced primarily with nutmeg and made with almond milk, this nog is on the thinner side and meant for drinking straight from the fridge or lightly warmed on the stove. It's also a stellar pairing for holiday cookies.
Find it here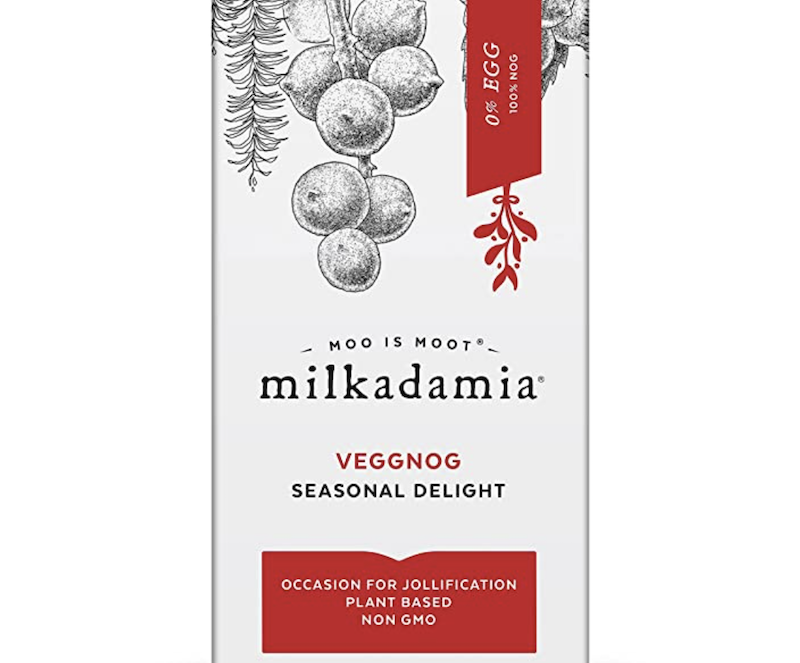 Milkadamia
10 Milkadamia Veggnog
Thick and sweet, this unique macadamia nut nog would be delightful warmed with a spot of rum. We're also experimenting with it in baked goods—we bet it makes a killer eggnog buttercream or a noggy pudding!
Find it here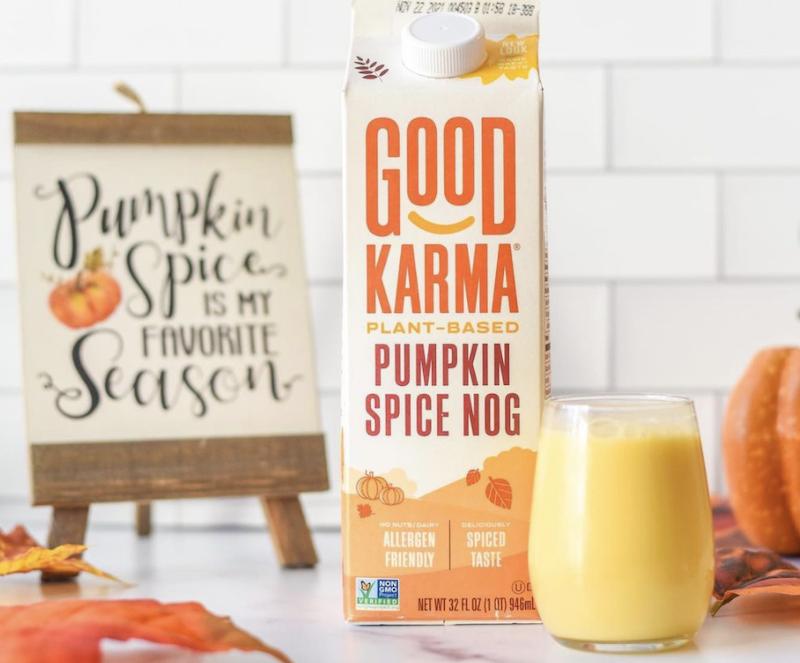 Good Karma
11 Good Karma Nog
The leading flax milk company offers not just one, but two seasonal vegan nogs! The brand launched its Pumpkin Spice Nog earlier this fall and the Holiday Nog is just hitting the shelves. No matter which you choose, Good Karma fans will love sipping these drinks straight from the glass. Find it here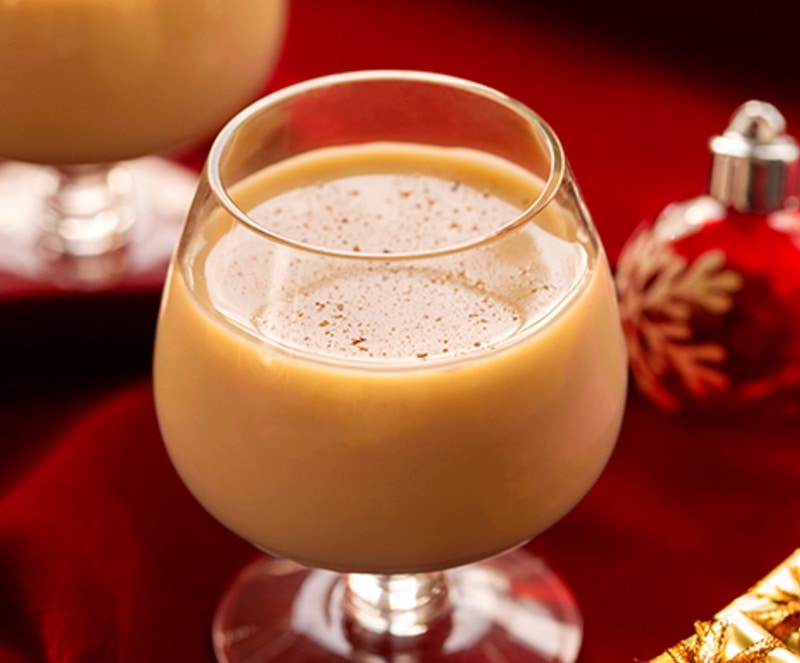 Ani Phyo
Vegan eggnog recipes you can make
1 Vegan Holiday Eggnog
Four ingredients (plus water) are all you need to make a cheers-worthy holiday beverage. Naturally sweetened with dates and flavored with vanilla bean and freshly grated nutmeg, this thick and warming drink will bring on the cozy without the sugar rush.
Get the recipe
2 Soy Egg Nog
Spiked generously with your choice of alcohol, this one is for the adults. It's fairly viscous and heavily spiced—two characteristics that demand you sip slowly and enjoy the libation.
Get the recipe
3 Easy Vegan Eggnog
Canned coconut milk lends a deliciously rich texture to this cinnamon, cardamon, vanilla, and nutmeg-spiced brew. The author encourages readers to top with a floater of bourbon, a mound of non-dairy whipped cream, and a sprinkle of cinnamon. Take a photo for the 'gram.
Get the recipe
4 5-Minute Eggnog
These days, guests typically don't call at a moment's notice and invite themselves over. Still, it helps to have a few quick recipes in your holiday hosting arsenal for convenience sake. Throw cashews, dedicated coconut, and spices into a powerful blender and chill in the fridge until said guests pop by.
Get the recipe
5 Vegan Eggnog
If you can, try using fresh spices for this luxurious vegan nog. It may not be your everyday eggnog, but the freshly grated nutmeg and telling flecks of pure vanilla bean will make any celebration far more festive.
Get the recipe
For more vegan holiday finds, read:
20 Vegan Holiday Products to Seek on Your Next Grocery Trip
10 Totally Veganized Starbucks Holiday Drinks
5 Gingerbread Houses to Build This Year
JUST LAUNCHED! Get our 10 Easy Vegan Summer Meals recipe book as a FREE instant download.
JUST LAUNCHED! Get our 10 Easy Vegan Summer Meals recipe book as a FREE instant download.