Christmas Day can be spent in so many ways—there's gifts to unwrap, kids to entertain, basketball to watch, snowballs to chuck, and boozy vegan eggnog to sip leisurely by a roaring fire. Cooking isn't a top priority for many, and yet food is an extremely important element of the celebratory day. Whether that's Christmas brunch or dinner, we demand a feast … most just don't want to spend all day preparing it. Cue the professionals. From gooey vegan cinnamon rolls to an impressive plant-based roast, these restaurants have your holiday covered.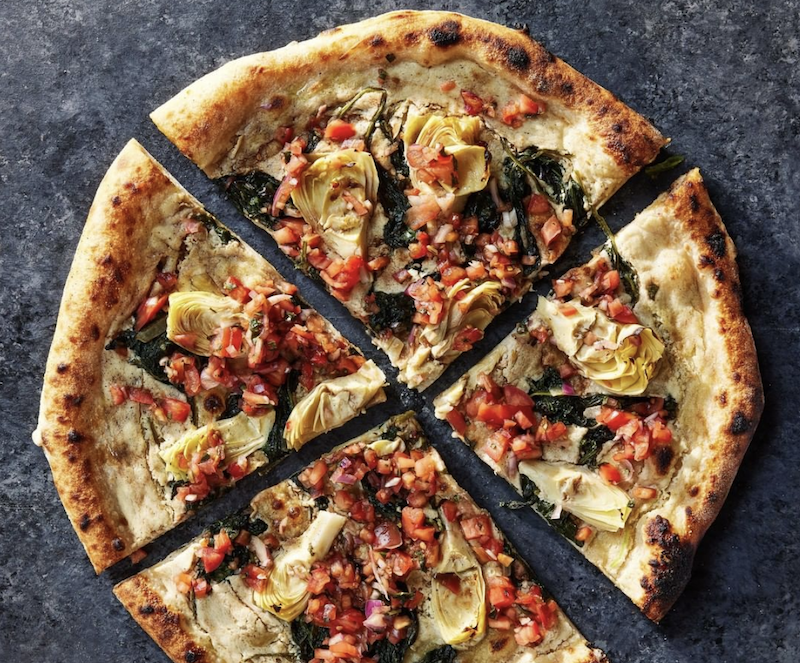 Double Zero
1 Double Zero, New York City, NY
In the words of wise Frank Parker, "We're going out to eat." While the Double Zero chains in Venice, CA; Providence, RI; Baltimore, MD; and Boston, MA will be closed on Christmas Day, the flagship location in NYC is open for all those who loathe to cook or whose vegan turkey ended up going to the dogs. Reservations are highly recommended.
Find it here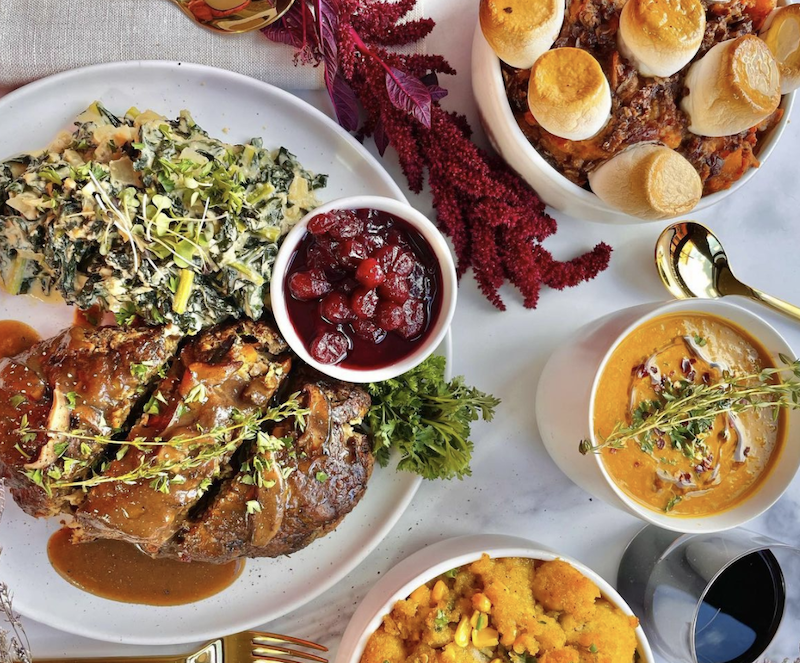 Whole Foods Market
2 Whole Foods Market, nationwide
Perhaps you were too proud to order Thanksgiving dinner to-go, but Whole Foods is offering up another chance to try its versatile vegan holiday spread for Christmas. In partnership with celebrity chef Chloe Coscarelli, the national grocer has everything you need for a holiday feast—from a cremini mushroom roast to a pear, apple, cranberry, and fig streusel pie (the Scarlet pie). Order by December 23 to secure your meal.
Find it here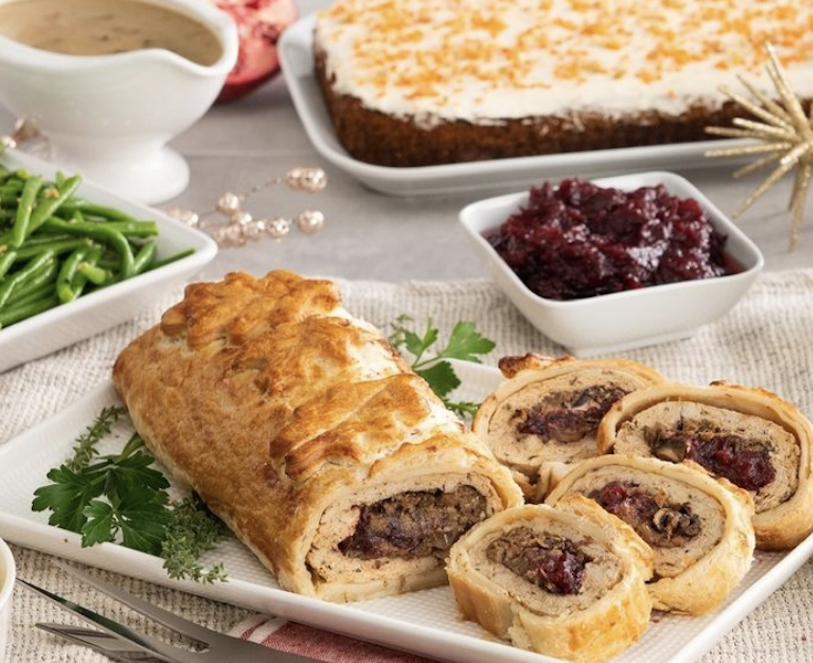 Veggie Grill
3 Veggie Grill, multiple locations
No, we're not suggesting you order buffalo wings and sweet potato fries for Christmas dinner (though if you're into that, by all means, go for it). This vegan chain is offering its seasonal Holiday Feast (a rerun of its Thanksgiving package) featuring Turkey Wellington with walnut mushroom stuffing, Butternut Squash and Sage Soup, cranberry sauce, and more. For an additional fee, guests can add on a dessert tray of carrot or chocolate-frosted pumpkin spice cake. Order by December 22 to pick up on December 23 or 24.
Find it here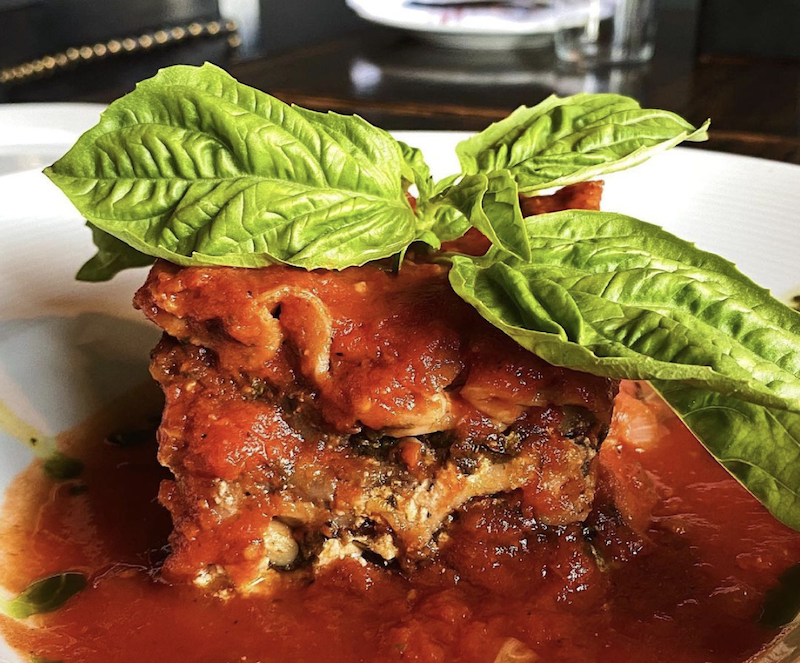 Pura Vita
4 Pura Vita, Los Angeles and Redondo Beach, CA
If your favorite Christmas song is "Dominick the Donkey" (aka "The Italian Christmas Donkey), it'd be fitting to sit down to an Italian feast while playing that song on loop (so sorry if that's stuck in your head now). This exceptional Italian eatery and pizzeria offers a wide variety of catering options with portions that range from four to six people and eight to 12. À la carte items include polpettine (mini Italian meatballs), lasagna trays, Applewood Smoked Maple Jackfruit, and a range of desserts from cannoli kits to traditional panettone. Order by December 19 for pickup on December 23.
Find it here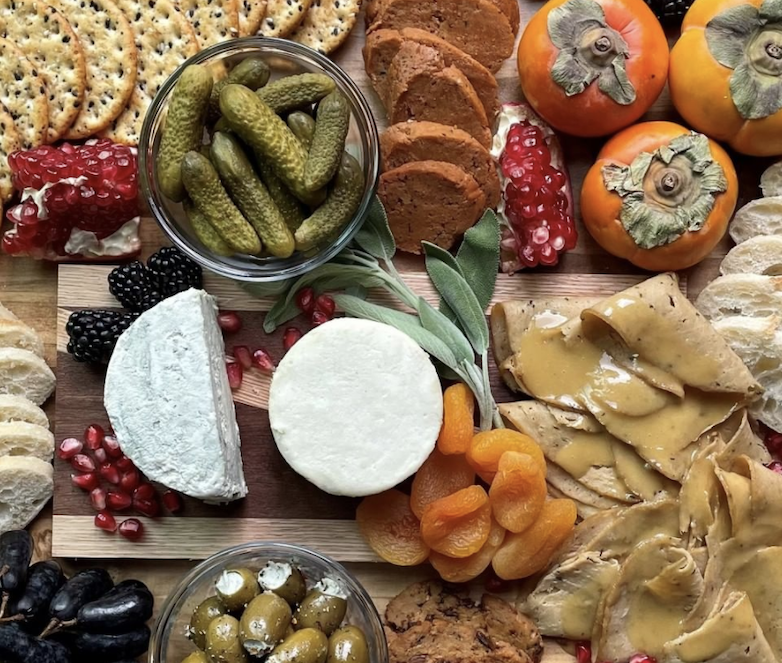 The Herbivorous Butcher
5 The Herbivorous Butcher, Minneapolis, MN
Sorry to say, but it's too late to order from this original vegan butchery for shipping. However, those proximate to its Minneapolis flagship can pick up a variety of vegan meats, cheeses, and sweet treats for the holiday. Stock up on mini hams, meatloaf, peppermint bars, and a new Picante Capicola and Cheddar Cheese Ball … because nothing says "festive!" like an enormous cheese ball.
Find it here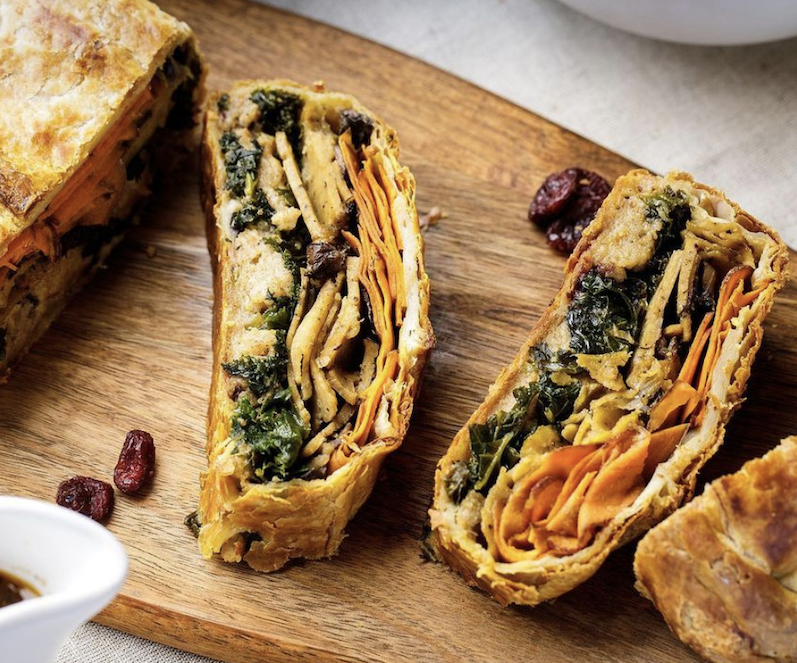 Native Foods
6 Native Foods, multiple locations
Just like Frosty the Snowman, there is only a limited time to snag the famous Native Wellington until it's gone. The layered puff pastry-encased showstopper is filled with thinly sliced sweet potatoes, shaved and seasoned seitan, cranberries, stuffing, kale, caramelized onions, and herbed mushrooms. The meal-for-four includes a pint of vegan gravy. Quantities are limited, so order today.
Find it here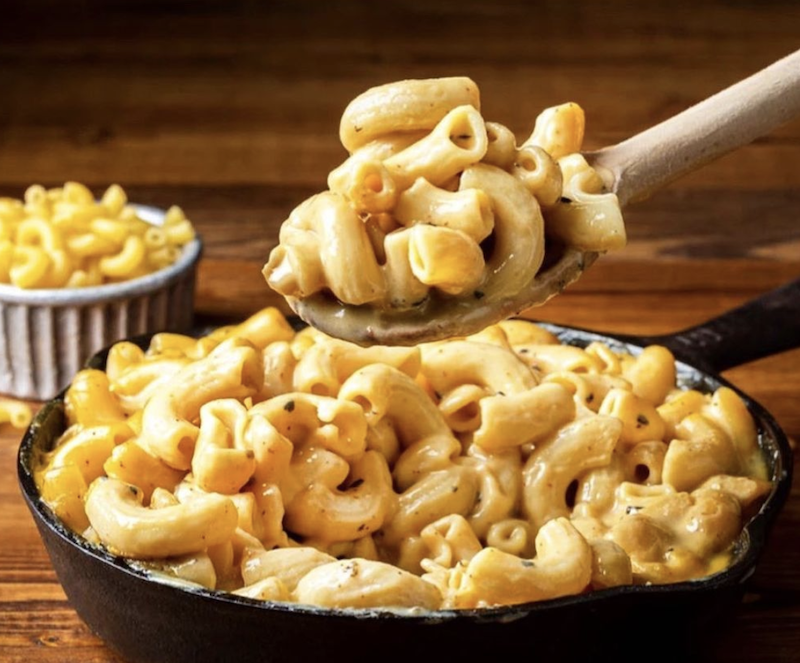 iEatGrass
7 iEatGrass, nationwide
Chef Ayindè Howell's famous Mac and Yease is available in Whole Foods stores across the country, but he does more than just great mac. The iEG Sampler Bundle is a carb lover's dream, featuring two pounds each of the Original Mac and Yease, bolognese sauce, 16 ounces of stewed Money Greens, and a 16-ounce single serving of Mac and Yease. Order now and freeze until you're ready to heat for Christmas dinner.
Find it here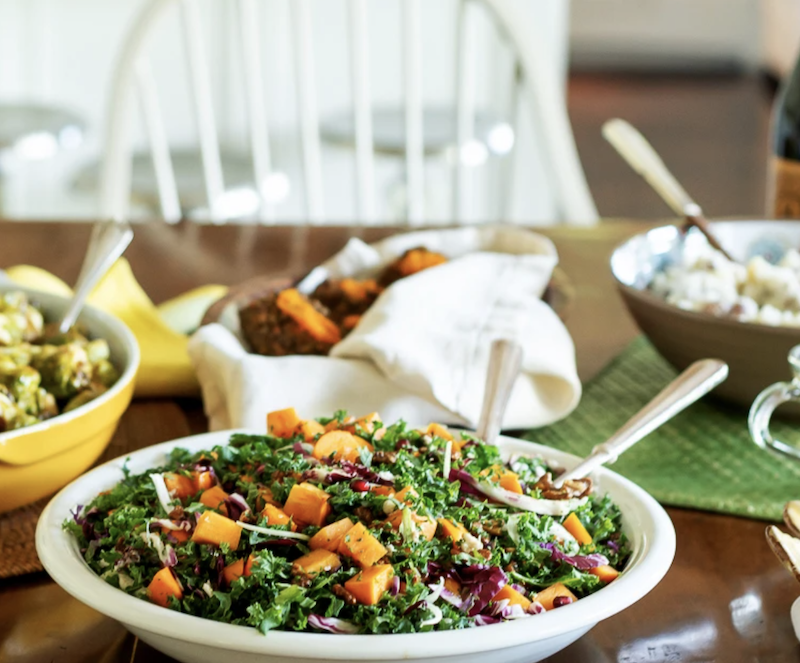 Cafe Gratitude
8 Café Gratitude, multiple locations
Sometimes the best meals are made from sides. Gratitude's Holiday Sweets + Sides catering option includes scrumptious side dishes that can easily make a meal. Each dish serves four to six people, so double up the order for larger parties. Our favorites include the French Lentil and Butternut Squash Loaves, Pear & Cranberry Chutney, Autumn Kale Salad with Persimmons and Pomegranate, Roasted Maple Miso Brussels Sprouts, and the Maple Pumpkin Coffee Cake. Order by December 21 for pickup on December 23.
Find it here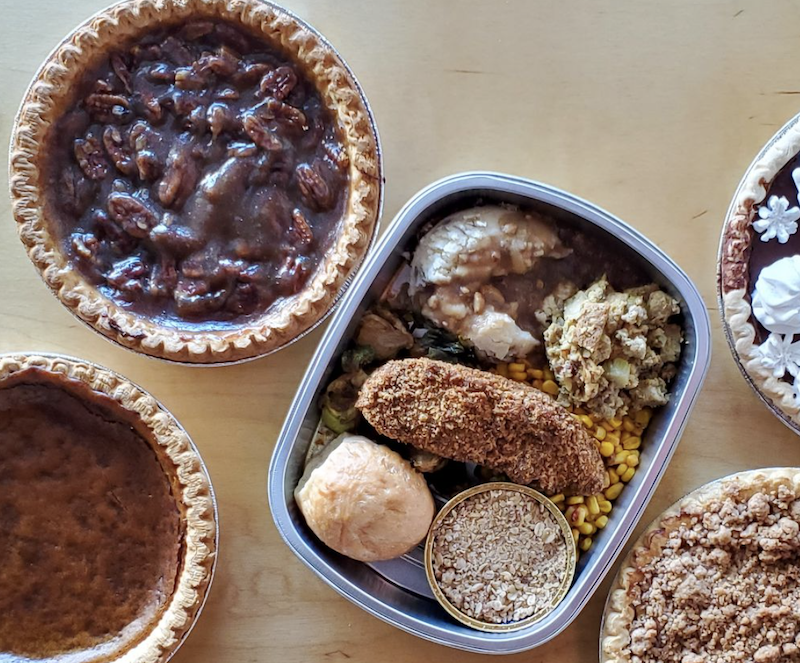 Greens New American
9 Green New American, Scottsdale and Phoenix, AZ
Think of this spread as Thanksgiving, take two. Green New American's annual holiday dinner to-go includes all the classics including a seitan-based turkey breast with gravy, cranberry-studded stuffing, roasted garlic smashed potatoes, paprika-spiced sweet corn, fried Brussels sprouts, bread rolls, and a winter berry cobbler. Other pies (pumpkin, pecan, and apple) and a four-serving tray of vegan mac and cheese are also available à la carte. Order by December 18 for pickup on December 23.
Find it here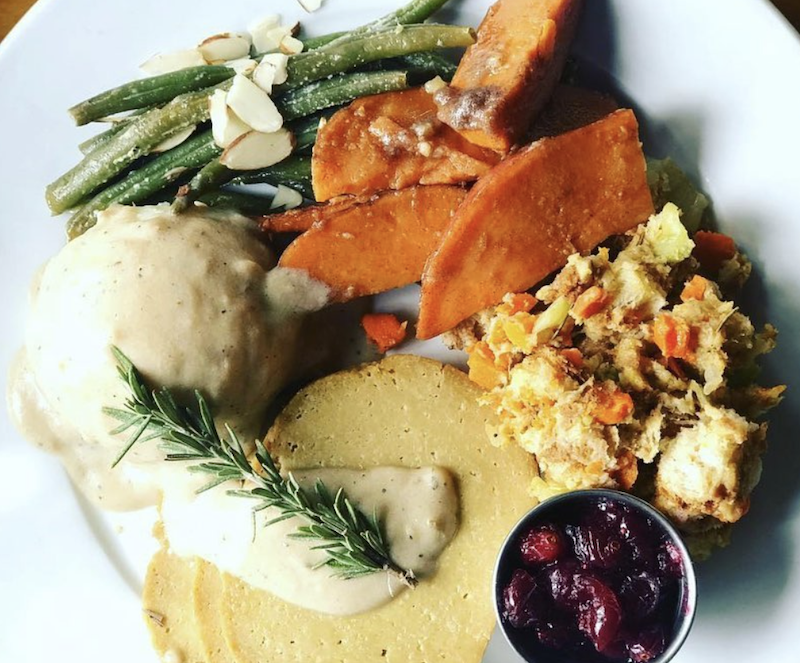 Follow Your Heart Market & Cafe
10 Follow Your Heart Market & Cafe, Canoga Park, CA
For those who did not get their holiday ordering in by a certain date, Follow Your Heart is offering individual and family-sized four-course holiday dinners for pickup on December 23 and 24. You'll start with a Butternut Squash Broccoli Bisque, followed by an arugula salad, a sweet corn tamale, and finish with a mini Holiday Wellington. Desserts are available à la carte, as are a number of other options including stuffing, gluten-free mains, mashed potatoes, pot pies, and gravy.
Find it here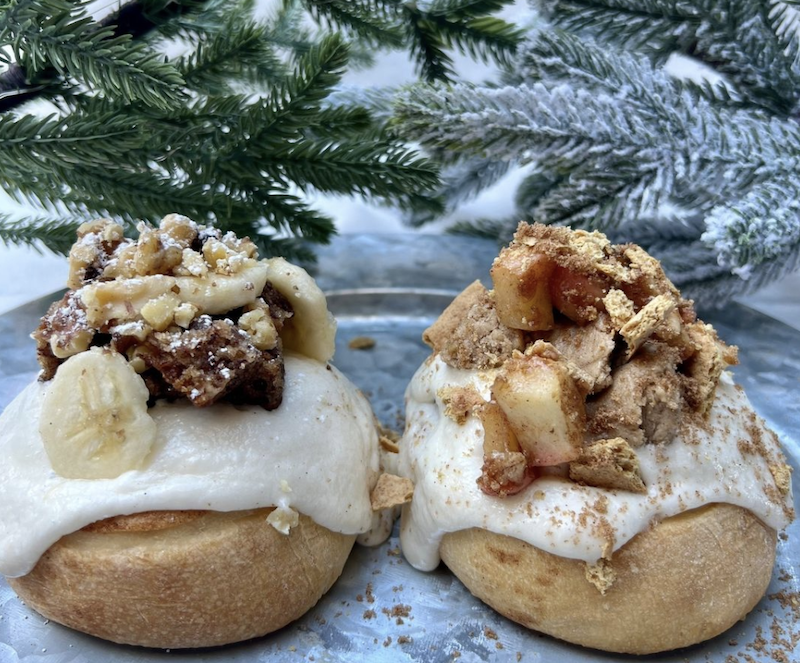 Cinnaholic
11 Cinnaholic, multiple locations
Are cinnamon rolls breakfast or dessert? On Christmas, they can be both. This vegan cinnamon roll franchise sells these sweets by the dozen in addition to seasonal holiday wreath cakes (which are made out of cinnamon rolls!). These aren't your standard tube pastries, nor are they akin to Cinnabons—they're better. Think of Cinnaholic as a Cinnabon and Coldstone mash-up, because you can top your gigantic pastry with a seemingly endless number of frostings, toppings, and drizzles. The chain does not provide a cutoff order date, but best to place your order sooner than later before they sell out.
Find it here
Watercourse Foods
12 Watercourse Foods, Denver, CO
It's okay, you can wait to the last minute to plan Christmas dinner if you live in Denver, because this vegan spot isn't taking pre-orders. Beginning December 18, the kitchen will start to dish out its holiday menu for dine-in and takeout. While the restaurant is closed Christmas Day, you can definitely swing by Christmas Eve to stock up on pot pies, seitan roasts, mashed potatoes, mac and cheese, and peppermint cannolis. Here's to spontaneity!
Find it here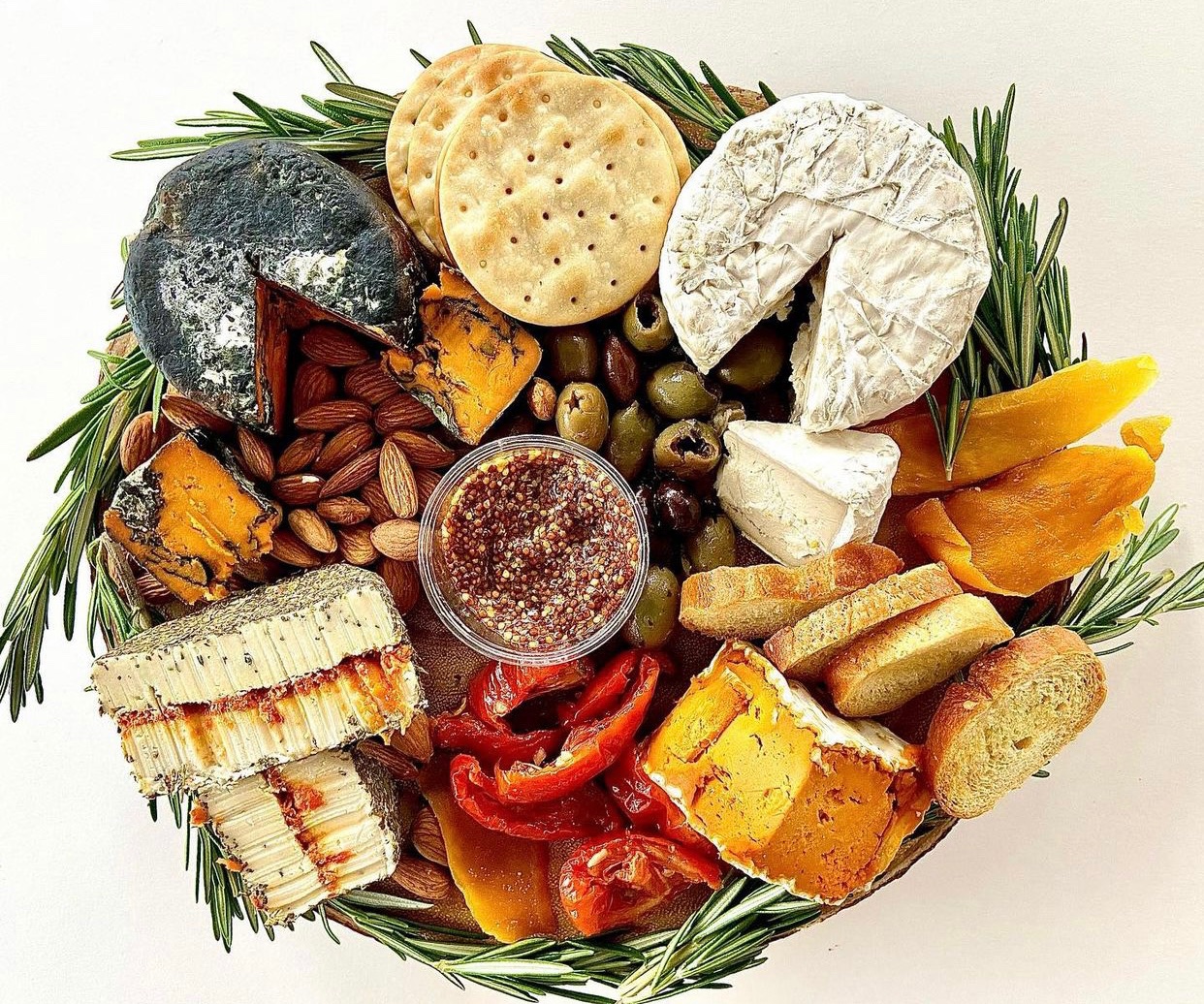 Rebel Cheese
13 Rebel Cheese, Austin, TX
Even if you have the main course covered, let someone else arrange the vegan cheese board. Rebel Cheese's curated boards are immaculate and party-ready. The Rebel Cheese plate includes a selection of three cheeses along with assorted olives, jams, dried fruit, crackers, and other tasty accouterments. The company also carries a dessert cheese plate for a delectable and unexpected sweet-and-savory mashup.
Find it here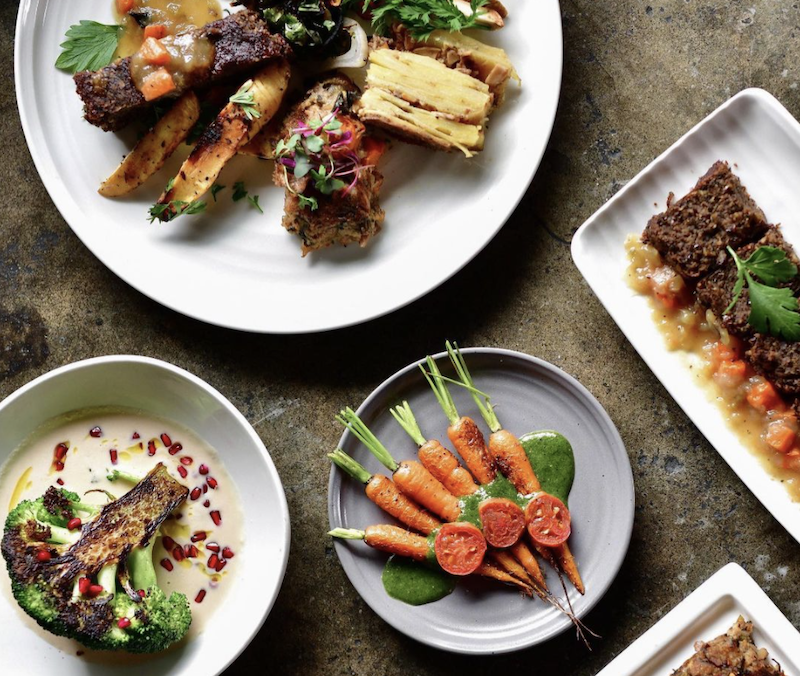 The Plot
14 The Plot, Oceanside, CA
This farm-to-table restaurant does everything right. It's animal-free, organic and local when possible, and sources many of its ingredients from its own urban garden situated amongst the gorgeous outdoor dining area. While closed for Christmas, this husband-and-wife-owned business is offering an individual holiday meal for takeout. The multi-course meal includes all the classics with a The Plot twist including garlic herb roasted potatoes, wild rice and lentil roasts, rosemary sage stuffing, green beans with cranberries and walnuts, and more. Be sure to add on a Plot Cake. It's magical. Order by December 22 for pickup on December 24.
Find it here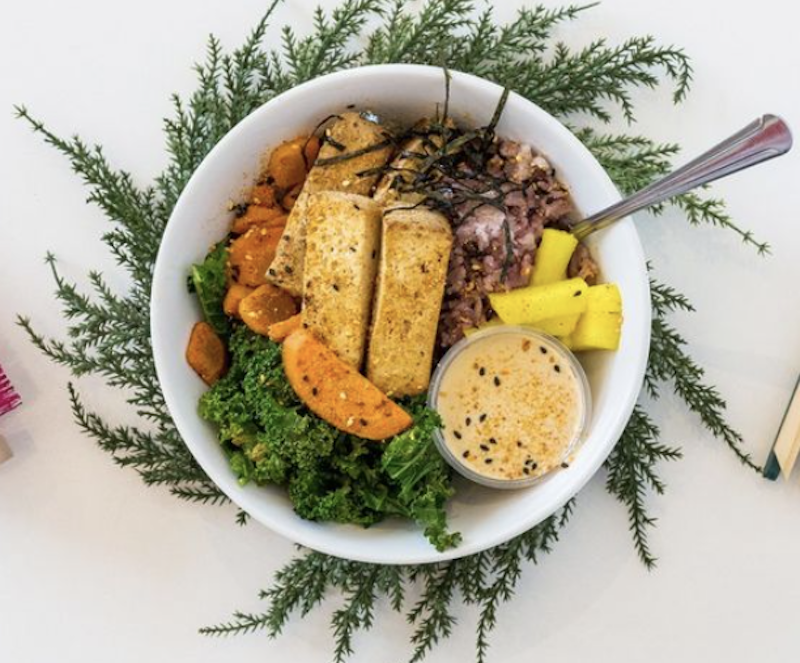 Upton's Breakroom
15 Upton's Breakroom, Chicago, IL
Brought to you by vegan jackfruit and seitan purveyor, Upton's Naturals, this fast-casual spot is teaming up with Liberation Donuts to provide single-serve holiday meals to-go. The spread includes sliced Upton's seitan, mashed potatoes and gravy, Brussels sprouts, cranberry sauce, and a Liberation chocolate peppermint doughnut. Pre-order now for pickup on December 23.
Find it here
For more vegan Christmas favorites, read:
Eat These 10 Vegan Christmas Cookies Immediately
13 Best Vegan Hot Cocoa Recipes to Sip On
Create the Ultimate Holiday Vegan Charcuterie Board
JUST LAUNCHED! Get our 10 Easy Vegan Summer Meals recipe book as a FREE instant download.
JUST LAUNCHED! Get our 10 Easy Vegan Summer Meals recipe book as a FREE instant download.