Canada-based Purity Dairy—a 75-year-old dairy company—recently launched its first non-dairy milk. The beverage differentiates itself from most dairy-free milks on the market as it is made with a blend of barley and oats extract, both of which are supplied by Prince Edward Island (P.E.I.) Brewing Company.
Purity Dairy isn't the first to the market with this specific barley and oat combination. JÖRD—a Danish plant milk company—also makes a non-dairy milk with barley and oats that is widely available in Europe and the United Kingdom. However, Purity latched on to this combination after working with a product development team at Canada's Test Kitchen and Holland College's Culinary Institution of Canada for the past several years. The company selected oats as much for their rapidly growing popularity in the consumer market as well as the neutral taste and creaminess they provide. The barley extract enhances the flavor of the beverage, according to Purity's general manager Tom Cullen.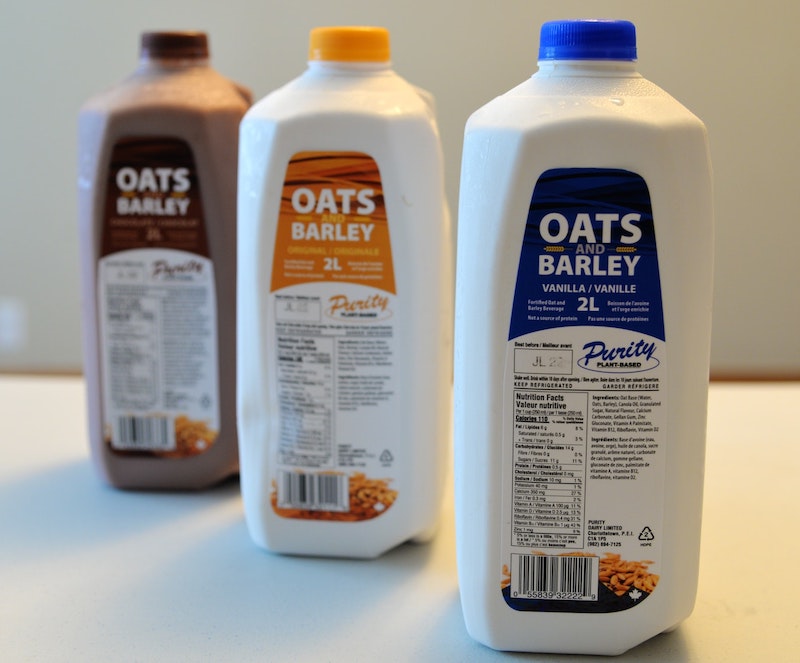 Purity Dairy
Purity Dairy's new barley and oat beverage is now available in three flavors: vanilla, chocolate, and original. All are packaged in the company's signature two-liter clear plastic cartons. A retail rollout is planned for the future, but for now, the beverages are only available at select independent retailers on Prince Edward Island. The company is also working on a vegan barista blend to distribute to coffee shops.
Dairy brands making vegan milk
The dairy industry is increasingly becoming a challenging business to survive in—particularly for family-owned operations. In the United States, companies are consolidating and small-to-midsize farms are going out of business year after year. In 2019, the USDA reported 34,207 licensed dairy farms. In 2020, the number dropped to 31,657 farms. With razor-thin profit margins only made possible by government subsidies, the industry is the antithesis of a cash cow, and farmers are looking for other options.
While Purity Dairy is still in the business of producing cow's milk, its entry into the plant-based milk sector is a sign that vegan products are becoming part of a company's bottom line. Some family dairy farms have gone full vegan, swapping out cows for plants—the best-known example of which is perhaps Elmhurst. The nearly 100-year-old company switched from milking cows to milking nuts back in 2017 and has grown the business into a multi-product operation. In addition to its wide array of plant milks, Elmhurst also offers coffee creamers, soft serve, and canned lattes.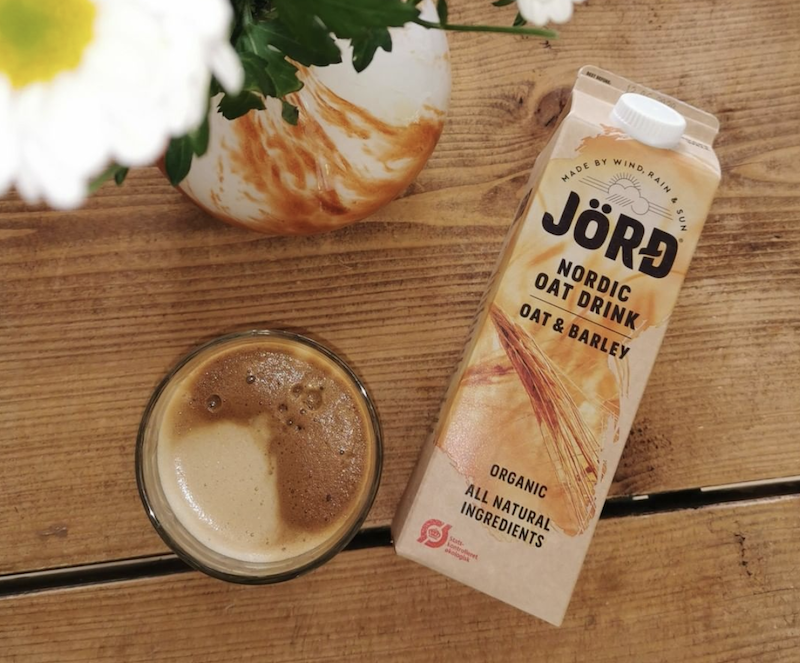 JORD
Moving away from dairy
Transitioning from animal farming to plant farming is more sustainable (both from a financial and environmental standpoint) in the long-run, but the switch can be expensive and intimidating. The Agriculture Fairness Alliance (AFA)—a plant-based and environmentally conscious lobby group—is arguing for government assistance to aid struggling farmers.
The organization has been pushing its At-Risk Farmers Act and recently secured a win. On June 30th, the House Appropriations Committee included language structured by AFA that directs the USDA to assist "small and mid-size farmers transition to agriculture methods such as specialty crop, horticulture, and forage production as a means of reducing greenhouse gas emissions in order to mitigate the impacts of global climate change." This language is vague, which is why AFA will continue to lobby for more specific acts that will direct funds to struggling farmers seeking to pursue non-animal means of business. The argument for going plant-based is no longer restricted to the animal welfare issue. It has now become a very serious environmental and economic issue.
Evident by the exorbitant dumping of milk in 2020 (an act that is not a new phenomenon), consumers' taste for milk is changing, and they are no longer satisfied with milk from an animal. Non-dairy milk is the largest plant-based food category, making up 35 percent of the entire plant-based food market and valued at $2.5 billion in 2020 and growing.