The United Kingdom's newest vegan chicken brand VFC just made its United States debut. Founded in 2020, the brand is entering US foodservice industry with three products: Chick*n Fillets, Chick*n Bites, and Popcorn Chick*n. The vegan fried chicken features a seitan base that is coated with a crispy cornflake coating that mimics traditional Southern fried chicken but without the need to slaughter animals. VFC products are available to US food service operators in 22-pound boxes.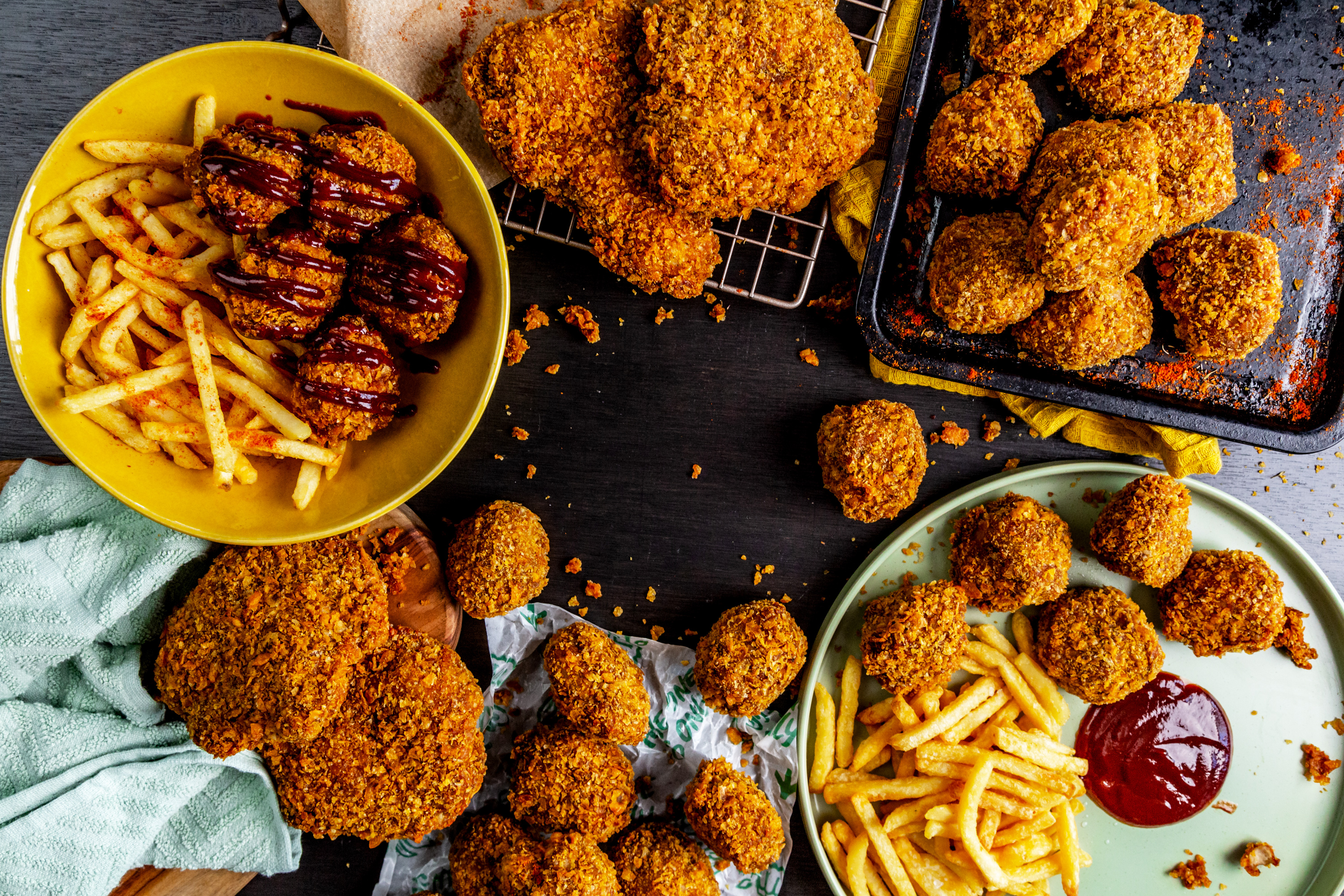 "We're thrilled to enter the US foodservice market," VFC Co-founder Matthew Glover said in a statement. "Since launching in the UK only last year, we have gone from strength to strength with huge demand from both retailers and restaurants, with added interest from over 50 other countries—this goes to show that we have a brand and a product that people really love, and that we are ready to shift up a gear."
VFC's US expansion will begin with foodservice operators on the West Coast and then expand nationwide before the brand makes its entry into US retail.
"The US gave the world KFC, and we're keen to return the favor with VFC—an alternative which is kinder to animals and our planet."
-VFC Co-founder Matthew Glover
Vegan fried chicken with a mission
Prior to launching VFC, Glover founded vegan campaign Veganuary with his wife Jane Land in 2014 and the campaign has taken off as a global phenomenon in recent years. The new VFC brand is a collaborative effort between Glover (who is also behind investment firm Veg Capital) and restaurateur Adam Lyons and was conceptualized after a visit to a chicken factory farm. As much as it is a food company, VFC is also a form of protest against the animal agriculture industry—which slaughters more than 50 billion chickens for food every year.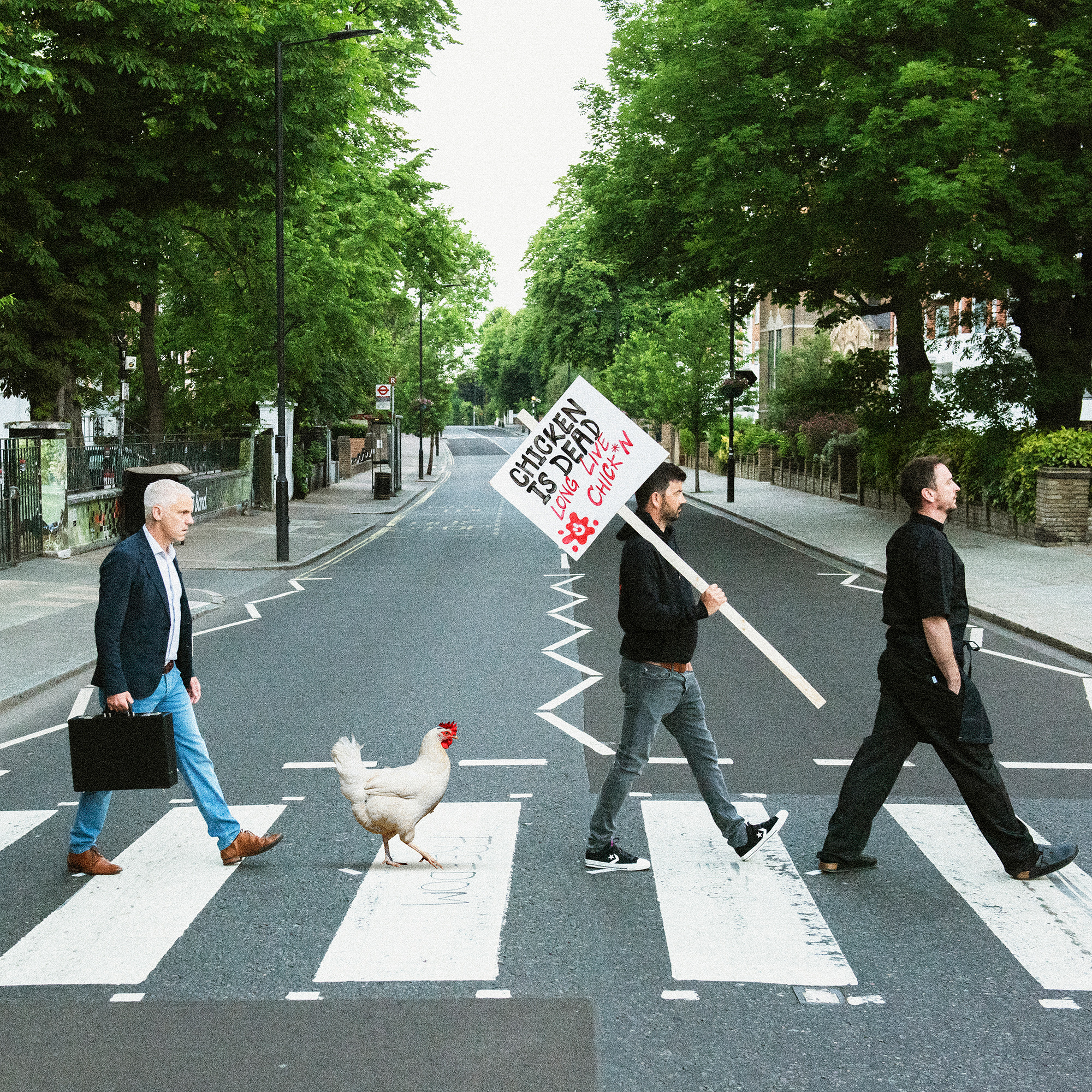 While VFC is less than a year old, it has already expanded its distribution outside of the UK to the Netherlands and Spain. To make a greater impact, VFC—which raised £2.5 million ($3.4 million) in seed funding earlier this year—is continuing its expansion efforts in North America with a launch in Canada's foodservice and retail sector led by distributor Vegan Foods Wholesale.
"Our interest in partnering with VFC isn't just a business decision, it's more about being part of the VFC ethos and sharing their vision to call a halt to animal suffering and abuse on a global scale," Gaynor Fletcher, Vice President of Sales at Vegan Foods Wholesale, said. "We applaud VFC's mission to remove animals from an unjust, unevolved food system and feel privileged to be working with a brand [that is] unapologetic in its intention to put an end to factory farming."
KFC's vegan fried chicken
VFC is expanding globally during an opportune time. While the idea of vegan fried chicken at KFC was unheard of a few years ago, the chain is slowly shifting to keep up with consumer demand for plant-based alternatives. KFC's parent company, Yum! Brands, has been working with Beyond Meat on a multi-year partnership to introduce plant-based alternatives across its portfolio of fast-food chains, which also include Pizza Hut and Taco Bell. In the US, the partnership resulted in a limited launch of Beyond Fried Chicken in one location in Atlanta in 2019, the success of which put the vegan fried chicken on the menu for a limited time at additional locations in 2020.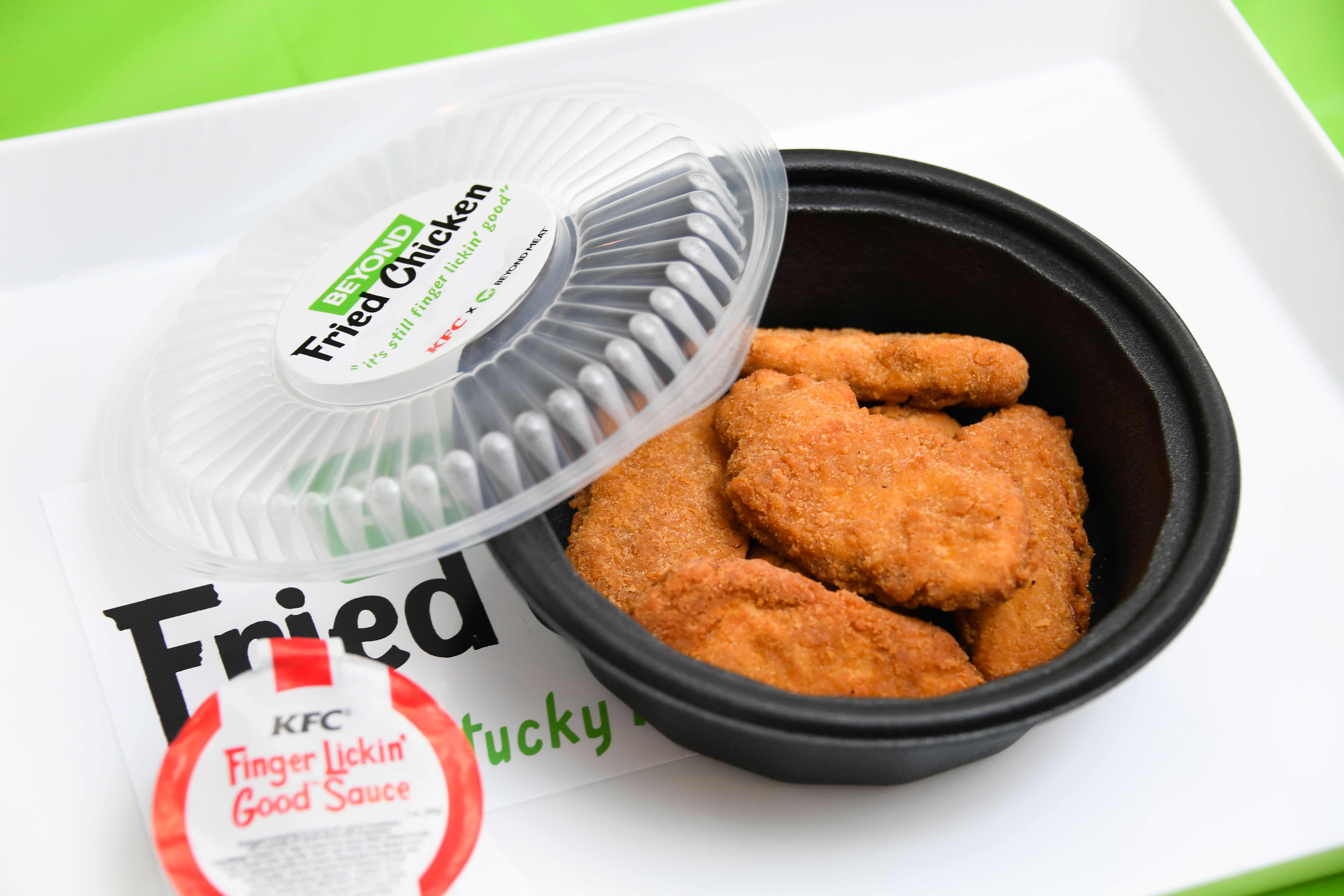 While the partnership has not yet resulted in a nationwide rollout of Beyond Fried Chicken, KFC's US President Kevin Hochman recently revealed that the quest for the perfect piece of plant-based chicken is still on. "What we're trying to replicate is a tenderloin where you actually have the muscle fibers. The texture is a bit more pleasing than what we'd call a 'chewed-and-glued.' It's a different technology," Hochman told business magazine Fortune. "Our plan is to try to replicate that Kentucky Fried Chicken as close as we can, obviously without using the animal."
In VFC's home country of the UK, the vegan options at KFC are more advanced. In 2019, a vegan chicken sandwich—then called "Imposter Burger"—was tested at 20 London, Midlands, and Bristol locations, where it pulled in 500 percent more sales than any other new product launch at KFC UK. The name of the sandwich has since changed to "Zero Chicken Burger," which KFC rolled out to all 900 UK locations at the onset of 2020.