Dubai-based accessories brand Veganologie has launched with a line of vegan leather and faux suede handbags made from fully recycled materials. The collection includes three styles of crossbody bags, and two styles of wallets and cardholders in a range of colors.
Every part of the handbags, wallets, and cardholders is made from 100 percent recycled materials that are GRS (Global Recycled Standard) certified, including PU leather and faux suede lining which are both made from recycled plastic bottles.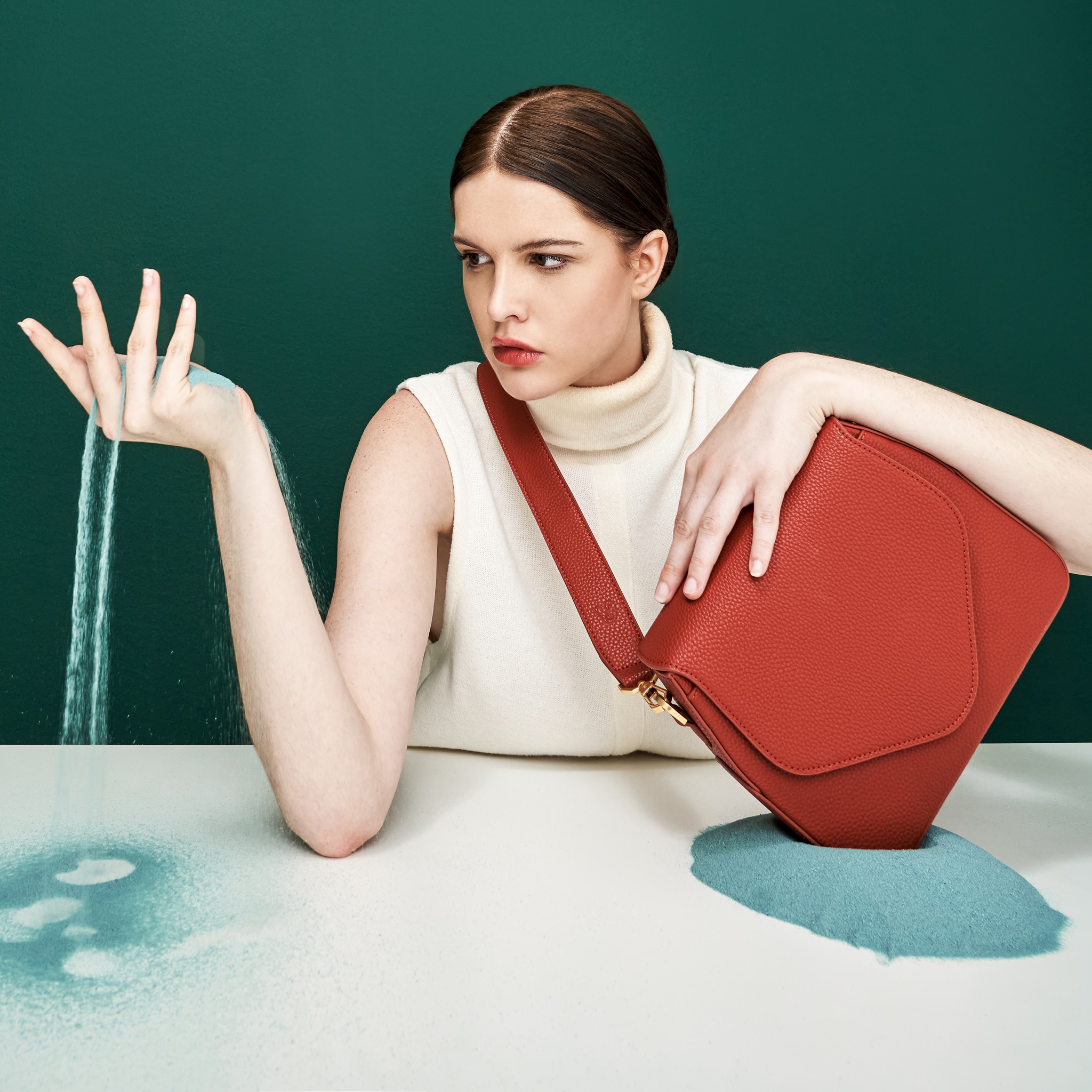 To make the materials, discarded plastic bottles are collected and cleaned, then chopped into flakes and melted. At this point, they are either pressed to become PU leather or made into polyester yarn that is knitted into a suede-like fabric. According to Veganologie, using the recycled suede reduces energy consumption and CO2 emissions by 80 percent compared to traditional animal-derived suede production.
Altogether, Veganologie's crossbody bags are made from 11 recycled plastic bottles, the wallets are made from four plastic bottles, and the cardholders are made from two plastic bottles. Even the hardware is produced from fully recyclable zinc alloy. And each dust bag is made from 10 recycled plastic bottles. Moreover, the company's entire packaging is 100 percent recycled and is also fully recyclable.
From fast fashion to sustainable vegan leather
Veganologie Founder and CEO Angana Maheshwari, 27, had long been uncomfortable with disposable fashion ending up in landfills and the environmental problems and cruel practices of the leather industry, so the entrepreneur decided to create her own collection.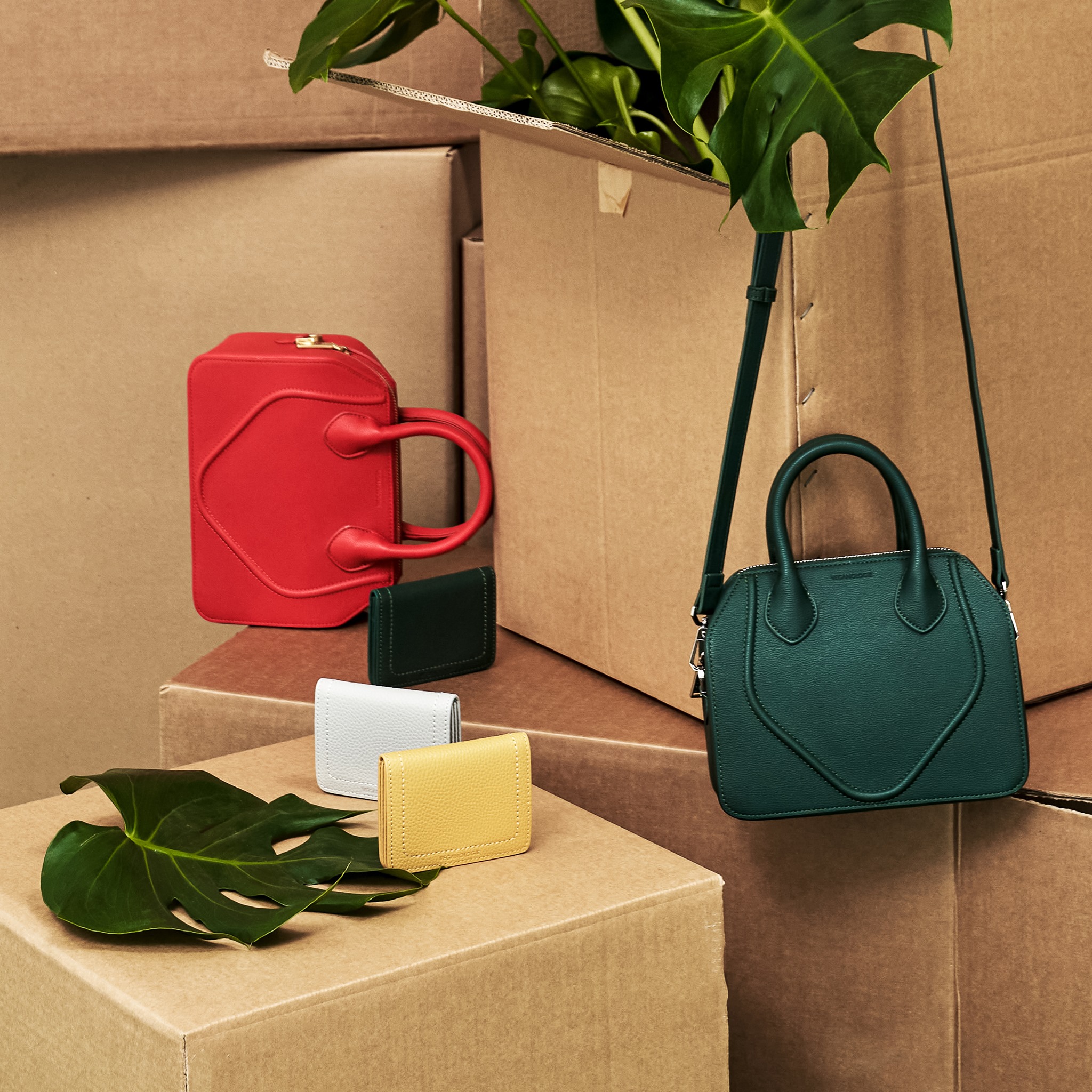 "Veganologie was born during the pandemic lockdowns. Like everyone, I had a lot of time on my hands and started researching sustainable fashion online—specifically handbags," Maheshwari told VegNews. "It occurred to me that I wasn't alone in wanting a cruelty-free but chic bag, which is when the entrepreneur in me took over. After many months of research, and putting together a business model, I met Sara Basar, who then joined me as Veganologie's Executive Director and Designer. When she brought to life the designs that were in my head, we were off."
It was important to Maheshwari that the handbags were well-made, practical, and reasonably priced—in addition to being made from fully recycled, vegan materials. "Critical to me was that the bags be both practical and affordable, with everything priced under $175 USD," Maheshwari said. "Plus, we offer free international shipping, so while we are based in Dubai, anyone anywhere in the world can be a part of the Veganologie story."
Currently, the new brand is available exclusively on the Veganologie website with free global shipping, but Maheshwari is considering offering the handbags in select stores to help showcase the brand.
Sustainable materials are in fashion
In recent years, brands have been looking to use sustainable materials and practices as consumers become more eco-conscious. Longtime vegan handbag brand Matt + Nat has, since 1995, aimed to be cruelty-free and planet-friendly.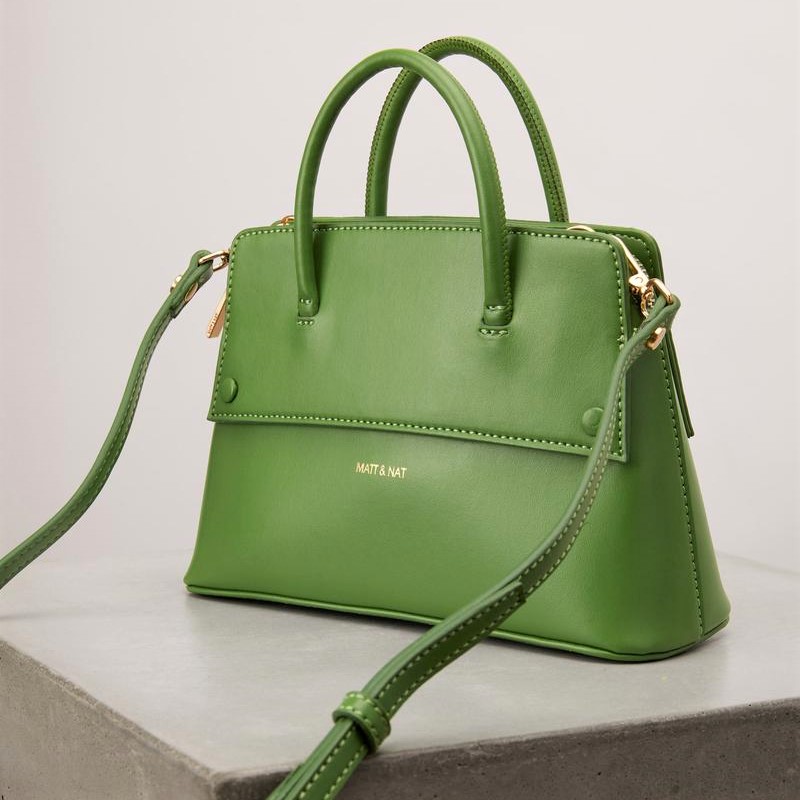 Though the company has always used handbag linings from recycled plastic bottles, in 2020 the company worked to transition away from its use of PVC—which is environmentally damaging because its production results in the release of toxic, chlorine-based chemicals—with the launch of a collection that uses PVB made from 100 percent recycled windshield glass resin. In 2021, Matt + Nat fully transitioned its Women's Dwell collection to PVB, and more recently the brand launched its Studio 901 Apple Skin collection which is made from the waste recovered from the apple juice industry.
Other brands are also using innovative vegan leathers made from mushrooms, pineapple, and cactus to make handbags. Last year, fashion brand Fossil launched its first collection of handbags, called Kier Cactus Leather Totes, made with award-winning material Desserto, a vegan leather developed by Mexican entrepreneurs Adrián López Velarde and Marte Cázarez from nopal (prickly pear cactus) leaves.
Luxury brand Hermès partnered with biomaterial startup MycoWorks in 2021 to develop a new version of its Victoria handbag made using Sylvania, a mushroom-based vegan leather. And in 2020, French vegan brand Arsayo released its new Exotic Cork Skin collection of backpacks made with bark from oak trees.
For more on vegan fashion, read:
Tara Reid Is Latest Star to Embrace Cactus Leather With New Bag
Volvo's Leather-Free Car Interior Is Now Being Used For Matching Handbags
Vegan Mushroom Leather Handbag Hits the Runway For the First Time