For something so simple, dairy-free cream cheese has become a behemoth of a topic. Some prefer a layer so thin it's practically translucent while others prefer a two-to-one ratio of bagel to cream cheese. Then there are the flavors—plain, everything, chive, lox, cinnamon raisin (don't @ us for that last one—it exists, even if you don't like it). Whether you're searching for a bagel shop that carries dairy-free cream cheese or just wondering what brand will work best in your vegan cheesecake, use this guide to navigate through the swirly, luscious wonders of dairy-free schmear.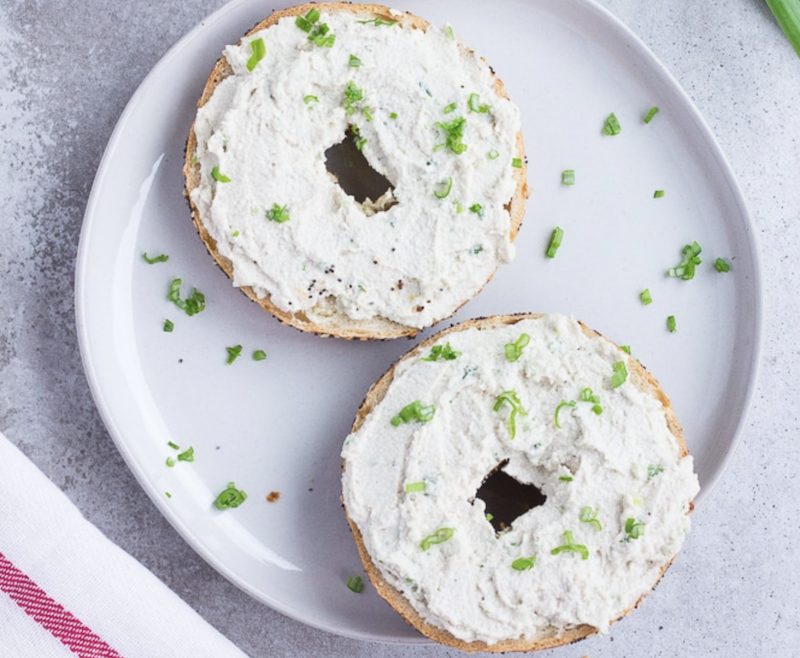 Nora Cooks
What is dairy-free cream cheese?
To clarify, when we refer to "dairy-free cream cheese," we're also referring to vegan cream cheese. We've yet to come across a dairy-free cream cheese that wasn't vegan, largely due to the fact that other animal ingredients typically are not used to make the basic schmear. Packaged cream cheese is made of pasteurized whole milk, salt, carob bean gum (a thickener, stabilizer, and emulsifier), and cheese cultures. Most homemade vegan cream cheese recipes substitute the cultures for an acid, such as lemon juice. Unless some meathead decides to toss pork-based bacon bits in there or slices of salmon, dairy-free cream cheese should be animal-free.
To transform a completely cow milk-dependent product into a vegan product, a few extra ingredients are needed. Different companies rely on different foods to attain that thick texture and mildly tart taste. Tofutti, for example, uses soy, an oil blend, and non-dairy lactic acid; more recent vegan cream cheese innovators such as Miyoko's Creamery rely on cashews, coconut cream, and vegan cultures. There's a seemingly infinite number of ways to make it, but the general rule of thumb is the emulsification of a fat, liquid, salt, and cultures, sometimes with the addition of a stabilizer.
Dairy-free cream cheese nutrition
While the ingredients for dairy-free cream cheese vary, the nutrition label across brands looks similar. Vegan or not, cream cheese is calorically dense and high in fat. However, because dairy-free cream cheese does not use cow's milk, it does not contain any cholesterol or trans fat and tends to be lower in saturated fat than animal-based schmear.
The standard single serving of vegan cream cheese is two tablespoons. For that, you're looking at 60-90 calories, about eight grams of total fat, 115-200mg sodium, one to three grams of fiber, and less than two grams of protein. If you're looking for a lower-calorie, lower-fat option, Kite Hill's plain cream cheese is your best bet, though it is higher in sodium.
Best dairy-free cream cheese brands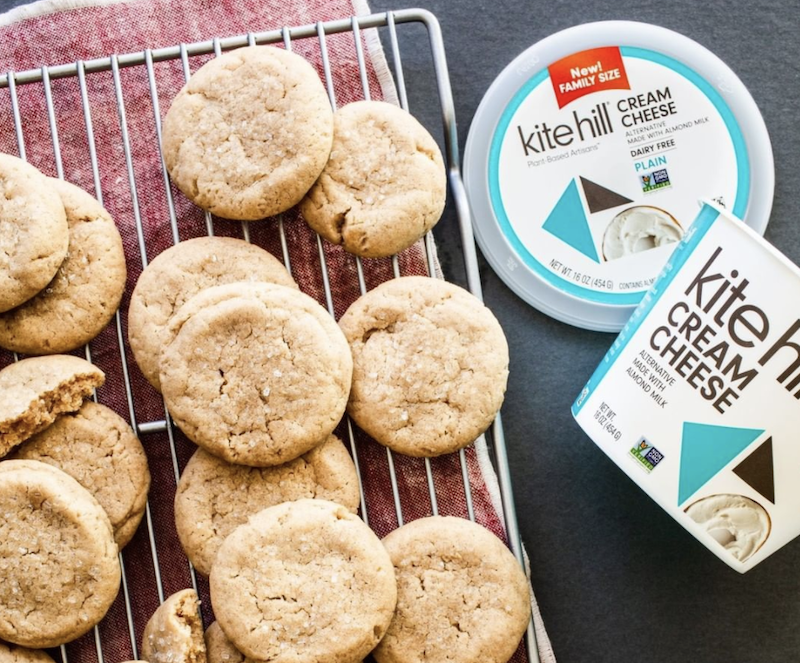 Kite Hill
1 Kite Hill
An outlier in the vegan cream cheese market, Kite Hill uses almond milk as a base for its many creamy spreads. It's slightly thinner than other brands, but what it may lack in thickness it makes up for in flavor. Options include plain, chive, everything, Garden Veggie, and the seasonal pumpkin pie.
Find it here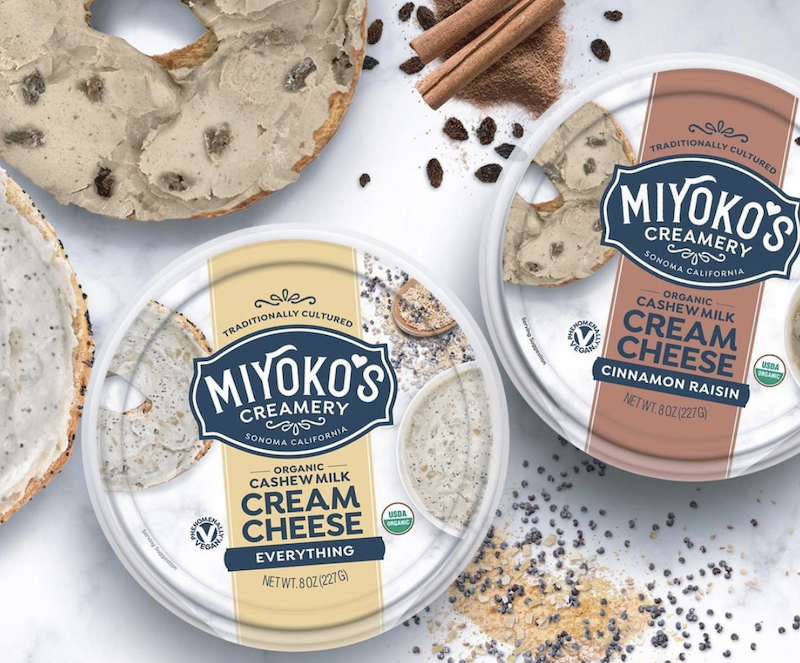 Miyoko's Creamery
2 Miyoko's Creamery
Looking for something with minimal ingredients? Miyoko's is a solid choice. Made only with cashews, coconut cream, salt, and cultures, this stuff is as unprocessed as you can get in the schmear department. It's super thick and velvety and comes in five flavors: Classic Plain, Everything, Savory Scallion, Fish-free Lox, and Cinnamon Raisin.
Find it here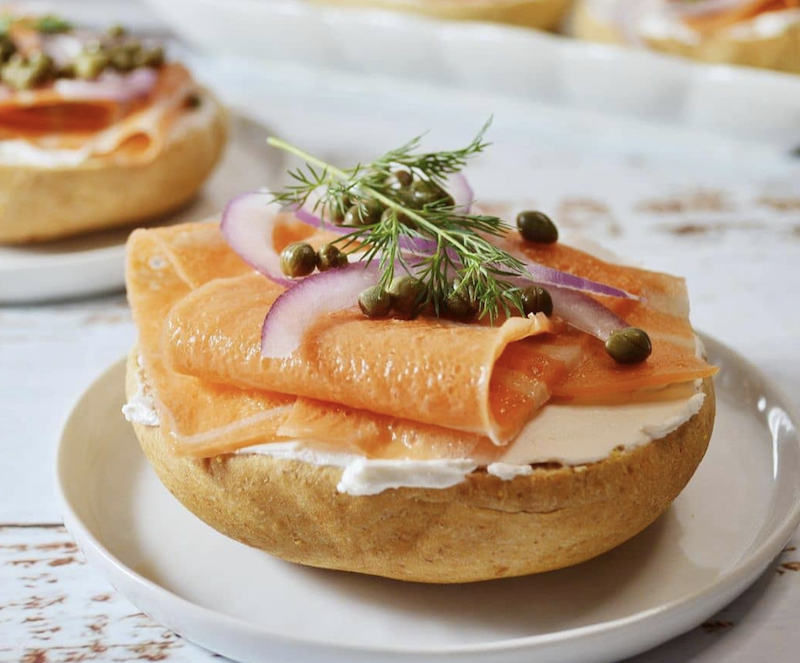 @thejewishvegan/Instagram
3 Tofutti
From the makers of the novelty ice cream Tofuttis, this old school vegan brand's Better than Cream Cheese lives up to its name. While newer brands may have received more hype, this schmear is perfectly serviceable in baked goods and on its own. You can find it in most grocers and it tends to be the most affordable option as well.
Find it here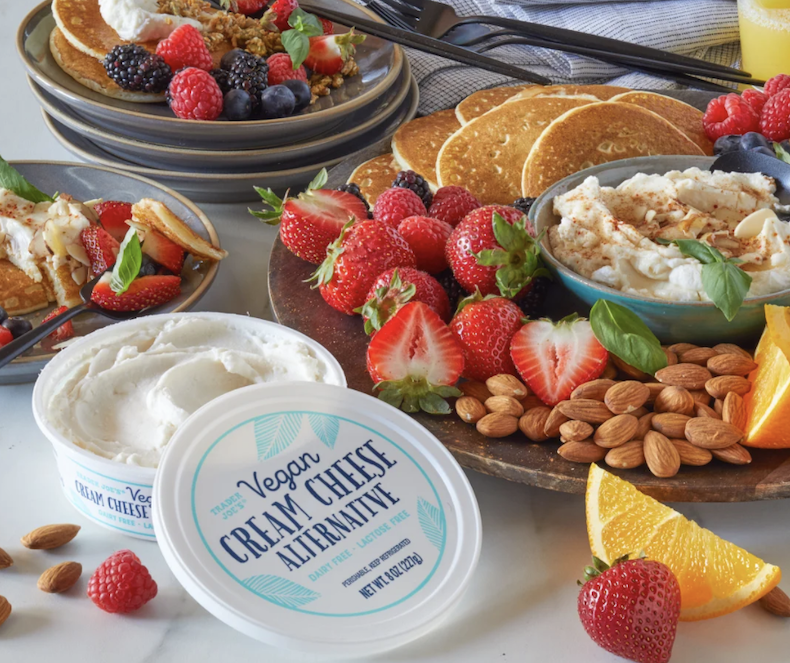 Trader Joe's
4 Trader Joe's
The grocer is well on its way to offering a vegan option of every product it sells. Labeled as Vegan Cream Cheese Alternative, this plain spread is another win for all plant-based Trader Joe's shoppers. Pro tip: mix in a few shakes of Trader Joe's Everything Bagel Seasoning to make this schmear a bit more interesting.
Find it here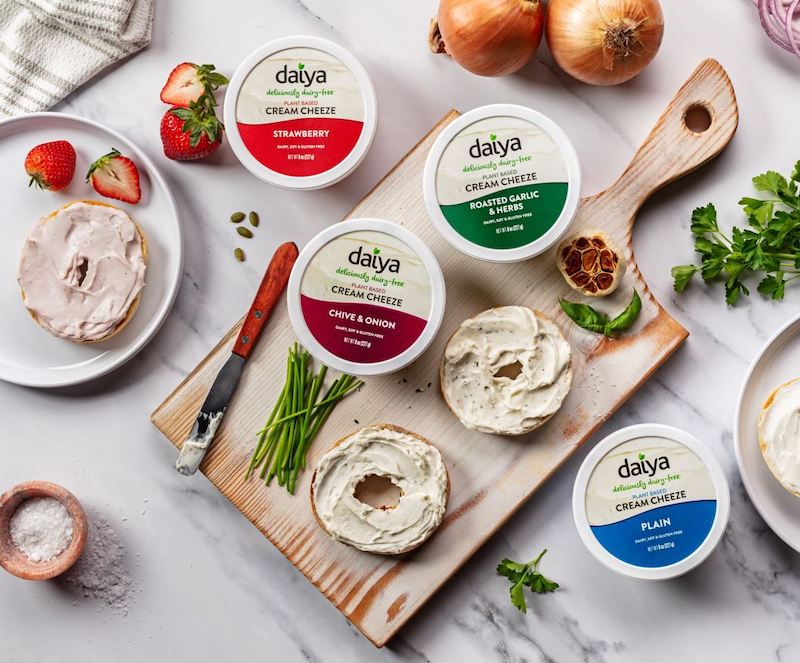 Daiya
5 Daiya
Name a dairy product, and this long-standing vegan company likely makes it. The brand recently reformulated its inaugural cream cheese to improve on its rich taste and silky texture. Among the four flavors, our favorite is the Roasted Garlic & Herbs. Also, if you were wondering, it's pronounced Day-ah.
Find it here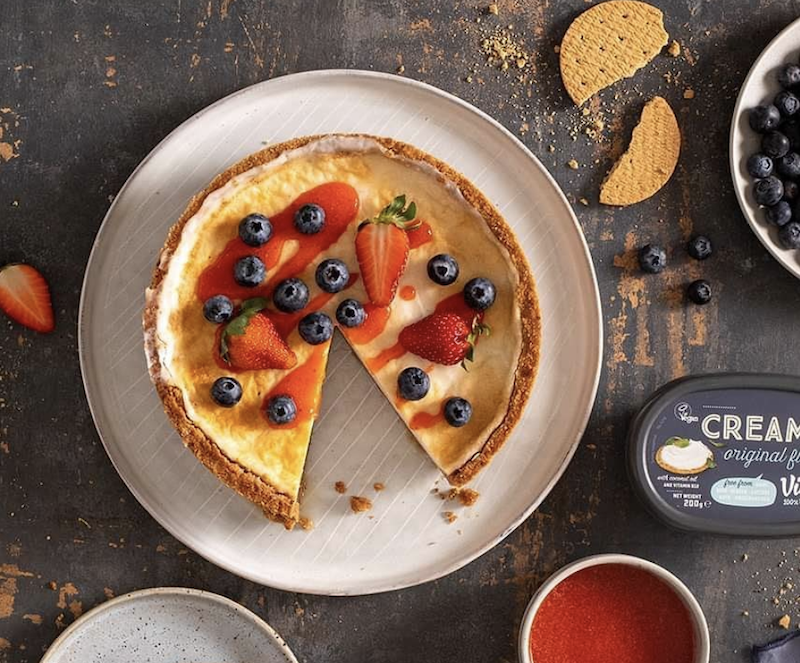 Violife
6 Violife
Perfect for baked goods like vegan cheesecake and cream cheese swirled brownies, Violife's Just Like Cream Cheese is a relatively new product under this non-dairy food brand's name. If you're looking for the best vegan cheesecake recipe, keep reading for our top pick.
Find it here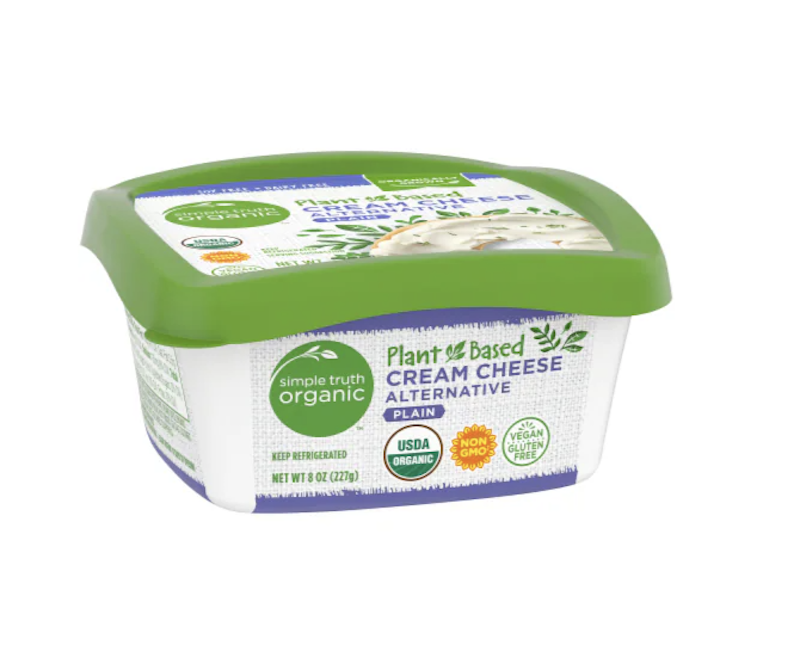 Simple Truth
7 Simple Truth
Kroger's Simple Truth Organic Plant-Based Cream Cheese Alternative is just one of the 50-plus new vegan products the name-brand line launched in the fall of 2020. When a major supermarket invests in non-dairy cream cheese, you know the "trend" is here to stay.
Find it here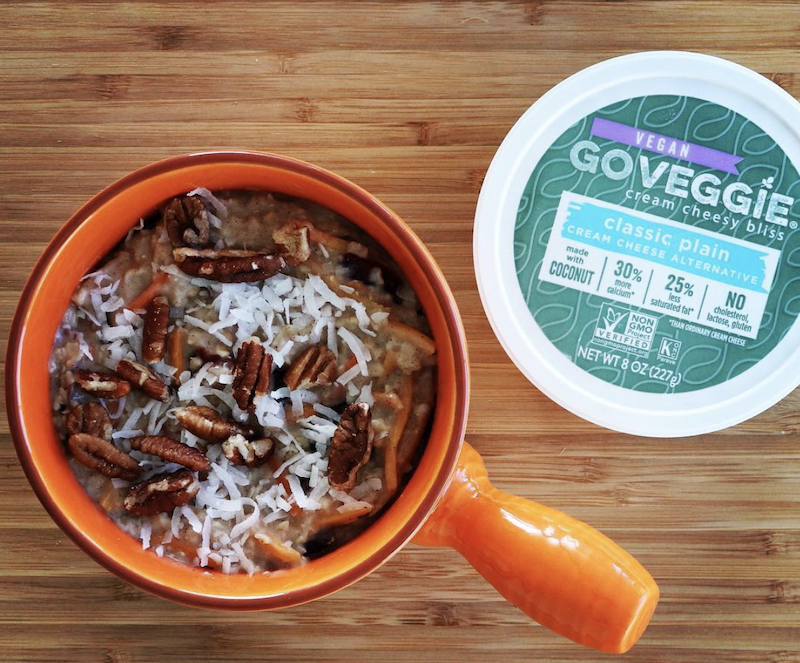 Go Veggie
8 Go Veggie
Have you ever purchased a tub of non-dairy cream cheese only to realize you picked up the Chive & Garlic flavor just before making your vegan cream cheese frosting? Yep, we've been there. Go Veggie offers both Chives & Garlic and Classic Plain, and while both are creamy and delicious, definitely double-check the label if you're making something sweet.
Find it here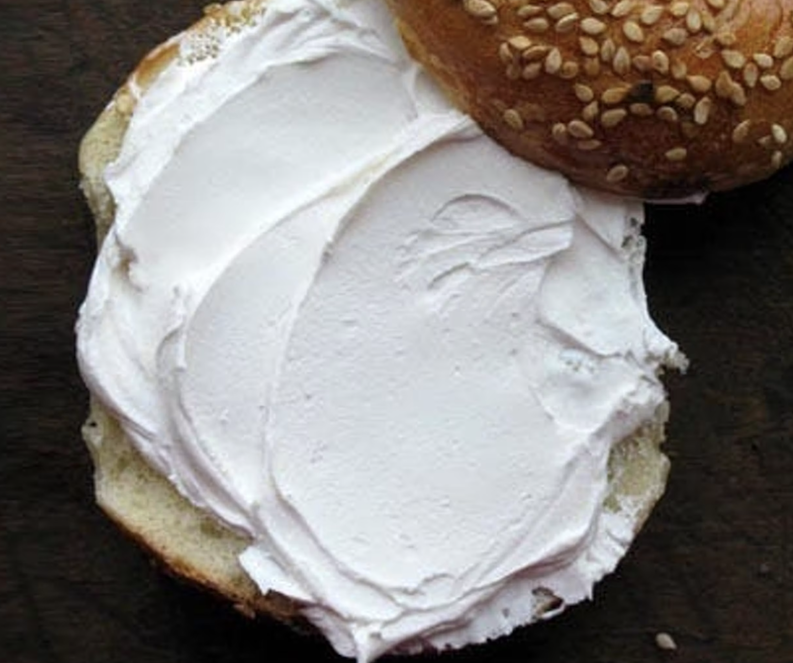 Russ & Daughters
9 Russ & Daughters
This New York City delicatessen is by no means vegan, but it makes a great vegan cream cheese. The legendary brand offers this schmear for nationwide shipping via Goldbelly. A word of caution: while the company also sells its bagels by the dozen, it uses l-Cysteine Hydrochloride, which is derived from bird feathers. If this is an issue for you, source your bagels from a local, vegan-friendly bakery.
Find it here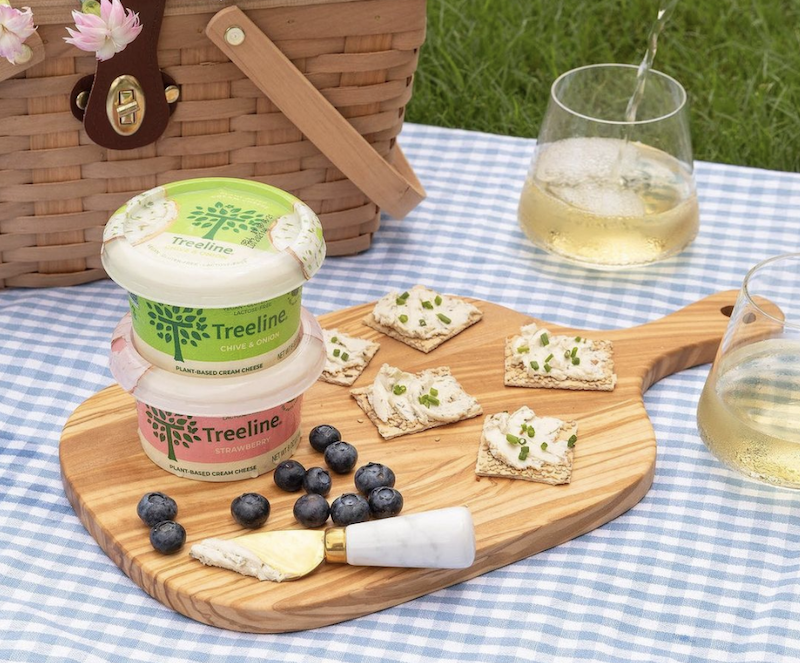 Treeline
10 Treeline
After gaining popularity through its luscious, European-style soft vegan cheeses, it's only natural that this company churns out a decadent dairy-free cream cheese. The three, minimal-ingredient flavors include plain, Chive & Onion, and strawberry.
Find it here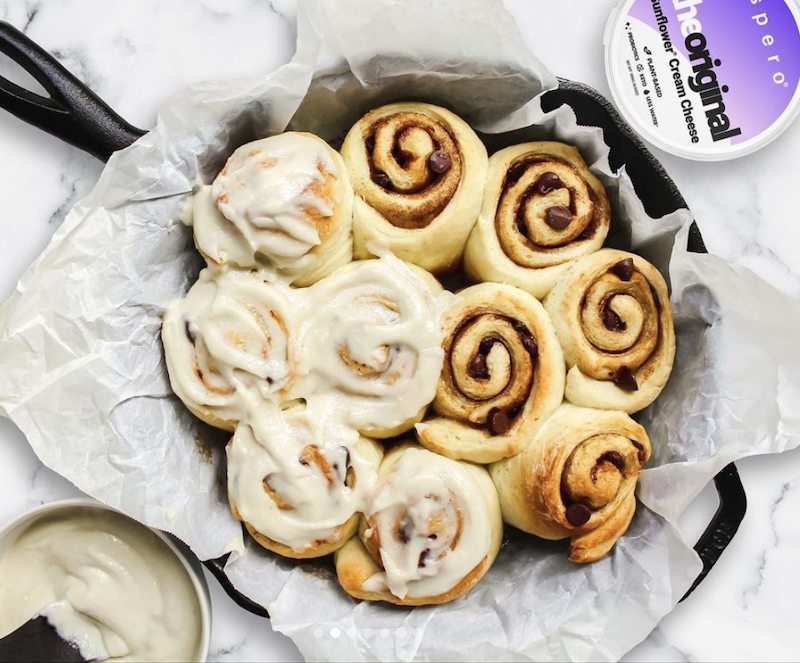 Spero
11 Spero
This vegan soft cheese brand differentiates itself from the rest by using sunflower seeds for its thick and creamy base. Each of the five schmears are infused with probiotics to best mimic their dairy-based counterparts. Choose from Original, Strawberry, Smoked Salmon, Pumpkin, and Herb varieties the next time you have toasty bagels waiting for you at home.
Find it here
How to make dairy-free cream cheese
Homemade vegan cream cheese doesn't require the stabilizers needed in most store-bought options, which means you can literally whip up a batch with very few ingredients. In lieu of cultures, acid provides fast-acting curdling to achieve a taste and texture of a spread that's been fermented. All you need is soaked, raw cashews, dairy-free yogurt, salt, and an acid like apple cider vinegar and/or lemon juice. Blend the mixture, add herbs and spices if you wish, and voila—you just made vegan cream cheese. This schmear is best used immediately, but leftovers can be refrigerated for up to a week. Looking for a solid recipe? See below on how to make vegan cream cheese and some delicious ways to use it.
Recipes with dairy-free cream cheese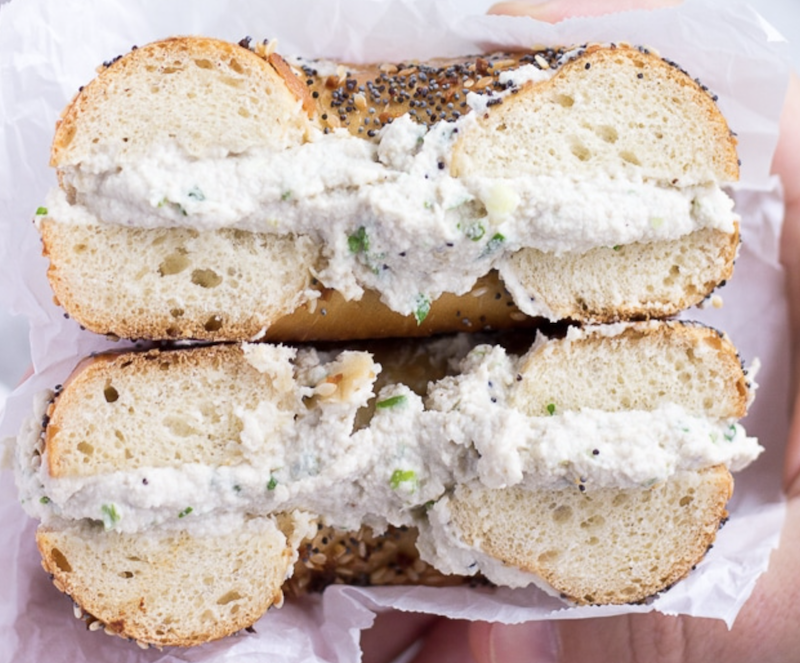 Nora Cooks
1 5 Minute Vegan Cream Cheese
If you have cashews, plain yogurt, lemon juice, and apple cider vinegar on hand, you can make dairy-free cream cheese faster than it would take to run to the store. Use this as your base recipe and then have fun experimenting with different flavors. Try adding roasted garlic to one batch, garlic powder and fresh chives to another, or a liberal amount of Trader Joe's Everything Bagel Seasoning to your tub of luscious cream cheesy goodness.
Get the recipe
2 Red Velvet Cheesecake Brownies
A delicious hodgepodge of cheesecake, brownies, and red velvet cake, these decadent bars are three desserts in one. Get ready to wow at your next potluck or office party.
Get the recipe
3 Easy Baked Chocolate Cheesecake
There are a plethora of no-bake cheesecake recipes on the internet, and while many of them are good, they don't quite replicate that traditional texture of cheesecake we grew to love thanks to many birthday dinners at The Cheesecake Factory. This one scratches that itch for a fluffy yet rich filling with a tart raspberry sauce that cuts the intense flavor of chocolate-on-chocolate.
Get the recipe
4 Easy Vegan Cinnamon Rolls with Cream Cheese Icing
As far as we're concerned, thick, cream cheese icing is the only appropriate topping for big and fluffy cinnamon rolls. Because the pop-tube rarely provides enough frosting to go around, we like to make a mini batch to supplement this sweet stuff. Think of it as semi-homemade.
Get the recipe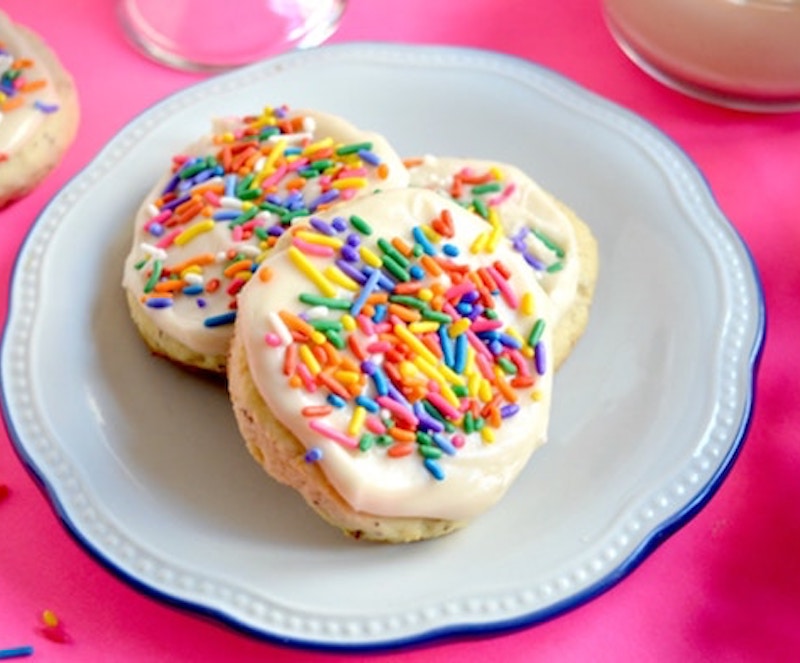 Dustin Harder
5Vegan Soft-Batch Sugar Cookies with Buttercream Frosting
Dairy-free cream cheese plays a seminal role in cutting the sweetness of these soft and pillowy sugar cookies. These treats taste exactly like the sprinkle-adorned soft-baked cookies found in the bakery department of the supermarket—put another way, they taste like childhood.
Get the recipe
6Vegan Lox and Cream Cheese
This recipe involves making your own cream cheese, amped up with a touch of liquid smoke and a few spoonfuls of nooch. Combined with smoky carrot lox, this open-faced bagel sandwich works for breakfast, brunch, lunch, or dinner.
Get the recipe
7Vegan Crab & Cream Cheese-Stuffed Mushrooms
You can't get much more umami than these hot, melty, creamy, crunchy appetizers. If you don't want to fuss with stuffing individual mushrooms, serve this party-style in a ramekin with raw veggies, crackers, and sliced bread on the side.
Get the recipe
8 Dairy-Free Cheesecake with Blueberry Compote
This is the last New York-style cheesecake recipe you will ever need. It's smooth, creamy, not too sweet, and just dense enough to remind us of the dairy-based cheesecakes we grew up with. The blueberry compote is technically optional but highly recommended.
Get the recipe
9 Creamy Tomato-Vodka Pasta
Pro tip: adding a few dollops of vegan cream cheese to your pasta sauce can transform it into restaurant-quality sauce. This one-pot-wonder recipe only takes eight ingredients (including the pasta) and nine minutes to make. Add a few leaves of fresh basil if you're feeling chefy.
Get the recipe
10 Creamy Chocolate Almond Butter Pudding Pie
This no-bake dessert takes a bit of chilling time, but the result is well worth the wait. Vegan cream cheese blends with rich coconut cream, decadent melted chocolate, and airy whipped cream for a standout treat that will please any chocoholic or dessert lover. Garnish with shaved chocolate or halved Oreo cookies for even more toe-tingling indulgence.
Get the recipe
For more about vegan cream cheese, read:
The VegNews Guide to Vegan Cheese
Dairy-Free Coconut-Cashew Cream Cheese
General Mills' First Vegan Cheese Is Made with Animal-Free Whey
JUST LAUNCHED! Get our 10 Easy Vegan Summer Meals recipe book as a FREE instant download.
JUST LAUNCHED! Get our 10 Easy Vegan Summer Meals recipe book as a FREE instant download.