The perfect vegan holiday spread is not complete without a plant-based roast, some delectable sides, vegan pie, and at least a few seasonal drinks. This year, the humble—and usually not vegan—eggnog is getting a major upgrade thanks to the Misunderstood Whiskey Co., an alcohol brand with a unique new offering for the holidays: Misunderstood Hard Oat Nog.
Typical eggnog is made with egg whites that give it a recognizably frothy texture. Misunderstood's version swaps in sustainably sourced oat milk and spikes it with a hearty dose of its own Ginger Spiced Whiskey. Bottled in Bardstown, KY, the resulting vegan eggnog (14-percent ABV) is shelf-stable and ready to serve.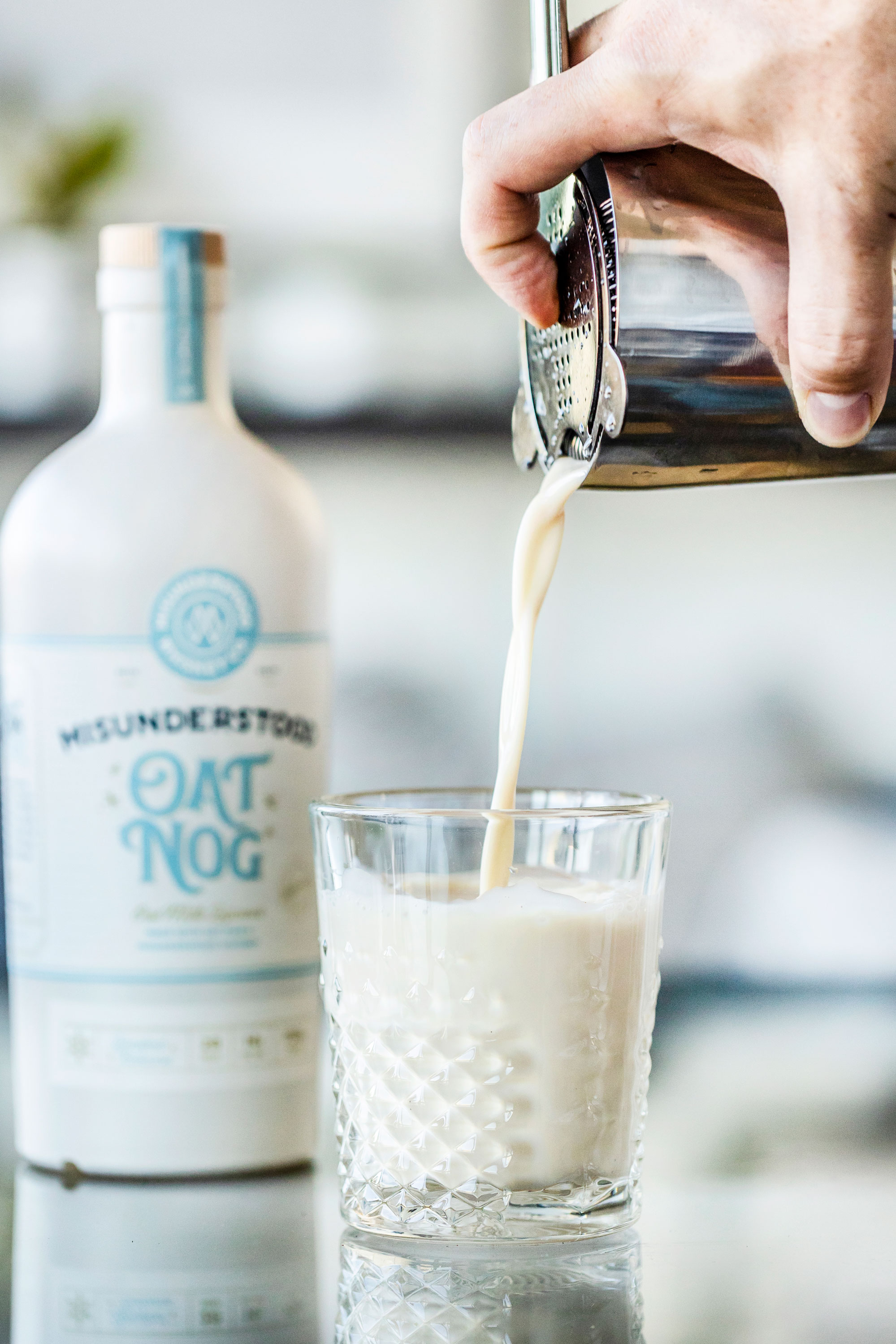 Misunderstood Whiskey Co.
"Our goal has always been to change perceptions with products that taste so good they make you think twice about a category," Chris Buglisi, co-founder of Misunderstood Whiskey Company, said in a statement. "First, it was bringing together flavored whiskey drinkers and traditional whiskey drinkers with our Ginger Spiced Whiskey, and now bringing together the dairy and non-dairy communities with our Oat Nog."
America's first boozy vegan oat nog?
Buglisi and JD Recobs have been best friends since they were seven years old and founded The Misunderstood Whiskey Company from their home kitchen in Montclair, NJ with the mission of making easy-drinking whiskey that appealed to everyone.
With their new hard nog, the friends want to bring an exciting offering for the holidays that appeals to whiskey and eggnog drinkers alike. "We had such a blast working on this innovation and we couldn't be more excited to share our first limited release with consumers, especially with traditional eggnog drinkers," Recobs said in a statement.
"We've seen the alternative milk category grow exponentially over the past few years so we're thrilled to be a part of the innovation and release something unique (and delicious) for the fall and winter season," Recobs said.
Misunderstood Oat Nog is best enjoyed chilled or on the rocks, according to Recobs, but can also serve as a boozy base for cocktails such as espresso martinis.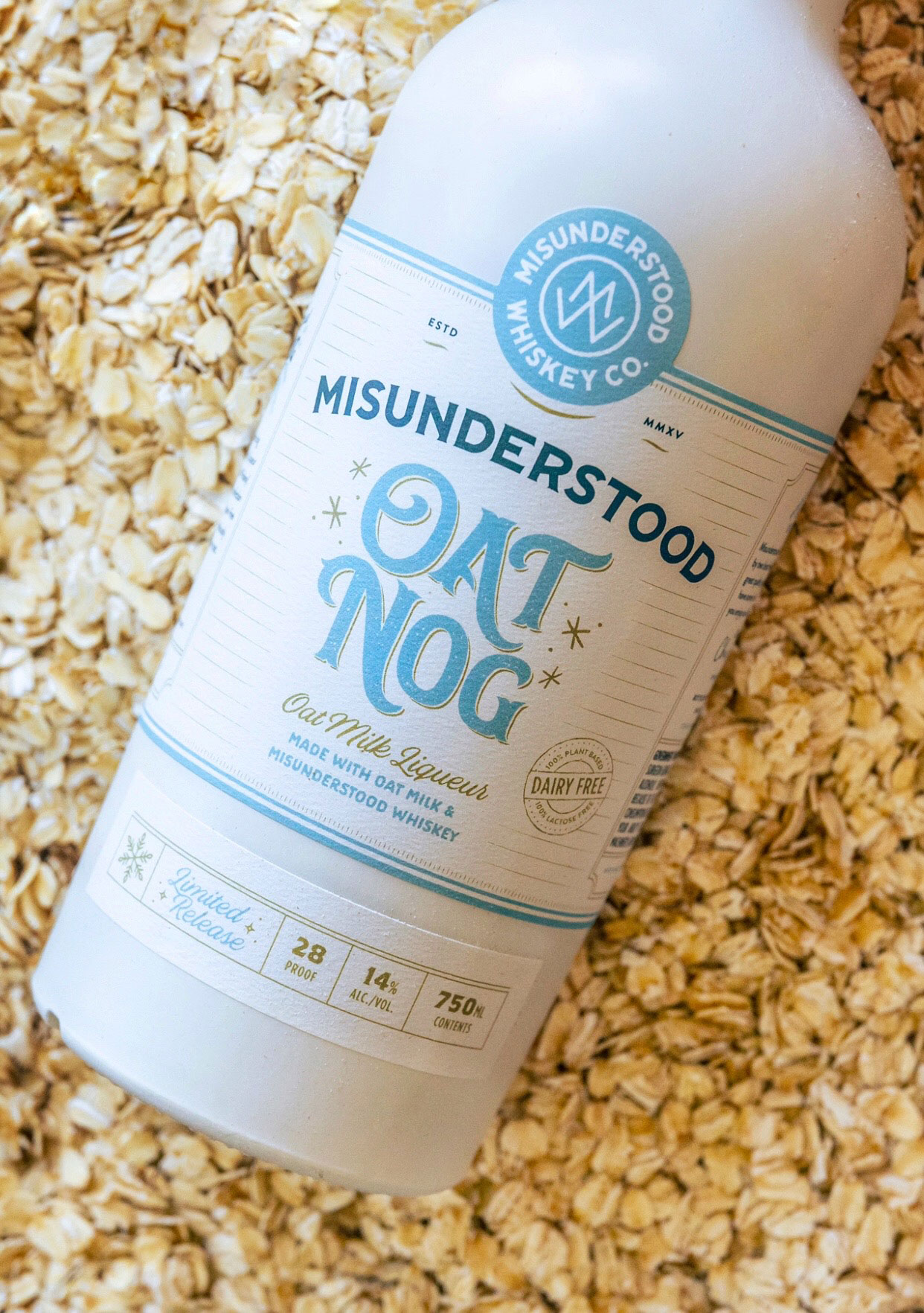 Misunderstood Whiskey Co.
The limited-edition vegan holiday beverage ($23.99 per bottle) is available through Misunderstood Whiskey's website for national delivery and at liquor stores in CA, CO, FL, IL, OH, MA, MI, NJ, NY, TX, and SC.
While Misunderstood Whiskey's new beverage might be the first boozy vegan oat nog, a variety of non-alcoholic (and vegan) eggnog varieties hit shelves for the holidays every year.
Vegan Baileys reimagines holiday drinks
Creamy adult beverages have been getting a vegan makeover in recent years, including by iconic brand Baileys. In 2016, Diageo North America—the parent company of Baileys—launched Almande, an almond milk-based beverage that it created as a dairy-free alternative to the popular cream liqueur.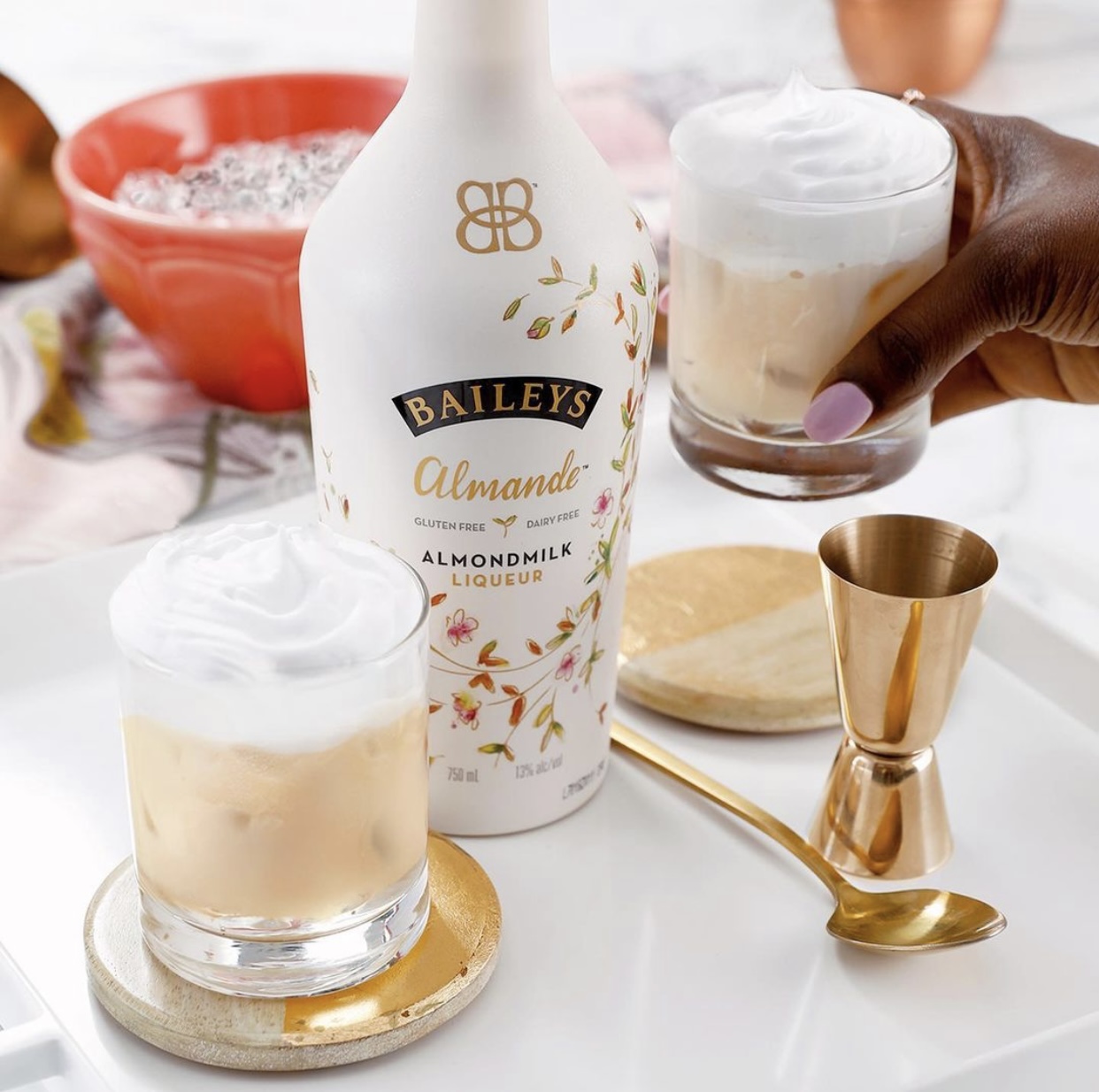 Baileys
After gaining popularity in the vegan community, the company discovered Almande contained a beeswax ingredient and quickly reformulated the beverage to be free from animal products. In 2017, Diageo North America re-released Almande with a vegan logo.
Other companies have since looked to fill the void for creamy, cruelty-free festive beverages. In 2018, UK-based entrepreneur Peter Smith developed his own Baileys-inspired vegan creamy liqueur in two flavors, Besos de Oro and Besos de Chocolate, under his Besos brand. This liqueur features brandy blended with tiger nut milk and is currently distributed across the UK and Australia.
In Spain, Zamora Company reformulated its Licor 43 Horchata (previously known as "Orochata") liqueur to be free from animal products in 2020. The beverage is made with a recipe inspired by Valencian horchata that includes tiger nut milk, cinnamon, and lemon. Last year, the Madrid-based brand expanded its offerings, including its vegan adult horchata (16-percent ABV), to the United States.
Oat milk hits alcohol industry
Misunderstood Whiskey's use of oat milk is not the first time the vegan dairy alternative has found its way into alcoholic beverages.
Last summer, Finnish gin company Arctic Blue Beverages launched Arctic Blue Oat—the world's first vegan oat-based gin liqueur. The alcoholic beverage carries a smaller carbon footprint than drinks made with animal-derived dairy and capitalizes on the booming plant-based milk industry, which has doubled from $12 billion to $24 billion in the last five years.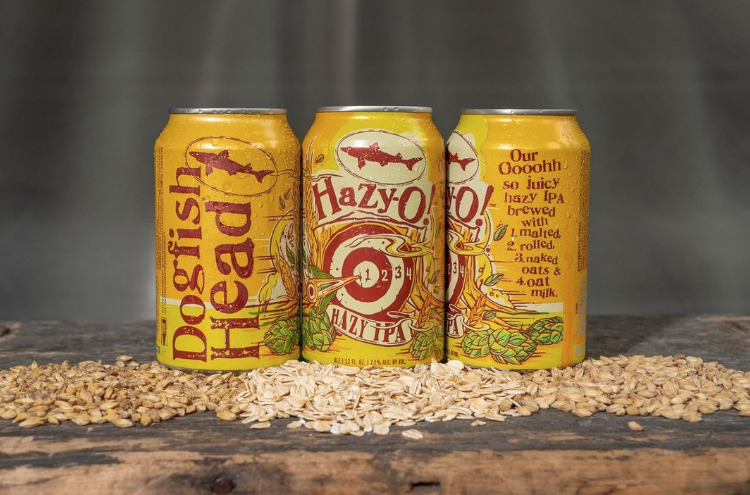 Dogfish Head
And if simple beer is what you're after, Delaware-based brewery Dogfish Head made just the thing. Released in 2021, the Hazy-O IPA—the first nationally distributed IPA brewed with oats—was a collaborative effort between Dogfish Head and the scientists at Elmhurst, a former dairy brand that shuttered in 2016 and transitioned to a vegan company.
The HAZY-O IPA uses four different types of oats to impart a distinct flavor and texture profile without needing to rely on dairy milk. To celebrate its launch last year, Dogfish partnered with artisanal ice cream brand Tipsy Scoop to release a limited-edition oat milk-based vegan ice cream inspired by its creative oat beer.
For the latest vegan news, read: