For the first time in history, fishing season for Alaskan snow crabs has been canceled. That's because the population of the species—which lives in the cold waters of the Bering Sea—has fallen below the regulatory threshold for the first time. The Alaska Board of Fisheries and North Pacific Fishery Management Council made the call last week to cancel the harvest in an effort to revive the species.
How far below the regulatory threshold is the Alaskan snow crab population? The crab count was at 8 million in 2018 and fell to 1 million in 2021, a steep decline that includes female and juvenile crabs, CNN reports. The sharp drop is due in part to aggressive commercial fishing—where the crabs are being removed at a faster rate than they can reproduce—but the climate crisis is a more likely culprit.
"We call it overfishing because of the size level. But it wasn't overfishing that caused the collapse, that much is clear," Michael Litzow, the Kodiak lab director for NOAA Fisheries, told CNN, pointing out that the creatures thrive in water temperatures below 2 degrees Celsius.
Officials hope that shutting down the Alaskan snow crab harvest for one year will revive the populations. But as the climate crisis rages on, can the waters ever be cold enough again to sustain these crustaceans?
Animal agriculture and the climate crisis
The climate crisis that is wiping out the Alaskan snow crab population is fueled by human activity, a substantial portion of which can be attributed to animal agriculture as raising and slaughtering animals for food is responsible for approximately 14.5 to 16.5 percent of all emissions.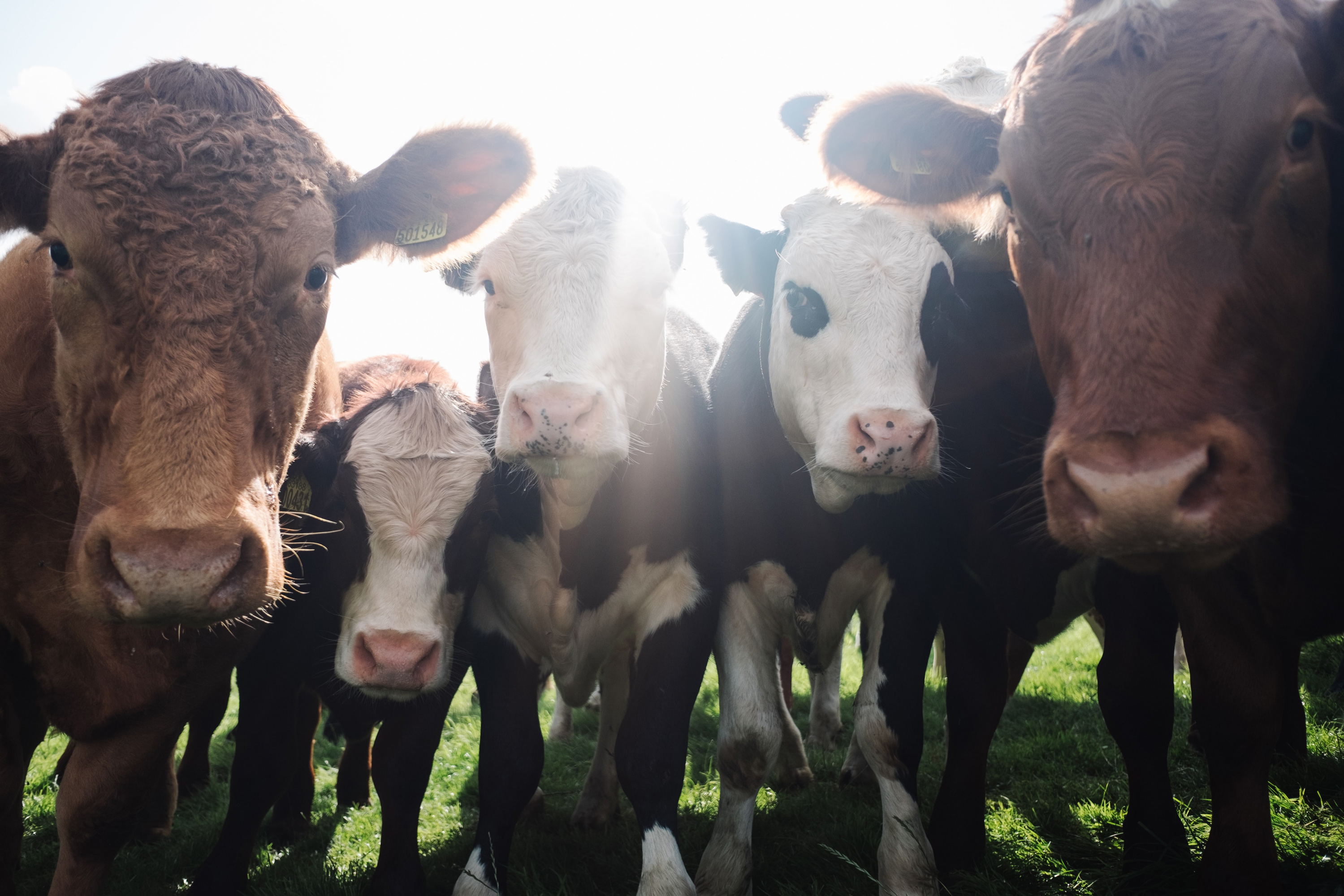 Animal agriculture is also disproportionately responsible for food-related emissions, accounting for 60 percent of emissions which is twice as much as farming plants for food. The overall warming that is created by greenhouse gas emissions leads to disruption of ecosystems that support the well-being of marine animal populations, such as the Alaskan snow crab.
Factory farm runoff also leads to ocean and waterway pollution. One example is the toxic dead zone in the Gulf of Mexico created by runoff of nitrates from fertilizer and manure into water streams that create dangerous algal blooms, kills, and/or displaces local fish populations, and pollutes drinking water. Dead zones like these, according to environmental group Mighty Earth, are produced by farms that grow soy and corn used to feed animals that are then sold for slaughter.
Vegan seafood to the rescue
Luckily, innovators in the alternative protein space are working to create solutions for the seafood crisis.
Vegan versions of crab have come to market in recent years made by a multitude of brands, including United States-based Good Catch and Hong Kong's vegan food giant OmniFoods. Mind Blown, a vegan seafood brand that is backed by Top Chef judge Tom Coliccho, also offers plant-based crab cakes, along with other seafood products such as scallops, shrimp, and oysters.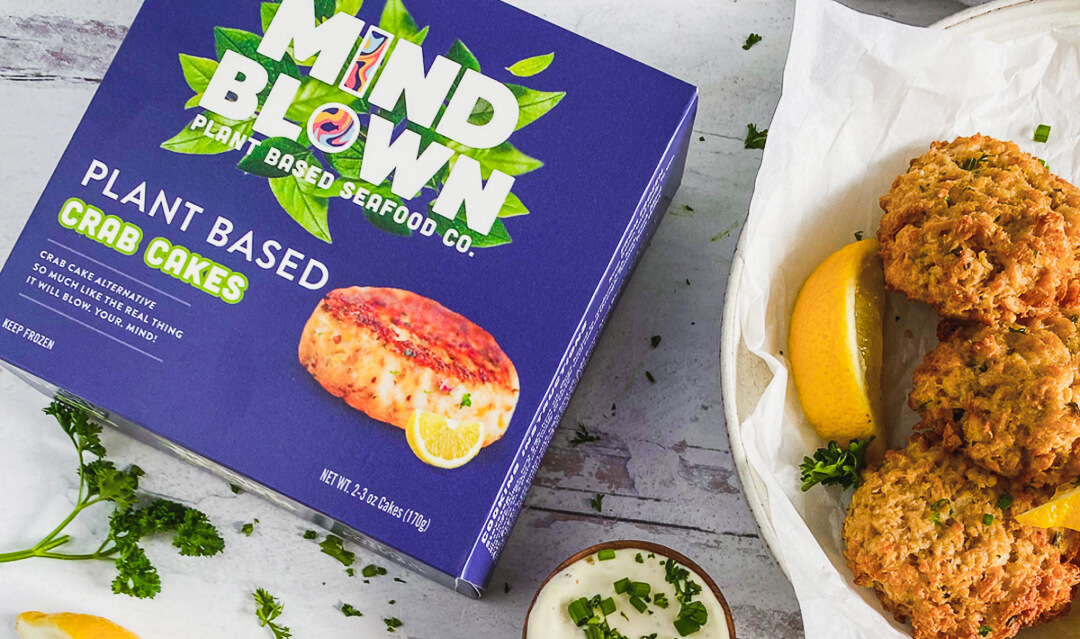 Plant Based Seafood Co.
The brand is operated by Plant Based Seafood Co., a vegan company founded by Shelly Van Cleve and Monica Talbert, the mother-and-daughter duo behind Van Cleve Seafood Co.—which has been in the non-vegan seafood business for two decades.
"Mind Blown creates solutions that help to take the pressure off edge-of-extinction fish stocks and helps regenerate abundant oceans—case in point with the loss of billions of Alaskan Snow Crab population," Talbert tells VegNews. "This devastating news is all the more reason to give the ocean a well-deserved break."
"In addition to the Alaska fishery, The Chesapeake Bay, where Mind Blown and the prized Blue Crab call home, has reported the lowest levels of these crabs in recorded history," she says. "Seafood alternatives have never been more important to ensure we leave a thriving ecosystem for future generations."
Cellular aquaculture companies are also working to develop alternative production methods to industrial fishing that rely on growing a fish cell sample in a bioreactor rather than catching them in the ocean. One company, Shiok Meats, is currently hyper-focused on developing crab alternatives using cellular agriculture. Last year, the Singapore-based company hosted a tasting for the world's first cell-based crab—along with shrimp and lobster made without slaughtering sea creatures.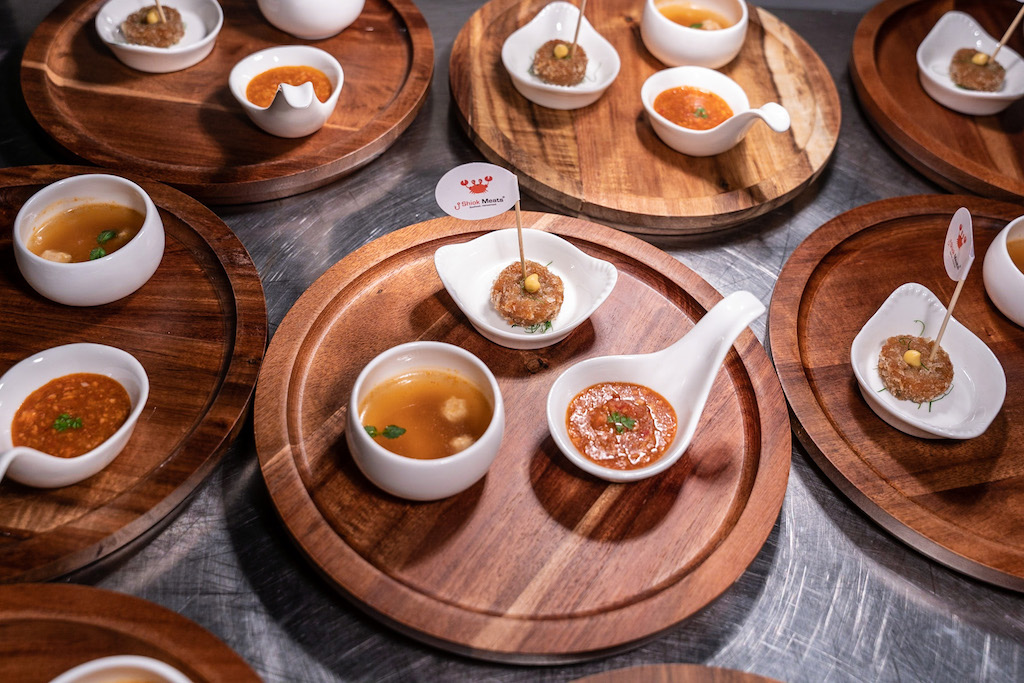 Shiok Meats
Shiok's ultimate goal is to create alternatives to the fuel-intensive crustacean industry which is responsible for 22 percent of fishing-related greenhouse gas emissions, despite making up only six percent of global catch landings.
"Our mission is to develop cell-based crustacean meats that are contributing towards a cleaner and healthier seafood industry and solving for the inefficiencies around global protein production," Shiok Meats founders Dr. Sandhya Sriram and Dr. Ka Yi Ling said in a joint statement at the time. "We are working very hard on making sure that our products are delicious, healthy, and affordable in the long run."
For the latest vegan news, read: