It seems that every week in the world of vegan food news is more exciting than the last and this week is no exception. Slutty Vegan is helping us get through winter with its first-ever chili made hearty with Impossible Pork. Treeline announces a "reserve" line of vegan cheeses made the old-world way. Plus, Burger King's celebrating the holidays with 12 Days of Deals. Read on for more.
1Slutty Vegan's new chili
When temps drop, a bowl of vegan chili is a life-saver and the newest menu item at Atlanta hot spot Slutty Vegan is here to comfort you throughout winter. Meet the Hawt Toddy, Slutty Vegan's first-ever chili made hearty with chunks of Impossible Pork, veggies, and warm spices.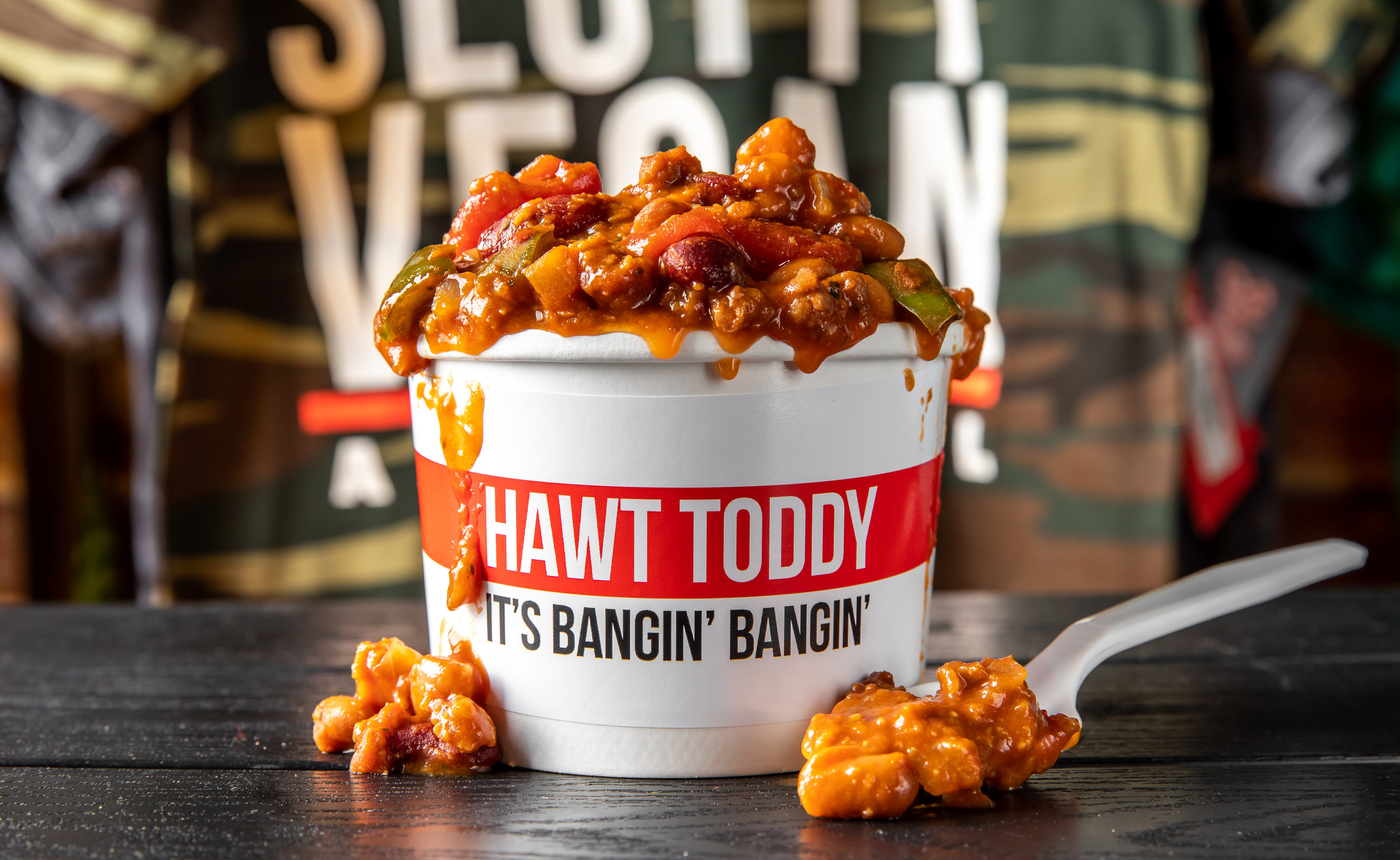 Slutty Vegan
"Slutty Vegan is making some of the best plant-based dishes we've seen, and they continue to push boundaries in the space," Erin Reynolds, Vice President of National Food Service Sales at Impossible Foods, said in a statement. "Their new chili is no exception. It's made with our savory Impossible Pork and delivers all the flavor you'd expect from a hearty chili, just in time for winter. We think it's a game changer in plant-based comfort food."
And if you're not a bowl kind of person (we won't judge), you can try the Sneaky Link, a new hot dog that comes topped with the hearty vegan chili. Slutty Vegan's new items are available from now until December 31.
"We can't wait to bring the heat this winter with a sluttified version of the classic chili bowl," Slutty Vegan Founder Pinky Cole said in a statement. "Trust me, you won't know it's vegan."
2Mac and cheese for grown ups
Mac and cheese is a dish revered by kids and adults alike but new brand GrownAs* Foods is targeting the grown ups with its first product line. Available in Classic and Truffle flavors, the new vegan Mac and Cheese is made with plenty of nutritional yeast, smoked paprika, potato, and coconut flour.
Founder and CEO David Delcourt was been vegan for more than five years and developed GrownAs* Foods' vegan mac and cheese to fill a void in the market. The vegan meal comes in a 100-percent compostable pouch and a recyclable box adorned with the company's mascot, Mac Man.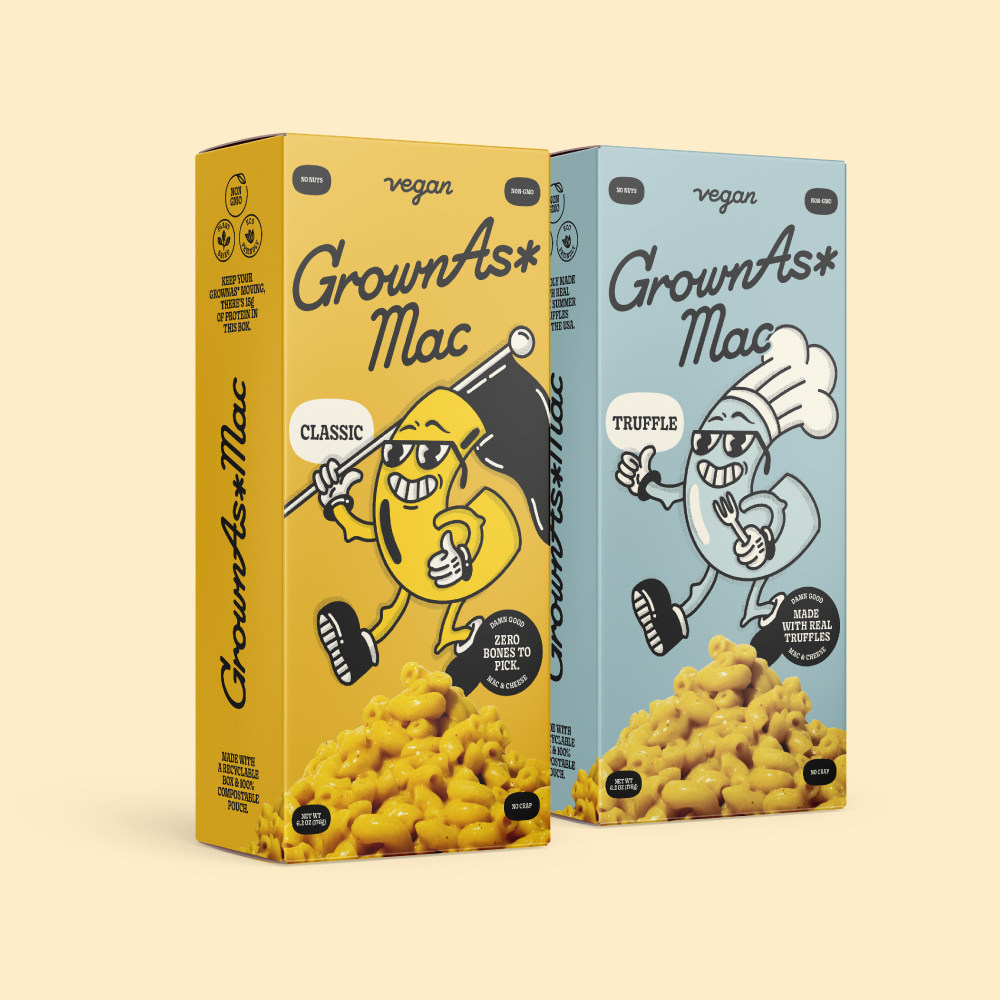 GrownAs* Foods
"The boxed mac and cheese category was truly in need of some love," David Delcourt, Founder and CEO of GrownAs* Foods, said in a statement. "We kept imagining mac and cheese that everyone at the table could dig into, so we created it from scratch … When it comes to taste, nutrition, sustainability, and cheesiness, we beat out the mac and cheese of our childhood every time—and thanks to our mascot, Mac Man, we look good doing it."
The new vegan mac and cheese is available through Amazon, at select retailers, and through the company's website. It is also available to foodservice operators.
3Treeline's vegan "reserve" cheese for all
If you haven't noticed, we're big fans of vegan cheese in all its forms and we're ecstatic that pioneering artisanal brand Treeline has new products in the works. Based in New York's Hudson Valley, the brand has been in the vegan cheese-making business since 2011 and uses cashews to create a variety that spans soft French-style to goat to firmer aged cheeses.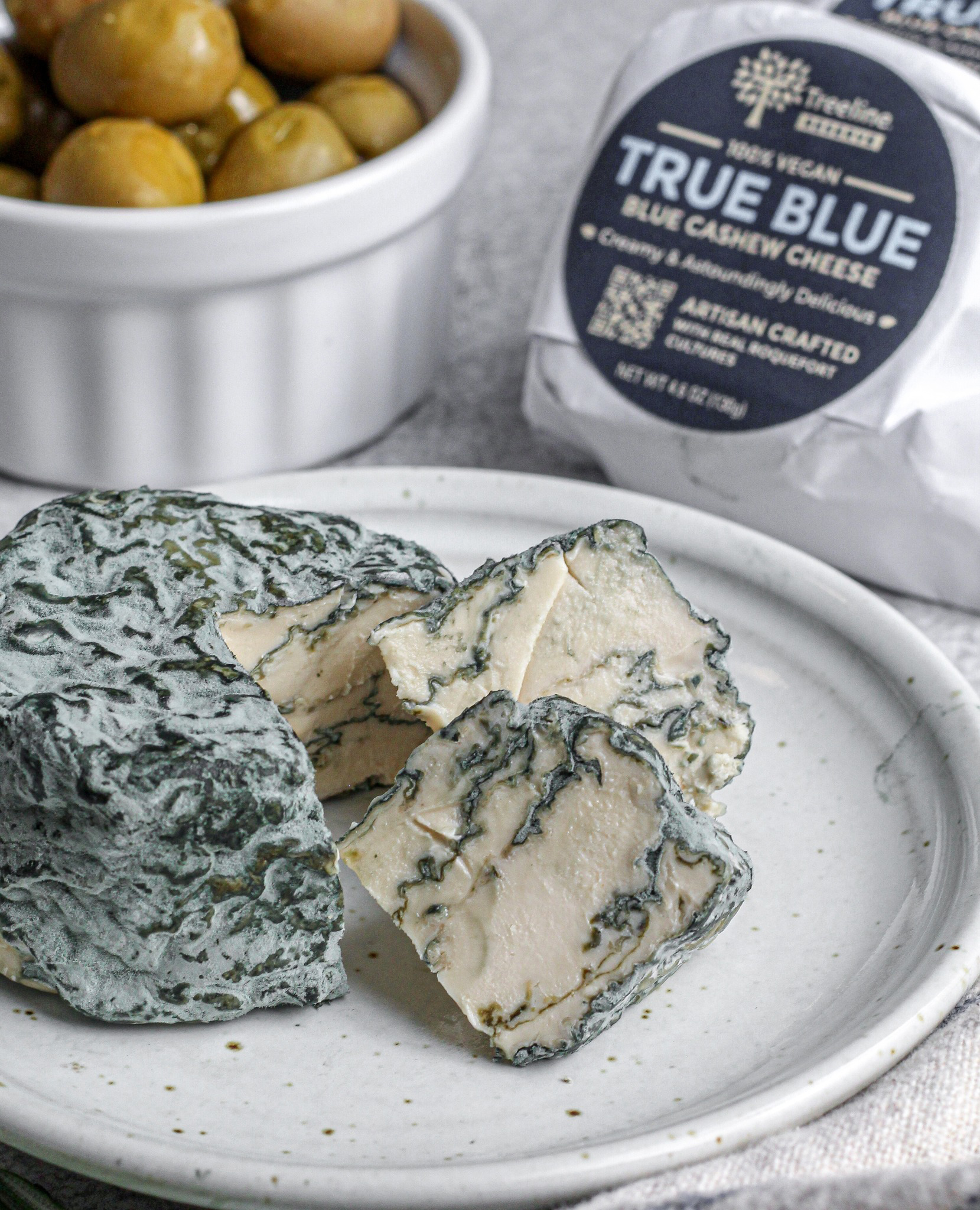 Treeline
Now, Treeline is adding two new cashew-based cheeses to a new "reserve" line. True Blue is its take on traditional bleu cheese made in the same way using real Penicillium Roquefort molds—which imparts those funky notes without any colorings or flavor additives.
Bloomy Rind is Treeline's take on Camembert and Brie style cheeses and comes wrapped in that classic live rind.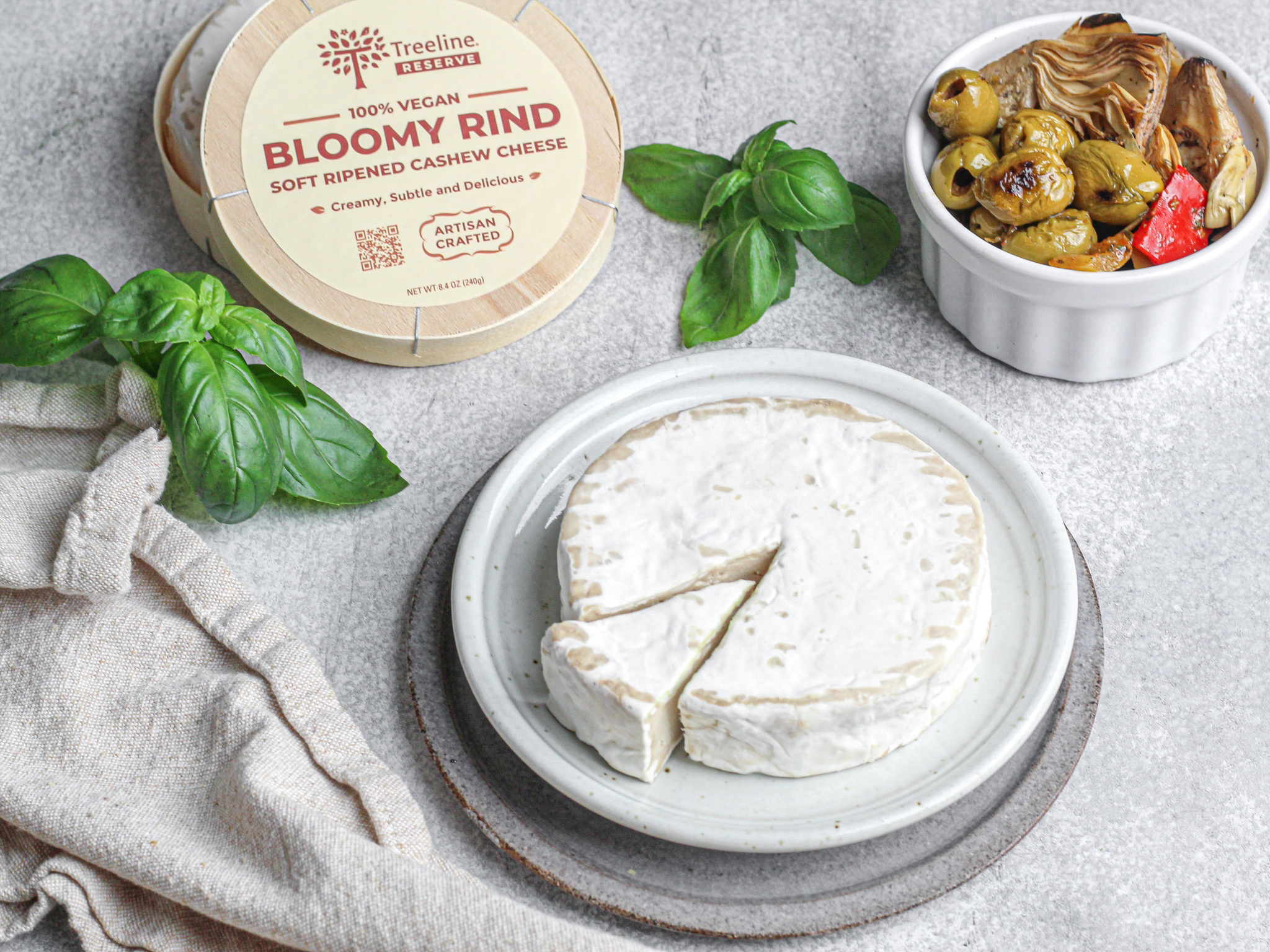 Treeline
"This is a great day for vegan cheese and for me personally," Treeline CEO Michael Schwarz said in a statement. "Being a lover of fine French and Italian cheeses in my pre-vegan days, the one thing I miss is fine European cheeses with their amazing combination of pungent aroma and easy creaminess. Treeline Reserve has satisfied that yearning in ways I never imagined."
True Blue and Bloomy Rind are currently only available through the Treeline website but will be hitting retailers in early 2023 along with other reserve line flavors next year.
4Chef Ming Tsai's vegan food empire grows
Chef Ming Tsai has been a television personality for decades and is best known as the host of long-running shows East Meets West on Food Network and Simply Ming on PBS. The newly anointed Iron Chef also owns vegan food brand MingsBings, a line of stuffed pockets made with fillings featuring JUST Egg (a vegan egg made from mung beans) and Uncut Plant Protein (a vegan meat made by California-based Before the Butcher).
While MingsBings were previously available at retailers across the United States and select venues such as Fenway Park, Barclays Center, Hard Rock Stadium, and more. This week, the company signed a distribution deal with major redistributor Dot Foods, which expands its reach to foodservice operators nationwide.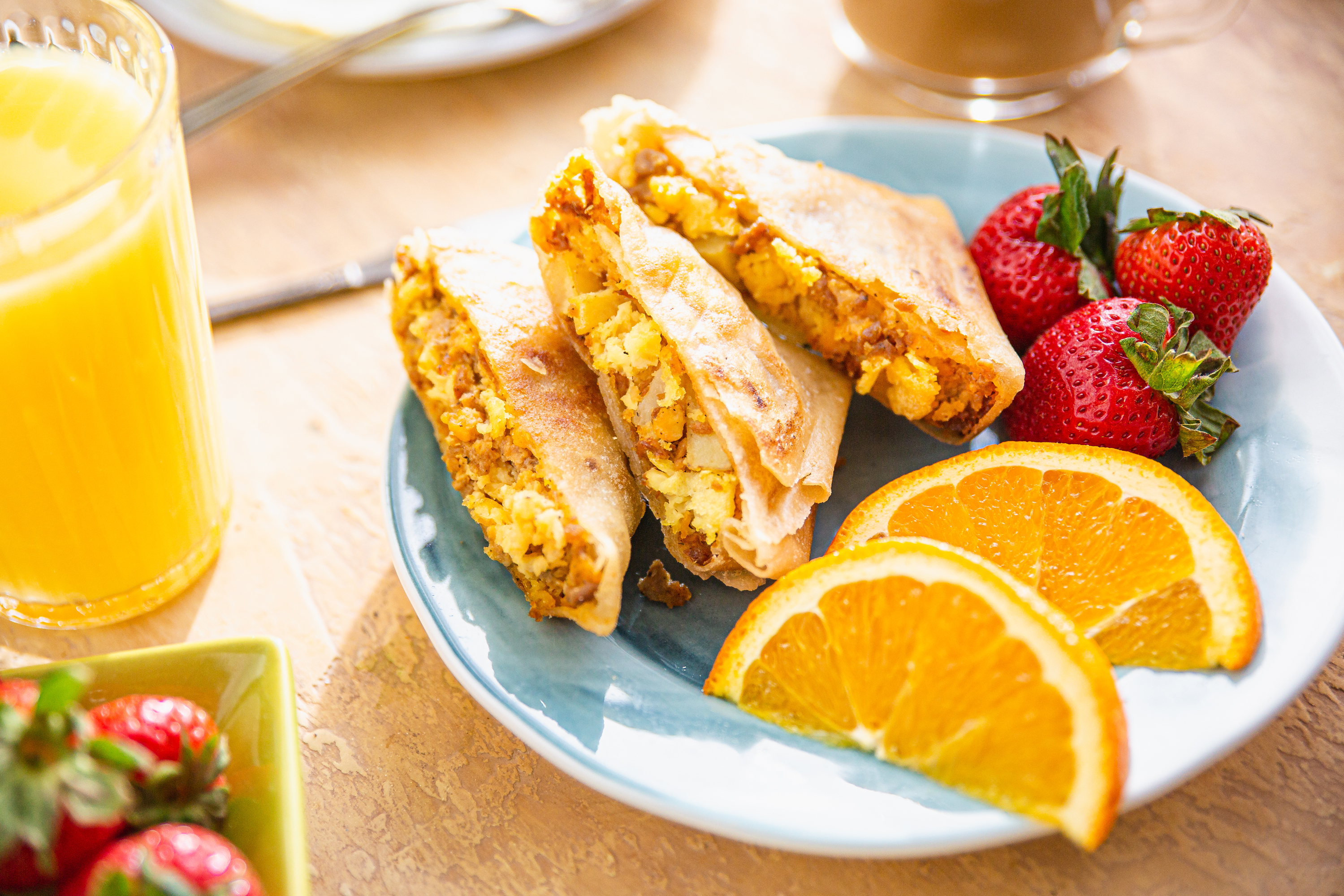 Eat Just
"After a year of significant growth in our foodservice business, we're thrilled to be partnering with Dot Foods to expand our reach and accessibility exponentially," Robert Prunier, MingsBings' Director of Foodservice Sales, said in a statement. "This partnership enables us to fulfill demand, gives us the ability to service distributors and operators nationally, and allows us to service our customers without the concern of order minimums."
News of its Dot Foods deal comes on the heels of MingsBings debut last month in Mexico by way of 25 locations of Mr. Tofu grocery stores which now offer the handhelds in exciting flavors such as Plant-Based Cheeseburger, Plant-Based Sausage & Peppers, Buffalo Cauliflower, Fiesta Taco, Plant-Based Chorizo, Egg & Cheese, and more.
Tsai created the vegan brand after his wife Polly was diagnosed with Stage 4 lung cancer and transitioned to a plant-based diet. As such, a portion of MingsBings sales are donated to Family Reach and Dana-Farber Cancer Institute.
5Burger King's 12 days of deals
If you're looking to celebrate Christmas the fast-food way, Burger King might have just the thing. The chain is smack dab in the middle of its 12 Days of Deals promotions and guess what? Impossible Whoppers are part of the deal.
Burger King first launched the meatless burger—ordered plant-based without mayo—in partnership with Impossible Foods in 2019 at its locations across the United States.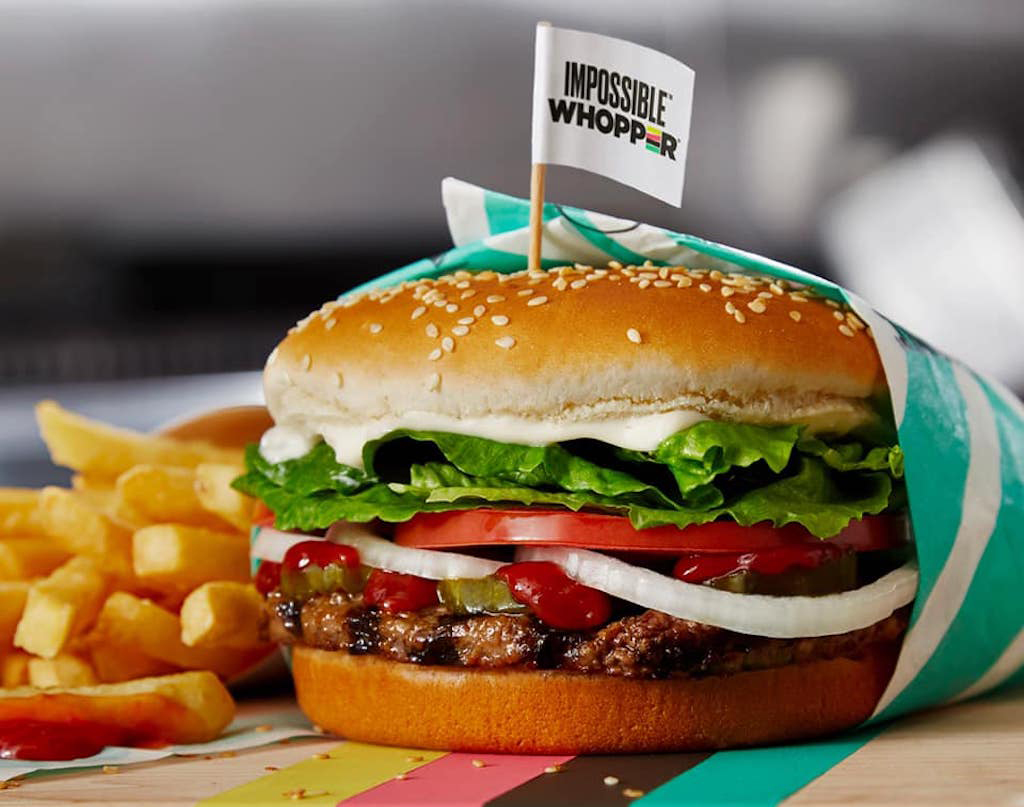 Burger King
Since then, the chain has gone into a deep exploration of vegan food across the world, where it is testing new products, marketing campaigns, and concepts (such as fully vegan pop-ups) to set the plant-based pace for the future of fast food.
Want to get in on the fun this holiday season? Burger King is offering its Impossible Whoppers for just $3 on December 14 when Royal Perks members order the plant-based burger through the Burger King app.
For the latest vegan news, read: